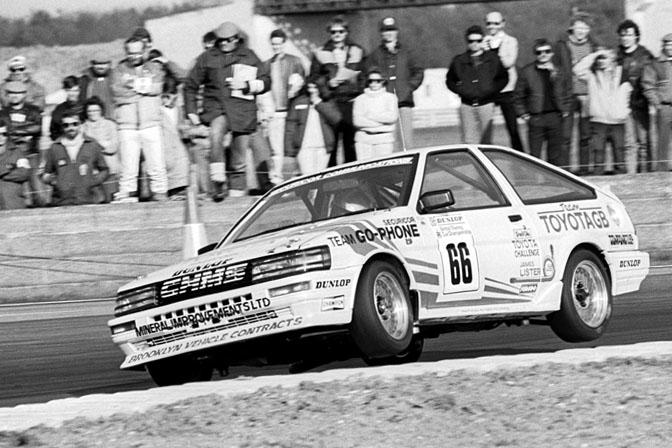 A few weeks ago, Antonio mentioned the Toyota Corolla AE86's birthday was in August. I didn't realise cars had birthdays, but there you go
So, after adding the AE86 to my birthday card list, I started to wonder how many people knew the AE86 was a two-time  British Touring Car Championship Champion?
As you now know from Antonio's post last week on the Spa winning AE86, the car was a successful 'tin-top' racer back in the day,
I first started going to races in the 80's, when I was a teen (yes, I'm old). My family would make annual pilgrimages to one of our local circuits in the UK, Thruxton to see the British Touring Car Championship and Formula 3 in action.  Somewhere I have a picture of my old bedroom, covered from head to toe, including the ceiling with racecars. In the centre of one wall was a colour version of the image you see above.
Well, I didn't realise how difficult it would be, to find reference. Apologies for the images being a little lower quality than our usual Speedhunters standards. It's been very hard finding images online of this dominant machine. Even the driver, Chris Hodgetts didn't have any images. He has a few now!
Chris Hodgetts was a successful club racer in the UK and made his debut in the BTCC at the beginning of the 80's.  With the help of Toyota GB, Securicor and Brooklyn's, a Birmingham car dealer, Chris put together 'Chris Hodgetts Motor Sport' for the 1986 season, running a Toyota Corolla AE86, initially for himself, before expanding to a two and then three car team in 1987.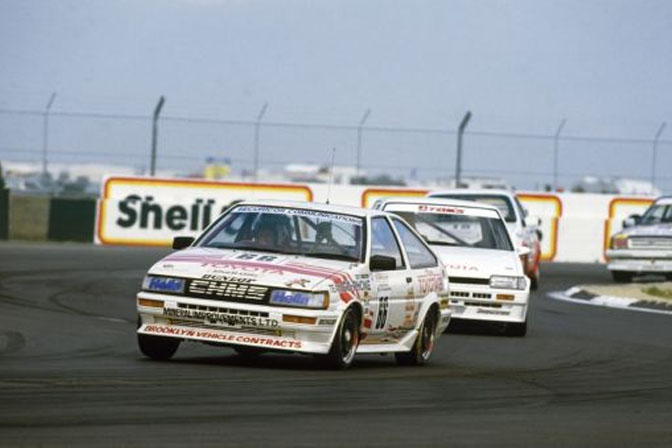 Chris went on to win the British Touring Car Championship in 1986 AND 1987 with the Corolla. 'CHMS' were one of the most professional teams and much of its success was thanks to excellent engine building by Jim Whitehouse. Jim had a great reputation in the UK from Strong bullet-proof engines. Very sad to hear of his passing recently.
The BTCC in the 80's was a class based championship, and the championship table was based  on total class points, given Chris the win. That takes nothing away from Chris. He's a seriously gifted racer. Chris won 8 BTCC class championships in a 10 year period!!!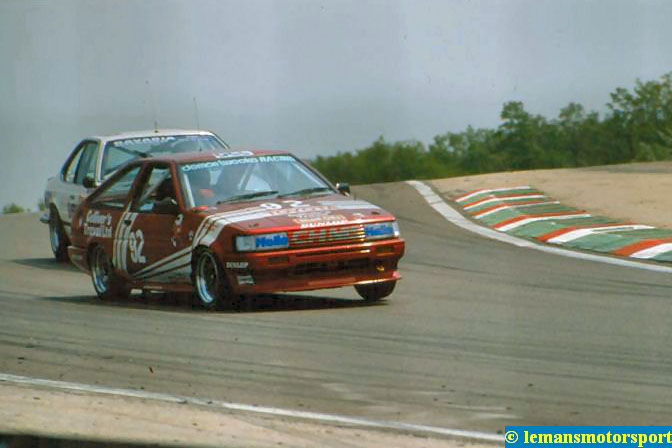 Chris and CHMS were very busy during this period. Late in 1986, they expanded to a two car team with Alan Minshaw in a second AE86. (Shown above, in the ETCC Dijon round, when Minshaw didn't drive.)
In addition to the BTCC, they also ran in selected rounds of the European and World Touring Car Championship. The original 86 winning car was sold to Andrew Bagnell (which Chris shared) for the for the European rounds and a new chassis was built for Chris to defend and take BTCC crown in 1987. Patrick Watts also drove a bright green Corolla AE86 at a couple of events, but we dont know if that was one of the existing cars repainted or a fourth chassis.
At one endurance event, CHMS turned up with two chassis but only had two drivers (normally need two drivers PER a car), Chris and Fifth Gear presenter, Tiff Needell. It appears that Chris and Tiff swapped cars have way through, so they actually managed to finish a class 1-2!
Chris moved onto the bigger more powerful Toyota Supra and Ford Sierra in BTCC 1988. After the BTCC, Chris had success in GT racing with Marcos and Lister and is now regarded as one of the top driver coaches in European motor racing. He has coached many of the up and coming racers in the UK including Anthony Davidson, James Thompson,  Matt Jackson, Andrew Jordan and his son, Stefan Hodgetts.
The lead CHMS Corolla was passed down to other drivers as the Corolla had almost total domination in the 'under 1600cc' class. Research suggests that one of Chris' Championship winning chassis ended up in Hong Kong before disappearing.
I need to say a special thanks to the members of Ten-Tenths forum, particularly member, 'KA'  who have a Group A Toyota Corolla thread going. Lots of additional images too.If you want to know more about the AE86 in European tin-top racing, head over to Ten-Tenths.com. If anyone has any more images, or information on the BTCC cars, feel free to post them in our forum or on Ten-Tenths.
There you go Antonio. My first AE86 post!
Update – Feb 2009
Since this post, the Ten-Tenths thread has grown and more images of the CHMS Corolla's have appeared. Here are two advertisments relating to Chris' AE86. More images on the Ten-Tenths thread, but as we can't confirm Copyright holders, we cant use the images.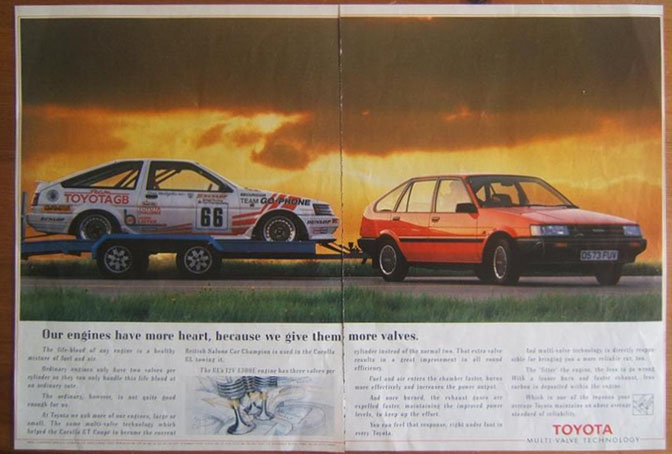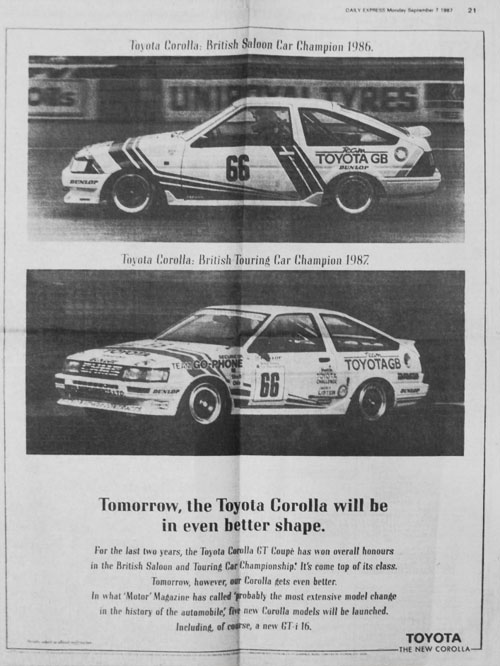 - Andy Blackmore.
Ten-Tenths Group A Corolla Thread
Speedhunters look at the Spa winning AE86 
Images (from top to bottom: Toyota UK , Driftworks Forum, lemansmotorsport,