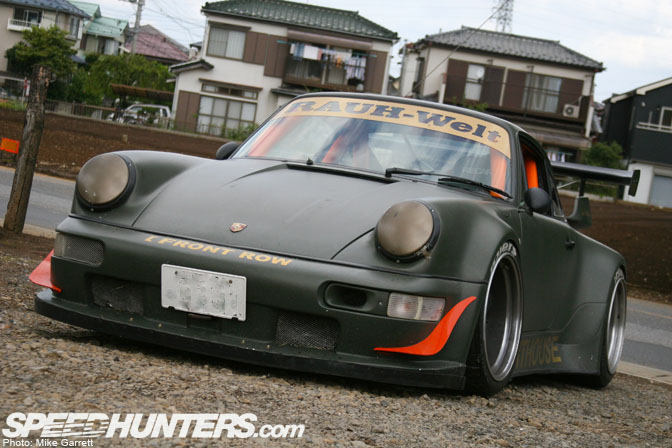 It's time to continue our look at some of the iconic Rauh Welt-tuned Porsche examples from Japan and this time we will be looking at a car that belongs to one of Nakai-san's most dedicated customers. As with many of the other RWB-built cars, this one was built with a strong emphasis on both on circuit performance and style. As Nakai-san himself said, what's the point in racing if your car doesn't look cool?
The owner of this particular 1992 model year Porsche 911 saw Nakai-san's personal flat black 930 and wanted to have a car that could perform just like it and have the same intimidating looks. But while the customer wanted serious performance from the car, he also wanted plenty of drivability, smooth power delivery, and other things that make the car more driver-friendly.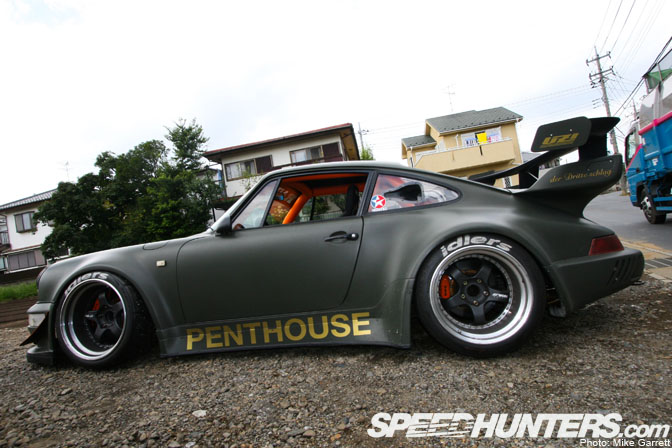 Starting off on the exterior, we have all the signature RWB aero parts including the giant fender flares (molded), bumper, and the stacked rear wing. The most outstanding feature on the outside would have to be the flat olive green body color. When I first saw this car, images of German Panzer tanks and Messerschmitt fighter planes were going through my head. Ready for battle…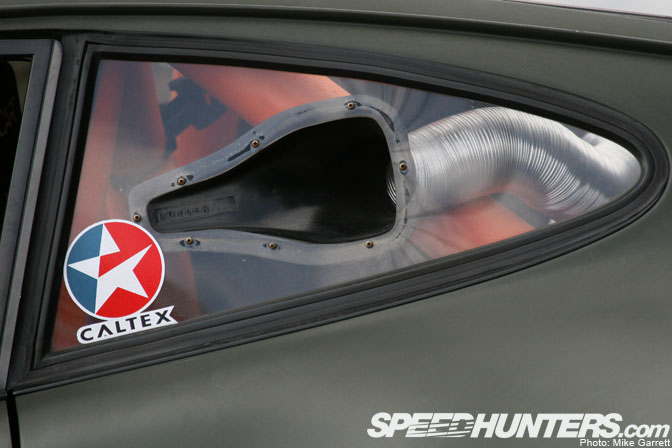 Continuing on with the battle-ready theme we have the plastic windows complete with ducts that feed fresh air into the rear of the car. Just look at that rear quarter window, don't the lines and color remind you of WWII-era fighter planes? Although the car has shaved plenty of weight from the stock figures, because of the extra driver friendliness, this car is still about 100kg heavier than Nakai-san's personal machine.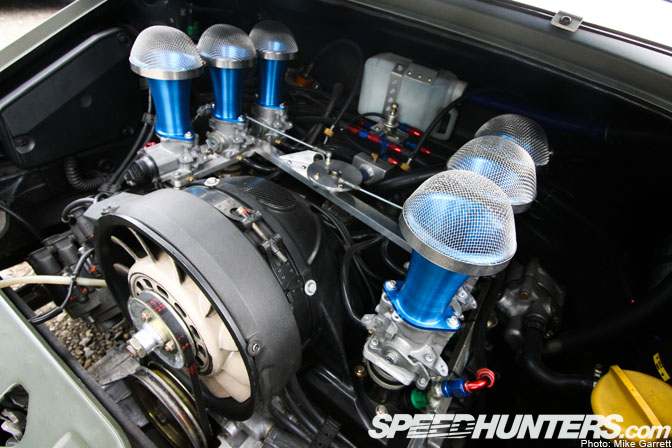 Engine-wise this car is running a fuel-injected 3.8L motor that outputs around 360hp while maintaining smooth power delivery and quick response. The car was also designed to be a lot easier to maintain than Nakai's car. The blue anodized velocity stacks also add a nice visual touch to the engine bay. Unlike front engine-cars, there is not quite as much room for cosmetic engine bay work on these Porsches.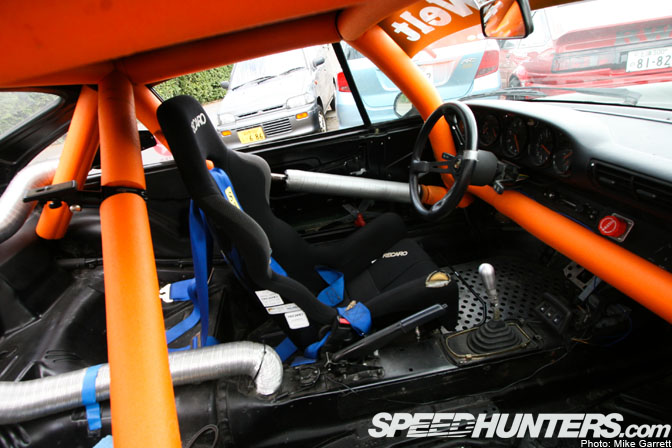 The interior is pure race-spec on this car. We have a single Recaro fixed-back bucket seat and a full roll cage that is wrapped in orange foam for added driver safety. I thought that all the orange in the interior made a nice contrast with the flat green body color. Although this car is obviously designed for heavy track use, it is also registered and can be driven on the street.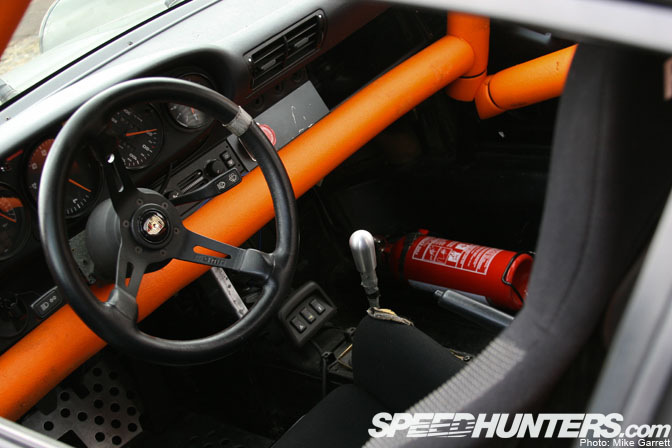 Here you can see the handsome OEM Momo steering wheel and the rest of the minimalist interior. The transmission on this car is one of Porsche's G50 units that was sourced from a 1987 911. This particular 'mission was selected for its ease of use compared to the one in Nakai's car. Nakai-san said, "This car is so easy even a woman can drive it."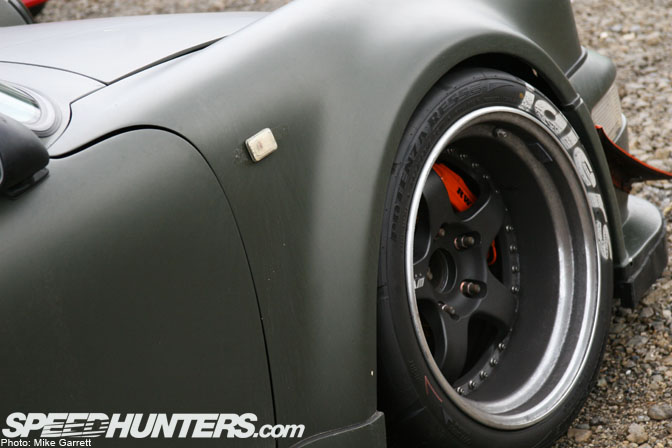 Don't think that we would leave out the wheels. The car is equipped with a set of RWB-spec Work Meister S1's in 18"x11J +0 in the front and 18"x12J -33 in the rear. Rubber-wise, we have a set a sticky set of Bridgestone Potenza RE55S tires (with trick Idlers Club lettering). The brakes are a set of RWB-spec Brembos front and rear. Suspension modifications include a set of Rauh Welt's original coilovers.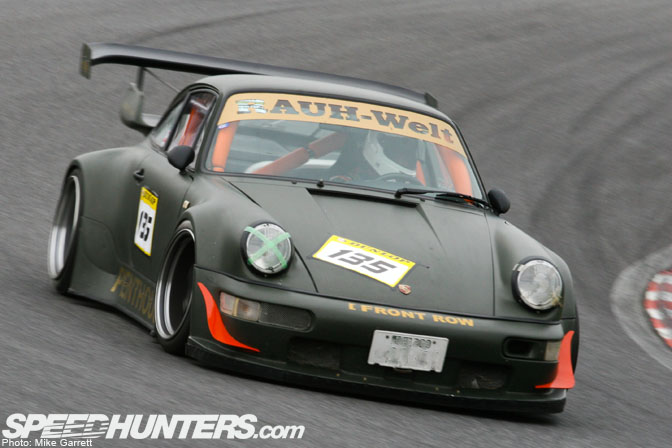 Speaking of the Idlers Club, here is a shot of the car running at last month's Idlers Race at Tsukuba Circuit. Although it is not as fast as Nakai's car, it was still very competitive against its rivals in the Super Cup race, and it didn't hurt that it was one of the coolest looking cars on the track. I think that only Nakai-san's car could compete with it in that category.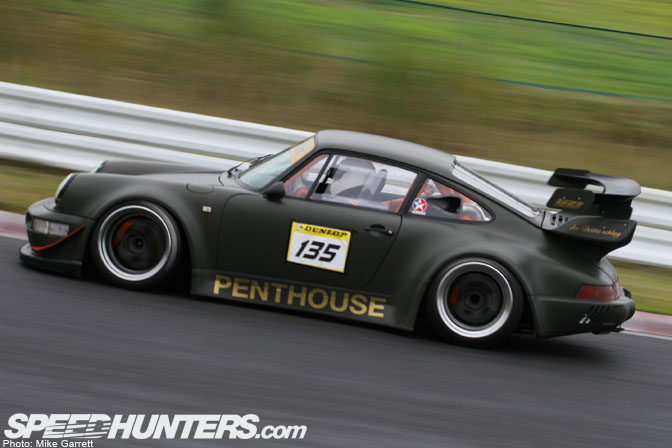 Next time I will finish up my RWB car features with a good look at Nakai's flat black beast.
Saving the best for last you know.
-Mike Garrett