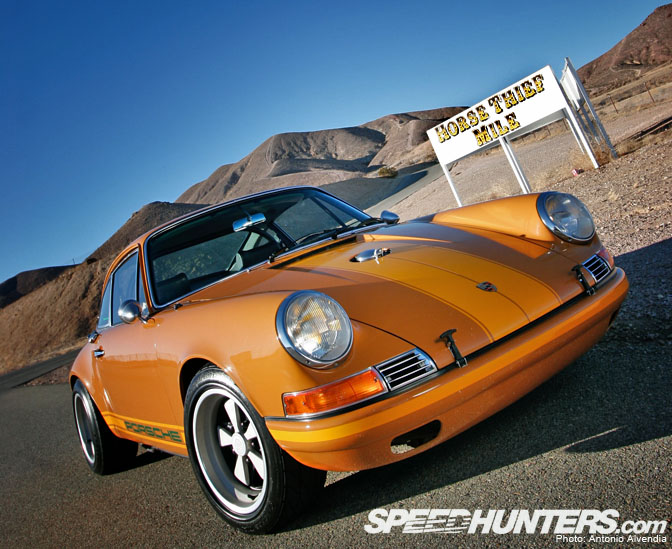 Sometime last year, I received a call from my friends David and Tim at Classic Motorsports Magazine. They asked me if I'd be available to come out to Willow Springs Raceway to shoot photos of a bunch of classic Porsches they rounded up for an upcoming issue. Of course I was interested – classic Porsches are cool, and besides, I've been a longtime fan and supporter of the magazines that David and Tim produce as their labor of love – Grassroots Motorsports and Classic Motorsports. In fact, I've been a longtime reader of GRM… ever since I first began autocrossing my personal car after high school.
Anyway, back to the Porsches… There were certainly a lot of really stylish classic Porsches at the shoot; many of them were from R-Gruppe – an elite club of tastefully modified period correct classic Porsches, and their owners. One car that showed up to our shoot was a real Porsche 911 RS; the others were built as RS clones, which are also very popular.
As I drove back to LA after the shoot, I called one of my good friends from San Francisco, automotive styling guru Ricky Silverio, to talk to him a bit about the RS clones. See, I was wondering what the big deal was… why was everyone making such a big deal about the real 911 RS, and why were these RS clones were so popular for people to build up? (I was a pretty green to the whole Porsche scene at the time; I didn't know anything at all! Come to think of it, I'm still not a Porsche expert, even after our trip to Porsche in Leipzig Germany, and after eating a few meals with Mr Norbert Singer. I apologize for my inexcusable ignorance!)
Obviously, an authentic Porsche 911 Carrera RS is an extremely rare and valuable collector car! According to Ricky, if you owned one of these cars, it would be kind of crazy to drive one of these around on normal city streets, or beating the car up at track events. The car is just too rare and too valuable for most people to do that without worrying too much. This is why he said RS clones are very popular – for some people, the RS clones are actually more fun than the real thing, because they can be made to look and feel like a real RS (if you want it to), but you can have fun with the car, drive it, and put your own style into it.
That's exactly what rock singer Rob Dickinson did to his 1969 Porsche 911E – he basically modified the car to the specs of a 911R replica, but he also put a bit of his own style into the car. Let's start with those stylish wheels – you're looking at Porsche Fuchs in a 1973 RSR finish. Sizes are  aggressive offset 15×8.5 front and15x9 rear, wrapped in BFG G-Force T/A KD 205/50/R15 front, and 225/50/R15 rear tires.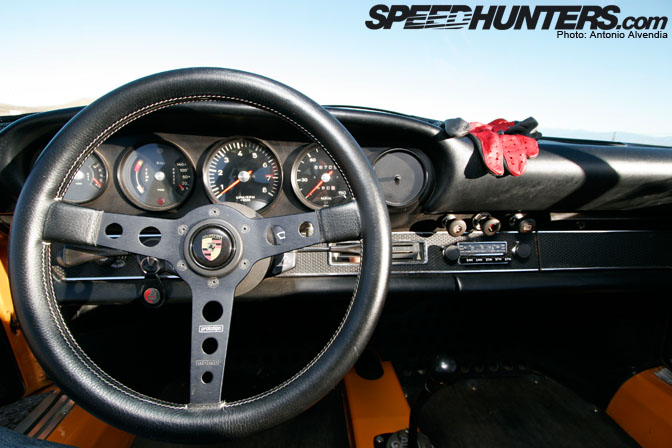 Inside the cockput, we have a familiar sight – a 350mm Momo Prototipo steering wheel and VDO gauges. I also dig the vintage Blaupunkt radio. I'm not sure if it works or not, but period correct radios are extra cool points in my book. There's nothing I hate more than a nicely restored vintage car with a modern CD player cut into the dashboard. Good work Rob, let the carburetors be your music! That's what you need to be listening to anyway!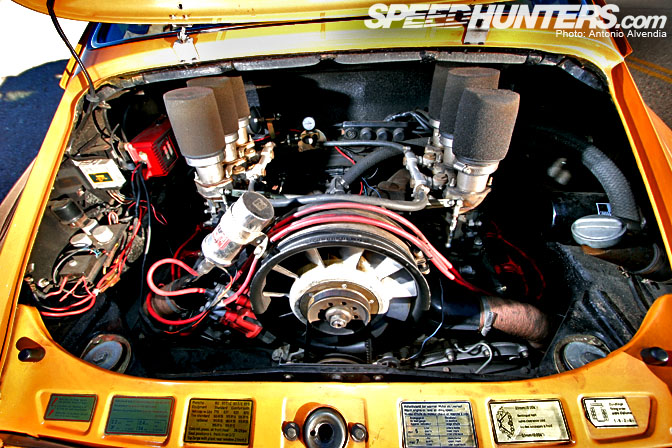 As I mentioned previously, this Porsche started life as an 911E  with a Sportomatic transmission, but was converted to 911R specs. One of the things Rob did to achieve this was convert the Sportomatic tranny to an old school style (period correct) Porsche 901 five-speed transmission, as well as swap in a later model 3.0 liter 911SC engine, which has been equipped with an MSD ignition upgrade and Weber carbs for some added growl!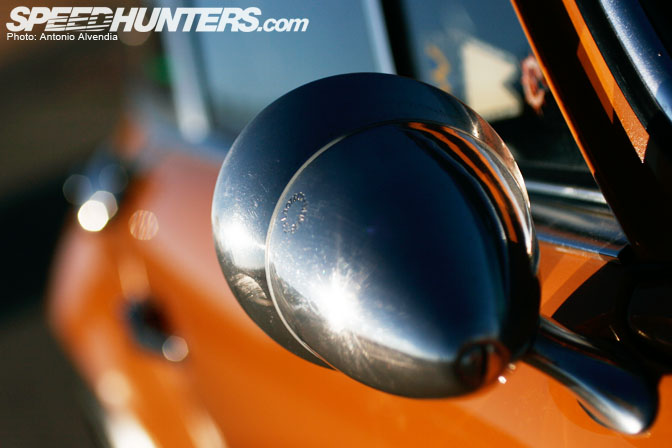 I just love the bullet type polished mirrors on old cars – I love stylish retro cars in general!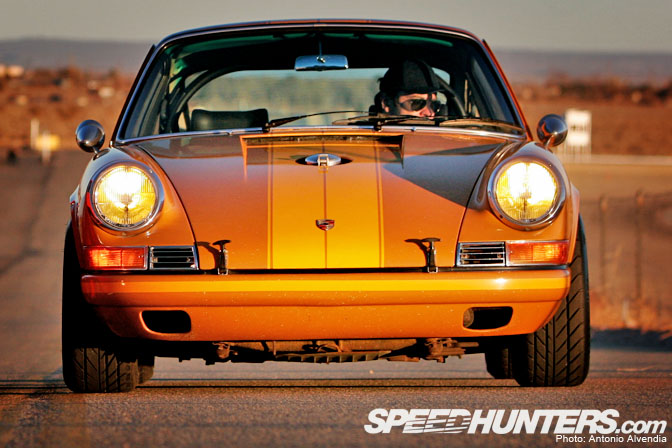 Look at the other styling cues Rob added to the car to match the old school period door mirrors – from the polished fuel cell with filling cap cut out of the hood, chrome rear view mirror and chrome vents by the turn signals to go with the headlight bezels and factory chrome window trim. All class.
I also dig the paint color and the striped bumpers – very cool, but what I like even more is the stance!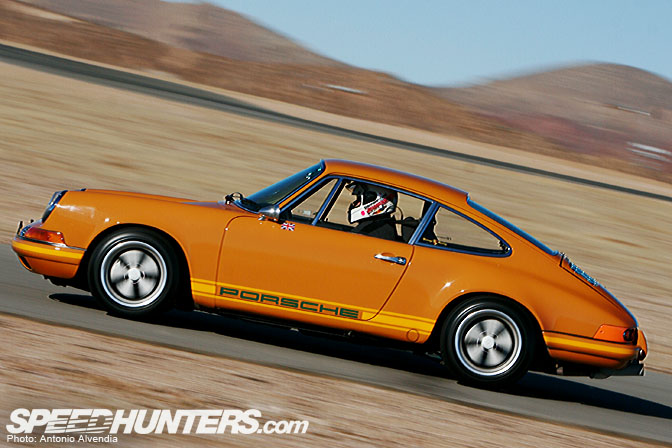 The car's suspension has been beefed up with pieces from a Carrera RS, but Rob chose to use upgraded brakes from a 3.2 liter Porsche Carrera. These suspension modifications might be pretty mild, but they seem to work well for this street car, which Rob told me sees alot of daily driver duties! Another plus – the car is extremely lightweight – in fact, it only weighs 2120 lbs!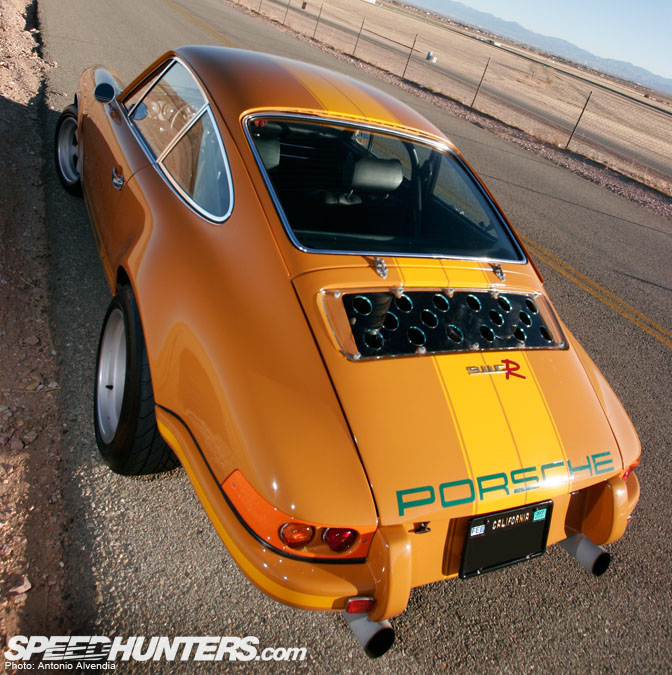 Keep an eye out for Rob and his Porsche cruising the streets of Hollywood! I know it would certainly grab my attention if I saw it on the street!
-Antonio Alvendia