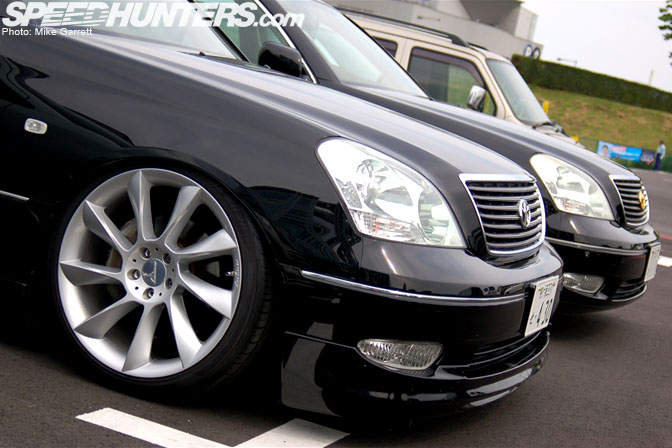 Well, here we go. I have been thinking of what I was going to write in this post for a while now. As you have probably seen in the past, the definition of what "VIP style" is has been discussed and debated quite a bit over the past several years. In the end I decided that instead of trying to define exactly what VIP style is (which may be impossible), I will give my own perceptions on the VIP movement based on what I have experienced myself over the past few years. Of course let me say that I am not an expert on VIP stuff nor have I ever built a VIP car so I suppose this will become just another viewpoint in the "VIP debate". Hopefully it will at least have some good reasoning behind it.
First I will say that in my opinion, the whole debate over what is VIP or not is pretty unnecessary. The exact origins of the term itself are not well known and seeing the other strange terms that Japanese have come with before, I don't think one should try too hard on setting standards for what "VIP" is. Trying to put a textbook definition on what a VIP car should be is like trying to define what a "Hot Rod" is.  One the common perceptions of VIP cars is that they are driven by "VIPs". While some have said that the Yakuza (Japanese mafia) or high ranking executives use VIP style cars, I think that is primarily untrue and I have seen nothing that leads me to believe those sorts of people actually roll around in slammed Celsiors with huge wheels, aero kits and loud exhausts. Instead, most of the VIP-type cars that I see in Japan are owned by regular "non-VIP" people who simply enjoy the cars and the camaraderie that comes with them.
While I have read some things that have claimed that "real" VIP cars can only be one of a handful of different models and even can only be certain colors, I have to disagree with those "rules". I have seen all sorts of cars in Japan's VIP magazines that do not fit those standards. In my opinion many different cars can be done in "VIP" style as long as the right attention to detail is put forth.
When you are looking at the origins of the style, if you look back at the early Bosozkou/Yanky style cars, I think you can see where the VIP style comes from.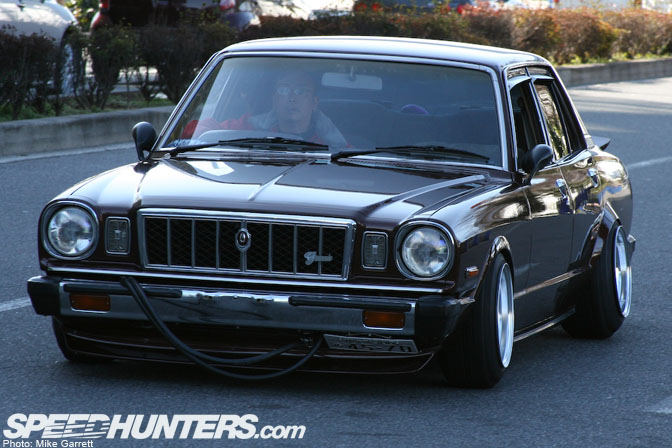 When looking at this late 70's Toyota Mark II, you can see that the aggressively sized wheels, stretched tires, negative camber, and low ride height were all carried over into what is considered today as VIP style. Throw in a little old school AMG style European influence and you have a pretty good basis for VIP. In fact I think a lot of traditional VIP cars are/were owned by people who grew up driving cars like the one seen above. When they got older and got more money they moved onto Cimas and Aristos, but still wanted to modify them. Some have also said that VIP type cars started to get popular when Osaka area street racers switched to the stealthy sedans from their high profile sports cars in order to avoid attention from the law.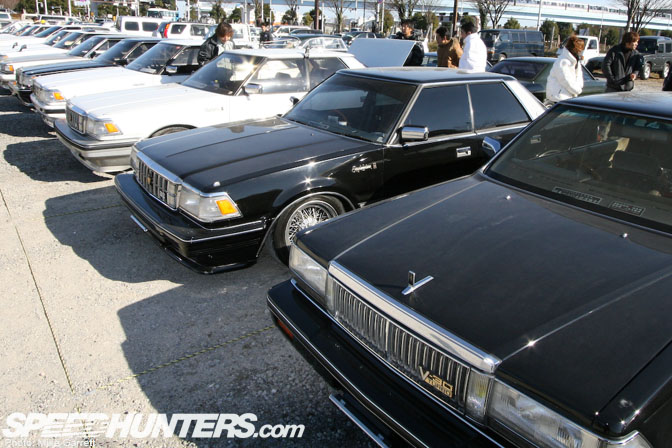 The VIP roots also continued through the '80s as seen as above. The origins of mainstream Japanese luxury sedans can be seen in cars like the Toyota Crown and Nissan Cedric /Gloria.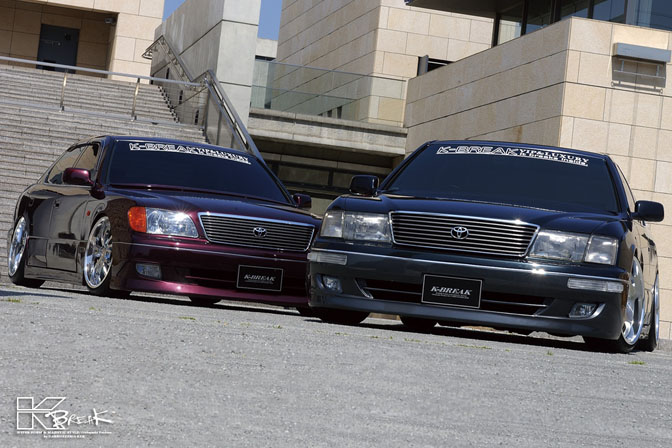 When the groundbreaking Toyota Celsior AKA Lexus LS400 debuted in 1989 with its V8-engine and state of the art luxury features, it marked the beginning of the Japanese luxury car movement. The Celsior and other cars like the Nissan President/Infiniti Q45 would go on to become huge cars in the VIP scene. Even today these early models are still seen often at car gatherings and in VIP magazines.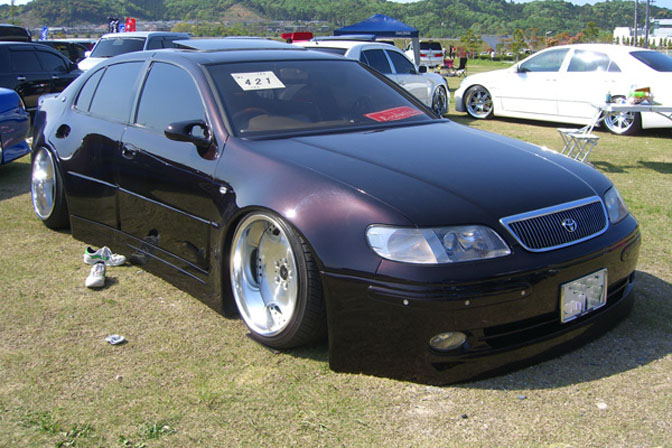 A few years after the Celsior debuted, the Aristo/Lexus GS followed with similar luxury appointments but a smaller size and more sporting nature. While all VIP cars generally have aggressive wheels and low ride heights, The JZS147 Aristo pictured above represents the more extreme side of VIP style with its insanely wide wheels, widened fenders and air suspension. Speaking of air suspension, this was a big innovation for the VIP scene as it allowed for a stance that was very difficult to achieve with just standard coilovers.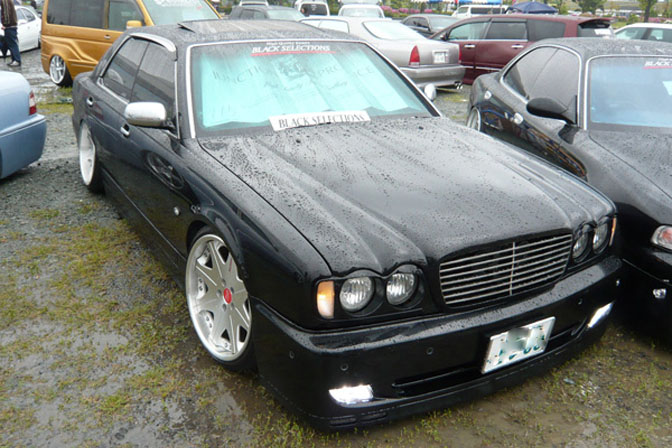 Along with the Aristo, the mid '90s Nissan Gloria and Cedric would become extremely popular cars when it comes to VIP modification. Its very easy to see the European influence on VIP style when looking at cars like this.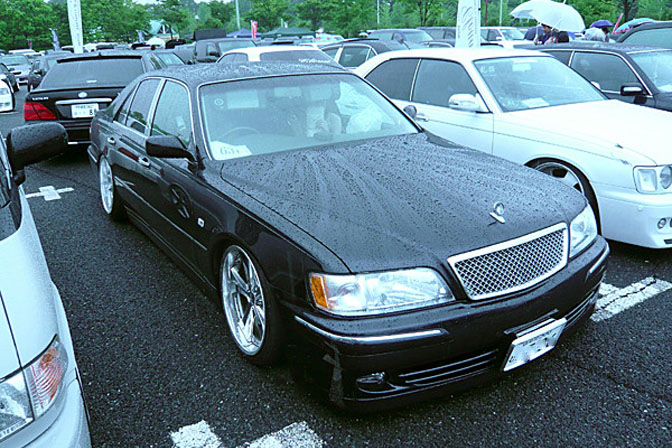 The Y33 Nissan Cima is another popular VIP platform in Japan. In the past few years this car has also gained a following among VIP fans in the states where it was sold as the Infinti Q45. The Y33 also happens to be one of my favorites among the commonly seen VIP cars.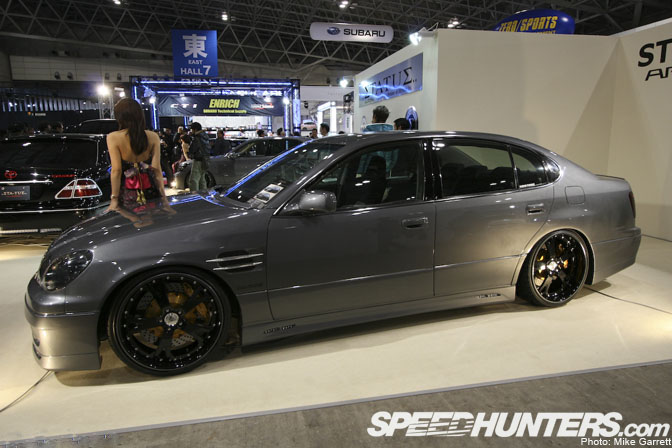 Despite the fact that it originally debuted ten years ago, the second generation 161 chassis Aristo/Lexus GS is still one of the most popular cars for VIP tuning. Car builders are still pushing the limits of what can be done with the 161. The Aristo should also be noted for being one of the few traditional VIP cars that also has a strong following among more the more traditional performance-focused tuners. The availability of Toyota's bulletproof 2JZGTE engine is one of the big reasons for that.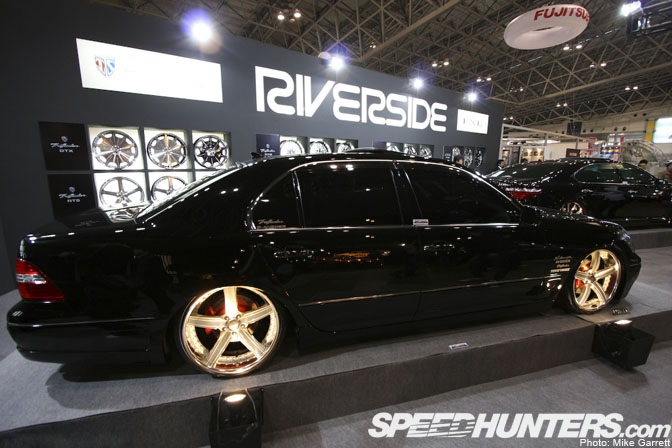 With the the totally redesigned UCF30 model, the Celsior's popularity as VIP platform continued. This would also mark the last Celsior sold in Japan before the car became the Lexus LS. As the UCF30's have gotten older, more extremely modified examples have been popping up as they are now within the range of affordability for more VIP car enthusiasts.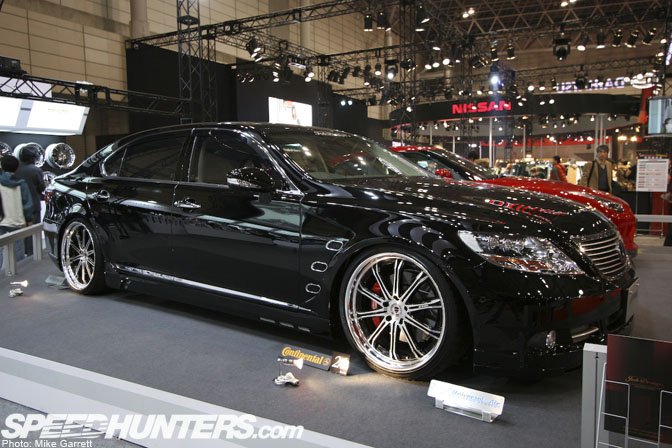 The most recent cars to join the VIP ranks are the new Lexus models like the GS and LS. These cars no longer have Toyota equivalents in Japan as they are now sold as Lexus models in the Japanese market as well. While there have been plenty of VIP-style examples of these cars, to me there is just something about them that seems so different from the older models they replaced. Maybe its the larger bodies or the differently sized wheels these cars have, but when I picture a "VIP car" in my mind, it isn't these new models that I see.
While a lot of people consider traditional VIP cars to only be certain Japanese luxury models, there are plenty of other less traditional cars that are seen in Japanese VIP magazines and at Japanese VIP car gatherings.
Here are some of them.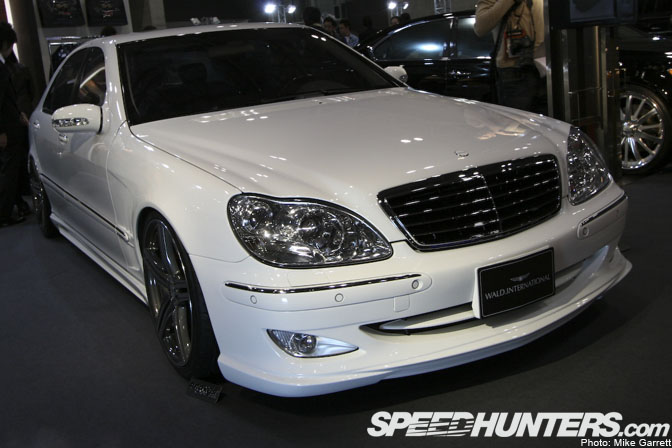 European cars of various styles have always appeared alongside the traditional Japanese VIP sedans and they are modified in the same style. Both Mercedes models as well early Jaguars are some of the most commonly seen "VIP Euros". The white Benz in the photo above was shown by Wald at Tokyo Auto Salon 2008.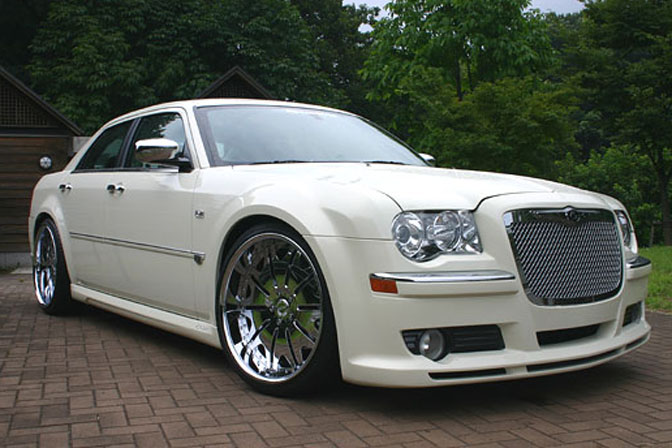 American cars like the Chrysler 300C and various Cadillac models have also been done up by VIP builders. The 300C above features aero from the well known Japanese company Kenstyle. While some purists might say cars like this can never be "VIP", the fact that a Chysler 300C has been seen on the cover of VIPStyle magazine in Japan is a strong counterpoint to that statement.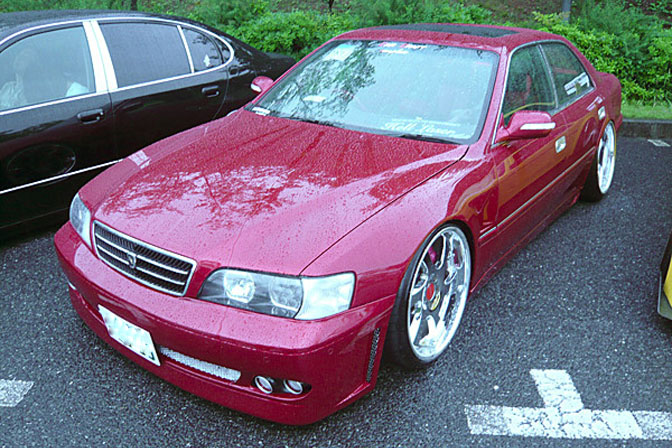 You will also see "lower end" Japanese sedans that have been given the full VIP treatment. While cars like the Toyota Chaser seen above may not be considered VIP in the traditional sense, I don't see how there's any way you can look at the car in photo above and say that it's any different from an Aristo built in the same way. It should also be noted that many of the "traditional" VIP cars were offered in Japan with trim levels that were less than luxurious (cloth interiors, smaller engines, etc.).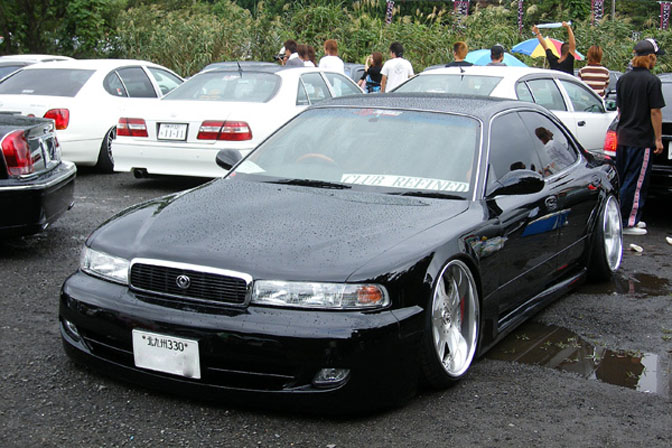 You will also see VIP cars from makers other than Toyota and Nissan. Cars like the Mazda Sentia (AKA 929) pictured above is a great example of this. Some of Honda's larger front wheel drive sedans like the Legend (AKA Acura RL) have also been done in VIP Style.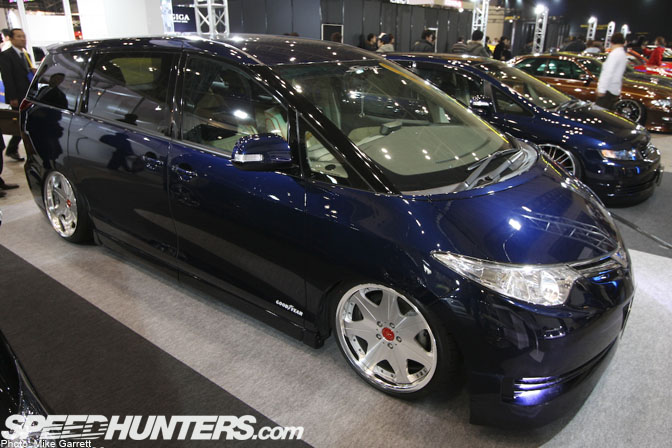 Of course you can't forget about the swarms of vans, wagons, compact cars, and kei cars that are built in VIP style. While they may not be actual "VIP cars" they are still built in nearly the exact same style. As VIP owners started families and needed more practical vehicles, there was a fleet of vans waiting to be customized. There is even a magazine in Japan called "VIP Wagon". I will save my further discussion of Japanese style vans for another upcoming post though.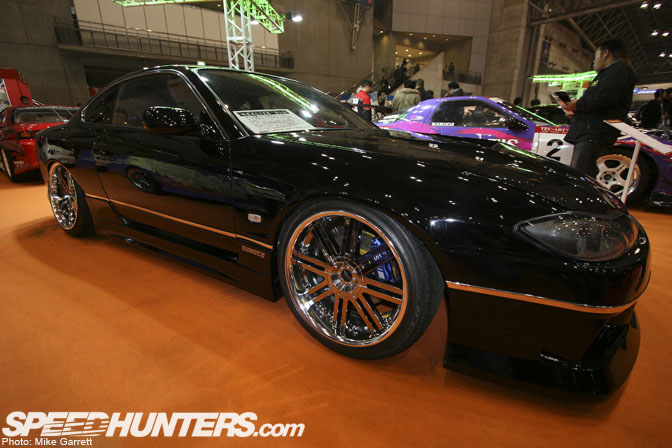 Lastly, you have traditional Japanese performance cars that have been built in VIP style. These cars have been seen both in Japan and in the United States recently. Set Up Garage Realize's S15 is a perfect example of this. It combines all the VIP styling elements with the heart and soul of a performance machine.
Can cars like this be considered VIP? I don't know. Does it really matter anyways? I'll leave that debate to someone else.
Photos from Kenstyle and K-Break
-Mike Garrett