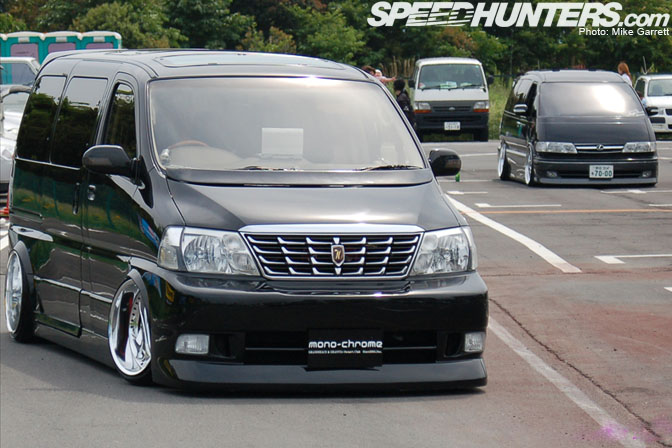 Now I have a feeling that most of us are a little too young to remember first hand the vanning craze that swept the United States back in the '70s, but I'm sure you have probably heard a little bit about it. Airbrushing, themed interiors, sidepipes, that sort of thing. Sounds glorious right? Well I guess you can say that in Japan vanning has never gone out of style. When I talk to my American friends about what cars are like here in Japan, I tell them that it seems like for every customized truck or SUV there is driving around in the US, there is a customized van driving around in Japan. Vans are so popular in Japan that there are several different subcategories within the "vanning" world and the vans themselves run from tiny kei vans to full size luxury machines that are seemingly larger than most Japanese apartments. No analysis of Japanese car culture would be compete without a look at vanning, so here we go.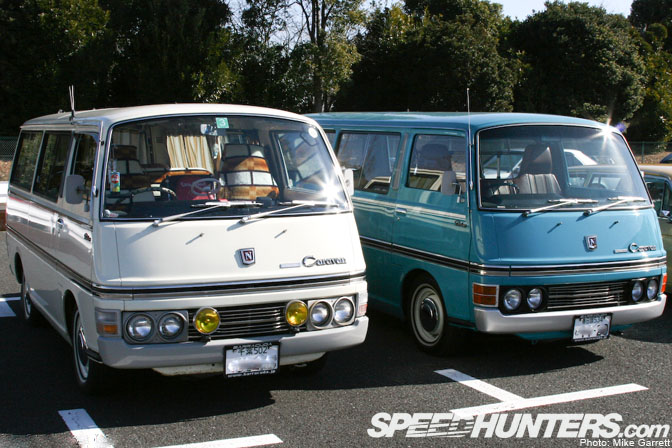 Although I can't trace the exact history of vanning in Japan, they have been around for quite some time. I saw this pair of late '70s Nissan Caravans at the JCCA New Year Meeting and they look to either have been restored or kept in great condition over the years. Even though these vans are about 30 years old, full size van styling has not changed much since then. I guess there is only so much you can do with a simple box design. The Caravan is one of the most popular fullsize cargo/passenger vans and is the rival of the Toyota Hiace. Although they mainly seen commercial and transport use, there is also a big tuning movement for these big, boxy vans with the Hiace in particular having a very large aftermarket following.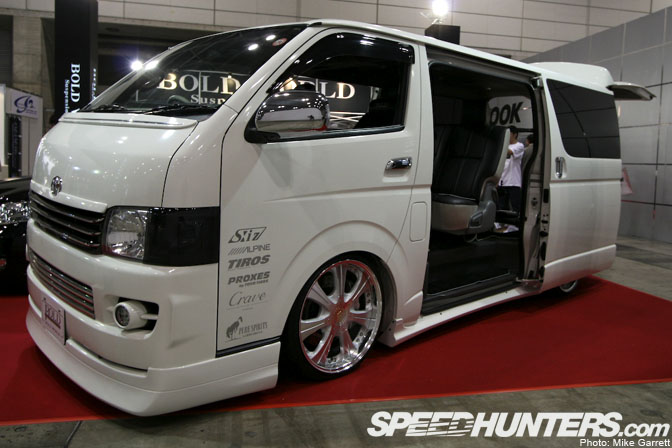 This Hiace was on display at Tokyo Auto Salon this year and is typical of a customized "box" van. As you would expect, besides featuring exterior upgrades, the interiors of these things are loaded up with tons of stereo equipment, custom upholstery and other stuff that brings back memories of the vanning boom in the United States. If you ever go to Daikoku Parking Area in Yokohama on a Saturday night, chances are you might see a few of these bad boys lined up blasting tunes from their huge stereo systems.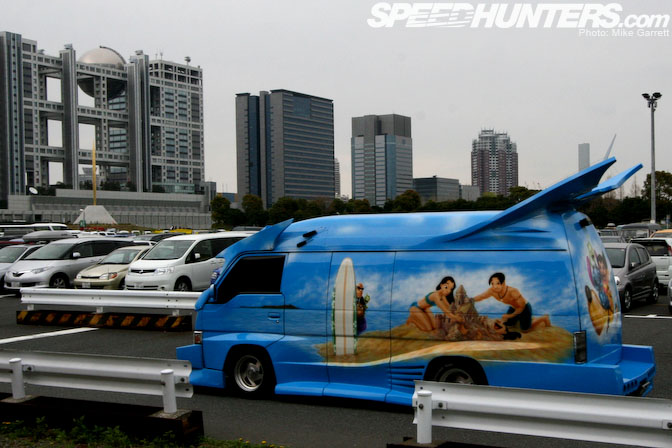 Of course you can't forget about these crazy vans. These are fullsize vans that have been modified to the point to the point where they look less like cars and more like the giant robots seen in Japanese cartoon films. I see these wild looking machines driving on the street every once in a while, and it its always one heck of an experience. Although you can spot them from a mile away with all their fins and spoilers, you can usually HEAR them well before you see them. For some reason the drivers of these fans like to install the loudest possible exhaust system that they can. Believe it or not, there are actually companies that specialize in making the "aero" parts for these vans. Also keep in mind that these full size vans are already pretty large vehicles, and I can't imagine how tough it is to drive them around on the tight streets here without breaking off any of their spoilers.
As seen above, these vans will typically have some sort of detailed airbrushing on the size. Usually they are cartoon characters or singers. Disney, Star Wars, Elvis, you name it and chances are it has been airbrushed on a customized van in Japan.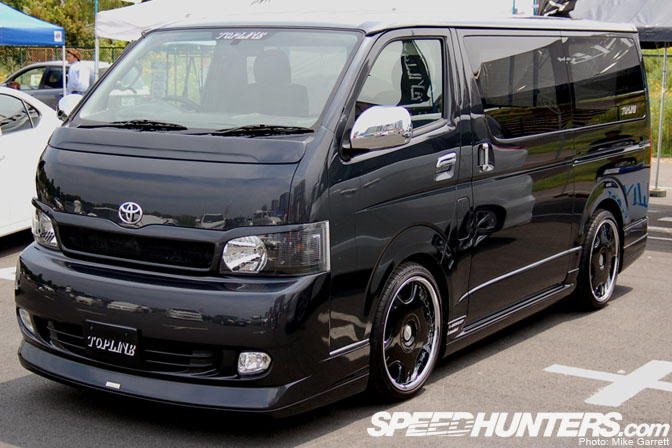 Here is another example of a late model Toyota Hiace. This one was tuned Top Line. Big, boxy, and cool. I guess this brings us on the VIP style vans that are extremely popular. Like was mentioned in the VIP style post, when VIP enthusiasts had kids and needed something more practical, they moved onto to customizing passenger vans. These vans have all the same modifications seen on VIP sedans including aggressive wheels and aero kits, plush interiors, and super low stance with coilovers or air suspension.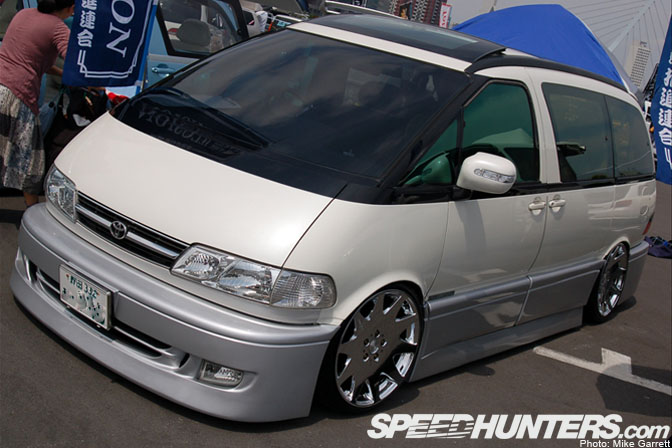 When it comes to VIP vans, few are more popular than the Toyota Estima. Even the older models like the one in this photo are still seen very often in the magazines and at events. I guess the relatively simple styling of vans keeps them from showing their age like other models. To me, even the some of the vans are 10 or 15 years old still look like the came from the future.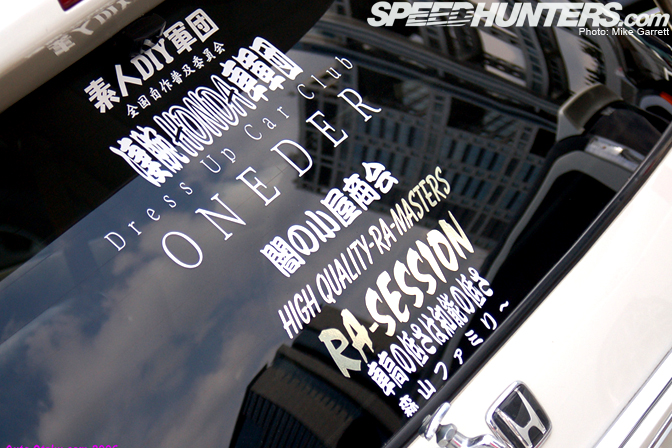 Just like drift cars and VIP cars, there are many van clubs in Japan. Their decals will usually be displayed on the rear window like on the Honda Odyssey in the photo above. Considering that these are vans, many of the enthusiast clubs are group affairs with entire families taking part in the hobby. That is something that is always cool to see.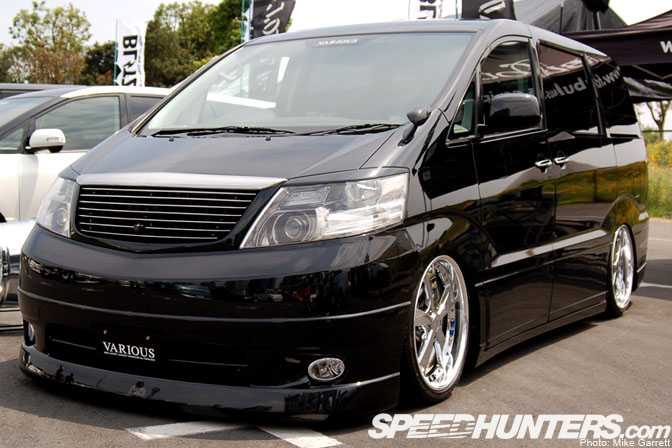 When it comes to Japanese van foodchain, without a doubt the Nissan Elgrand and Toyota Alphard are at the top. They might as well have Lexus or Infiniti badges on them. The Toyota Alphard in the photo is a demo car for the Various line of aero parts from the famous VIP tuning company Fabulous. Even in stock form, these vans offer features that can rival the finest in Japanese luxury sedans and SUV's. In fact, the newest Alphard is powered by the same 3.5L V6 found in the Lexus IS350. With aftermarket tuning they get even cooler.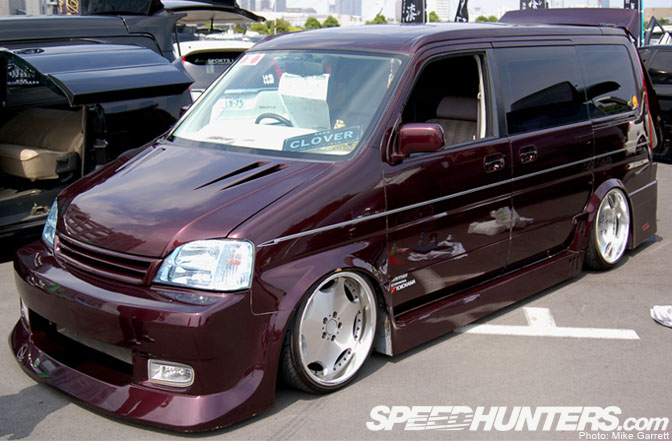 Even in the smaller vans get plenty of attention from VIP builders. The Honda Step Wagon is quite popular for this type of customization. As you can see, besides the actual vehicle, there is nothing to separate this stylistically from your standard VIP style sedan. In addition, the even smaller kei sized vans also have a big following a customizers. I figure we will save the kei car stuff for a later post though.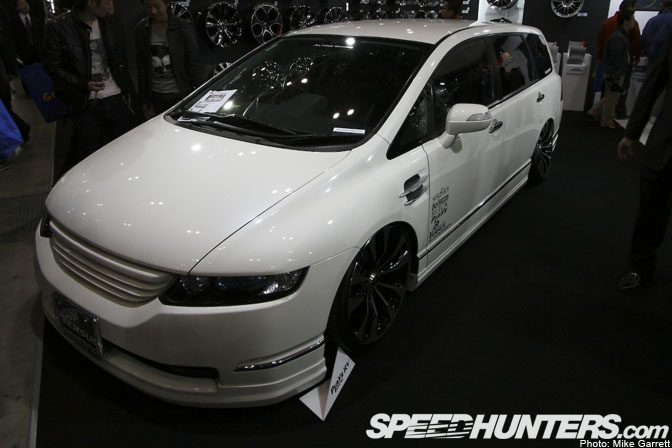 These have been popping up a lot on Speedhunters lately, but there is never a bad time to post a photo of the JDM Honda Odyssey. In fact, along with the Toytota Estima, Odysseys of all generations are probably the most commonly fixed up vans in Japan. It is also interesting to note that the first generation USDM Odyssey is nearly identical to its JDM counterpart so there are plenty of aftermarket parts available for it in case you wanted to take up a van build.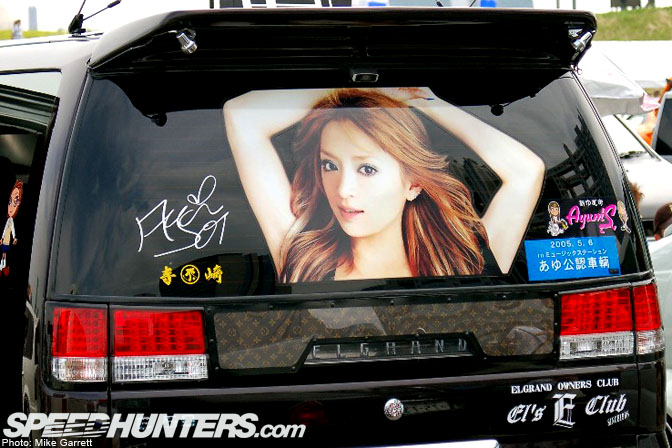 Like I said earlier, it is not uncommon to find portraits of famous Japanese singers on the back of these customized fans. Obviously the owner of this Nissan Elgrand is a huge fan of Ayumi Hamasaki. Besides the female J-Pop idols, rocker Eikichi Yazawa is another one who is commonly immortalized on the back of custom vans. Also check out the Louis Vuitton pattern on the back of this Elgrand. VIP to the max.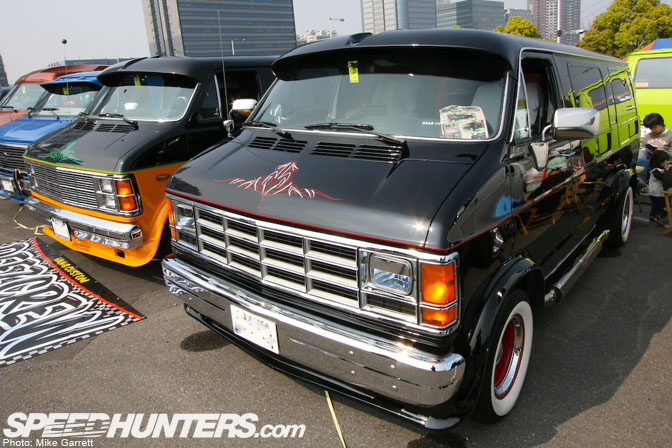 Not all of the custom vans you see in Japan are Japanese. There also plenty of American vans to be seen as well. Although these vans don't really have a cool reputation in the states, the Japanese are pretty enthusiastic about them. Both the Dodge Ram vans and the Chevy Astro are favorites among Japanese vanning enthusiasts. Considering the cost of running and maintaining something like these in Japan, the owners have to be pretty dedicated.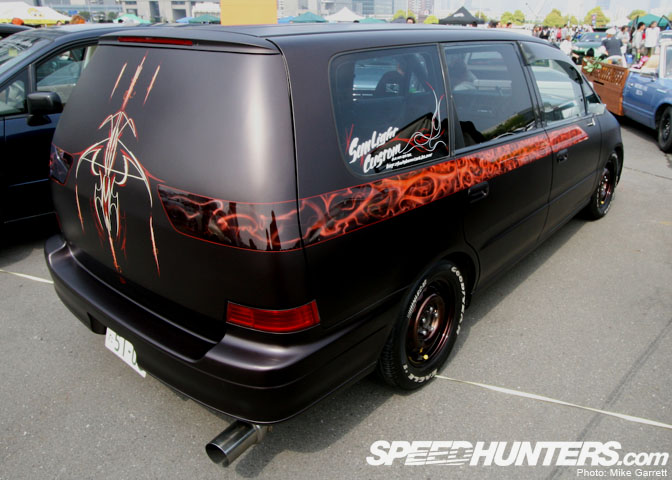 For those that like the old school style, but can't afford to buy an imported classic American van, there is always the option of doing an old school style build on a newer Japanese van. This Odyssey that I spotted at the Mooneyes Street Car Nationals has some amazing pinstriping and flame work done to the body. Also, check out how both the the rear window and the stock taillights have been removed from the rear. Pretty cool.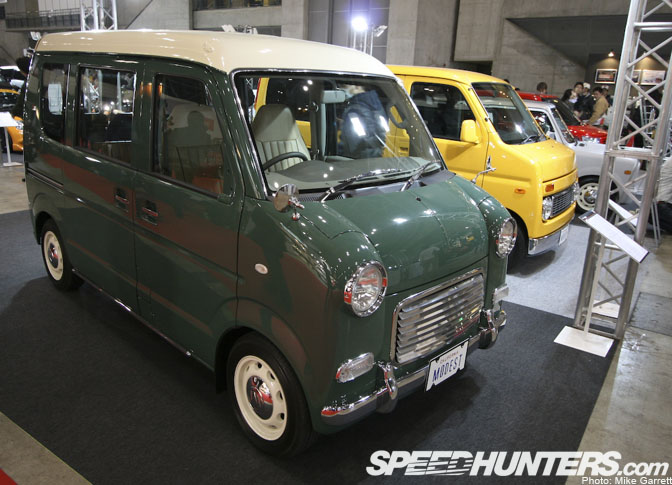 Another option for the old school fans is to pick up one of the kei van front end conversions from Dream Factory Blow. It's the perfect way to transform their practical little vans into the classic machine that they always wanted.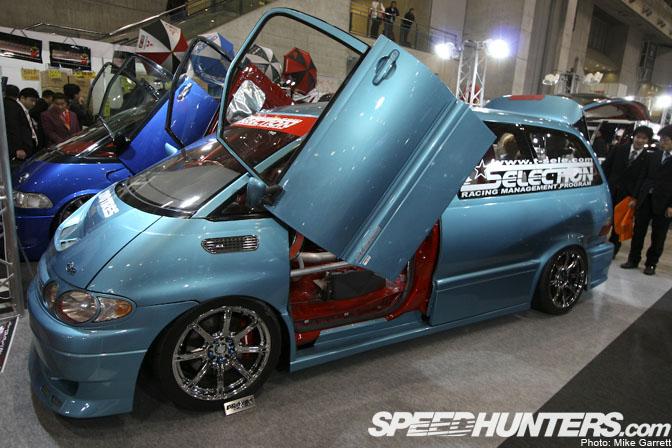 Of course I couldn't go without mentioning some the vans that are tuned for more than just looks. This Estima built by T-Selection has an interior that is filled with  a roll cage, and is powered by a turbocharged engine that is making 248ps. It's not going to set any time attack records, but it is still very cool nonetheless. Also, who can forget the infamous yellow drifting Estima which has been seen in Japanese drifting magazines and at places like Ebisu Circuit.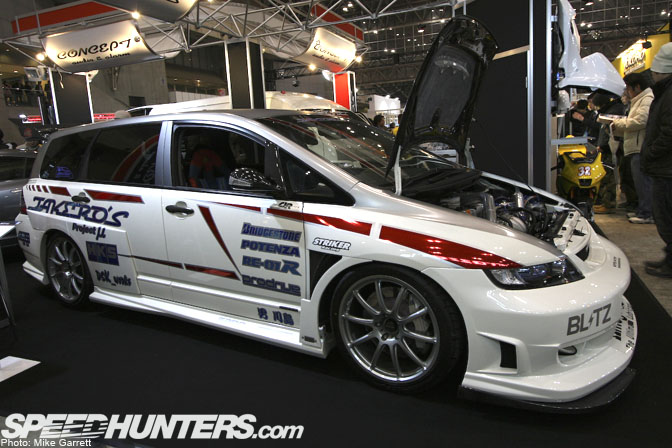 Lastly, here is the Takero's turbocharged Odyssey. Takero's has built a number of circuit-tuned vans in the past, and this Odyssey is the latest one. Besides the tuned up engine, the body has been gone over with wide fenders, a carbon hood and roof panel and of course those handsome Prodrive wheels. If you have seen some of the older Option videos, then you may have seen some of the Takero's vans being tested at Tsukuba Circuit and know what they are capable of.
Well that does it for our overview of Japanese vanning. I bet you are all itching to go out and pick up a used Odyssey or Estima now aren't you?
-Mike Garrett