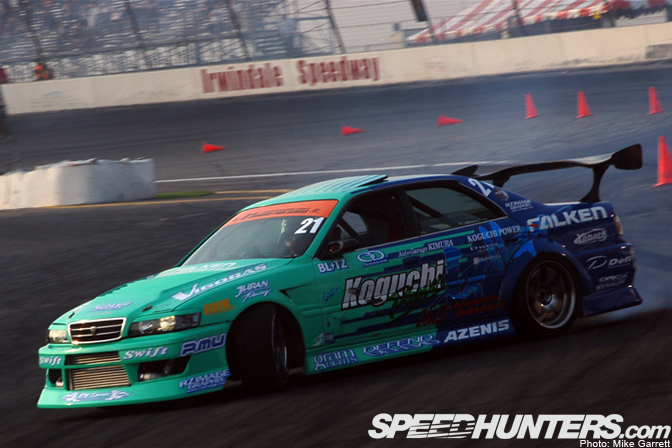 When it comes to Japanese four door performance cars, the rally-bred Impreza and Evo probably come to mind first. While those have huge following worldwide, when it comes to Japan's domestic tuning scene, Toyota's JZX chassis is right there with them in popularity. Despite the fact that the JZX has not been sold for four years, Tokyo Auto Salon 2008 was filled with more JZX's than I could count and their popularity shows no sign of stopping. We talk about the JZX's quite a bit here on Speedhunters so I figure it would be good to take a little look at just what makes these sedans so cool.
If you take a walk down any street in Japan, chances are you will see a few Toyota Mark II's, Chasers, or Crestas parked or driving down the road. There were many different trim levels of these cars available and the vast majority were basic sedans with non turbo engines, automatic transmissions, and 15" wheels. I guess you could say they are like the Japanese version of a Buick or a Camry sedan. While most of the cars sold were these basic, unexicting models, Toyota also offered performance versions equipped with its  turbocharged inline six engines. These turbo versions were extremely capable cars and they could go head to head with the best in European sports sedans of the era. It should be noted that only the turbo models were designated with the JZX chassis code.
Tuners soon fell in love with the tight chassis, potent engines, and practicality of the JZX chassis. The JZX's rear wheel drive layout also made it one of Japan's most popular drift platforms to this day. As you will see though, JZX's also get a lot love outside of drifting.
This day in age it may seem strange to have offered so many similar models, but Toyota's Mark II, Chaser, Cresta, and later the Verossa were all shared the same JZX chassis with the major differences coming in the exterior styling. The Mark II was considered the basic model, the Chaser the "sports" model, and the Cresta the luxury model, though all of them could be had with the hot rod goodies.
Now let's take a look at some of the different JZX's you can find on the streets and circuits of Japan and elsewhere.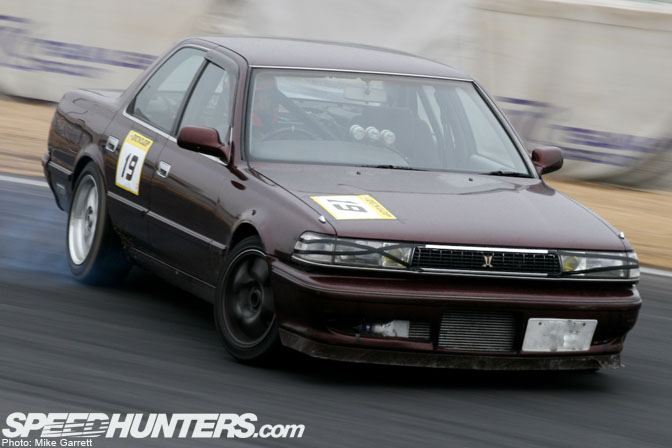 JZX81
In 1990 Toyota had just released their new state of the art twin turbo 1JZGTE  inline six and besides putting it in just their flagship sports car, the Supra, Toyota also decided to drop it in their sedans.  And thus the JZX legend was born. The GT Twin Turbo was the enthusiast's model and offered all the performance goodies you could want in a sedan. At this time only an automatic transmission was offered although many versions can be found with manual conversions. The car pictured above is a JZX81 Cresta. Crestas are typically the most uncommonly tuned versions of the JZX and are usually outnumbered by their Chaser and Mark II counterparts though they still pop up occasionally.
The "Hachi Ichi" cars were popular during the early days of drifting when the newer JZX90's and 100's were still too expensive for most drifters. Nowadays it seems the 81's are becoming more and more rare at drift events. There a few hardcore JZX81 fans around though. D1 driver Tezuka is known for his pink Kid's Heart JZX81.
It should also be noted that although some countries (like the USA) never got the JZX models, the MX83 Cressida was the closest they ever got to having a JZX. For this reason Cressida's have become quite popular with many people swapping in JDM engines and even body parts to enhance the looks of the standard MX83.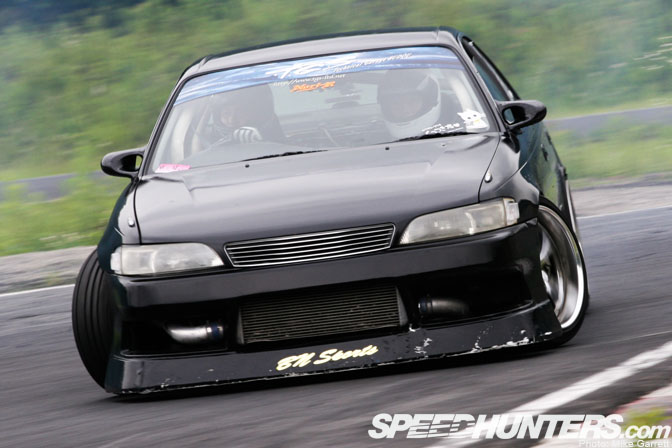 JZX90
In 1992 an all new version of the JZX debuted. The new car left the boxy styling of the 81 behind and the turbocharged enthusiast versions were now designated as Tourer V's. Even today "Tourer V" is a commonly used term to refer to JZX's in Japan. Tourer V models were now available with a manual transmission although it was not a popular option among most buyers. The rarity of manual transmissions has made the manual-equipped cars worth much more than automatic ones when it comes to the used car market. Many companies offer complete kits to convert a JZX from automatic to manual though.
The car pictured above is a JZX90 Mark II which is in my opinion (and many other people's) the best looking of the JZX90's. Of course the car above is equipped with BN aero and has really good stance, but even in stock form the 90 Mark II has styling that still looks fresh today.
I remember watching an old Best Motoring video where they put a JZX90 Tourer V up against a BMW M5 and it was a very interesting battle to say the least.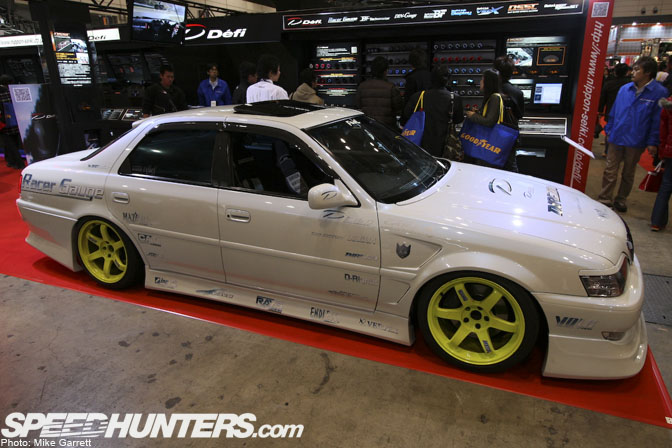 JZX100
In 1996, the JZX was updated again and besides significant styling changes, the 1JZGTE engine was updated with variable valve timing and a new single turbine set-up. All three models continued with the JZX100 Chaser being known as the most popular of the bunch and said by many to the best looking of the JZX100's. Many including myself think that the JZX100 Mark II is just as good looking, if not better looking than the Chaser though. The car pictured above is the less commonly seen Cresta. Tourer V JZX100's still bring good money on the Japanese used car market and unabused models in particular are getting very hard to find now.
While some people might say that the Chaser, Mark II etc. are not VIP cars, I do see them pop up from time to time in Japan's VIP car magazines. These cars are usually non-turbo models. We will save the VIP debate for another post though.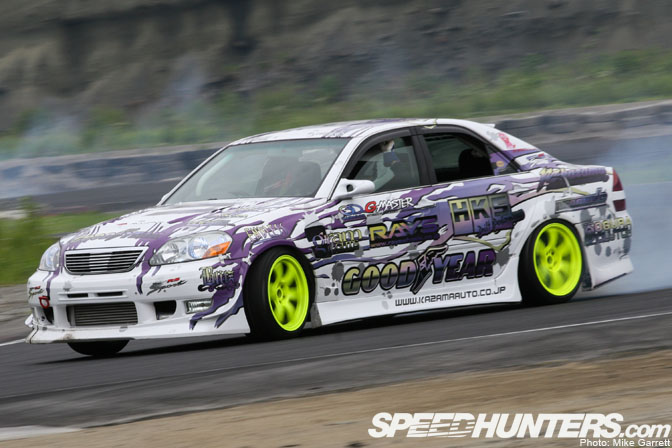 JZX110
By the end of the '90s Japan's economic slump was continuing and Toyota's sedan line was streamlined dramatically. For the new JZX110 models, the Mark II remained, but the Chaser and Cresta were replaced with the awkward, yet interesting Verossa. Both the Verossa and the Mark II were still available with the 1JZGTE but low sales numbers make the 110's some of the most rarely seen JZX models. The 110's still have plenty of potential though, as seen by Kazama Auto's Mark II pictured above. Since the JZX110's are still relatively new cars, they are a little on the expensive side for many enthusiasts.
In 2004 the JZX series officially died when the Verossa was discontinued and the Mark II was replaced with the new V6-powered Mark X.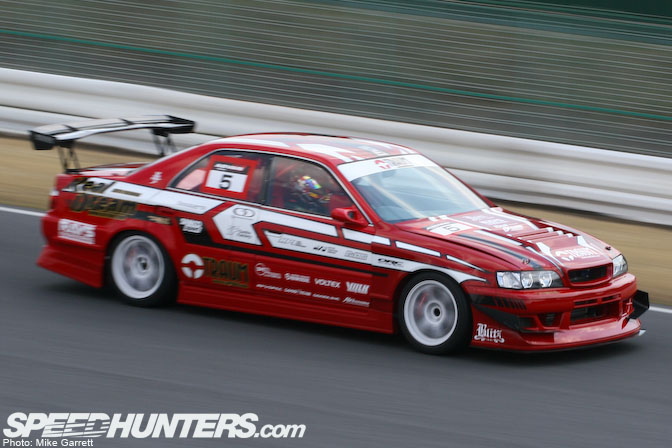 While the majority of the JZX's popularity comes from drifters, they also make very good grip platforms. There are number of fully tuned JZX grip cars including Traum's JZX100 Chaser seen above on the back straight at Tsukuba,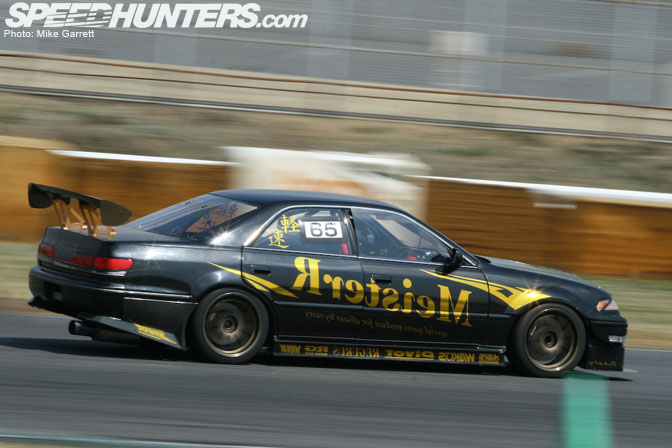 If you had any doubts about the potential of the JZX as a time attack car, Rasty's JZX100 Mark II has lapped Tsukuba in the 59 second range.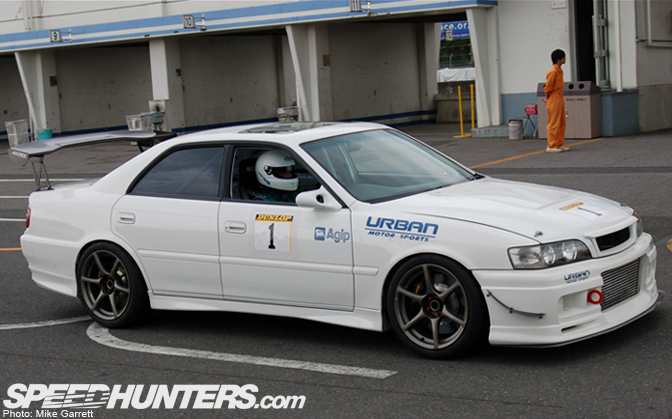 This privateer-owned JZX100 Chaser is another example of the JZX as a circuit car. I saw this car at Tsukuba over two years ago but still can't forget the jet-like sound it made.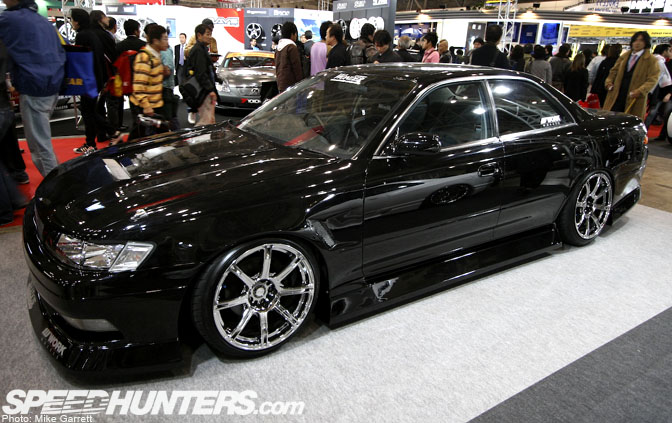 Examples like this Car Modify Wonder JZX90 Mark II seen at TAS 2008 are a big reason why I think the JZX90 Mark II is one of the best looking of any JZX models. This particular car is just about perfect I would say.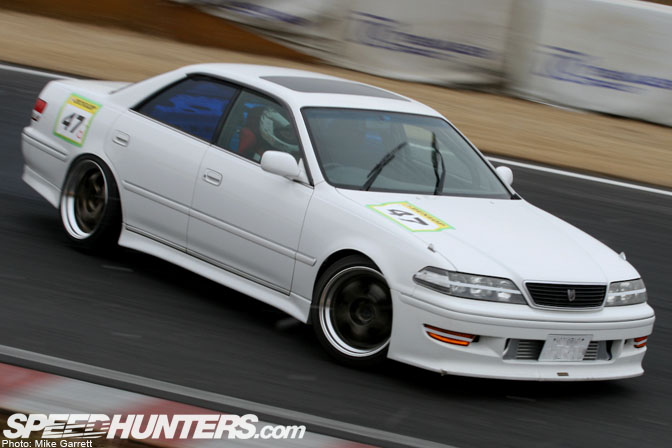 This JZX100 Mark II is a prime example of a privateer-owned drift car. Simple body upgrades, Work Meister S1's, and good stance improve on the car's already handsome exterior. It also helps that it was shooting flames out of the exhaust and had an incredible exhaust note that only a tuned 1JZ is capable of. This has to be another of one of my favorite JZX's of all time.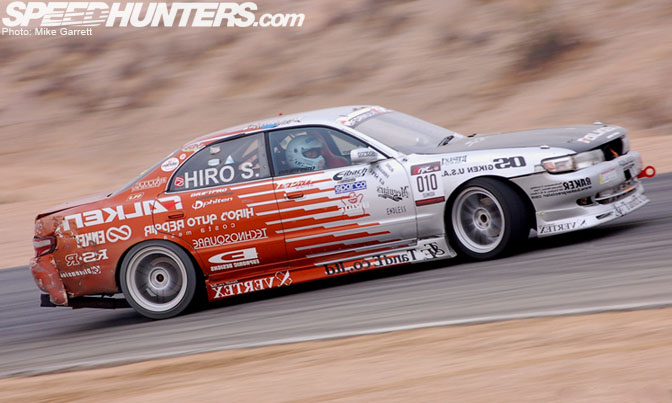 Although the JZX was never sold in the states, Formula D driver Hiro Sumida has been using his privately imported personal JZX90 Chaser in the USA for a long time now. As you can see, it is quite battle scarred from several years worth of drifting action. Although Hiro no longer competes in this car (he has his new V8 Lexus IS for that), he still brings the old Chaser out for private drift events like the Ziptied All Star Bash. While it maybe be beat on the outside, it still runs as strong as ever.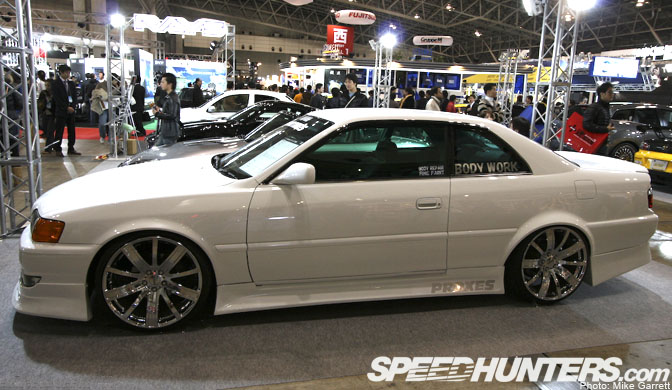 Toyota never sold a two door version of the JZX chassis, so this company made their own JZX100 Chaser coupe. It actually came out really good and looks quite factory in appearance. This car was on display at Tokyo Auto Salon 2008.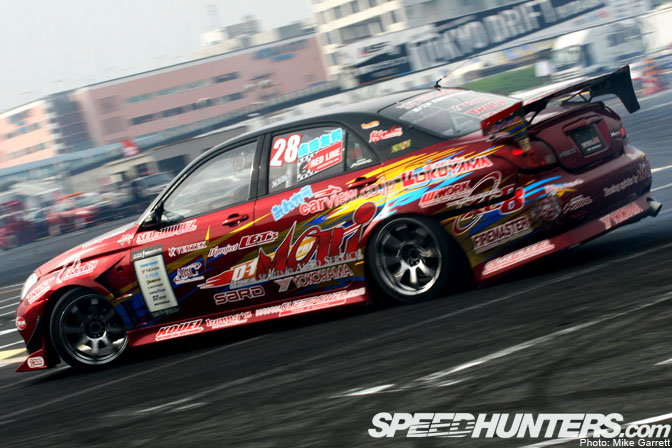 You probably already know about Hirota's JZX110 Verossa D1 car, but I figured this post would be a great place to post another photo of it. I love this car.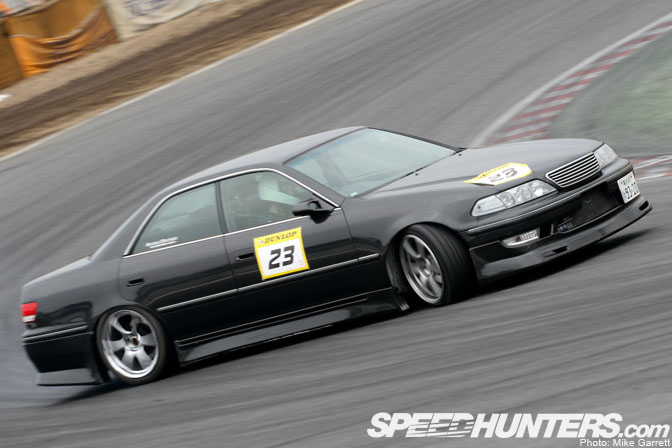 Another privateer JZX100 Mark II drifting at Tsukuba. So simple and so clean.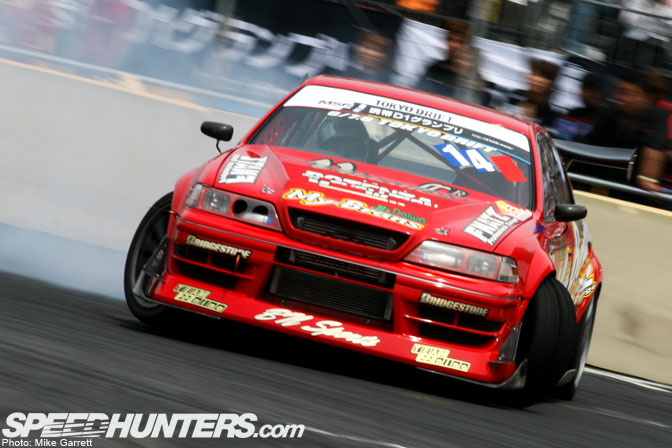 I figured I would finish this post with a shot of D1 driver Daigo Saito's 800ps JZX100 Mark II monster machine. Saito is the current "king" of the JZX world and right now he is on top of the D1 points standings after his recent victory at Autopolis.
Yes, the JZX rules indeed. Anyone want to help me get one into the states?
-Mike Garrett