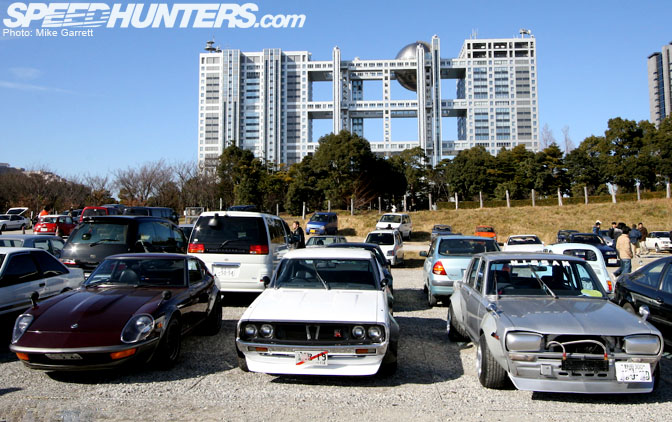 Throughout the next month I will be doing a number of "101" posts about different aspects of Japanese car culture and I don't think there is a better place to start than with the classic car scene in Japan. After all, the Japanese tuning culture that is so popular around the world would not exist without these nostalgic machines. While it has only been in the past few years that vintage Japanese cars have gained mainstream popularity outside of Japan, most of these cars have held legend status in their homeland for a while now.
Although I don't consider myself on expert on classic Japanese cars, I have had the opportunity to visit many classic car events here and I have a pretty good grasp on what the scene is like. I am going to outline some of the most popular models and talk a little about the status that some of these cars hold in Japan. Although American and European classics also have a strong following in Japan, for now I am going to stick with Japanese domestic cars.
Just like in other countries, the classic car scene in Japan is divided into many different sub-categories. Some owners prefer showroom restorations, some prefer modified street cars, some are into nostalgic auto racing, others prefer upgrading their cars with modern running gear like the American pro touring style. Of course you also have the whole bosozoku/granchan/shakotan movements but we will be saving those for another post.
Nissan
If you look at the opening photo of this post, you will see that all three cars are Nissans. While you will find classics of all types in Japan, Nissan cars are by far and large the most popular. At many events more than half the cars you see will be wearing Nissan badges.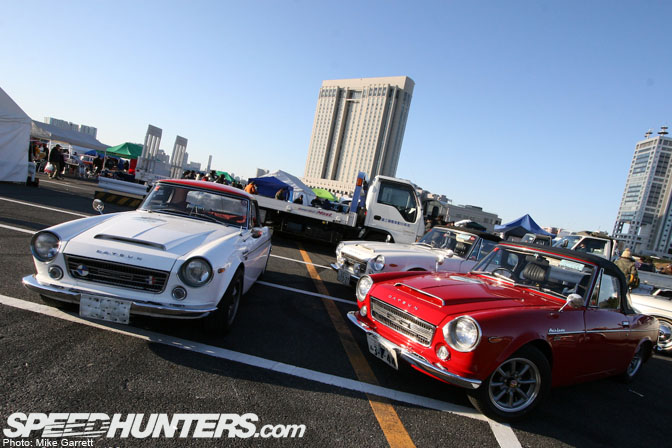 While they are not as popular as cars like the S30Z, Skyline, or Sunny, Nissan's sports car roots can be found in the original Datsun Fairlady Roadsters. Since these cars are rarer and older than the more popular cars mentioned above, most of them are kept pretty original. There are some very active roadster enthusiast groups in Japan and there were plenty of gorgeous examples to be found at the 2008 JCCA New Year Meeting. While on the subject of the New Year Meeting, it is one of the largest classic car events in Japan and a yearly tradition for many enthusiasts. I took many of the photos in this story at that event.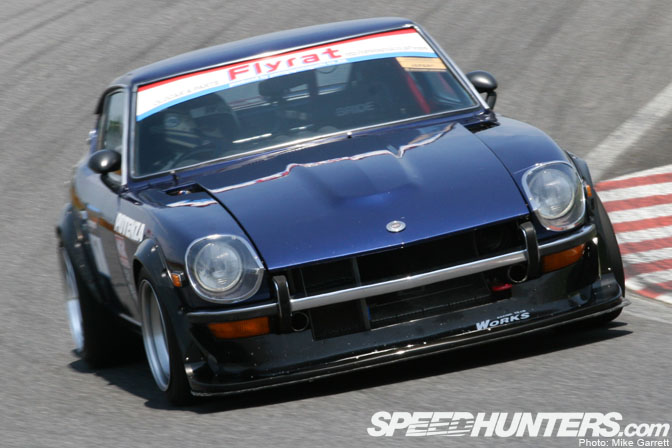 One of, if not the most the popular vintage Japanese cars is the "san maru" Z. When you think of how the classic Z's are viewed in Japan, you have to look at at with the same mindset that Americans look at the Corvette with or that Europeans look at the Porsche 911 with. It is quite simply a legend. Nearly all vintage Z's as well as most other classic Nissans you find in Japan will be powered by a variant of Nissan's L-series inline six. I guess you could say that the L-series is the Japanese version of the small block Chevy. Despite its age and mechanical simplicity, it is still a favorite among classic car builders in Japan.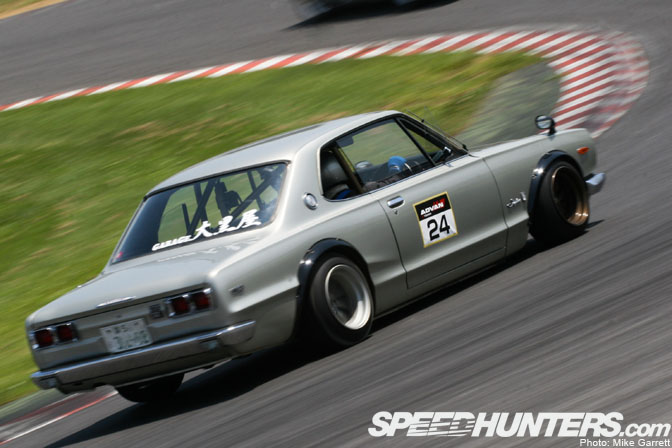 If the Z is the Japanese Corvette, than I guess the Skyline could be the Japanese Mustang? The famous Hakosuka Skyline might be the only Japanese classic that is more common that the S30Z. The Skyline is one of the most important Japanese cars ever and the Hakosuka is considered to be one of the finest of the breed. While the majority of the Hakosukas you see will be L-powered, the original GT-R models powered by the twin cam S20 engine are the rarest and most expensive models by far. In terms of status, a genuine GT-R to a Skyline 2000 GT is like a Boss 429 Mustang compared a Mustang GT. The Hakosuka Skyline is one of the most versatile Japanese classics and you will see everything from showroom stock examples to 500hp RB26-powered hot rods. It also seems like 90% of all Hakosukas seen anywhere are silver in color.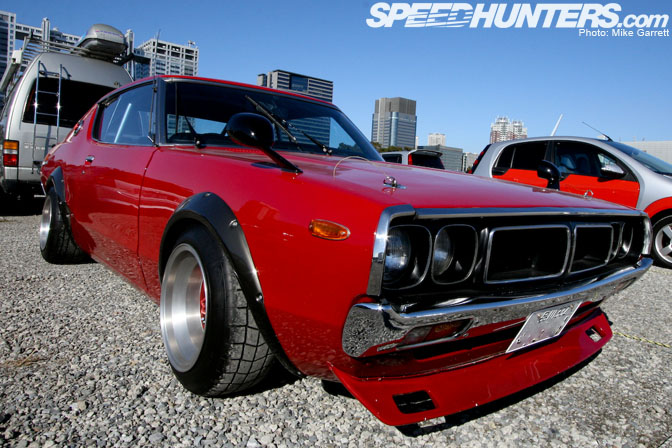 A little less common, though no less popular than the Hakosuka are the 110 chassis "Kenmeri" Skylines. The two door Kenmeris are known for their distinct musclecar-like fastback styling. The four door versions of the 110 are known as "yon(4)-meris". GT-R versions of the Kenmeri are even more rare than the Hakosuka as the oil crisis put an early end to the model. As I have said before, the Kenmeri Skyline is one of my personal favorite cars of all time. In case you didn't know where the name "Kenmeri" comes from, it came from a couple named Ken and Mary that appeared in period advertising for the car.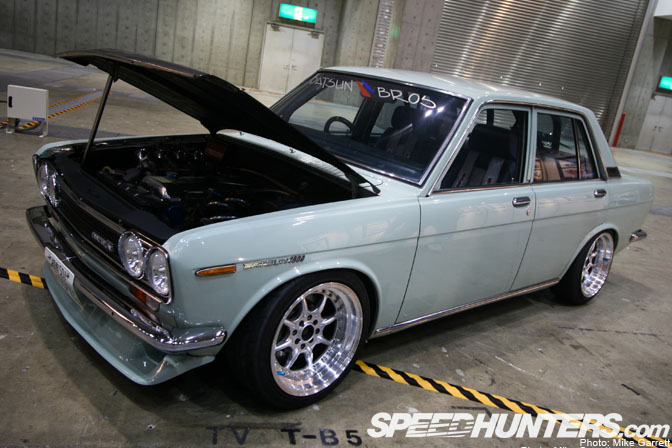 While the 510 Nissan Bluebird (AKA Datsun 510) is certainly popular among classic car fans in Japan, it is not quite the same phenomenon that it is in the United States. In fact, many Japanese 510 owners look to the United States for their inspiration. The 510 just does not have the same racing history shared by other Nissan models in Japan. Like in the United States, the old BRE 510 race cars hold legendary status in Japan. In fact I think I have seen more 510's done up in BRE style livery in Japan than I have in the US. The relative rarity of 510's in Japan makes them big draws at classic car events.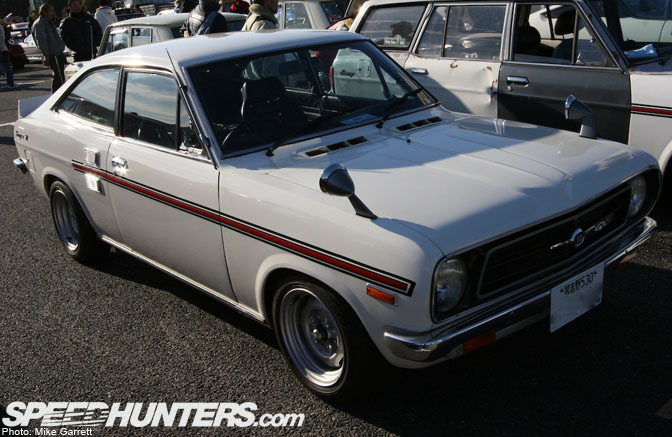 The Nissan Sunny is a very well known car in Japan. In the US the Sunny (Datsun 1200/210) was overshadowed by the 510, but in Japan the Sunny is the famous one. This is due in large part to the car's racing history. Sunny's are powered by Nissan's overhead valve A-series motors and despite their small displacement and ancient design, tuners have gotten some serious power out of the A-series. Some of the first tuning that Tomei ever did was on the A-series and the 110 Sunny.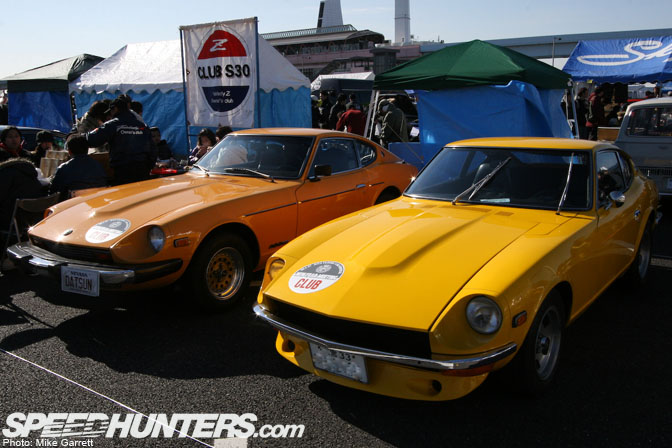 If you look at this photo (taken at the JCCA New Year Meeting in Tokyo), you will notice that both of these cars are left hand drive and that the Z on the left is wearing US-spec huge bumpers. It is actually pretty common to see Japanese classic cars imported back to Japan from the United States. Up until recently at least, US cars could often be found for cheaper and in better condition than the typically rusty cars found in Japan.
Toyota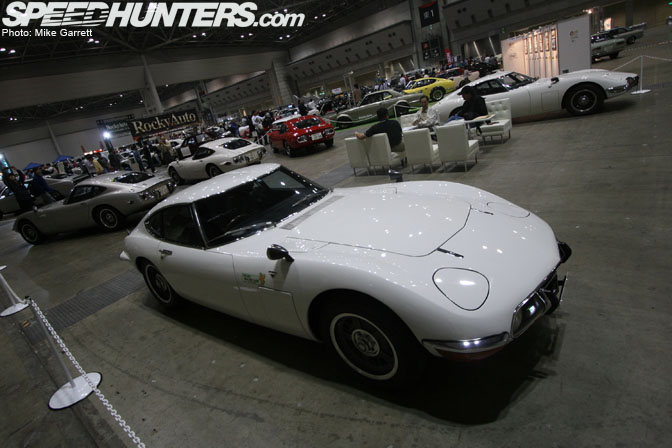 As you would expect, Toyotas are the most commonly seen classics after
Nissans. Although Toyota's cars generally don't quite have the
following of cars like the Z and the Skyline, they are still quite
popular among vintage car enthusiasts.
You can't talk about vintage Toyotas with out mentioning the 2000GT. Although the "ni-sen" GT is popular worldwide for its gorgeous styling and is well known even by non-enthusiasts in Japan, the car's high price and rarity kept it from becoming the cultural icon that the Fairlady Z is. The 2000GT is the original Japanese exotic car and its styling is timeless. For this reason there always seems to be a group of people gathered around 2000GT's at car shows taking cell phone pics.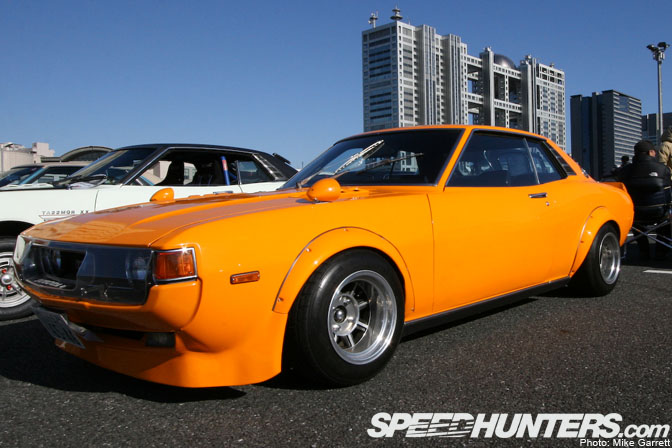 When it comes to vintage Toyotas, the early Celicas are some of the most popular. Compared to Nissan Z's they are still quite rare and it always a treat to see a nice example like the one seen above. Just look at those fender flares, headlight covers, and Hayashi Street CR wheels. Beautiful. Both the early Celica coupes and the liftback or "LB" models as they are known in Japan are great examples of classic Toyota sports car style.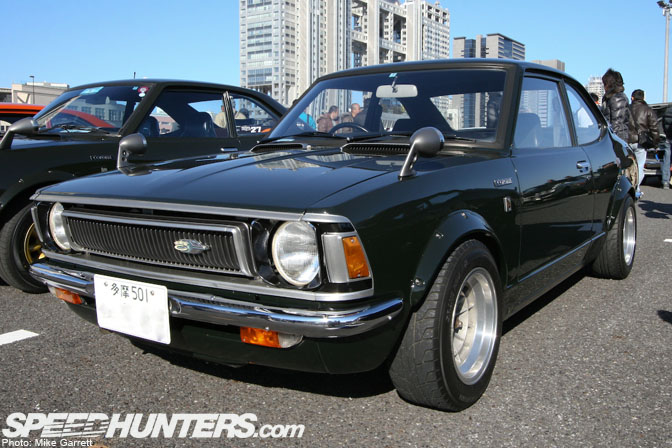 Of course you can't leave out the vintage Corollas/Levins/Truenos. The TE27 models in particular have a big following in Japan. At the 2008 New Year Meeting, Toyota was the featured marque and there was what had to be one of the biggest gatherings of pristine TE27's in the world. There also a handful of restored racing versions that appear at the JCCA race meetings at Fuji and Tsukuba.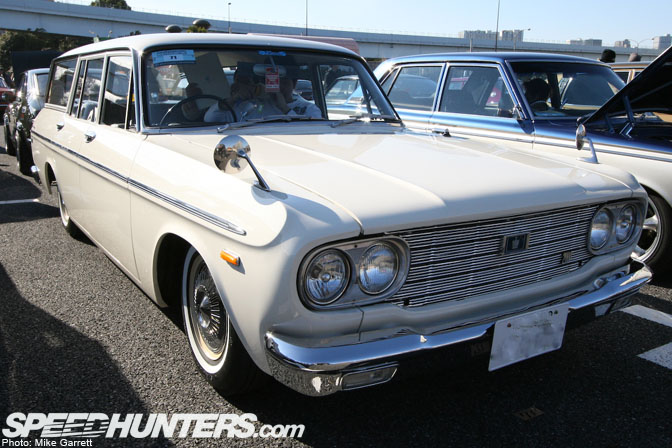 The Toyota Crown is another iconic Japanese car that is not really well known outside of Japan. As you can see, the '60s and '70s Crown models share styling with American cars of the same era. Vintage Crown owners are really into American custom car style and it's not uncommon to see Crowns slammed on wide whitewalls or vintage style mag wheels. There is company called Crown Classics that specializes in building customized Crowns which are often powered by modern Toyota engines.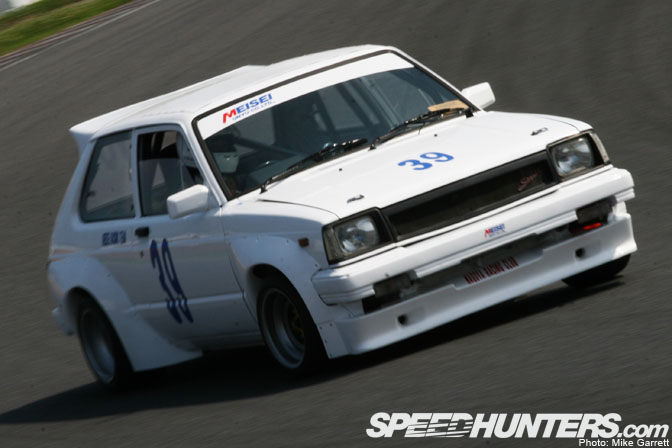 Although fairly new by "classic car" standards, the KP61 Starlet is a very popular car among Japanese vintage car fans. Like its Nissan Sunny rival, the Starlet has rich history in Japanese motorsport and can still be seen often at Japanese racing circuits. The Starlets are not really old enough to warrant full restorations, but I have a feeling that these cars will become even more desirable in the future as they age.
Mazda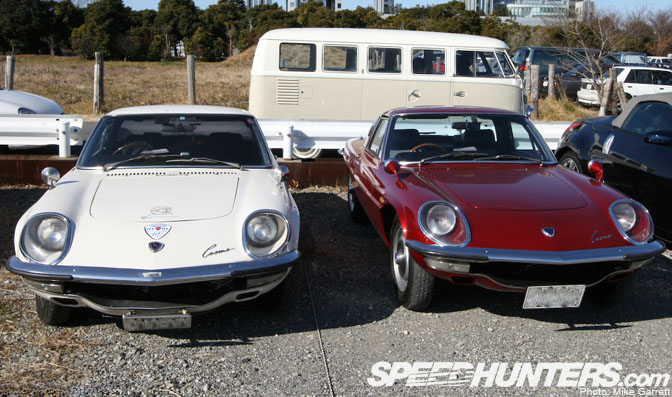 While Mazda's classic rotary powered cars are well known around the world, I have been pretty surprised at the relative lack of Mazdas at classic car events in Japan. I am not sure if this is due to poor sales figures when new, or because of the maintenance required for these cars, but I always expect to see more. The original Mazda Cosmo Sports, like the cars pictured above are popular, but more in an "exotic" way like the Toyota 2000GT.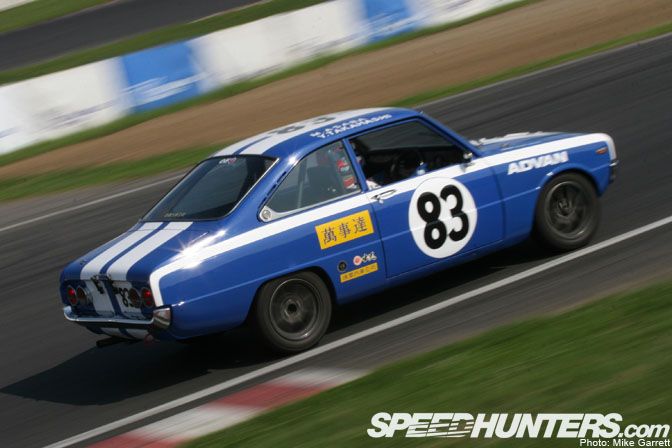 You do occasionally see vintage Mazdas and their rarity makes it very exciting when you do see one. This Familia Rotary Coupe was running in the JCCA Tsukuba Summer Meeting and as expected, its rotary sound stood out among its piston-engined rivals. It was with classic Mazda cars like this that rotary mastermind Amemiya-san began his love affair and lifelong dedication to all things RE. Without cars like this, there would be no RX7 or RX8.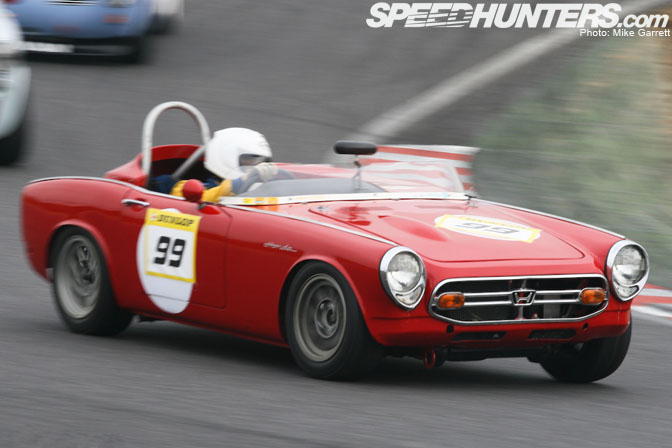 Honda
Although Honda's classics are usually heavily outnumbered by other makes, they still have a strong following, particularly among vintage racers in Japan. Doesn't the low windshield S800 racer in the photo above look great? The vintage Hondas don't have the same "street machine" following as the Nissans and Toyotas, but they have their own unique, race car-inspired flavor. The soul of Honda's original sports cars like the S600 and S800 is still alive in modern Honda cars like the S2000 and Civic Type R.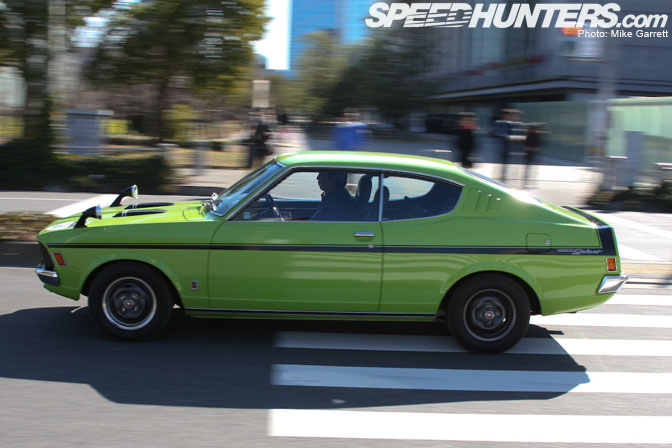 Mitsubishi
Although Mitsubishi made some very interesting cars in the "golden" era of classic Japanese cars, the three diamond badge are not seen often at classic car events. It's a shame because the vintage Mitsus like the Galant GTO are such cool cars. Like other Japanese cars of the same era, these Mitsubishis shared a lot of styling cues with American muscle cars. In fact, some of these cars were even sold in the United States where they were branded as Mopar products.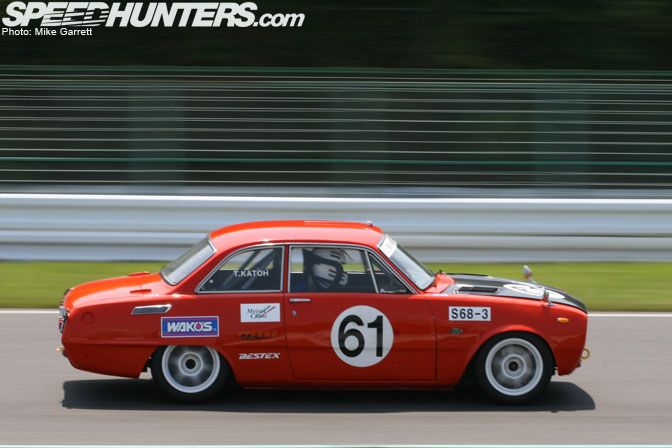 Etc.
Besides the larger, well known makers there are also plenty of vintage machines from the smaller Japanese automakers like Isuzu, Suzuki, Subaru, and even Hino. The car pictured above is an Isuzu Bellett and they are actually fairly popular in Japan's classic car scene. There was even a Bellett GT-R powered by a twin cam four cylinder that saw a lot of race in action in its heyday.
Hopefully that gives a good look at the classic or "nostalgic" car scene in Japan. We all love old school Japanese cars here at Speedhunters, so you can expect to see plenty more about them in the future. You can also check out JNC for tons of cool nostalgic car stuff.
-Mike Garrett