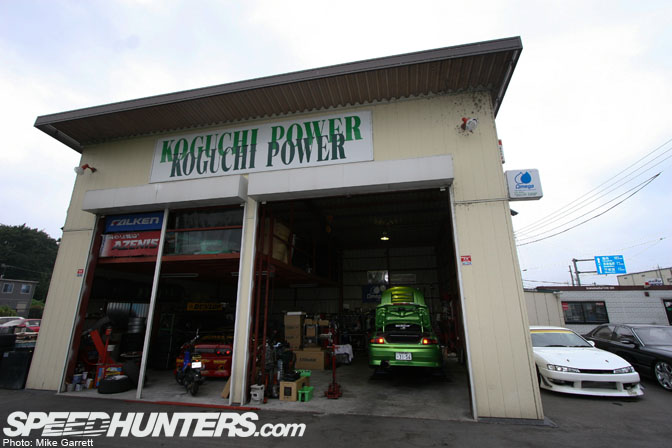 If you were to leave Toyko on the Shinkansen bullet train heading northeast, you will pass right through a city in Tochigi Prefecture called Utsunomiya. It happens to be the biggest city in the prefecture and is known all over Japan for its Gyoza, the Japanese version of Chinese dumplings. For us car people, Utsunomiya is also home to Nissan's Tochigi Plant, the birthplace of performance cars like the Z and the new GT-R. Located a just down the road from the Nissan factory is a fairly nondescript garage sitting alongside the highway. From a distance it looks like any normal car repair shop, but a look at the sign on the top of the building will reveal the true significance of this shop. Koguchi Power.
This is where we found ourselves yesterday afternoon after the drive up from Ibaraki. When we arrived at the shop, Koguchi-san was in the middle of working on the green S14 you see in the photo above, but being the nice guy that he is, he stopped what he was doing to spend some time showing us the shop, some of his cars, and talking about the art of building cool drift cars. As expected, it would turn out to be a very rewarding experience. After all, to say that Yoshinori Koguchi is legendary among hardcore drifting fans and S13 enthusiasts would be an understatement.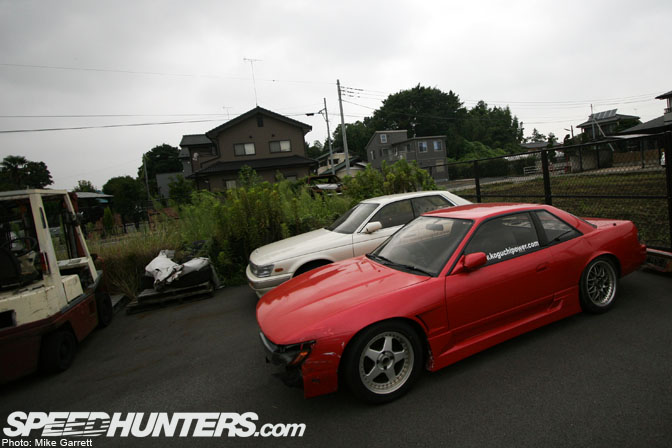 Naturally, we began the visit with a look at the area surrounding the shop. Scattered around the place were various old chassis, tons of car parts, and enough Falken tires to fill a whole tire shop. The red Silvia in the photo looked fairly complete although it had plenty of signs of heavy usage in the past. The white C33 Laurel on the far side appeared to be little more than a rolling shell. If you look closely at the background of this photo, you will see something strange in the bushes.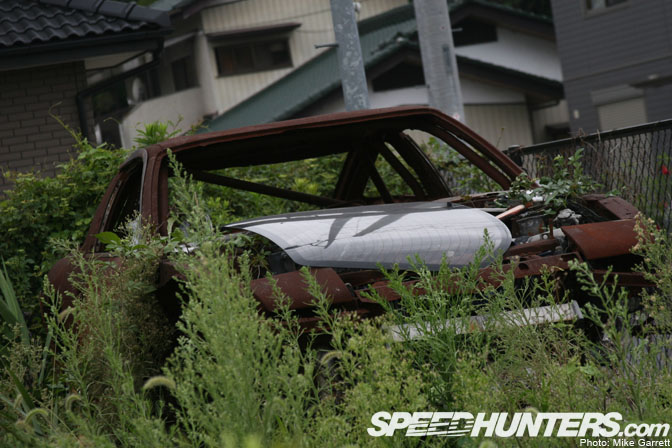 A closer look and you can probably recognize it as the rusted out shell of a 180SX drift car, complete with its roll cage still intact. It was actually sitting on top of another chassis that we couldn't even identify due to the weeds. I couldn't help but wonder the history behind the car and how it wound up sitting in a forest of weeds behind the shop. Seeing this car also reminded me of those "Americana" paintings and photographs with old cars rusting away in fields.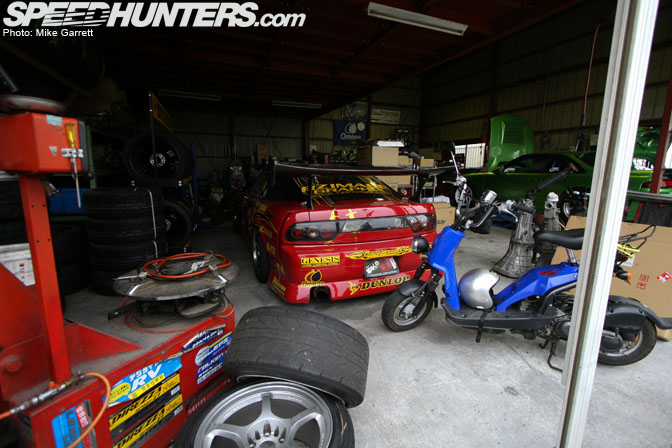 A look inside the garage reveals the familiar sight of Koguchi's D1 180SX sitting amongst rows of tires as well as plenty of spare parts. I have not visited too many Japanese drift shops myself, but Antonio commented that this place was a lot cleaner and more organized than a lot of the ones he has seen.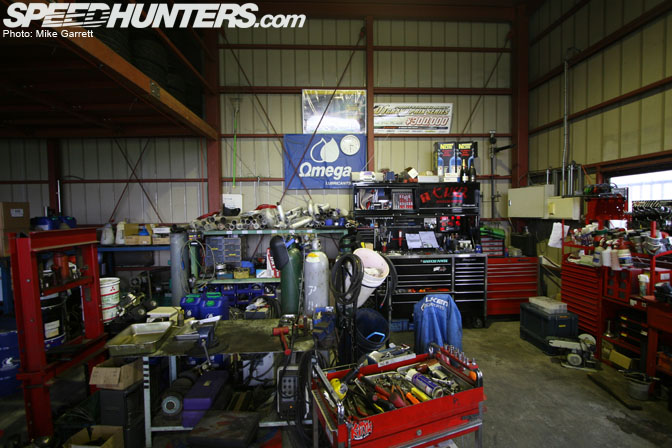 The current shop was established about five years ago, and before that Koguchi primarily did private work for his friends and other small stuff. With the current shop he has a customer base that includes people from as far as Iwate and Fukushima in northern Japan, to local drifters from Tochigi and Ibaraki. While Koguchi has done work on many cars from all over the country, he estimates that there are about 20 core customers that are enrolled in the "Koguchi School of Drift Car Tuning and Driving". That is not an actual name, but that's what I thought after hearing him describe the relationship between him and his customers.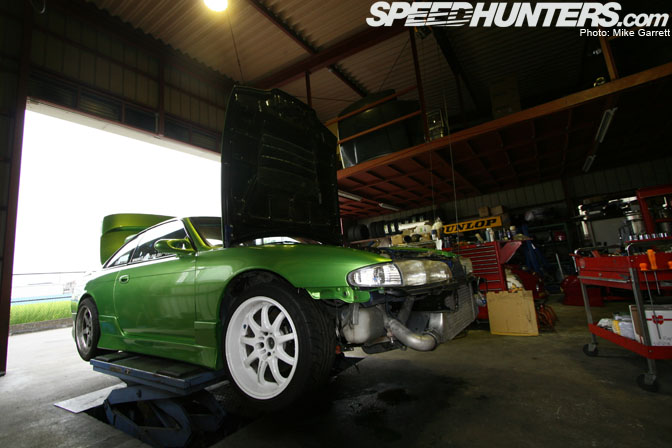 Koguchi does much more than just sell and install parts. His core customers have been with him a long time, and under his guidance have gradually transformed their stock cars into full fledged drift machines. Koguchi's relationship with his customers also spans far beyond the confines of his shop. He will regularly go to the track to help dial in the customer's car as well as give them tips how to drive it. This way he can determine if its the car that needs to be adjusted or if it's the driver that needs to improve.their skills. After all, all the work that he does building a good drift car will be put to waste if the driver does not know what to do with it.
This sort of relationship has made Koguchi's customers as loyal as they come. He says that although he knows his customers can buy tires cheaper from the big internet stores, they prefer to buy from him so they can support him and his shop.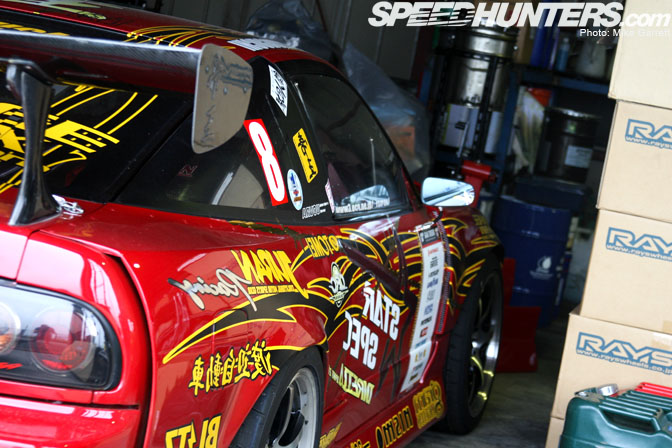 There's Koguchi's D1 car as it rests quietly in the shop awaiting its next trip to the track. August is a busy month for D1 drivers with the Autopolis event a few weeks ago as well as the upcoming match at Ebisu at the end of the month. You will probably also notice that the car has had a makeover since the last time we saw it. The changes include a new yellow graphics scheme as well a new set of wheels which are a new release from Gram Lights.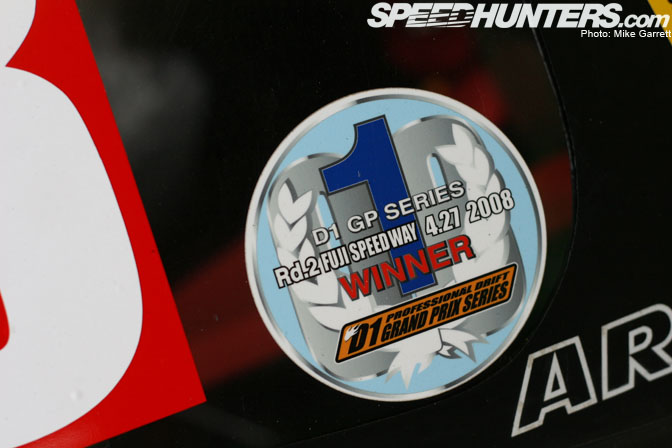 When I was looking at the D1 car, I noticed the sticker that Koguchi earned with his victory at Fuji Speedway back in April. A badge of achievement so to speak.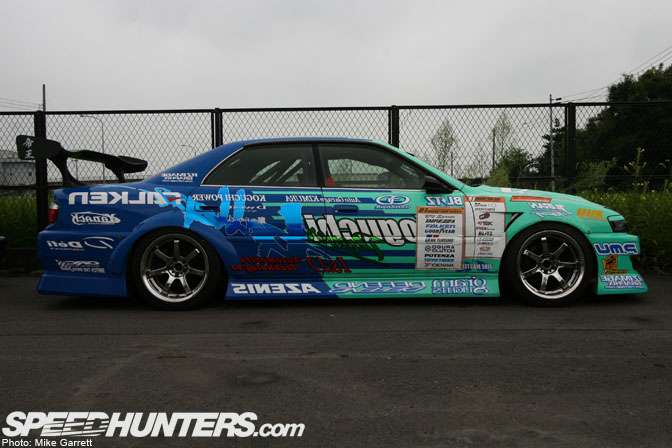 Speaking of D1, another machine that can be found sitting outside the shop is the Falken-colored JZX100 Chaser that Koguchi drove in 2006. American fans will probably recognize this car after seeing it run at Irwindale that year. In fact, the D1 USA sponsor sheet can still be seen on the car's front fender. Koguchi no longer drives the car and currently it is not even in running condition. Although Koguchi will always be associated with 180SX's, I still think it would be nice to see this car back in action sometime.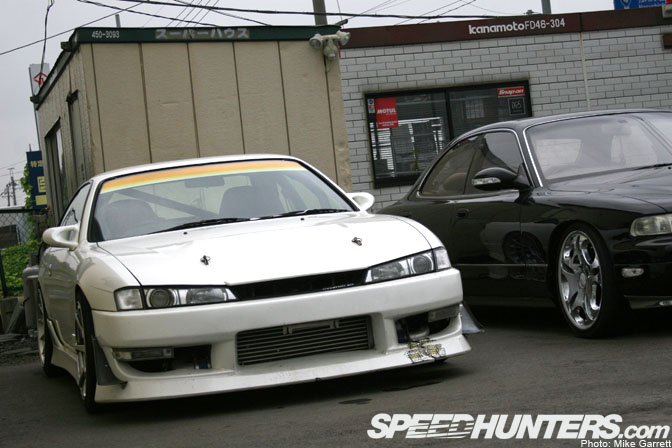 We also spotted this cleanly done kouki S14 Silvia siting outside the shop. Perhaps it belongs to another one of Koguchi-sensei's students?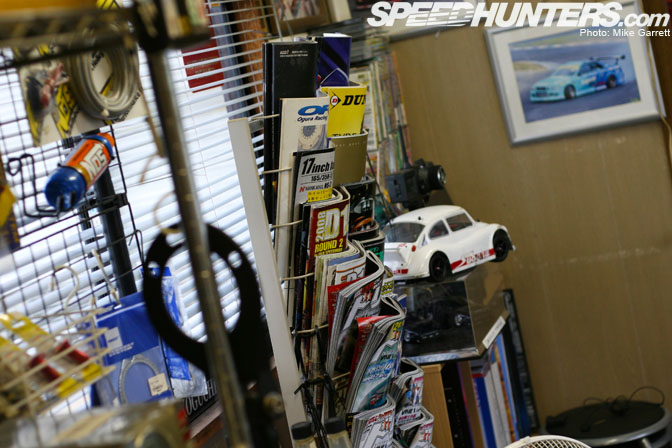 In addition to the garage, there is also a small showroom and office located in a separate building. There are a few small parts and accessories that Koguchi keeps in stock, as well as plenty of cool memorabilia and photos that fill the walls. Like any good shop, there is also a rack loaded up with tons of drifting magazines and catalogs. Although it is small. the showroom has a very "personal" atmosphere which I thought was very cool.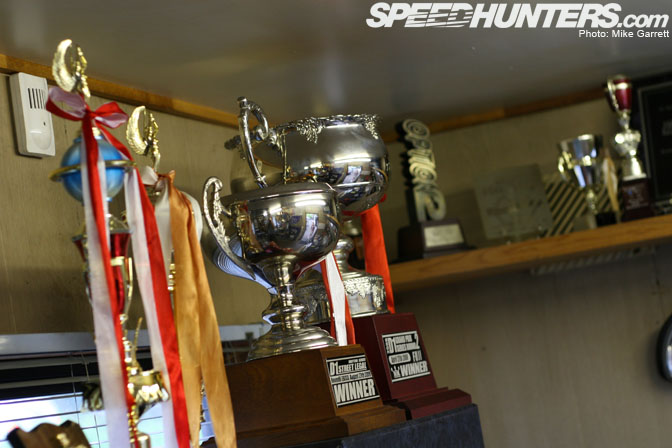 Also in the showroom is Koguchi's collection of trophies. These span his entire career from the early days up to his most recent D1 wins. It was very cool to soak in all of this history as we drank the complimentary "Pocari Sweat" soft drinks that Koguchi-san gave to us.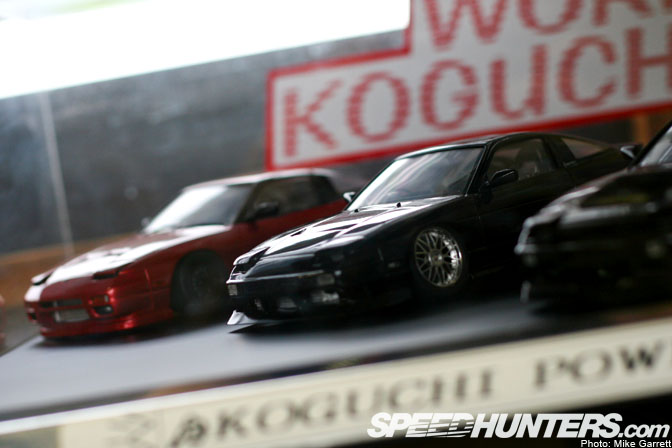 One of the coolest things in the showroom had to be this display case with three 1/24 scale recreations of Koguchi's earlier 180SX versions. It is like watching a miniature evolution of 180SX drift car style over the years. This is similar to model cars of Team Orange's old cars that Rod saw during his visit to the K-Style shop in Fukushima.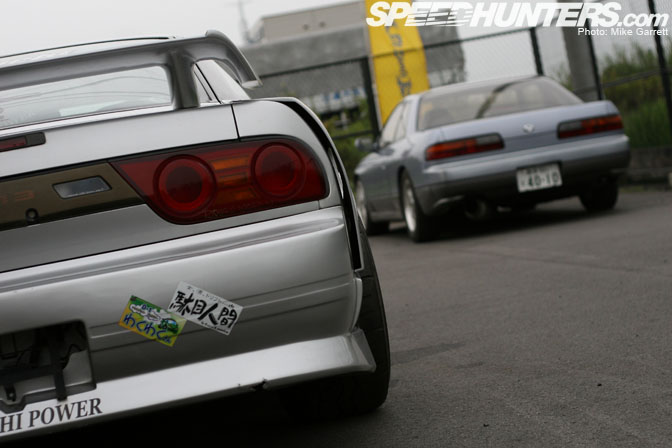 Lastly, here is a shot of Koguchi's other 180SX. The silver one that Rod and Antonio spotted at the Ebisu Natsumatsuri last week. We all loved this thing, and while I was shooting the shop, Antonio shot a full feature on the car which will be appearing soon.
It was a fantastic experience and we have to thank Koguchi-san for taking time from his work to show us around.
If you needed any more examples of just how influential Koguchi's style can be, after visiting the shop I heard Antonio, AKA Mr. AE86 and the guy who coined the phrase "86>13" saying "hrm…maybe I will do an S13 for my next project". If that isn't all powerful influence, then I don't know what is!
-Mike Garrett