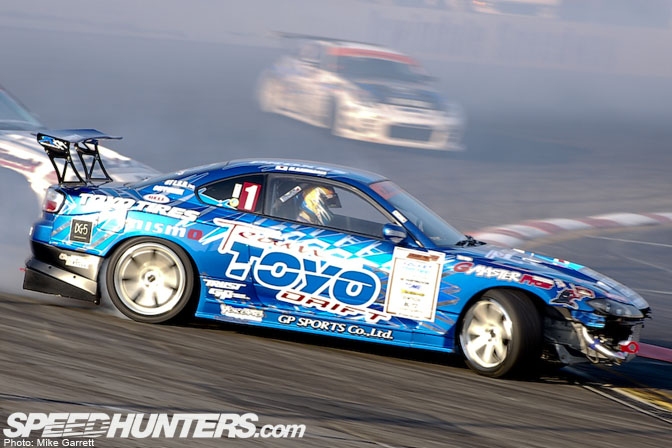 It's time to finish up our look at the top 10 drift cars of all time and reveal our pick for number one. Before we reveal the top car, let's first look at some of our "honorable mentions". These are cars that made people's lists but did not quite make it into the group's top 10. Cars like Kawabata's S15 pictured above are a good example of these cars. Although the car has achieved a lot of success in D1 recently, it coudn't quite match up with the other cars on the list as far as the overall picture is concerned.
Here a few more of our honorable mentions.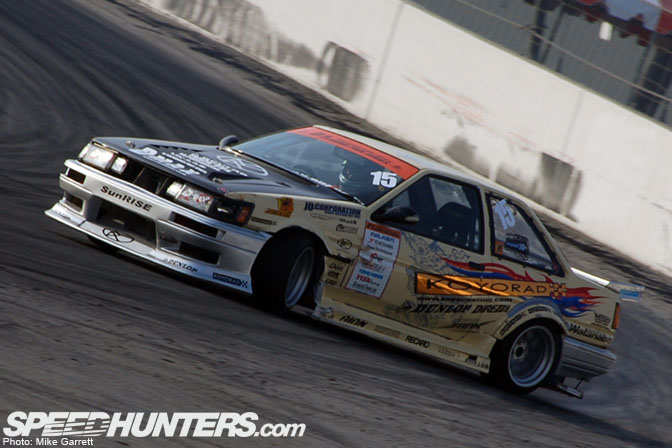 Testsuya Hibino's AE86 came very close to making our list. Nobody will forget his famous jumping escapades at Ebisu Circuit a few years ago. Although he has gone through a few different AE86's and even an S15, the Levin coupe pictured above is probably the most memorable of his cars. Hibino's aggressive driving style is a perfect match for the nimble AE86 and this combination has earned Hibino and his 86's many fans over the years.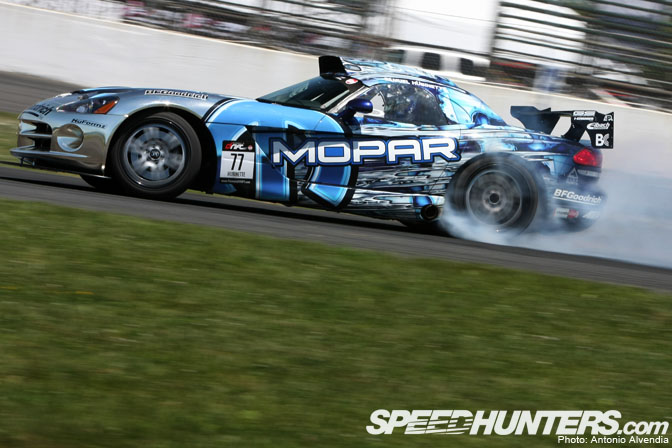 Samuel Hubinette's various Vipers also deserve a mention here. Especially his original Viper Competition Coupe which won both the first Formula D event ever and the inagural Formula D season championship. Like the RMR GTO, this car also represented the introduction of big sponsors to pro drifting and the high-dollar Viper stood in great contrast to a lot of the grassroots cars that were seen in Formula D's first season. After spending some time in the Dodge Charger, Sam is now back in a Viper for 2008.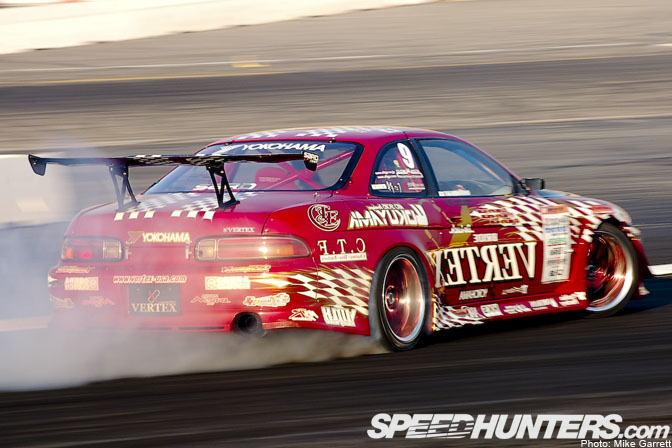 Takahiro Ueno's JZZ30 Soarer also came very close to making the list. Even though the car has not dominated competition-wise, Ueno has been driving a JZZ30 since the beginning of D1 and he has probably appeared in more D1 events worldwide than any other driver (except maybe for Nomuken). Like Nomuken's ER34, Ueno's Soarers have been constantly evolving over the years with more power and a more aggressive exterior. Ueno's cars have also done in a lot in establishing the Soarer/Lexus SC300 as popular drift platform worldwide.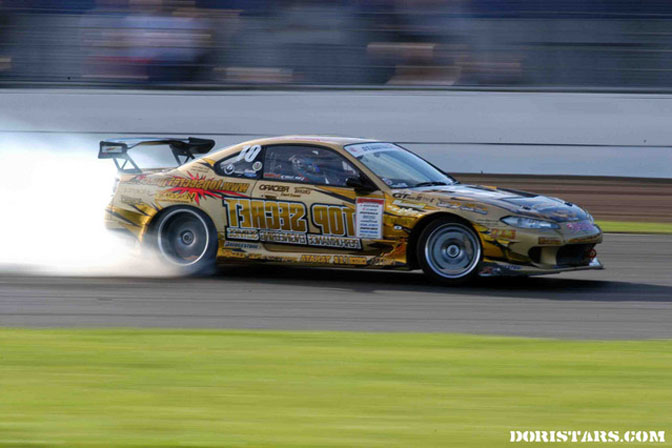 We couldn't leave out the Top Secret S15 Silvia driven by Ryuji Miki. Besides being known for its eye-catching gold livery, this is car won the D1GP Championship in 2004 and then appeared in the UK after being retired in Japan. The main thing that kept this car from being ranked higher is its relatively short lifespan as competitive pro car. It would eventually be replaced by Top Secret's RB26-powered Z33, a car which struggled to achieve success even with a number of different drivers.
Now that the honorable mentions are out of the way, it's time for our number one pick.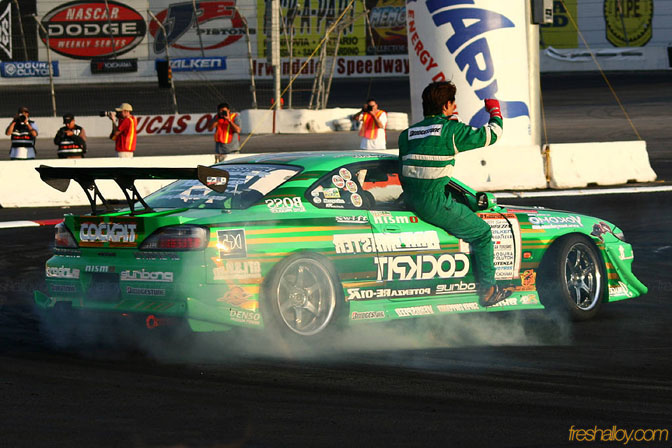 #1 AP Boss/Kei Office/Team M.O.V.E S15
Type: S15 Silvia

Series: D1GP Japan and USA

Years Active: 2000-Present

Builder(s): Auto Produce Boss/Kei Office

Driver(s): Yasuyuki Kazama, Katsuhiro Ueo(?), Youichi Imamura

Chassis Variations: Unknown

Current Status: Active in D1GP Japan (Imamura), another version also seen in Norway.

Number of Wins: 11

Championships:1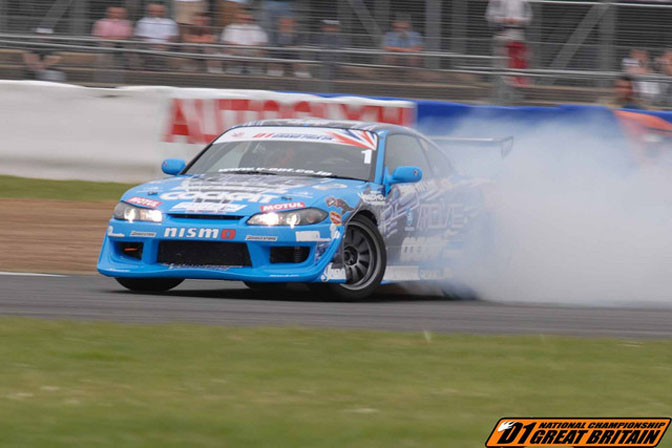 Breakthrough innovation: Yasuyuki Kazama was one of the first drifters to use the S15 Silvia and went into personal debt to pay for it. During it's heyday, the green S15 driven by Kazama was one of the most consistent and top performing cars in D1GP. Besides racking up tons of event wins, Kazama also became known for performing his famed "rodeo drift" with this car. Even with different sponsors and drivers over the years, this S15 has continued to be top performers and fan favorites in D1.

Notable Achievements: In various forms over the years, AP Boss S15's have had an astonishing 11 victories in various D1GP events making it the most victorious D1 car of all time. Kazama had a string of wins at Iriwindale Speedway earning him and his car tons of respect among drifting fans in the US and you can also add the 2005 D1GP championship to the list of the car's achievements. There have been at least a few different versions of this car over the years and to be honest we are not positive on the current whereabouts of all of them.  Although Kazama is no longer active in D1, the AP Boss-built S15 continues to be campaigned in D1 and is now being driven by Youichi Imamura for '08. With Imamaura behind the wheel, the red-painted car has already ranked up two victories this season at Odaiba and Okayama. Another chassis (old US version?) has recently been seen in Norway in its original green livery.

Lasting Influence: I don't think there is a single drifting enthusiast who can forget the domination and excitement brought by Kazama's green machine, and now the car lives on with Imamura as its pilot. Time will tell whether Kazama will return to D1 or not, but if he ever does it would be strange to see him driving anything other than an S15 Silvia.
So there you have it, our picks for the top 10 drift cars of all time.
Now let the discussion (debate?) continue!
Photos from Fresh Alloy and Doristars.
-Mike Garrett