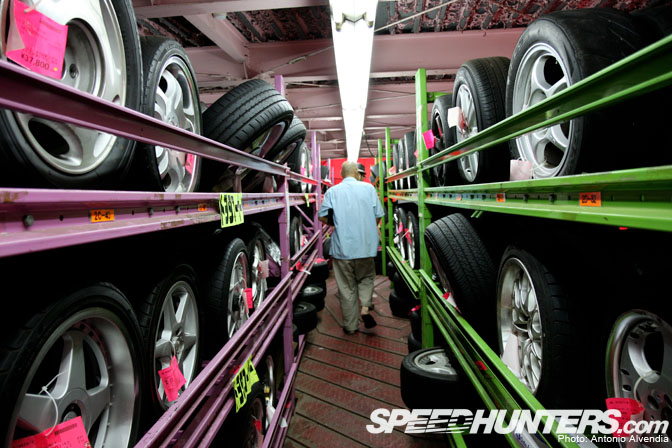 As our Speedhunters "Japan month" begins to draw to a close, I just thought I'd mention one thing I absolutely love about Japan. Well, anyone who knows me will tell you that I love tons of different aspects about Japan, Japanese car culture, and Japanese life in general… but one of my favorite things is the used car parts shops!!!
Since it was raining pretty hard in Tokyo the other day, my friend Kenta's dad decided to take the day off work and generously agreed to fire up his Toyota Chaser and drive us over to a used car parts shop just outside of central Tokyo so I could take photos and show you Speedhunters readers what these places are like.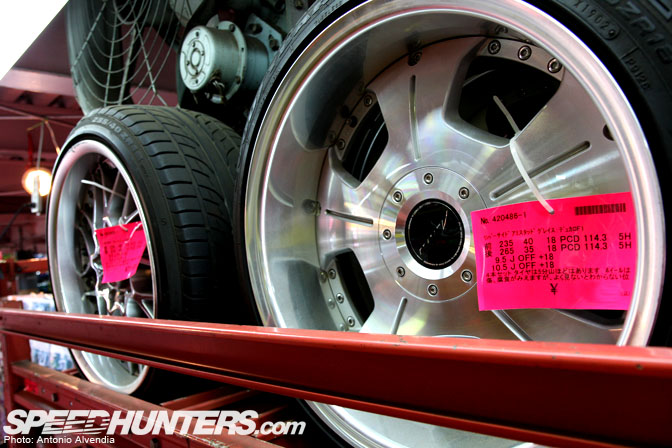 Let's start with the wheels. Here's some VIP style Amistad wheels that were being sold relatively inexpensively… and just look at the sizes! (In case some of you Speedhunters readers aren't familiar with how to look at wheel sizes, you better learn quickly! These Amistads are 5Hx114.3 lug pattern, 18×9.5J and 18×10.5J, both with a +18 offset! What an awesome set of wheels! Hmmm… maybe I should buy some wheels for my Lexus back in Los Angeles… oh wait, I'm going to sell it soon, so maybe I better not.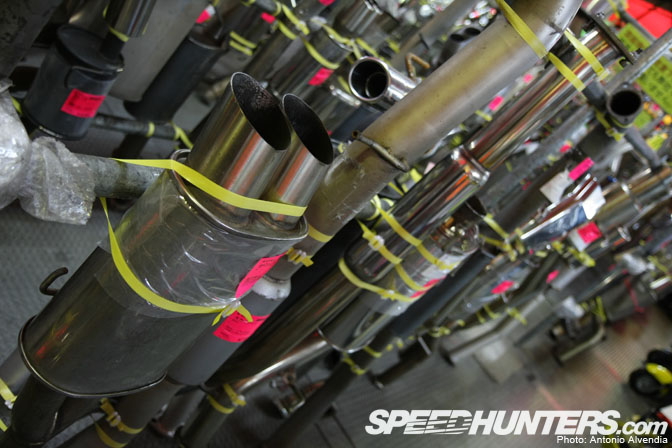 There were TONS of super cool looking used exhaust systems (and some not so cool ones) all arranged in order of car make (brand). However, internet newbies beware – if you don't know your chassis model numbers well, you might have a hard time finding parts in this place. All the parts are annotated only with the chassis numbers of the cars they fit.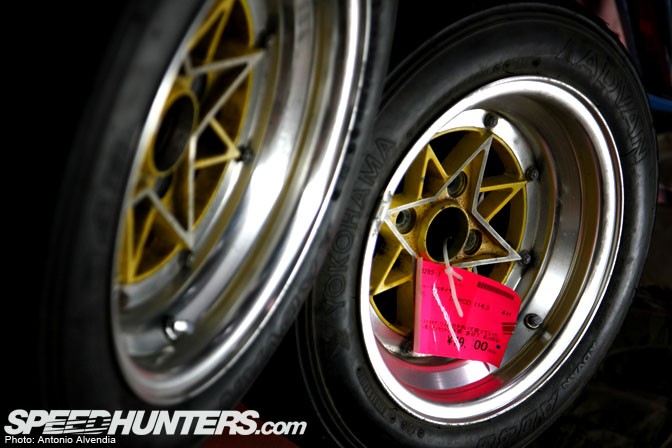 Ooohhhh… I used to have a set of these wheels… twice. Here are some awesome SSR Starsharks… the centers could use some refinishing, but these wheels are so cool looking and so rare, I wouldn't mind refinishing them! Hmmm… wonder if I should buy them… or I wonder if I should just use the money towards more camera equipment. Hmm… the latter choice would probably be smarter, but I never said people who are passionate about their cars make intelligent decisions!!!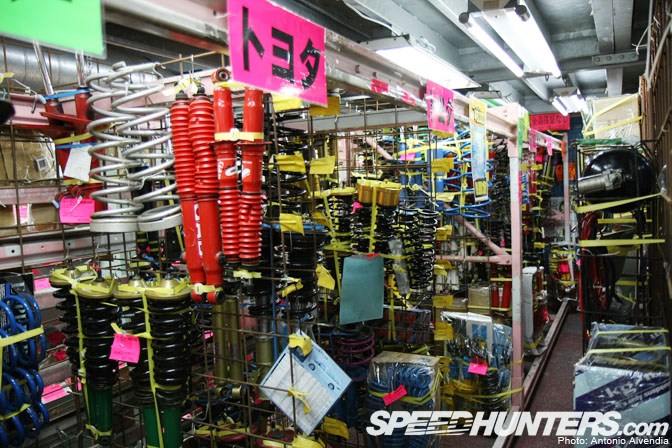 Hell yeah, this is my section – just check the katakana sign up top! This section is filled with parts for Toyota cars!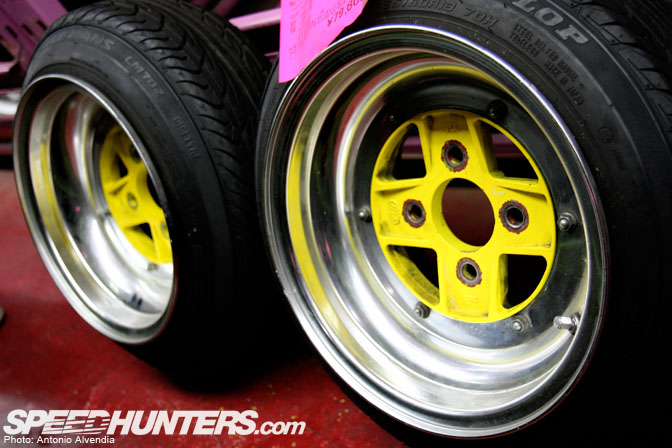 Damnnnnn… how about some SSR Mark IIs? These are old school shank-type Mark IIs, they don't make these anymore; now the SSRs are made with acorn lug patterns. What a gorgeous set of wheels with some super fat lips! Seriously, I might need to pick these up for collection…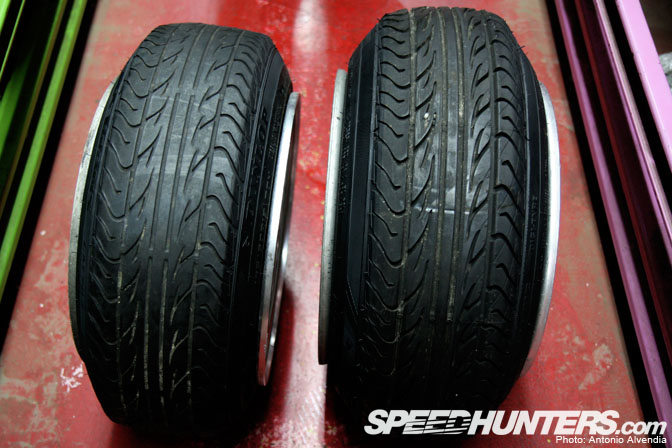 And just look at the supreme awesome stretch on those tires! The fat outer lips of the rims are sticking out like crazy!!! I love it! This is THE LOOK. It's perfect, so take notes!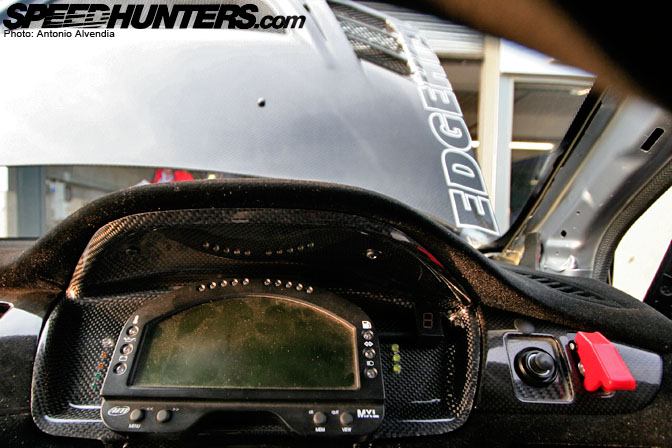 OMG. Anybody want some used Kei Office Erfolgkei coilover suspension? Pricing ranges from $300 USD to just under $700, depending on the make of your car. Crazy cheap!!!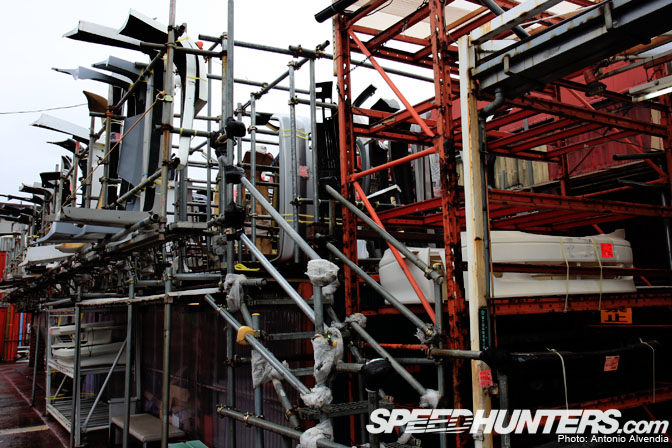 Oh yeah, they have a ton of aero parts too, so you don't necessarily need to spend 8 million dollars on your aero kits. No wonder I love Japan. Seriously!
-Antonio Alvendia