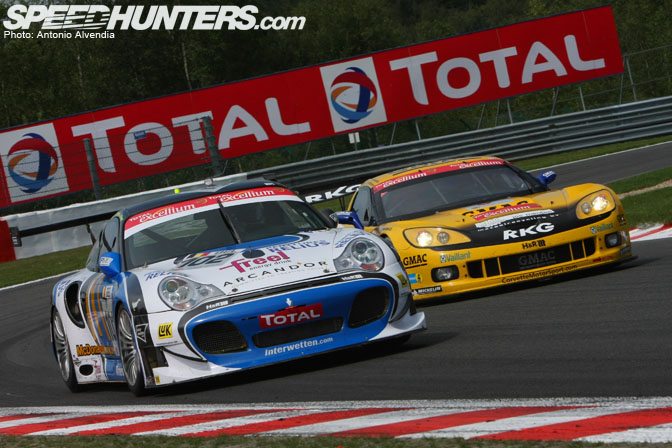 Hey everyone, we're here at the legendary Spa-Francorchamps racing circuit in Belgium. The 2008 Total 24 Hours race at Spa is just about to begin, so I just thought I'd go up to the media center to show you all some photos of the on-track action over here. These particular pics were taken during practice yesterday. Check out this photo from the Les Combes section of the massive Spa Circuit.
Porsche Bi-turbo (that's what they call twin turbo cars here in Europe) 996 GT2-R vs Corvette Z06. Which one do you prefer?
For me, it'll be the Porsche, thank you very much! My experiences at the Porsche test circuit in Leipzig, Germany have made me a believer!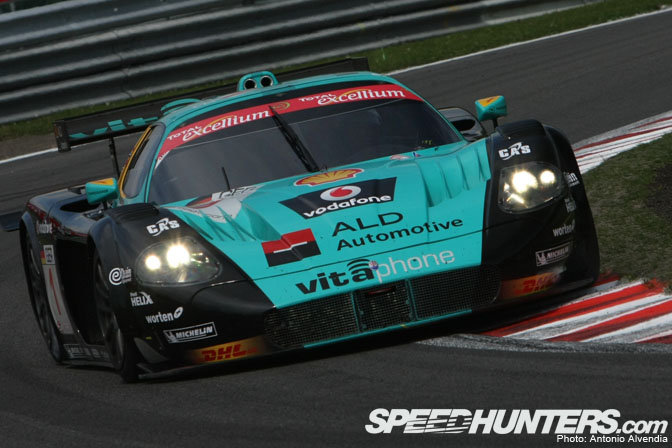 I'll be the first to admit… I am pretty damn ignorant when it comes
to European sportscar racing… it's something that some of the other
Speedhunters keep teasing me about as we travel through Europe. I guess
I've become the typical "ignorant American" on the trip, as I know
little to nothing about Europe. They just laugh at me (or roll their
eyes) as I continue my search for cold drinks with ice in them, here in
Europe. Honestly! How come nobody drinks stuff with ice over here?! Err… back to the subject, this Maserati MC12 was tearing up the track, and I couldn't help but stare at it every time it passed me! Rod tells me this MC12 was based on a Ferrari Enzo, but redeveloped with additional chassis engineering and different bodywork by Maserati. I love it!!!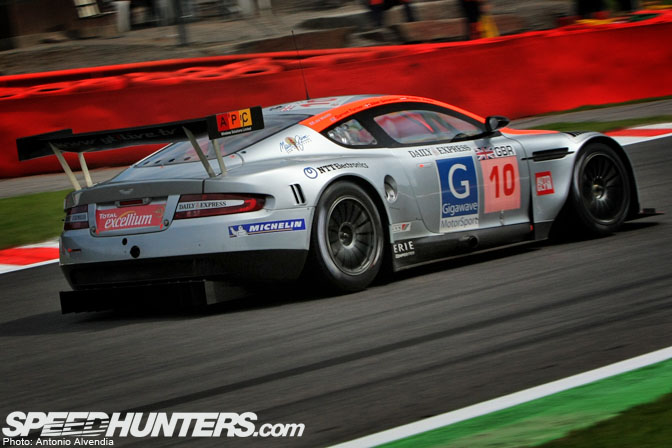 I absolutely LOVE this Aston Martin DB9, being driven by the team of Peter, Simonsen, Turner, and Thompson from the UK. I love the bodywork of the car, the muted silver color with the orange accents (I love orange on cars!)… and the rear end of the car! Damn, it's so sexy. Funny though, look at the wing, it says APC! Don't worry it's not the same APC from Corona CA that made all those carbon fiber wings for Japanese cars in the USA. Thank God that's all over!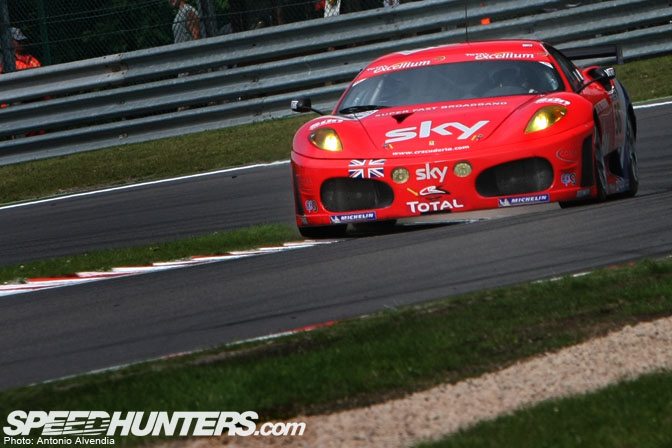 Check out this Ferrari F430 GT2 car… it was attacking the rumblestrips as it carved its way through the uphill course at Spa.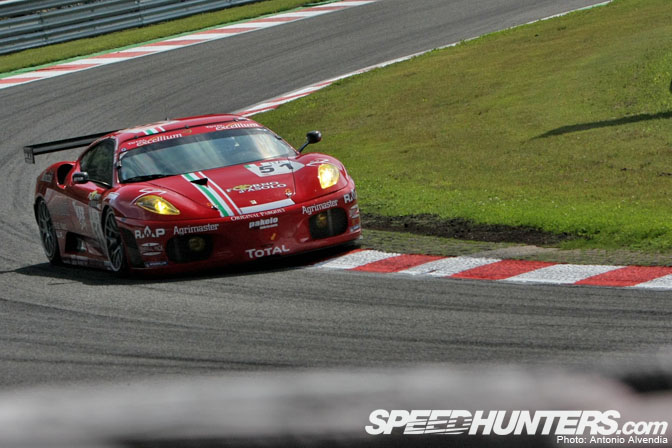 Yet another Ferrari F430 in GT2 competition. This team was showing off their Italian pride apparently, with the Italian flag and the stripe going down the car!
Okay that's enough to give you a quick taste… I'm going to get back to shooting on the track, I think the grid girls just arrived and I think I need to make some "new friends" here in Belgium. Damn, I need to learn how to speak French now.
-Antonio Alvendia