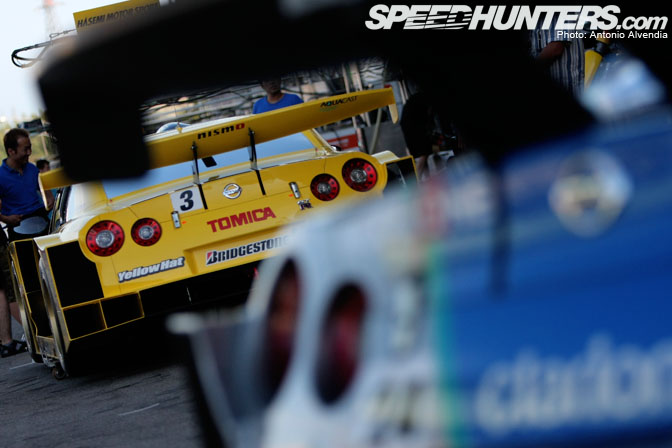 As some of you might know, we've been on a long and crazy trip across Europe and Japan. Right now, I'm chillin out with a fellow American friend, Andrew, in the Suzuka Circuit media center – he is shooting this event for Import Tuner, so make sure to check the magazine in a future issue of the mag.
One thing I noticed while walking around the pit area at Suzuka Super GT… the R35 Nissan GTRs look amazing! I can't decide which R35 livery I like best… the Hasemi Motorsports/Yellow Hat R35, the Clarion/Wood One R35, the Nismo Xanavi, or the Nismo Autech teams all have awesome liveries. I think race car builders around the world could learn something about the way the Japanese Super GT teams design their liveries to work around their aero.
Speaking of aero, just look at the high tech aero technology being used on the Hasemi/Yellow Hat R35 – humongous wide body aero fenders, aggressive rear air splitters, and huge rear wing for downforce, of course.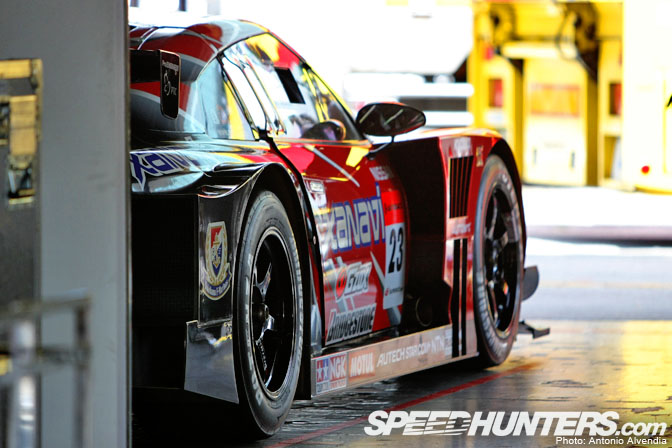 The Nismo/Xanavi R35 GTR looked so moody in the Suzuka pit garage… it was like a sleeping tiger, ready to pounce on the competition. Again, I can't help but notice the incredible aero technology utilized by these cars… these GTRs look so crazy!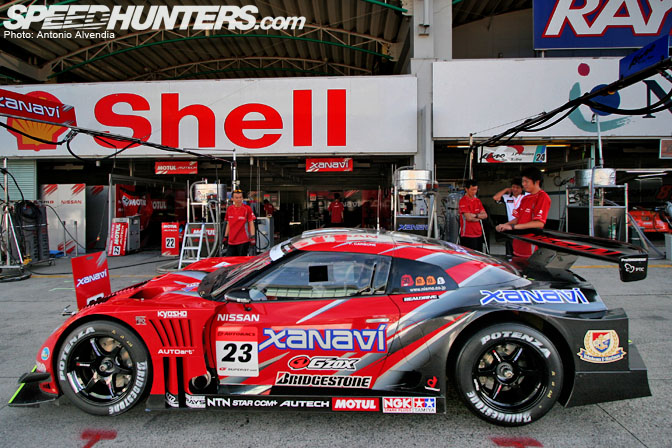 Here's the Xanavi/Nismo GTR again, sitting in the pit area. Check out the humongous AP Racing brakes peeking out from behind those single lug Rays forged racing wheels. I'd love to have some of those wheels sitting on a wheel rack in my living room! The scenery here at Super GT is just amazing.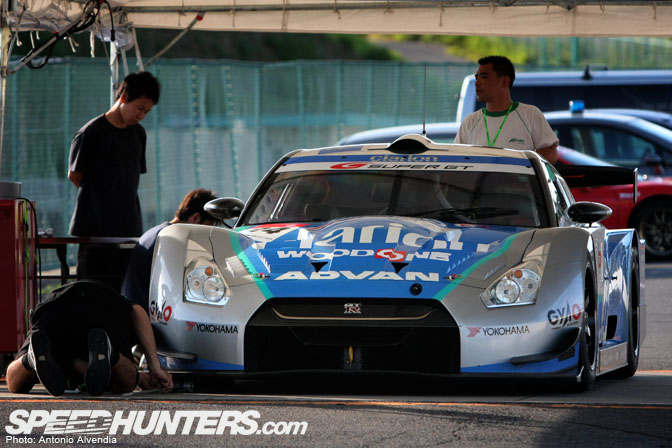 Here's a photo of the Clarion/Wood One/Advan R35 GTR during sha-ken car inspection. I absolutely love the silver, blue, and teal livery – it looks awesome! I can't wait to see this car on the track!
-Antonio Alvendia