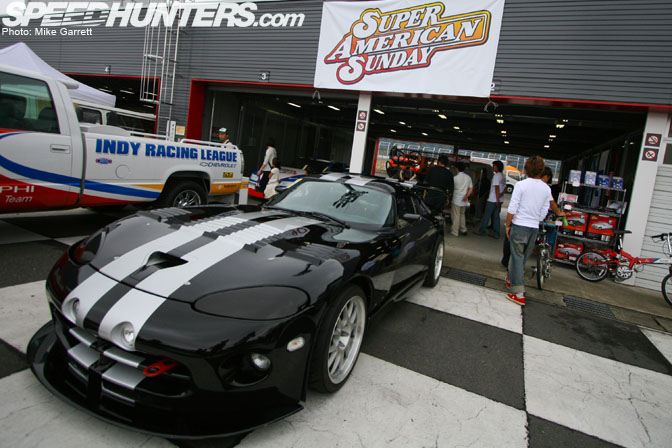 After spending last Saturday at Tsukuba Circuit for the Idlers Games, my busy weekend continued on Sunday with a trip up to Twin Ring Motegi to check out the "Super American Sunday" event. As the name implies, Super American Sunday is a celebration of all automotive things that are American or American inspired and it draws "Ame-sha" (American Car) fanatics from all over the Kanto area and beyond. The event includes a huge car show, swap meet, celebrity appearances, and even drag racing on the front straight of the Motegi oval course. I had been planning to go to this event for a while and I was quite interested to see the Japanese take on the cars from my homeland. Not to mention I haven't really had the chance to see any cool American machines for a while.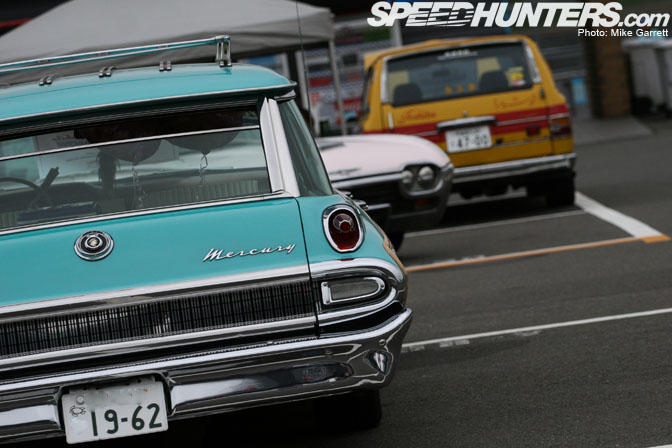 The cars at the event spanned the whole spectrum of American car culture from the past to the present. There was everything from rods and customs to muscle cars to lowriders and plenty modern day "Dub" style cars. Unfortunatley there were no donks though. There were also Japanese cars of various eras built with heavy American styling influences. With classic Japanese cars in particular, I have found that there always seems to be a lot of inspiration from '60s era American cars as far as modification goes.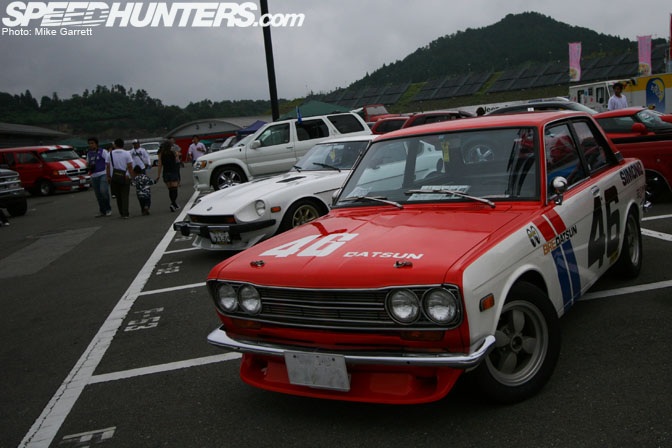 Here are a few of the "domestics" at Super American Sunday. Both the Z and the 510 are left hand drive and the 510 looks to be a good replica of the BRE race cars right down to the 4-spoke mag wheels. If you look in the background of this shot, you can get an idea of the variety of vehicles that converged on the infield of the Motegi Super Speedway for SAS. Vans, 4×4's, sports cars, it was all there.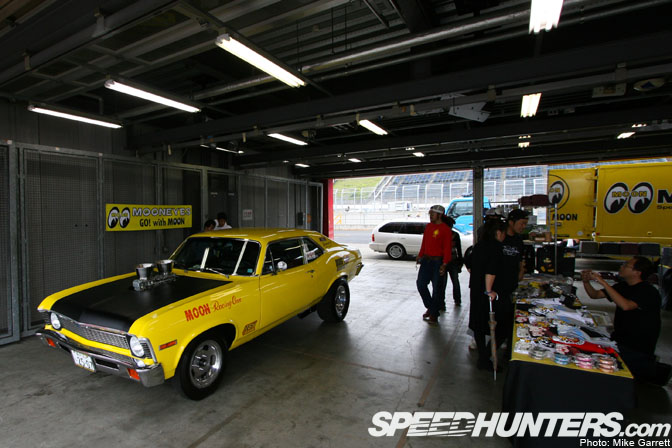 As you can expect with any American-inspired car event in Japan, Mooneyes was out in force with a huge booth selling all of their goods and it was packed with customers all day long. They also brought out their yellow Chevy Nova drag car. I love the way this car recreates early the '70s street machine style with the skinny slotted mags up front and the hole in the hood with twin velocity stacks peeking through.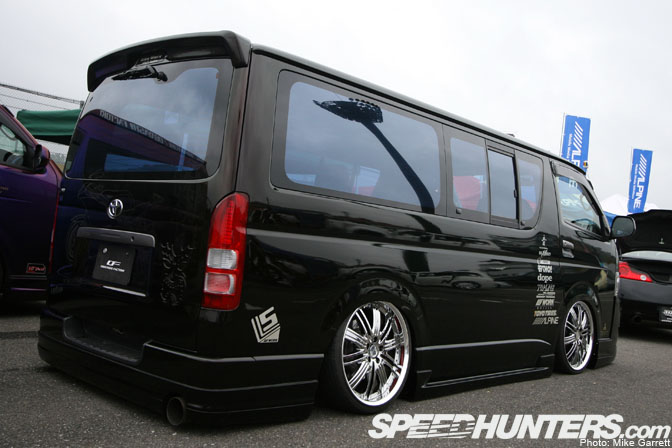 There was a whole separate section of the show dedicated to cars with big stereo systems and the like. Although a lot of the cars were not American, I suppose they were all inspired by the stuff that they saw in the United States. I was digging this black Hiace on air suspension. Hrm… I guess the vanning craze DID start in the USA right?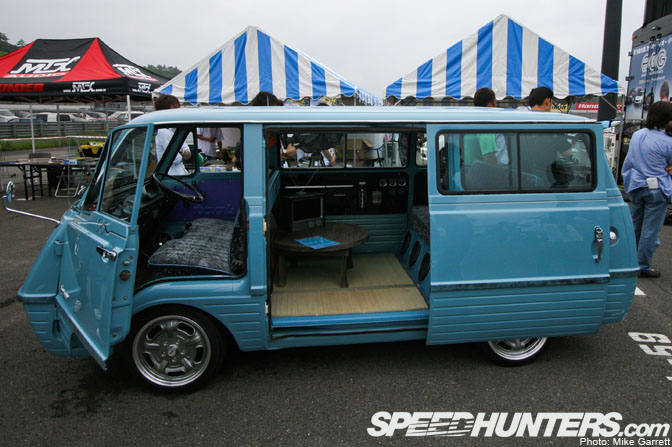 Even cooler than the Hiace was this vintage Mazda Bongo van. This is a rare first generation model that was powered by a rear-mounted 4-stroke engine. Just seeing one of these at all is a pretty rare sight in itself, but this one was fully customized inside and out and was in immaculate condition. The wheels are the retro-inspired Mooneyes Speedmasters which are quite popular among custom car builders in Japan nowadays.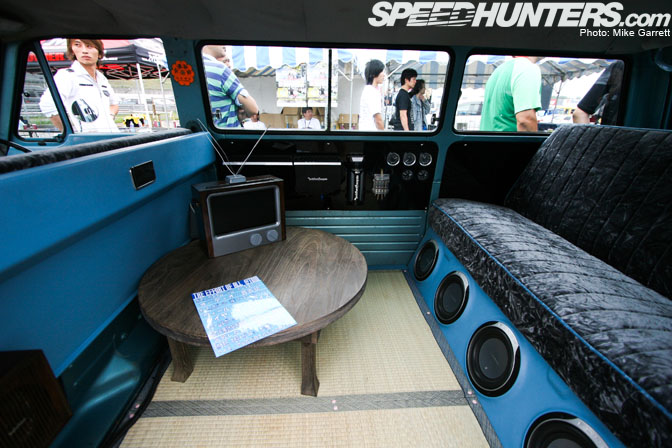 Check out the interior! It has a modern audio system combined with retro styling elements. The television on the table is a modern LCD unit housed in a '60s style wood housing complete with rabbit ear antenna. Also, take a look at the old school style upholstery and traditional Japanese tatami mat on the floor. I was in love with this van!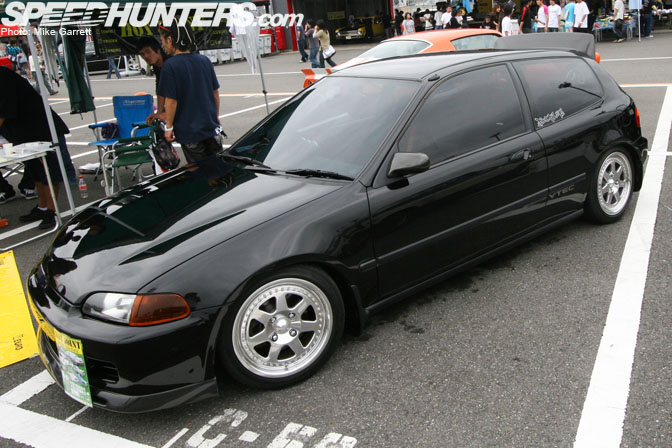 What is this EG Civic doing at Super Ameican Sunday? This car is built in the "USJDM" style. Instead of imitating the older "Spocom" style with crazy body kits and spoilers, some USDM enthusiasts in Japan are now building cars that replicate the so-called "JDM" style seen in the United States. You may have heard me mention this trend in the past. This car's Mugen M7 wheels are highly desired by Honda guys in the states. In fact, I think this is the first set of M7's I have seen on a car in Japan. I guess all the sets are in the USA now.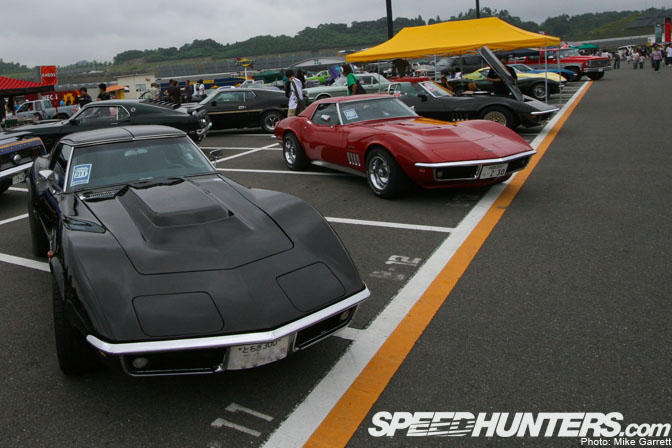 Back to something a little more "American". As you might expect, there were plenty of gorgeous 'Vettes on hand. I love the styling of the early C3 models. Some of the best looking Corvettes ever in my opinion. I know a good number of the readers here dislike American stuff, but how can you deny the beauty of this styling?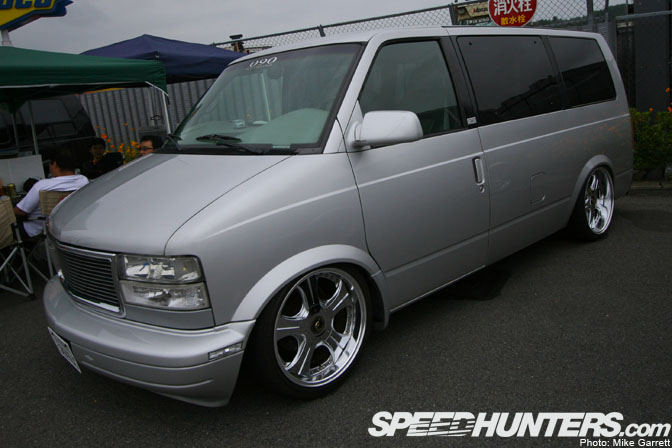 Here is a nice Astro/Safari van with some VIP-type wheels. These vans are very popular in Japan and I see them driving quite often on the streets. They usually don't look as nice as this one though. Don't you think something like this would make for a pretty unique project in the US. JDM-inspired Astro anyone?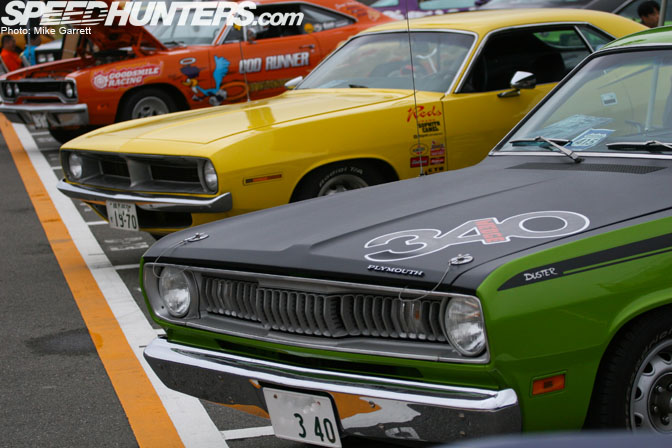 Mopars are really popular here in Japan. I could probably almost do a whole separate post on this. I am bit of a Mopar freak myself and I drove a '73 Plymouth Duster in high school. Check out the license plate on the green Duster in the photo, the 340 stands for the displacement of the small block V8 wedged under the hood. The license plate on the yellow Barracuda is "1970", the year of the car.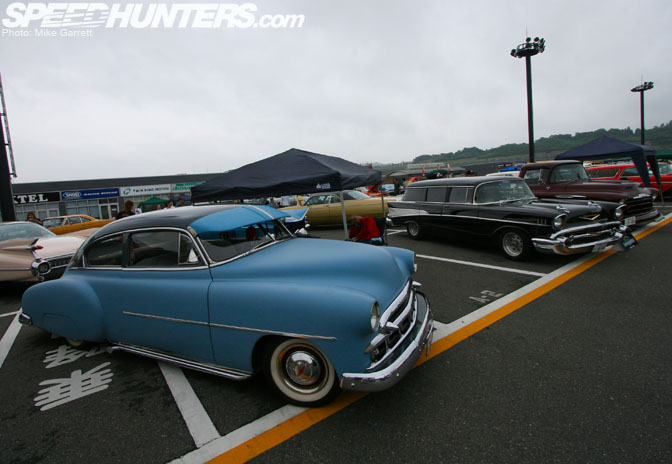 Most of the cars at the event were from the mid '50s or newer. This blue two-door Chevy was one of the earlier cars. There are plenty of older Custom cars and rat rods in Japan, but I didn't see too many of them at Super American Sunday.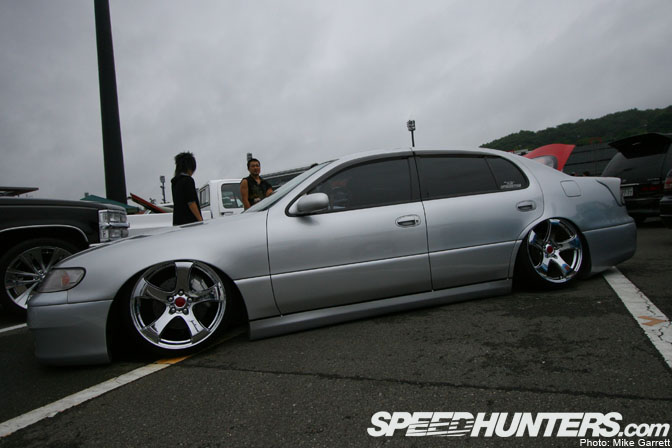 To be honest, I can't really figure out where this JZS147 Aristo ties into American style, but that didn't stop me from drooling over its stance. Maybe the owner's buddies roll in American cars and he tagged along?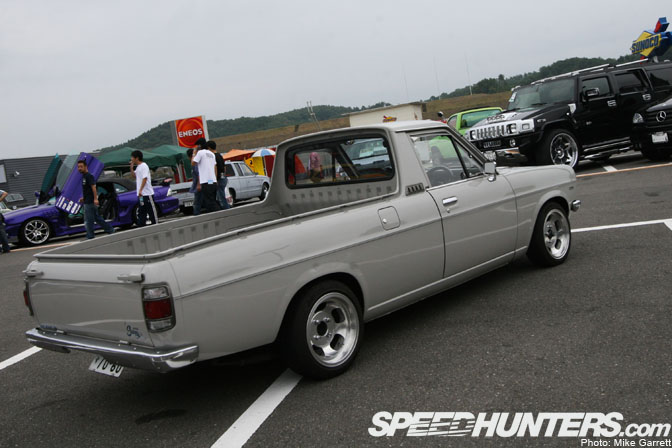 The American influence on this Nissan Sunny Truck is a little more obvious. In particular the slotted mag wheels. It seems like every single Datsun in the USA was wearing a set of these wheels at some point and time. They are pretty popular among classic car owners in Japan as well and Sunny Truck owners usually seem to be big fans of American styling.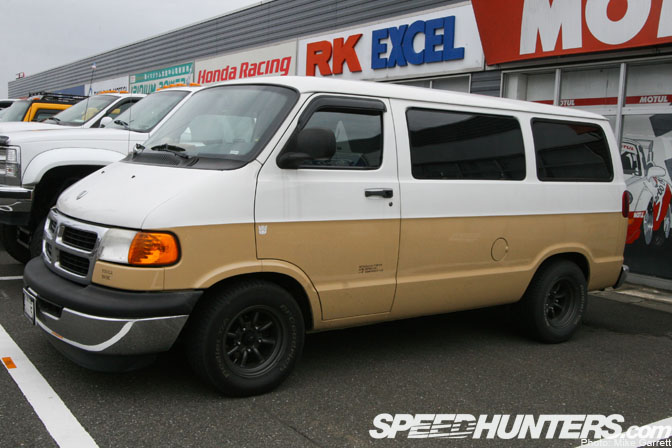 I know I am kind of strange, but I really liked this late model Dodge Ram Van with RS Watanabe wheels. I have actually seen several other Dodge vans like this before. I think these vans are popular among skateboarders and surfers and they usually load them up with American bumper stickers.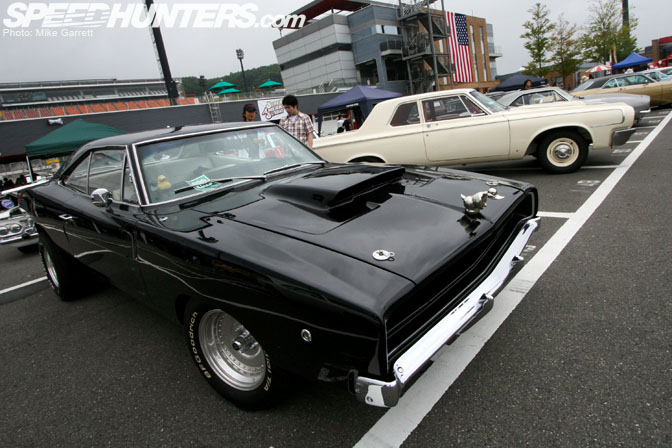 More Mopar love. The black Charger looks like an old school street machine with its Centerline wheels and jacked up stance in the rear. Also check out the duck hood ornament. Very interesting. There is also a fully restored Super Stock Dodge two-door sedan sitting next to the Charger. Doesn't look like much, but a real muscle car enthusiast should know all about these iconic factory-built drag machines of the early '60s.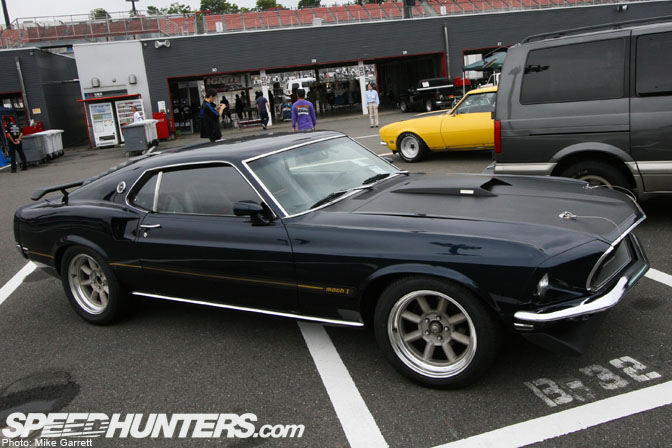 And what better way to end my Super American Sunday post then with a Mustang. It doesn't get much more American that that right? At first look I thought that this Mach 1 was wearing an set of Watanabes, but upon a closer look revealed them to be Minilites or something similar. These are the wheels that were made famous by the SCCA Trans Am cars in the early '70s. The quality of this Mustang can easily rival anything seen the United States and in speaks for the passion of the American car enthusiasts in Japan.
-Mike Garrett