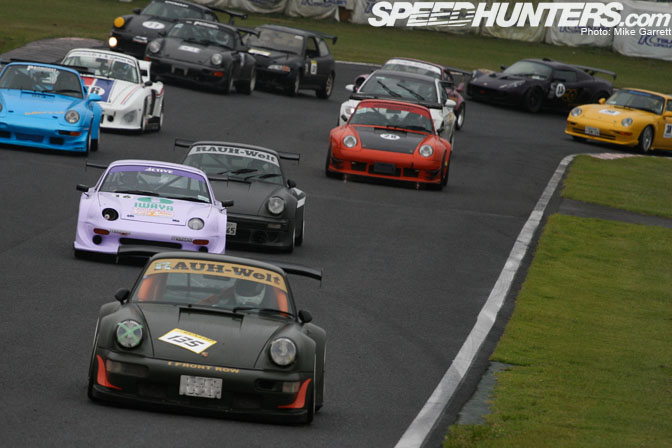 I had too much content for one post, so here's another batch of coverage from last weekend's Idlers Games at Tsukuba. Let's jump right into it. I took this opening shot during the first lap of the Super Cup race. Imagine over 30 fully tuned Porsches' and other makes taking to the track for fender to fender racing and you can imagine the spectacle. On top of all this, the track was wet making things even more tricky. Older Porsche cars are not known for being the most driver friendly, and you can bet that these guys were using some serious skill to keep their cars on the track. My heart was beating like crazy watching these guys scream past my camera in the wet. The second car from the front is the photo looks a little like a Porsche, but it's actually a converted NA chassis Mazda Roadster from a shop called Active. It has a GT-inspired look to it and backs up its looks with some serious performance.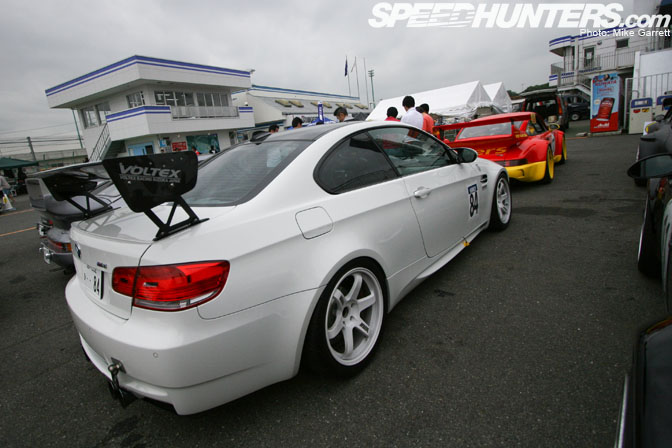 The car that I had my eye on the whole day was this E92 BMW M3 from a Tokyo-based tuning shop called Sunbeam. Everything about the car just looked awesome from it's Voltex GT wing to its concave face TE37's. I would say that this car is just as cool as the E92 that Amuse/Ericcson has been working on. I'm thinking maybe a car feature might be in order for this bad boy.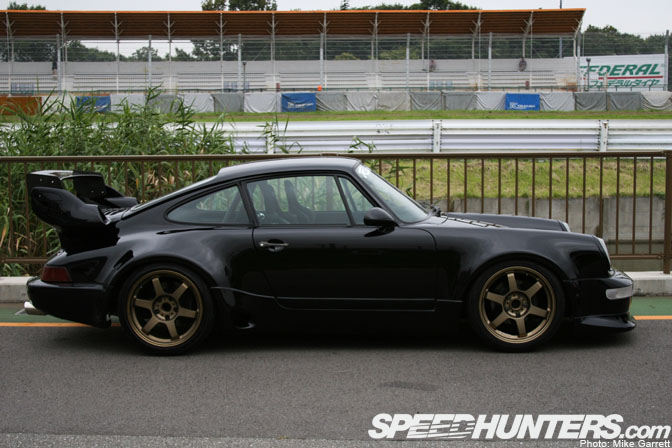 Porsche + TE37's = perfect match. Then again, there probably isn't a single car out there that wouldn't look cool with a set of TE's. This car must have belonged to a spectator or crew member because I didn't see it out on the track. I just had to take a photo of it because it looked so right.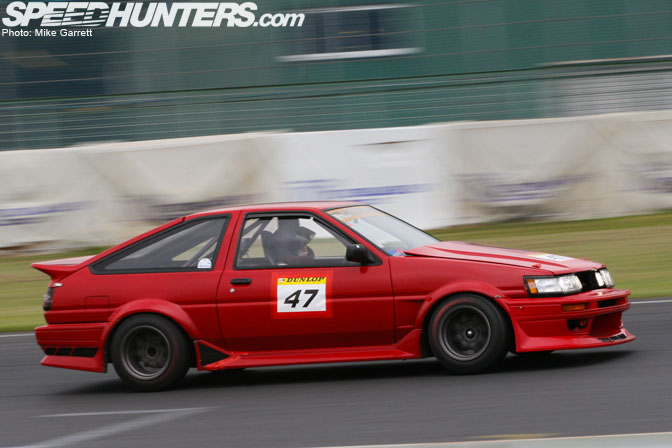 This AE86 Levin belongs to one of Rauh Welt's employees and we got a GOOD look at this car during our trip there last week. Expect to see more on it in the future. I am not exaggerating at all when I say that I think this is one of the best AE86's anywhere. Just look at the thing! Perfection.Obviously it is not just for show either.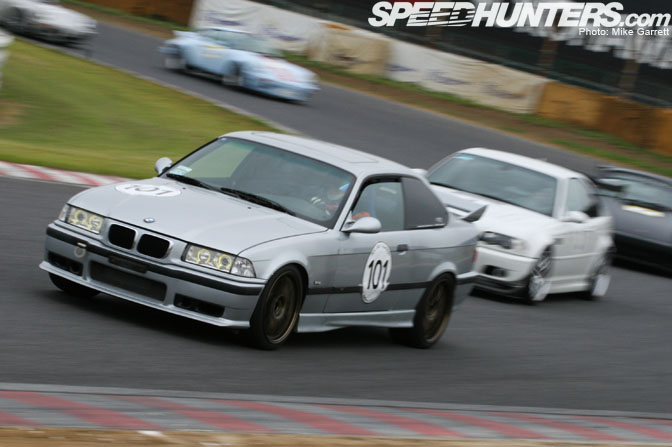 More BMW action. The E36 is trying to fight off the E46 that is glued on its tail as they accelerate out of the first corner and into the downhill S-curve section. Even if you haven't been to Tsukuba Circuit in real life, I have a feeling that many of you probably know the track front and back from seeing it in so many car videos and games. I have no idea how many simulated laps I have done around this track in various video games. Hopefully we will see it in an NFS game sometime!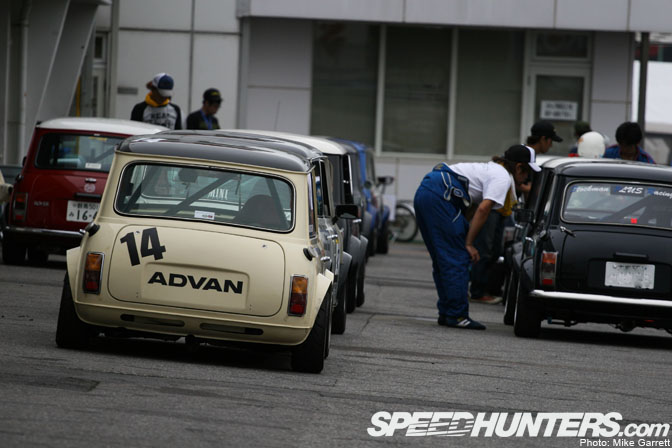 The Mini Coopers are taking a breather before hitting the track for their race session. The center exit exhaust looks so cool. Now I know who buys all the tiny sized Advan A048's.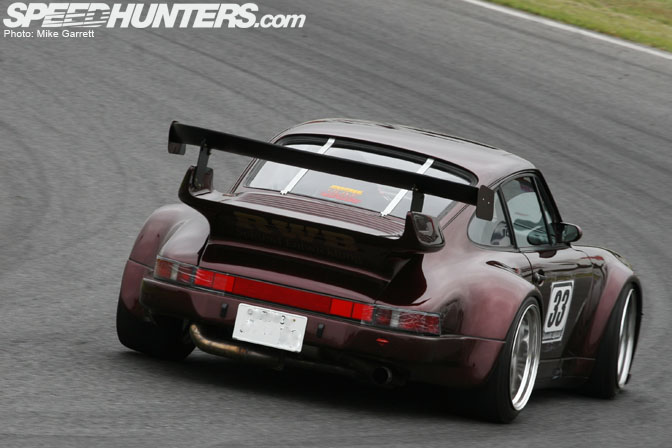 The negative camber on this Porsche would make Antonio proud. This is the same root beer colored car that is in my first Idlers post. Another one of my favorites at the event.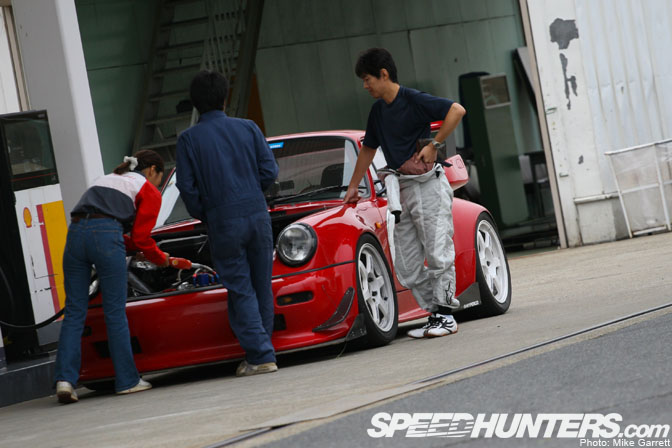 This car is taking some racing gas from the on-site Shell station at Tsukuba. Full service as you would expect in Japan. I wonder if they also wash your windows like at the normal gas stations here?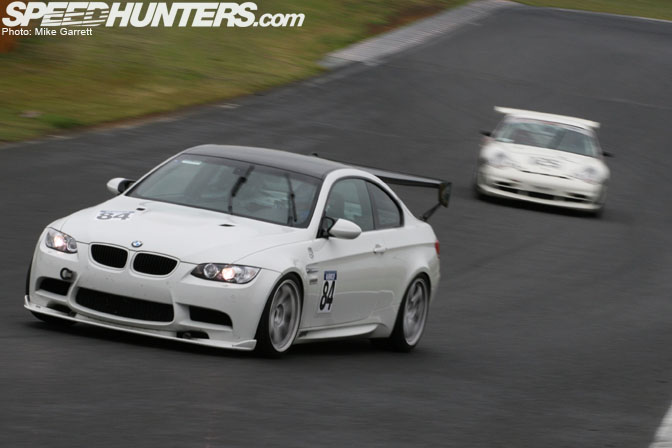 There's the Sunbeam E92 again running in the wet during the Super Cup race.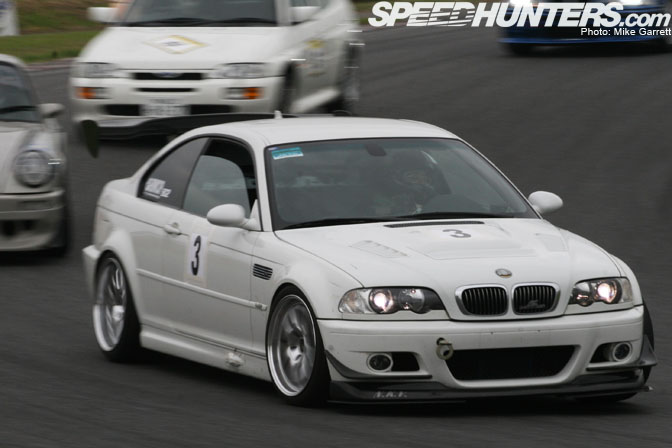 Just another cool looking M3, this one an E46. After seeing all the cool Japanese-tuned BMW's around, I sometimes forget that these cars are actually German.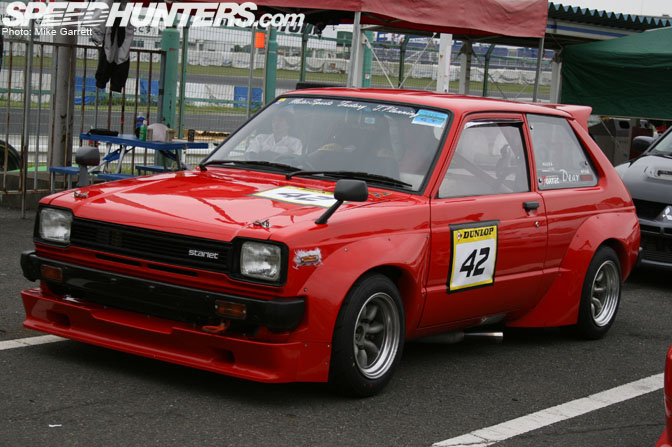 This beautiful red KP61 Starlet is like a street going version of the TS Cup cars. Check the exhaust dumped out the sides. I'm sure I don't need to point out the TRD flares and RS Watanabes. This car looked great running on the track next to the red AE86 I mentioned earlier.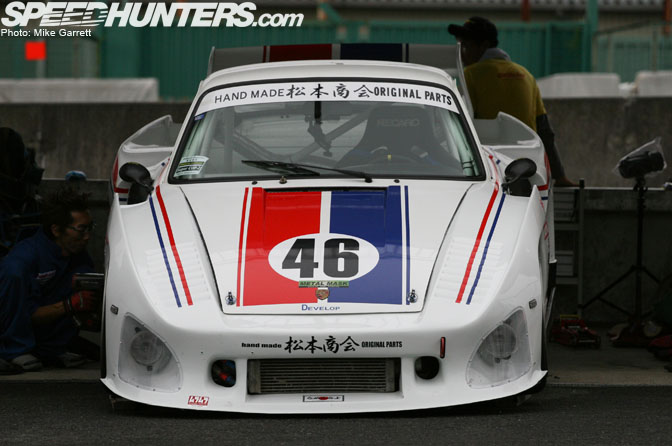 I don't know enough about Porsches' to determine whether this a real 935 or not, but it sure looked cool when it was being worked on in the pits.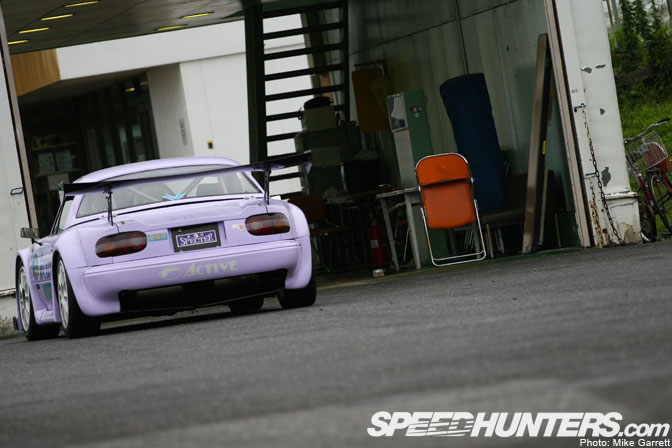 There's the Active Roadster parked near the scale. Who would have thought a lavender Miata could look so intimidating?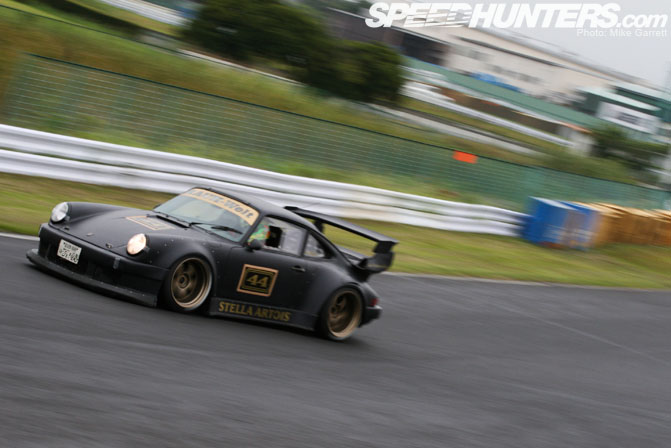 Lastly, there's Nakai-san's car running hard during the Super Cup race. He would end up finishing in second place just behind the red an yellow Idlers Porsche. An awesome performance given the slippery track conditions. I guess this another Prelude to our upcoming blowout of RWB stuff. I can't wait to post it.
-Mike Garrett