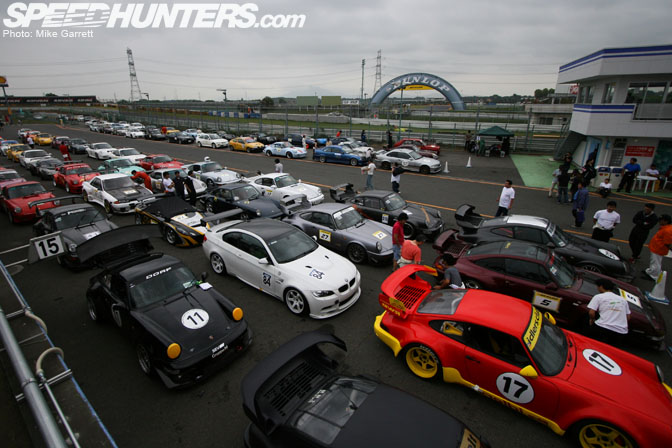 I was originally planning on joining Rod and Antonio on their trip to Suzuka for Super GT, but in the end I decided I would stick around here as there were two events going on that I wanted to cover. The first of them was the latest match of the Idlers Games at Tsukuba Circuit and although Super GT would have been awesome, I was quite happy with what I got to see at Tsukuba this weekend. If you are a frequent reader of this site or Auto Otaku, then you probably have seen my Idlers coverage in the past. Of all the events I have been to in Japan, this one is certainly one of my favorites. Idlers events always have the coolest cars to see and this one was no different. As typical for this time of year, skies were gray and rain was falling here and there, but that didn't stop anyone from coming to the circuit and running the wheels of their machines.
As you can see in the opening shot, the pits were full of Porsche 911's of every type. In fact, I'm not sure if there is a better place to check out Japanese style Porsche tuning anywhere else. As expected, Rauh Welt-tuned cars were out in force and Nakai-san himself was there racing his signature flat black 930 along with tons of his customers. Of course Porsches' aren't the only cars you see at the Idlers Games. There are VW's, Mini Coopers, BMW's, Alfas, as well as plenty of Japanese domestics.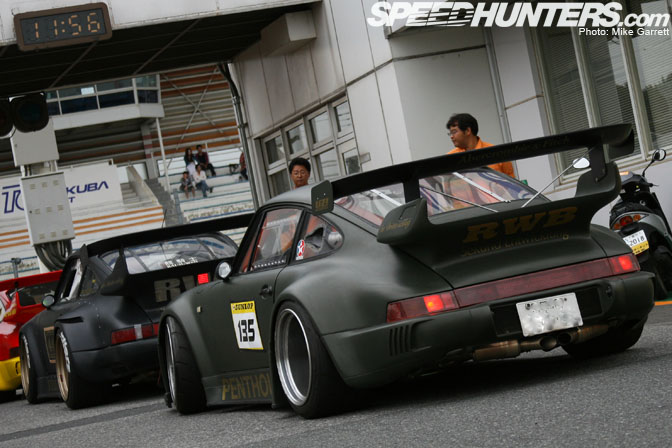 There's Nakai-san's black car in the front with one of his customer's cars right behind. We have an explosion of RWB stuff coming next month, so I don't want to spoil anything right now, but you can expect to see plenty more of both of these cars in the near future.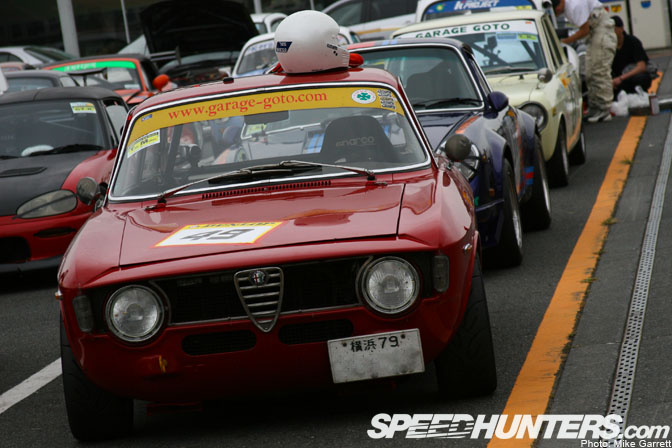 Man vintage Alfa Romeos have cool looking front ends. This car is based out of the Yokohama area and not surprisingly has been worked on Alfa specialty shop Garage Goto. These guys rule the Alfa Romeo scene in Japan, or at least in the Kanto area. This car was running in a class matched up with other vintage cars including aircooled Volkswagens and a pair of Honda S800's.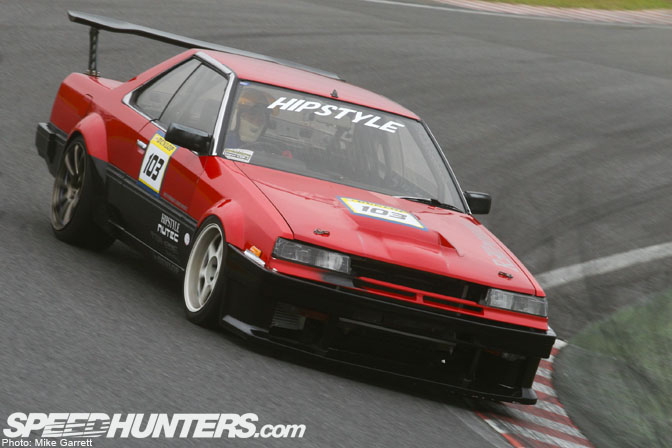 Idlers events draw all the cool looking cars whether they are Japanese or imported. Check out this this DR30 Skyline. I love the over fenders and the classic RS red and black paint scheme. I had never seen this car before and I was pretty excited to see it sitting in the pits when I got to the track.This car was running in the Super Cup class against all of the high powered Porsches'.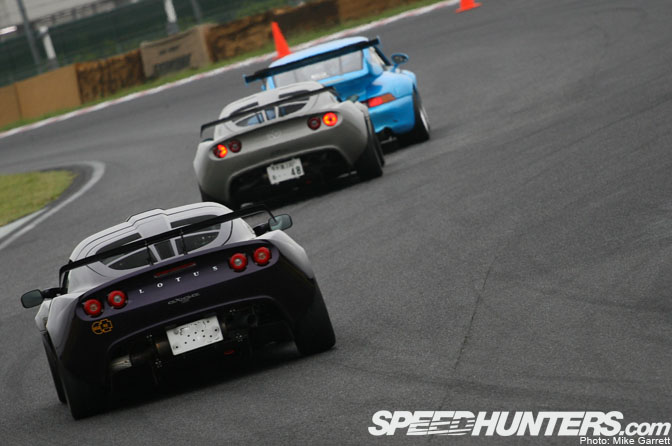 Can't forget about Lotus either. There were two really cool looking ones battling all the Porches in the Super Cup. It was though for them to keep up with the higher powered 911's on the straights, but in the corners they were all over them. It was very exciting to watch.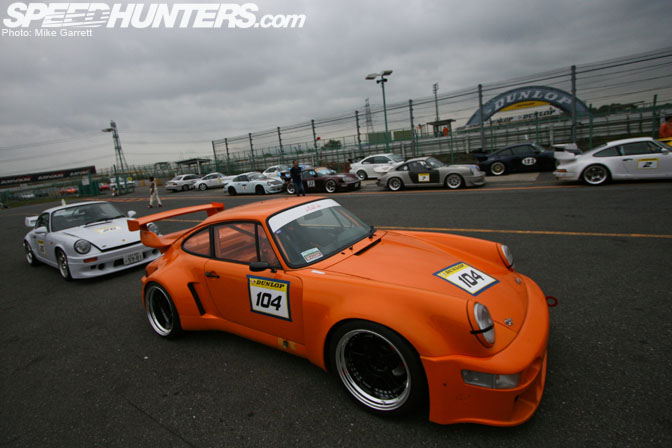 There were tons of great looking Porches' at the Idlers Games, but this orange example really caught my eye. Amazing stance here. Like most of the really aggressive Porsches', it was equipped with a set of Work Meister S1's that happened to look great against the orange body.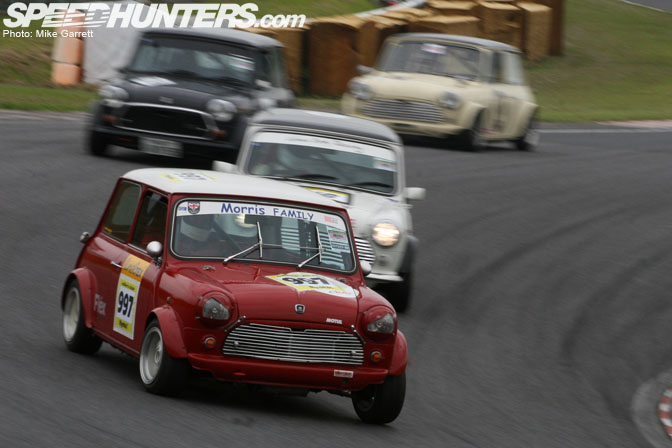 The Italian Job comes to Tsukuba. Before I came to Japan I didn't know that this many cool looking Mini Coopers even existed. The cars in the Mini Class are definitely not as fast as some of the others, but they are very evenly matched which makes for some close racing action. Check out the headlight covers on the red car. Makes it look like it's angry.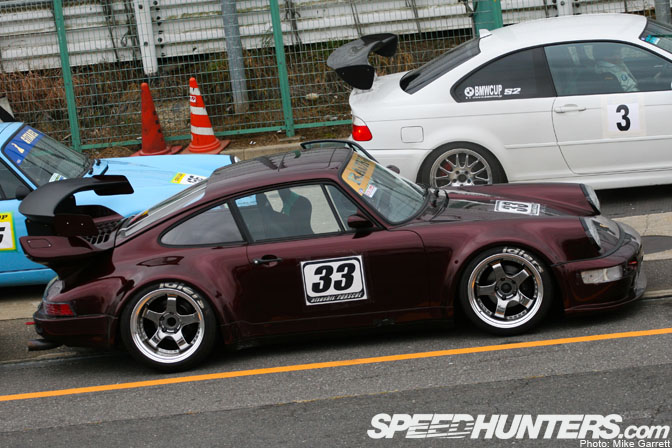 Just beautiful. This RWB car does not need much else by way of description. Note the "Idlers" logo painted on the tires. The Porsche guys and Rauh Welt in particular are HUGE supporters of the Idlers events and they love sporting the logo on their tires.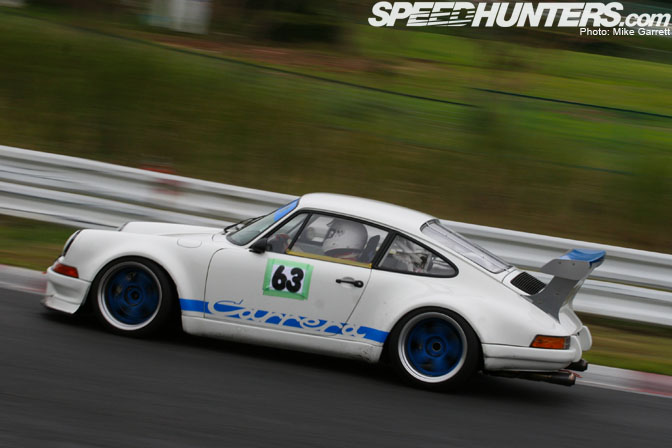 I spent a good part of the event watching the cars navigate the Dunlop corner. This is always one of my favorite places to watch racing at Tsukuba. There is always plenty of tail out action as the faster cars pull accelerate through the corner after a high speed entry. Here is another RWB-equipped car that has a unique look with its retro inspired paint. I love it.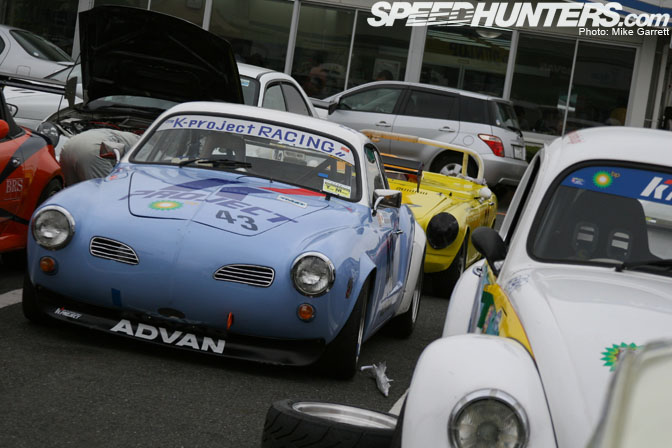 It's pretty rare to see circuit-tuned air cooled VW's, and the K-Project Karmann Ghia is certainly worthy of praise for both its on track performance and its style. This car is capable of running right with its Porsche-badged relatives and managed to finis in the top three in its race class.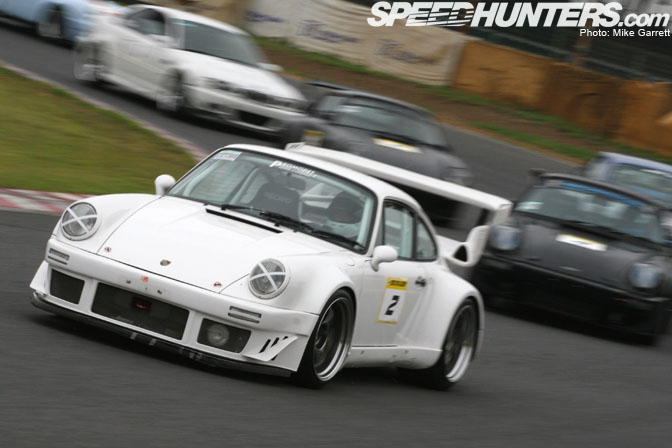 Yep, just another awesome-looking Porsche leading the field out of the first corner. Sights like these are why I love the Idlers Games. I'll be posting more Idlers coverage soon in case this didn't give you your fill.
-Mike Garrett