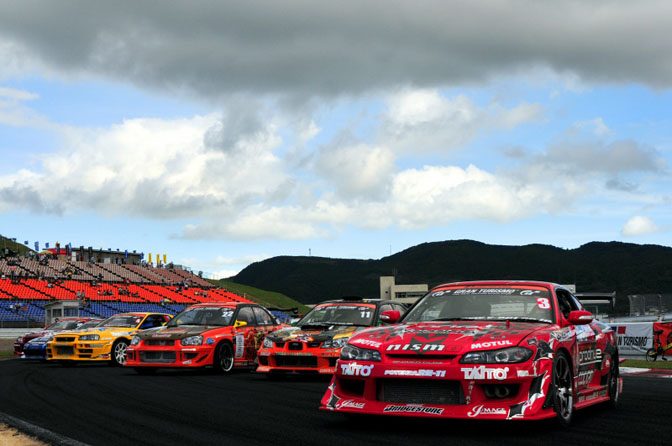 For several years now, D1GP's summertime match at Autopolis in Kyushu has been one of the most exciting events on the D1GP schedule. It is one of the fastest courses in D1 and anyone who has ever seen video of D1 at Autopolis knows ust how difficult the course is. It consists of a long run up the front straight and then a high speed entry into a long sweeping corner. It sounds simple, but in reality it is very difficult. During the runs, the sand area to the outside of the corner becomes a junkyard of severed aero parts as drivers often find themselves going off course. After seeing these event photos from Car@Nifty.com, it appears that this weekend's match at Autopolis had all the craziness you would expect from this track.
Here we see Toshiki Yoshioka's Lexus SC430 throwing up a huge dust cloud as his back wheels leave the track. This is so typical of events at Autopolis. The fans sitting in the stands and the judges always get covered in dirt when this happens. Ah yes the fun of watching drifting. Yoshioka would actually do pretty well in his new car as he made it into the Best 16.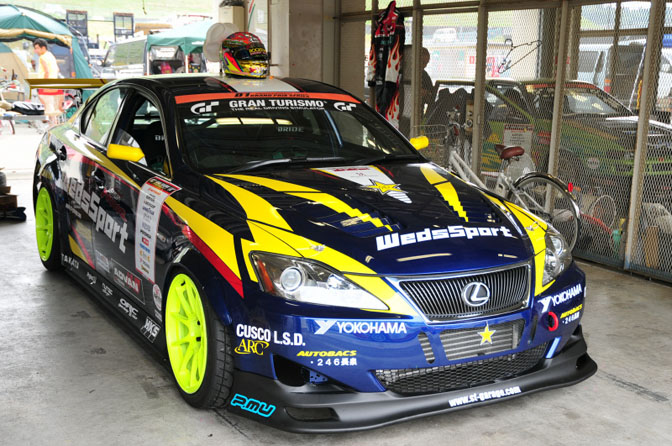 Speaking of Lexus, as I posted a few days ago, Manabu Orido made his return to D1 at the Autopolis event in this sexy-looking Weds Lexus IS. Unfortunatley Orido would be forced to retire before making any progress. I am assuming this was due to machine trouble with the new car. Hopefully he will be back again soon.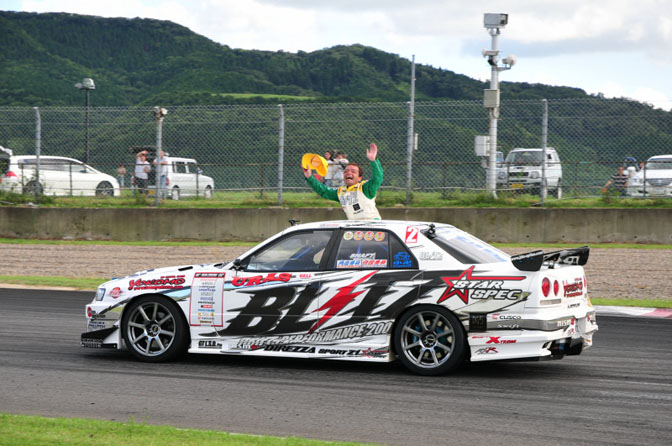 Nomuken is the most popular D1 driver no matter where he goes, but in his home area of Kyushu people go absolutely nuts for him. The grandstands become a sea of yellow as fans wave their Dunlop flags.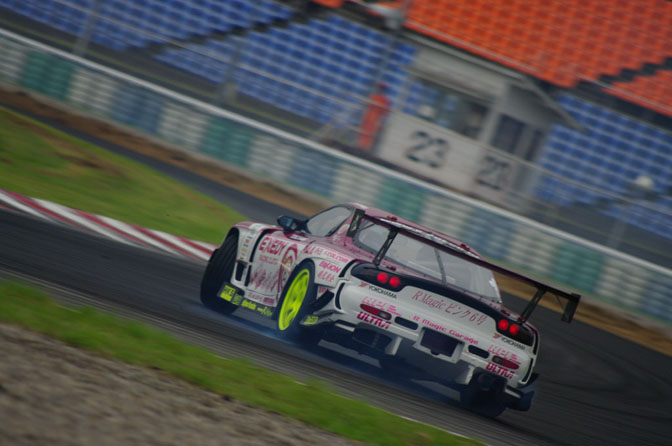 Kenji Takayama's R-Magic Pink FD was looking great as usual.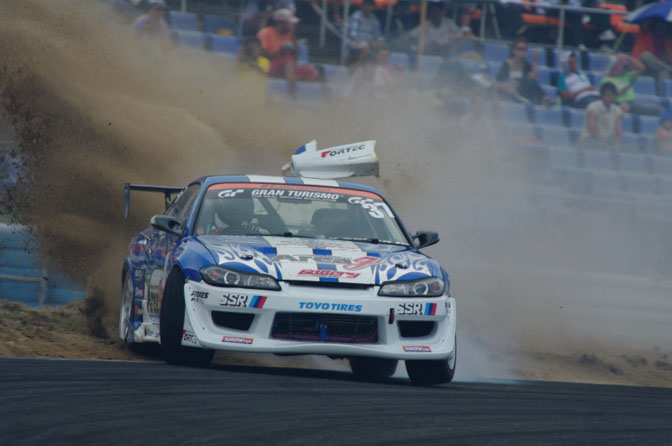 Just another victim of the Autopolis sand trap.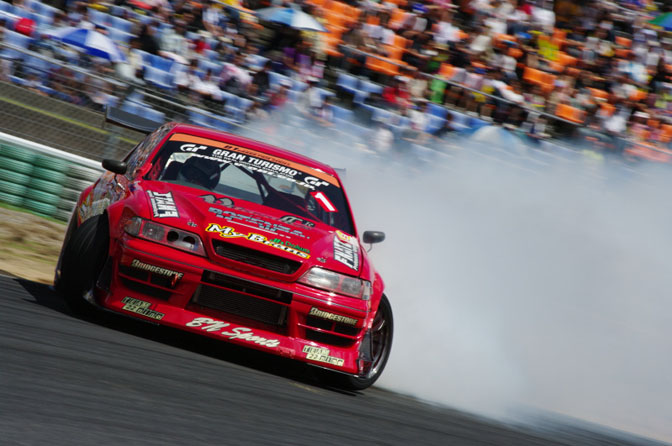 Daigo Saito was tearing it up all weekend and was one of six drivers to qualify with perfect 100-point runs. Saito was also on top of the season points standings going into the event.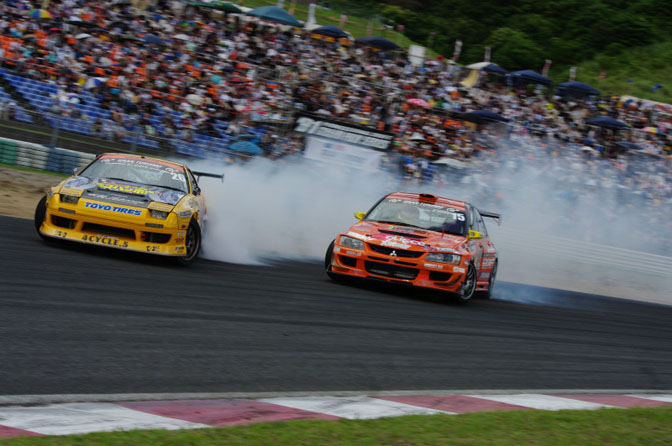 Drift Samurai has also been doing quite well lately. He made into the tsuiso rounds but was defeated by Kumakubo during the Best 16. Not a bad run at all.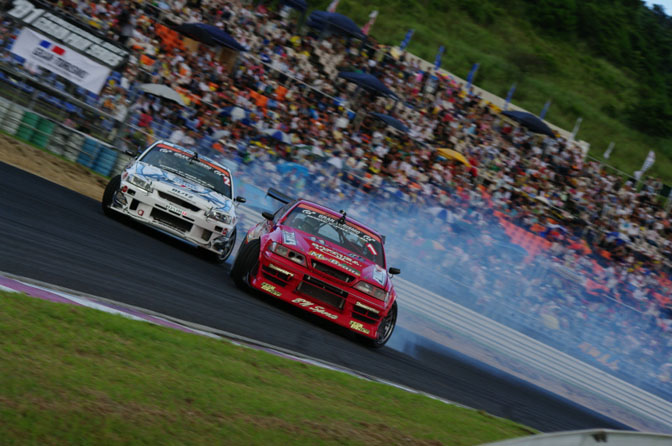 In th end it came down to a battle between Saito's JZX100 Mark II and hometown hero Nomuken's ER34 Skyline.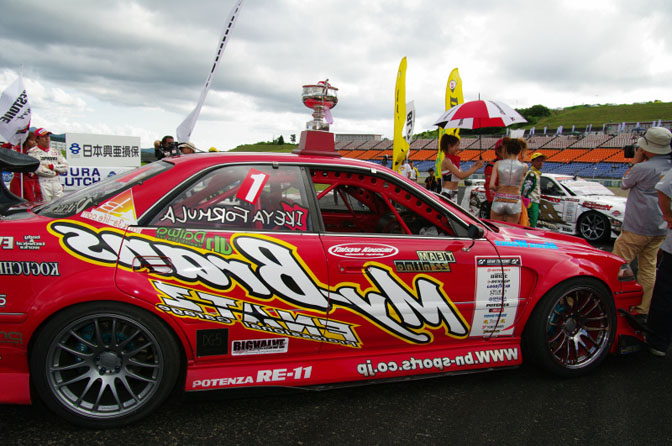 After a hard-fought battle, Saito emerged as the winner and earned his first ever D1 victory. He has been doing awesome this season and this not really surprising. The win at Autopolis will further boost his lead in the points standings and give him a good chance at winning the championship if he performs well in the remaining rounds. It's pretty cool to see a former "underdog" driver doing so well. I can't wait to see what happens during the rest of the season.
Here is the top 10 from Autopolis-
1. Daigo Saito – JZX100
2. Ken Nomura- ER34
3. Masato Kawabata- RPS13
4. Youichi Imamura- S15
5. Kazuhiro Tanaka- GDB
6. Masao Suenaga – FD3S
7. Kuniaki Takahashi – JZX100
8. Nobushige Kumakubo – CT9A
9. Atsushi Kuroi – PS13
10. Tsuyoshi Tezuka – BNR32
-Mike Garrett