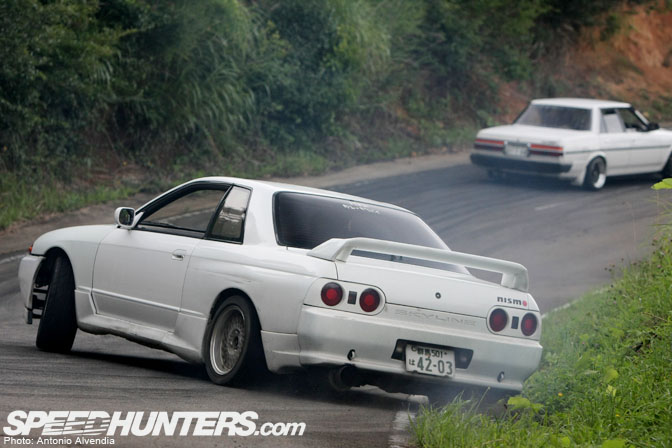 Ahh, Ebisu.
Anyone who knows me will tell you that I'm absolutely in love with this place. It's not just the cars… it's the sights and sounds… and the people at Ebisu Circuit that make this place so special. We've been here at Ebisu Circuit for the past few days, hanging out with good friends from different parts of the world (namely, Los Angeles and Athens), and of course, my close friends from Team Orange.
The annual Ebisu Circuit 36 Hours Natsumatsuri (aka "Summer Drift Festival" for the English speakers) has been happening here at the circuit for the past few days. This festival coincides with Japan's countrywide Obon Festival, but since it's at Ebisu, it celebrates drifting instead of traditional Japanese culture and visits to the temple. Rather than do the standard photo montage you'd normally expect, with a bunch of drifting action photos of a bunch of cars, I thought I'd switch it up a bit and show you some insights into the scenery at Ebisu. After all, it's the amazing scenery that absolutely amazes me every time I visit. It's breathtaking. Seriously.
At Ebisu's drift festivals, it feels as if time has reversed back to 1999, because the Natsumatsuri is all about old school private drifting style! Although there were quite a few D1 drivers in attendance, chillin out at the track and having fun driving with their friends (Koguchi, Kazama, Kumakubo, Hoshino, Daigo and Naoto Suenaga to name just a few), they were driving their own private street cars, not the purpose built monsters they drive during D1 competition. I loved every minute of this event – it was like a return to the roots. Ebisu Circuit IS Japanese drifting culture.
Check out the dirt drop being performed by the R32 Skyline above, as it chases down a very clean GX71 Toyota Cresta! (BTW, I <3 that Cresta!)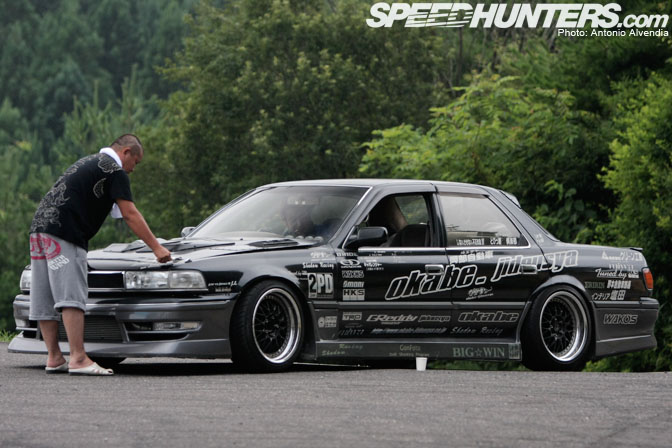 I was very happy to see this hachi-ichi JZX81 at Ebisu… I met the owner of the car at Tsukuba Circuit in 2004 or 2005, and haven't seen him since, so I was very glad to see him again! Now his car has alot more stickers on it, but still, I think the style is awesome. Oh yeah… one more thing I should mention. The owner is Yoshinori Okabe, and he is in a WHEELCHAIR! And he still drifts his JZX81, and he's pretty damn good at it too! It just goes to show… if you have the willpower, nothing can stop you from achieving your dreams of drifting.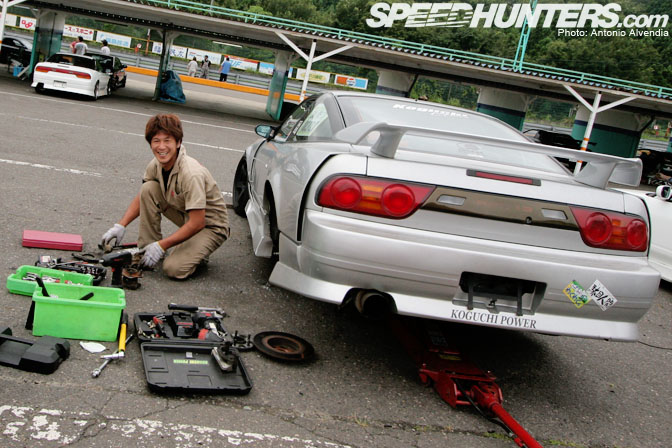 Speaking of Yoshinoris, our old school friend Yoshinori Koguchi was out at Ebisu, chillin out with his girlfriend and having some fun with his personal RPS13 180SX. This car features the new Koguchi Power aero kit, which he designed and produced himself, in his home area of Tochigi Japan. Koguchi was in a very good mood, clowning around with me (as many of the other D1 drivers seem to do) despite the fact that he had to replace his axle shafts in the middle of the day. Oh well, he's Koguchi… and my good friend and S13 maniac Kenta always tells me "Seriousry, Koguchi is the sh!t! I think he's the god of S13s. He is one of the most famous S13 drivers, but he is one of the best S13 builders too! Daaaamnnn… Koguchi is herra tight. Hehhhhhhhhhhhhhhhh…"
BTW, in case you were wondering what those stickers on Koguchi's rear bumper are, they're tomodachi stickers from Koguchi's friends Yasuyuki Kazama (that's his former D1 fan sticker) and Hideo Hiraoka (Team Orange member from famous drift team Rapid. Hiraoka is a famous S13 legend too. More on that later.)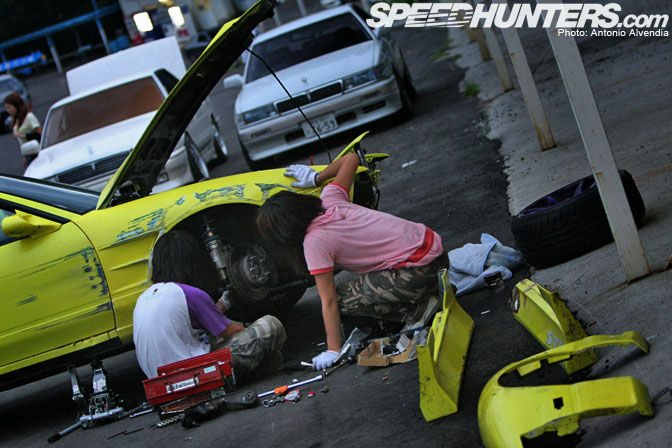 Rod and I were admiring two super clean, matching yellow 180SXs at the beginning of the day, but when we returned to Ebisu South Course at the end of the day, we discovered that the two drivers (the guy and the girl you see here) crashed! I spoke to the girl (I think they said her name was Kubokawa?) a little bit and if I remember correctly, they were from the Saitama area. The pillow tension rods on the 180SX were bent from the crash, but luckily some of their friends had some extra tension rods, and lent the spare parts to them so they could repair the car and drive home. Very nice to see drifters helping each other!
This photo with all the aero parts on the floor reminds me of the very cool AllStarBash4 shirt. I bet you they spent 8 million yen on that ish too.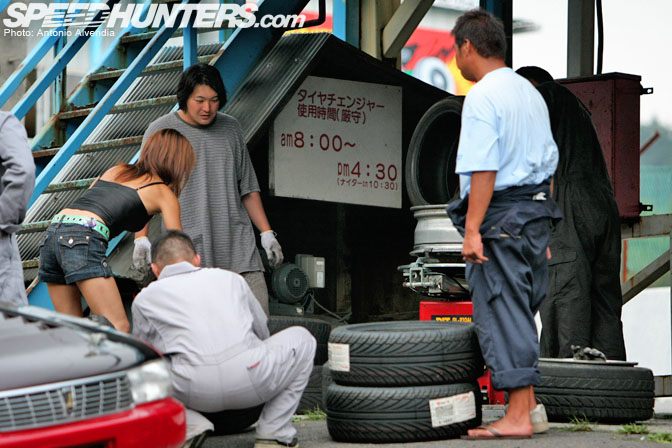 Luckily for all the drivers, Ebisu South course has a tire mounting machine on the premises! People can mount their own tires there at the track from 8:00am to 4:30pm, like the sign says!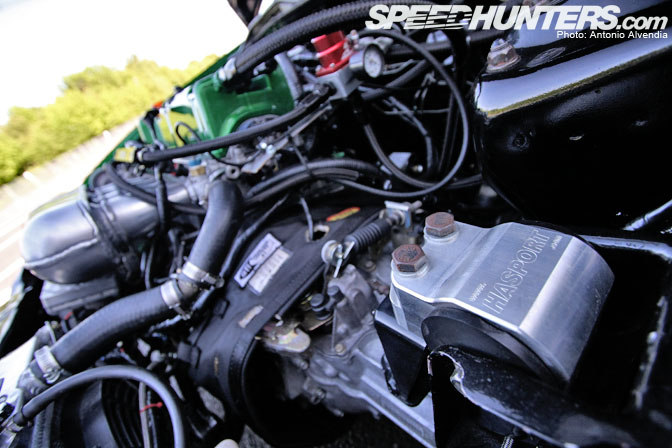 Now it's time to introduce you all to some real deal Ebisu drifting culture. Aside from the cars and the wheels and the stickers and such… this image shows a very popular aspect of the Ebisu Circuit drift festivals, the night time barbecues! As a special treat for the drifters who came from all over Japan to celebrate drifting at Ebisu's Natsumatsuri, Nobushige Kumakubo arranged for a whole cow to be tied up and barbecued on a rotating spit (think of a Hawaiian luau, except it's a cow instead of a pig)!
He pays for it completely; this barbecue is FREE to the people attending the drifting matsuri! Hmm… I wonder if people who live close to Ebisu just roll up to the circuit for some free bbq, even if they weren't actually drifting..? Probably not – people are pretty honorable in Japan. I know if this was in the USA, you'd have all sorts of people lining up there, who didn't even drive the circuit!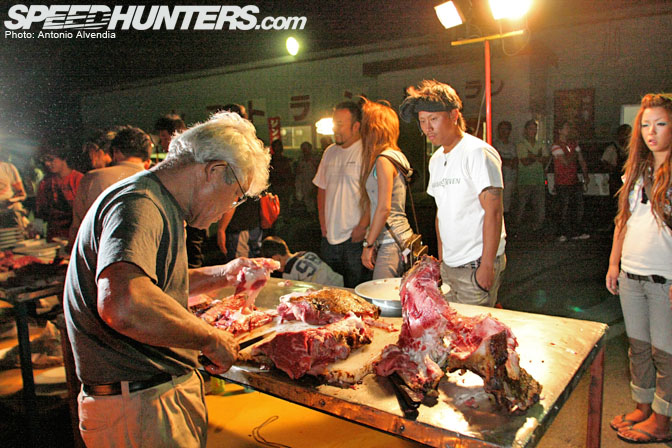 Vegans and PETA people beware… this is not for the faint hearted!
This barbecue is as fresh as you can get! I'm talking, earlier that
morning, that bbq meat was still making moooo sounds! All the
drifters lined up to get some barbecue meat and roasted them on some
temporary bbq grills that Kumakubo's younger brother Noriaki set up in
the central parking lot. Here in this photo, you see an older Ebisu staff member cutting up the meat into thin slices and chunks… which is then marinated in garlic and soy sauce and some other stuff, and distributed on small plastic plates to the drivers, who are in a long line that wraps around the parking lot. Now that's hella fresh yakiniku!
Now that I think about it, I don't know how good of an idea it was, to have a whole bunch of fresh meat lying around. Remember, this is Ebisu. There were hungry white lions and tigers chillin out just about 35 feet away from where all this was happening! I bet those guys could definitely smell the fresh meat, and were more than likely pissed off that nobody offered them some! Dangerous! haha!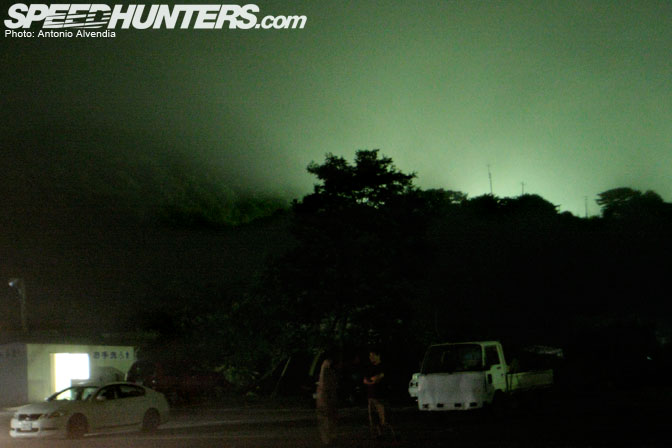 While Kumakubo was deep in conversation with Koguchi late into the night, I decided to see if I could hand-hold a long night-time exposure that could adequately illustrate Ebisu at night. See the backlit mountain in the background? Those lights are coming from the pit garages and drivers at Ebisu's North Course. It looked so very surreal as we were walking around in pitch blackness at night, as the fog crept in.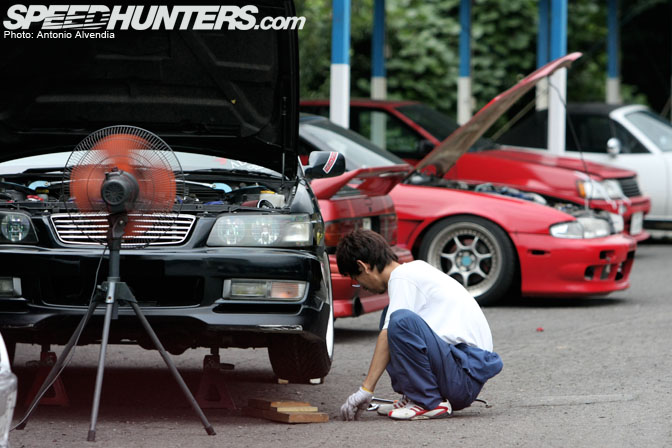 Check out the mash up of cars in the South Course pit area… C35 Laurel (thanks STJ!), FC3S RX7, S14 Silvia, AE86 Levin, and NA6 Miata. I love Ebisu.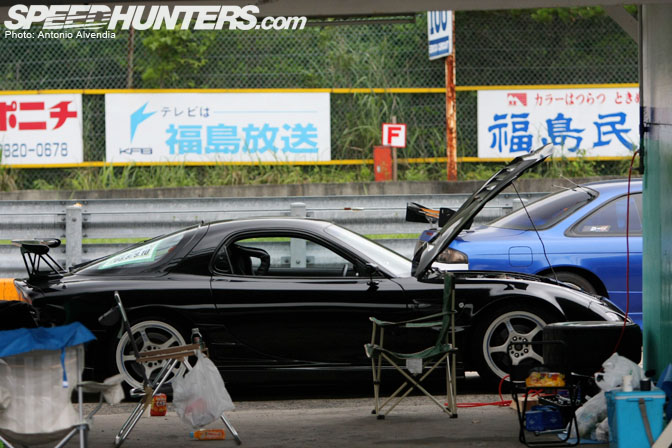 I thought this FD3S looked so cool, sitting next to the pit garages of Ebisu's East Course. I'm not the biggest fan of that wing, but I like the Gram Lights wheels and I guess I'm just a fan of black FDs in general. That's it for now, time to head back to Ebisu for more fun! Hope you guys liked some of these rarer insights into real Japanese drifting culture at Ebisu Circuit!
-Antonio Alvendia