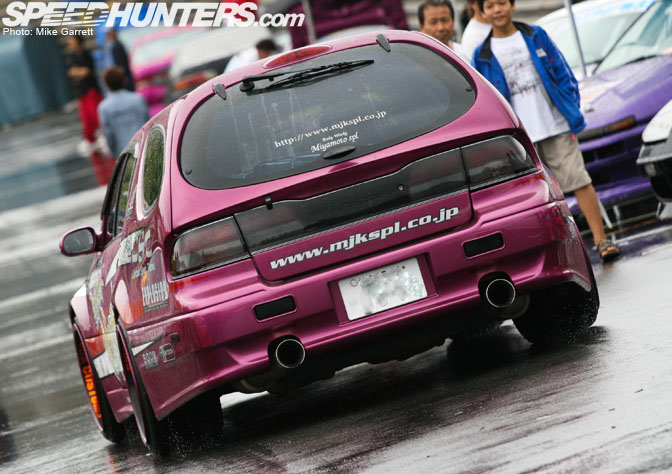 Yesterday, as we walked into the pits at the Honjo MSC event, we were all a little awestruck by the amazing drift cars at hand. One of the the most interesting cars we spotted there, however, was not even a drift car. When we saw this strange looking pink machine rolling through the pits, we were all thinking "What the hell is that?". Now I try to stay well versed in the different JDM models,but I still could not identify what exactly we were looking at. Besides the unique body, it also grabbed our attention with its pink paint, widened fenders, and aggressive VIP-like stance.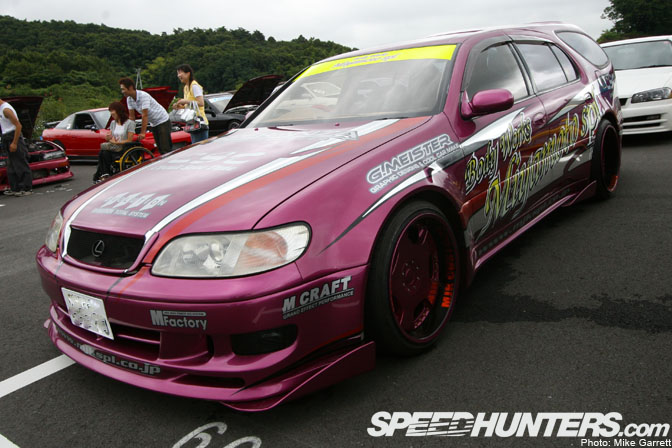 A look at the front of the car finally revealed its true identity. It is a JZS147 Aristo (first gen Lexus GS300) station wagon. Now they never made an Aristo wagon, so obviously there has been a ton of work done to this car. Although we didn't get a chance to chat with the owner, the url shown on the windows led me to the homepage of a Yokohama-based body shop called Miyamoto Special. It appears that this car was built as a demo car to show the kind of work that Miyamoto SPL is capable of. Besides doing a body work for tons of VIP cars,  lowriders, and other vehicles, they also make their own original aero parts for older model Mercedes sedans.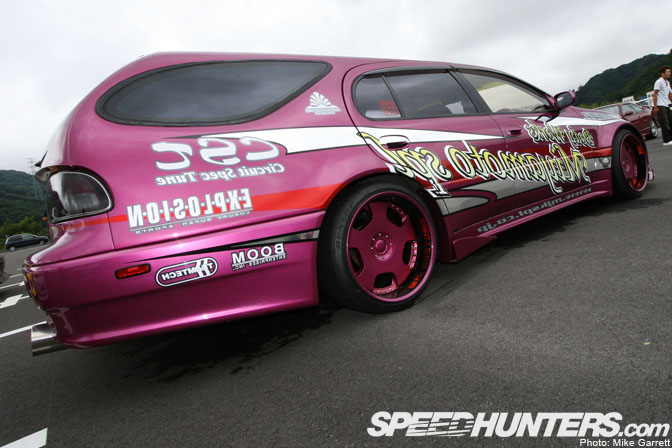 When I saw the rear of this car, I knew that the rear glass and rear side windows looked familiar. Although we have no info on how they actually did the conversion, it appears that the "wagon portion" of the car comes from a 1996+ Ford Taurus Wagon. Just to be sure, I Googled a picture of a stock Taurus Wagon and the rear window looks to be exactly the same. Now when would you ever think that someone would customize a Lexus with parts from a Ford Taurus?! I have heard of plenty of people putting Lexus body parts on other cars, but nothing like this. I thought it was really cool.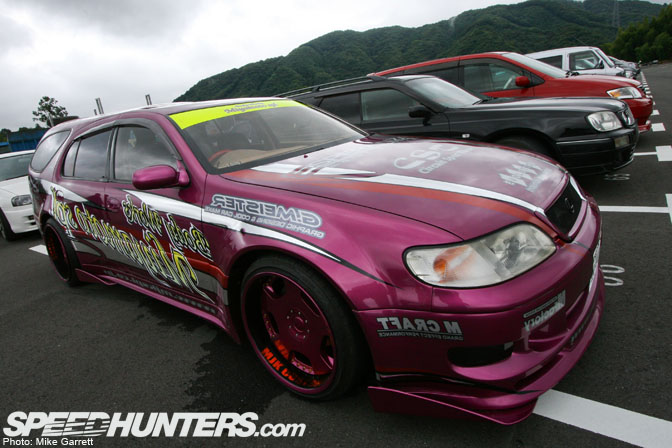 Even if this car wasn't converted to a wagon, it would still draw looks with its purple anodized Work Euroline wheels with shop decals on the wheel lips and its super aggressive aero kit. I am sure that a car of this caliber would have been featured in Japanese magazines somewhere along the line, but seeing it at Honjo was the first time I had seen or heard of this car ever. This leads me to believe that the car was either built a really long time ago OR it has just been completed and that would explain why I haven't seen it in any mags yet.
Whatever the story is, it was certainly a conversation piece for us and something that we knew was worth featuring on the site.
What do you guys think?
-Mike Garrett