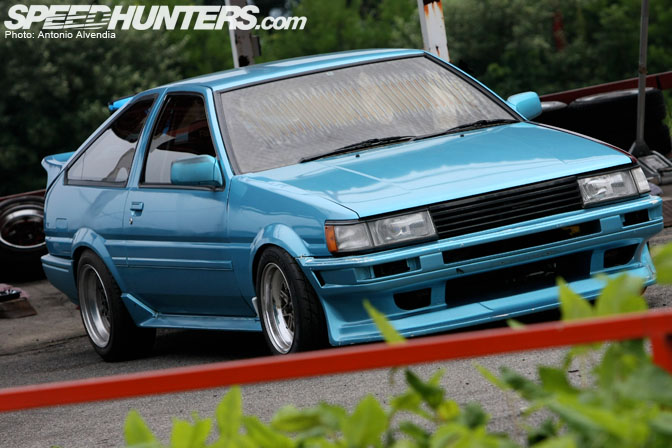 Since my previous images from the Ebisu Circuit Summer Drift Festival (aka Natsumatsuri) seemed to get a pretty good response from Speedhunters readers, I wanted to show you guys a few more photos from this year's event. I was pretty disappointed that my friends from the Kanagawa-based AE86 team named Peak couldn't make it to the festival; they were busy with an event over at Fuji. However, I did see alot of AE86s at the festival, and while I couldn't take photos of ALL of them (we were running around doing HD video filming as well as the still photography), here's a glimpse into some of the 86s that caught my eye.
Above, this zenki model (it means before minor change) AE86 Corolla Levin 3-door at Ebisu's North Course looked like a blast from the past. To me, it looked just like a look back to the drifting style of the late 1990s/early 2000s. This zenki Levin has a Goodline front bumper, and normal Japanese OEM sideskirts and zenki rear bumper. You can tell the car is zenki (1984-1985.5) because of the grill, the vertical stripes in the windshield glass, and the rear bumper, which has a line at the top, but is smooth going down to the bottom. Goodline only makes kouki model (after minor change) AE86 bumpers since it was the trend back then to convert to all kouki bumpers/lights; therefore, the front bumper has holes for the wraparound lights, but the owner of the car just decided not to put them in I guess.
This teal zenki Levin also has a TRD fiberglass rear wing and SSR Mark III wheels. I like this old school style – no carbon fiber necessary!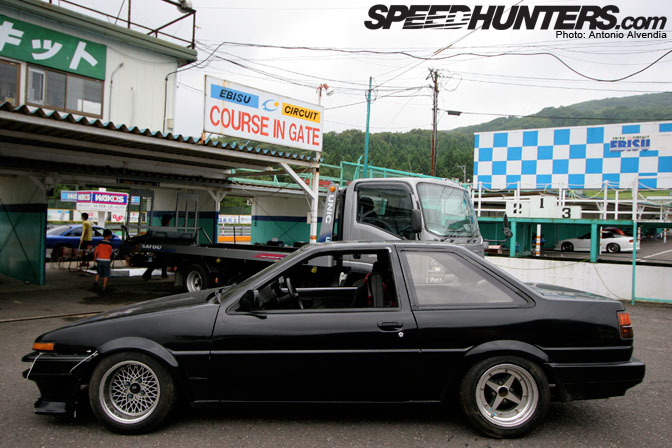 This kouki 2 door Trueno that I spotted at Ebisu East Course has a pretty low stance; maybe the owner is using coilovers all the way around? I didn't have time to check. The front aftermarket kouki bumper appears to be from J-blood (not sure cause I can't see the front), and the wheels up front are 15 inch SSR Reverse Mesh, while the rear wheels are the old school type of 3piece Work Equip 01s. This car totally reminded me of my good friend Brian Urbano's black kouki AE86 coupe back in Southern California. Rumor is, he might be selling it sometime soon.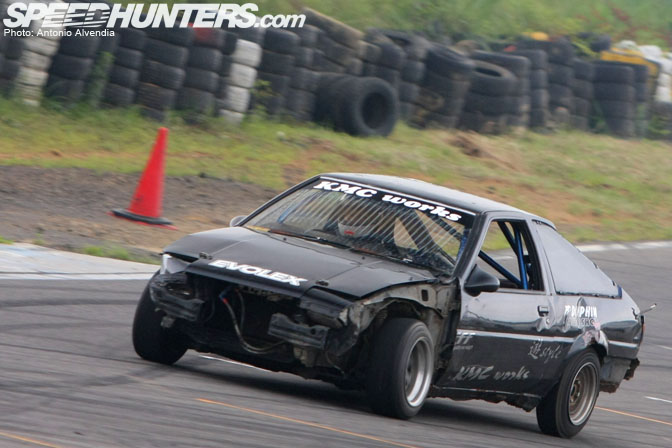 Now THIS is a battle version AE86. I remember seeing this car ALOT cleaner earlier in the day! Good thing the car has a Cusco rollcage, because apparently the driver crashed sometime during the festival, and crunched up the rear quarter panels, door, hood, front bumper, and I don't know what else! I thought it was so funny that he just removed his bumpers, fenders, and rear hatch, and said screw it, I'm gonna keep running Ebisu's West Course! Now that's hardcore! Love the camber up front BTW!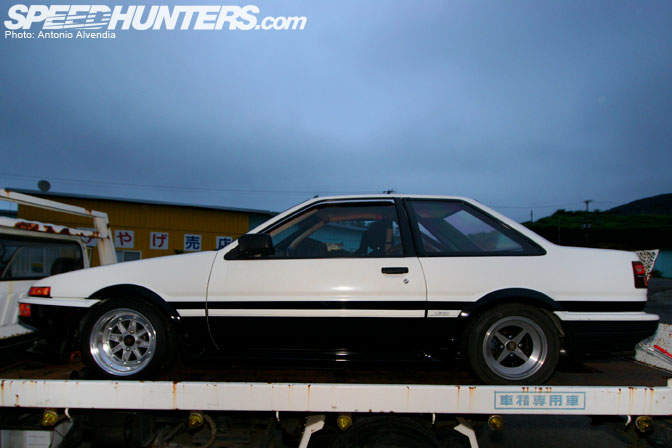 I saw this very clean kouki Trueno 2 door sitting on a loader (flatbed truck) up by Ebisu's Driftland course. I love how clean it is – it had new paint, Goodline bumpers, and 15 inch SSR Mark III wheels up front, with the old school 14 inch Work Equip 01 wheels in the rear, because tires are much cheaper for 14 inch wheels!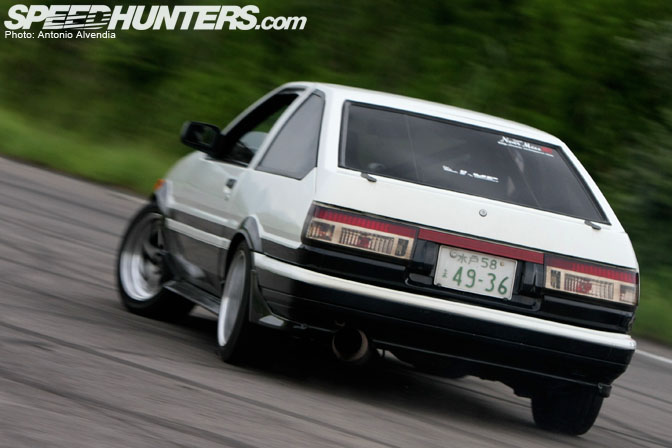 Hmmmm… not the hugest fan of those clear-ish LED tail lenses on AE86s, nor the J-Blood rear bumper extensions… but I thought it was great to see this AE86 drifting at the West Course circuit. It certainly looked and sounded pretty cool as it passed me by!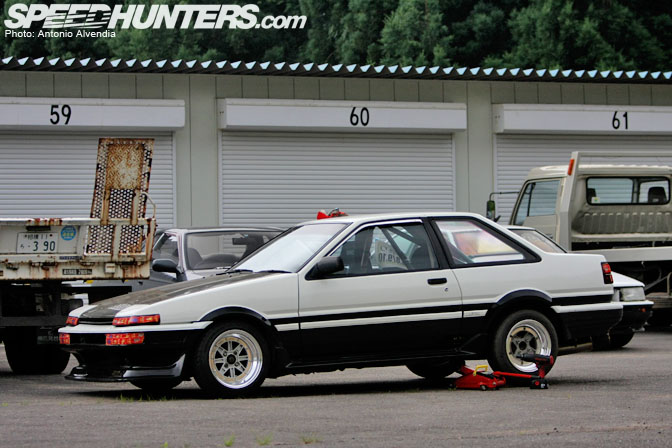 Here's the same kouki Trueno 2 door that we previously saw on the loader truck – only this time, the owner of the car has SSR Mark II wheels on the back. I love the combo of Mark II and Mark III wheels; they look awesome together in my opinion!
I was driving towards the Ebisu Touge course with Naoto Suenaga sitting shotgun, and I mentioned to him, "Cool! Look at the numbers on the garages behind that hachiroku! They're 59, 60, and 61… same years the hachiroku came out in Japan! (Just to clarify because I'm sure most normal people have no clue what I'm talking about… in Japan, they use a Japanese year system which bears reference to the years the Emperor has been seated. In this case, it's Showa 59, 60, and 61. This means that the AE86 came out during the 59th, 60th, and 61st year of the Showa Emperor's rule.)
When I mentioned this, Naoto just looked me and began laughing while shaking his head… "Ehhh? Why do you know? Crazy! Hachiroku mania… You're crazy."
-Antonio Alvendia
36 Hours of Drifting at Ebisu Circuit