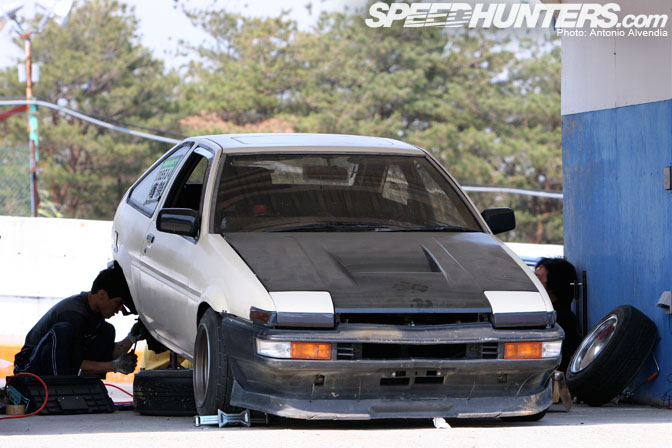 HAPPY HACHIROKU DAY!!!
Right now it's August 6th, and I'm in London, typing this on my balcony while looking out at the boats moored to Canary Wharf. Later today I'll be flying to Japan, for my annual visit Ebisu Circuit… so I thought it would only be fitting to post up some AE86 photos from Ebisu, in honor of Hachiroku Day, 8-6-2008!
My good friend Herbrock One from Cipher Garage was the first from our group of friends to declare 8-6 as Hachiroku Day, about 9 or 10 years ago. It was pretty funny, we even started having AE86 meets on August 6th. So while I'm away on my Europe/Japan tour, I just wanted to shout out to all my AE86 friends back in the USA, and across the world… Happy Hachiroku Day!
Live The 86 Life!
Above: Ebisu West Course pit garage with my friends from PEAK – the die hard AE86 drift team from Kanagawa! I love it!!!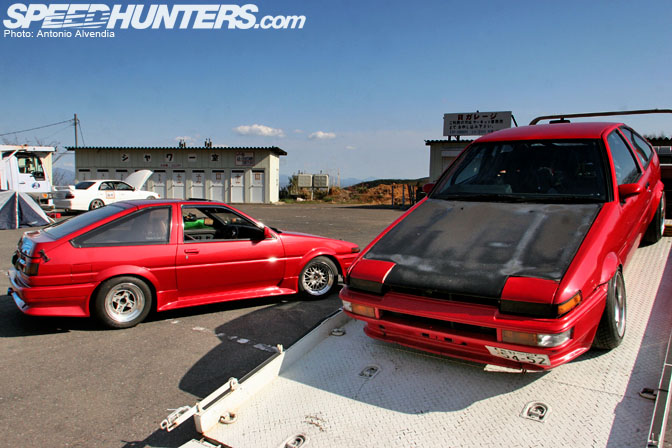 MEAN!!! I absolutely LOVE red AE86 Truenos! No wonder, I have a bunch of them myself! Here's two kouki Truenos being dropped off into Ebisu's pit garage area near East Course. I love the stance of the 86 on the trailer, it is sooooo low! The other red 86, I like the wheels alot (SSR Mk II rear and SSR/Modex Dori Dori front), but just not when they're used together.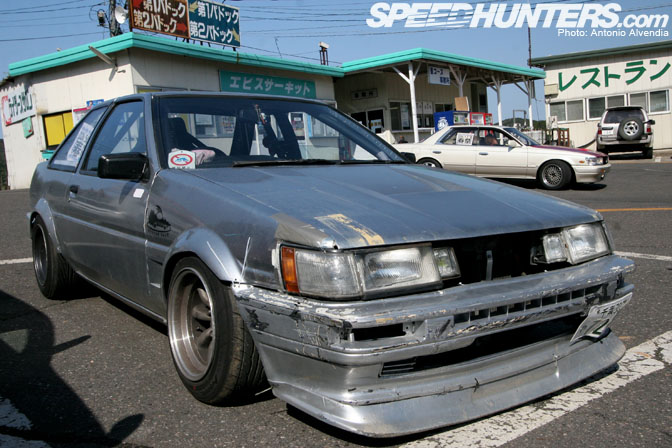 Beat up and battlescarred, but damn this 86 looks mean! It's a kouki Levin 2 door, with removed front grill, and zenki Levin front chin spoiler, which has been attached so it droops lower than OEM was supposed to be. Love the deep offset RS Watanabe Type R wheels, but it would have looked 100% better if he didn't pull the fenders out like that. Now it looks like he needs wider wheels up front. Also, the rear bolt on fender flare… not a fan. Again, it makes his offset look less aggressive. But I had to post this pic anyway cause this hachiroku looks MEAN!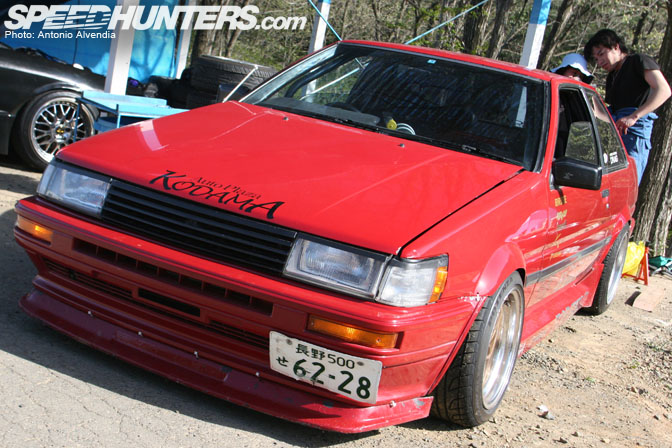 This 86 Levin is pretty clean considering it's a drift car! I dig the stance and the relatively clean red paint… I'm just not feeling those sideskirts or the smooth fender pull up front.
Okay guys! Hope you like the 86 pics, I need to pack my bags now!
-Antonio Alvendia