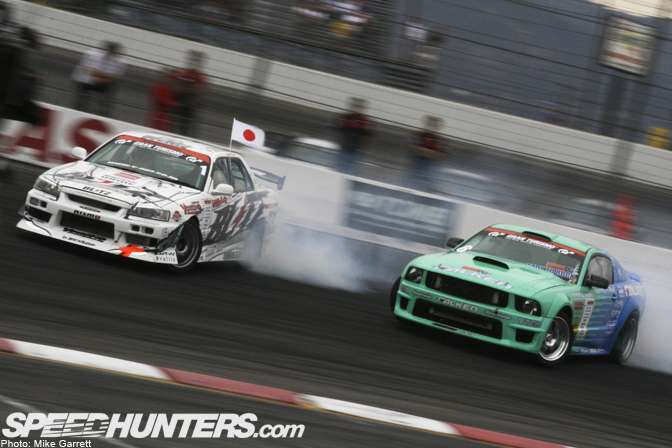 We wanted to start off this month's drifting features with a look at some of big drift series around the world. After humble beginnings in Japan, the sport of drifting began to spread like a wildfire around the world starting in the early part of this decade. Now in 2008, there are full scale drift series happening on nearly every corner of the globe. We will being do some more in depth coverage of the different series later in the month, but for now we will be using this as a "catalog" of sorts for the world's drift series.
I guess there is no better place to start our drifting world tour than in Japan, the so-called birthplace of drifting.
Japan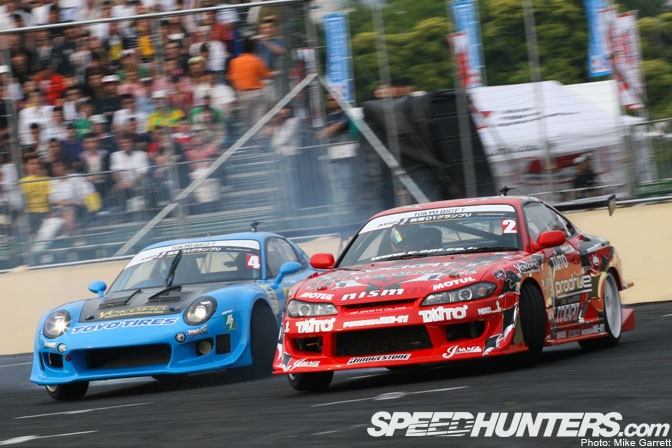 D1 Grand Prix
The longest running and most well known pro drift series in the world is Japan's D1 Grand Prix. Started in the year 2000 as one of Japan's first competitive drift series, D1 experienced rapid growth and began to spread outside of Japan within a few years. After many events in the United States, D1 spread to places like the UK and Malaysia. For the past couple years D1 has also hosted world all star events at Irwindale Speedway. So far, these events have been the biggest gatherings of international drifters in the world. However, D1 recently scaled back its international operations to focus on the Japan series. This year's Irwindale all star match is still in the works though.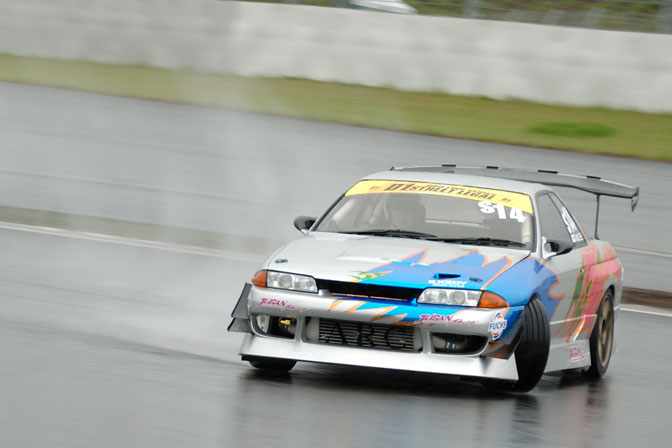 D1 Street Legal
In 2005, as the cars of D1 became more extreme and the series was losing its appeal to grassroots drivers, a new spinoff series called D1 Street Legal was introduced. D1SL has strict regulations on car modifications and the cars driven in the series must be legal for road use. Some D1SL events are held alongside normal D1 events and others are held at the smaller circuits that D1 no longer uses.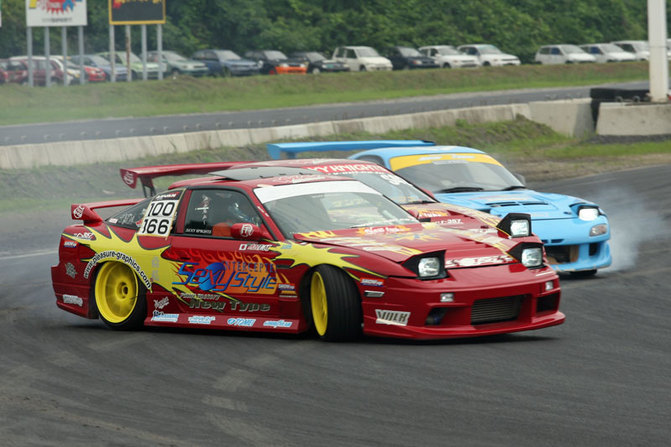 MSC
Like D1SL, the MSC Challenge series is aimed at grassroots drifters. The MSC series was actually spun off from the old BM Hai drift competitions that were held by Battle Magazine. Many drivers can be seen competing in both D1SL and MSC. One of the most exciting parts of MSC events are the triple class competitions where three cars enter as a team and are judged on their coordination while drifting. MSC competitors are broken into different classes depending on their performance. MSC also has a relationship with Formula D in the US and the EDC in Europe.
United States
After Japan, its off the United States where drifting first began its worldwide spread in popularity.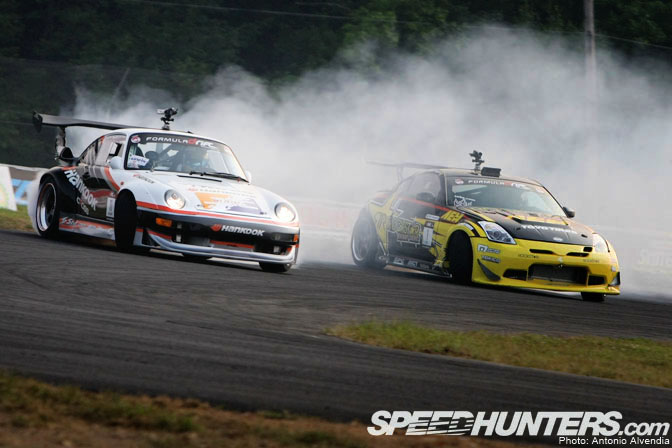 Formula Drift
Started in 2004, Formula Drift is the biggest drifting series in the United States by far. Drivers from all over the world are now competing in FD events which are held all over the country. The number of factory-backed teams competing in FD show just how big this series has become. Recently, Formula D has expanded outside of the United States with events in Singapore and Mexico. It now seems that Formula D is becoming a more developed series than D1 as more and more drivers are heading to the states to try their shot at the "American (drifting) dream". FD has what is probably the most varied car roster of any drift series in the world. FD cars include everything from traditonal Japanese imports to American muscle cars and even a Porsche 911! FD's events have been broadcast on national TV for a while now and the series' growth shows no signs of stopping.
NOPI Drift
A more recent addition the to the American drifting scene is the NOPI drift series. NOPI events are usually held on different types of courses than Formula D and attract more privateer drivers. This season there has been come controversy over the organization at some NOPI events and a few events have been dropped from the schedule. As of recently there have also been some shakeups on the judging panel. Time will tell if the young NOPI series will be able to overcome these troubles.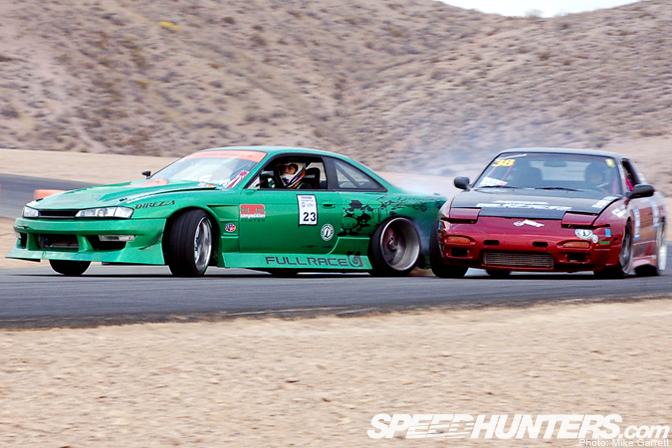 Just Drift!
There are a number of amateur drift series in the United States and Just Drift! is one of the most well known. Just Drift! events are held at the famous Willow Springs International Raceway near Los Angeles and they are the best place to see Southern California's top privateers and up and coming drivers. Grassroots events such as Just Drift! have been the launching points for many of the drivers that fill the Formula D roster.
Canada
America's northern neighbor also has a vibrant drift scene where Canadian drivers get to play with all the cool imported JDM cars that are legal there.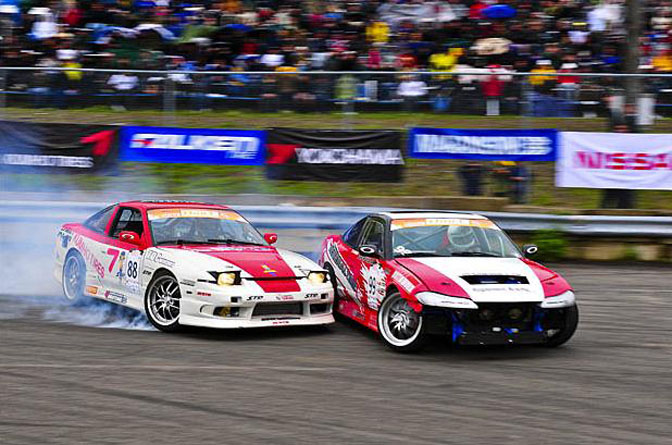 Drift Mania
Drift Mania is one of Canada's biggest drift series. Originally established in 2004, the '08 Drift Mania schedule includes six events. Drift Mania also has a strong relationship with its stateside neighbor, Formula D. Formula D judges have been featured in the series and FD drivers Calvin Wan and Ross Petty have recently been seen competing in Drift Mania events.
Western Canadian Drift Championship
This series is similar to Drift Mania but is focused just on Western Canada. Like Drift Mania, there is a partnership with pro am division of Formula D which allows top drivers the chance to compete in the states.
Western Canadian Drift Championship
Europe
Europe has been experiencing tremendous drifting growth in the past few years. There are several different competing European drift series which are battling for the top position. Even I have trouble sorting them all out sometimes! So far no dominant series has emerged and all of them seem to have their strengths and weaknesses.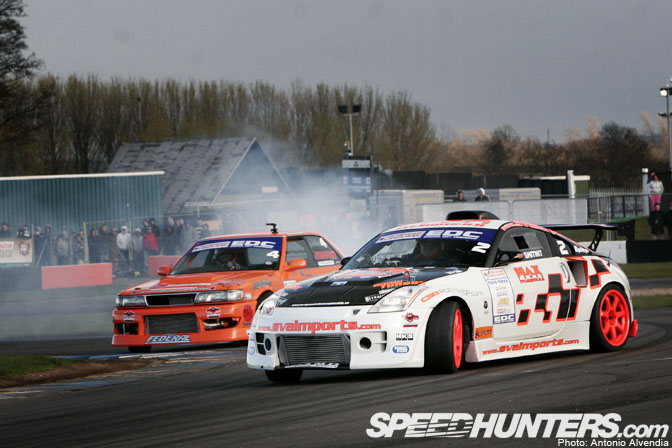 European Drift Championship
The EDC is one of Europe's premiere drifting series and includes events held throughout the United Kingdom and even in Poland. The EDC was originally started by the D1GB team but it soon became its own independent series. It is one of the fastest growing drift series in the world and I am constantly amazed with the level of cars I see competing in this series. Like in many other countries, a lot of the EDC competition cars were imported from Japan secondhand. Although it is a UK series first and foremost, the EDC is also becoming a popular choice for drivers outside of the area. If you needed any proof of how big the EDC is getting, Japanese D1 stars Kumakubo and Tanaka can now be seen competing in the EDC. Some people do say that the entertainment side of the EDC can be a little too "straight" at times. EDC action is broadcast across Europe on MotorsTV which is their equivalent of Speed Channel in the states.
British Drift Championship
The British Drift Championship is a smaller amateur feeder series for the EDC.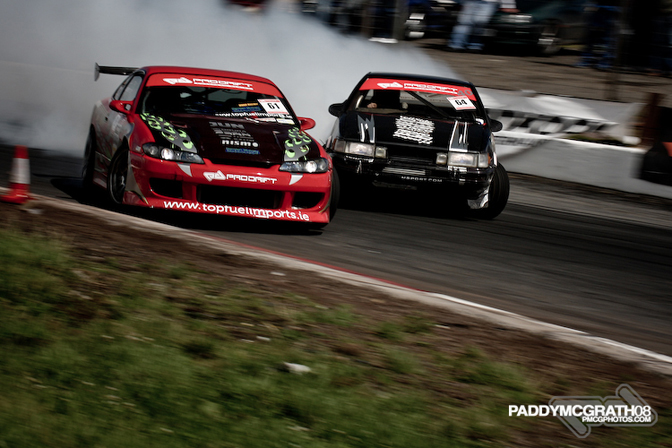 Prodrift
Prodrift was started in 2003 by Graham McNamara, the brother of Irish star drifter and Formula D driver Darren McNamara and is the longest running drift series in Europe. It also one of the EDC's biggest competitors. There are two different Prodrift series, one for Ireland and another that travels across Europe and works with other European drift organizations. European Prodrift events can be seen in places like Sweden, Finland and Benelux. Prodrift is trying hard to engage the European drivers to compete with the series' Irish drivers but it can be difficult task uniting all the different countries of Europe. Prodrift events seem to be a haven for the AE86 Corolla, a car which has been phased out in many other pro drift series.
JDM Allstars
JDM Allstars is also a UK-based drift series and includes many drivers from the EDC. While the EDC focuses on the competition aspect of drift, JDM Allstars is more about the showmanship of drifting. The few events that have been held so far have been done on smaller courses than the EDC.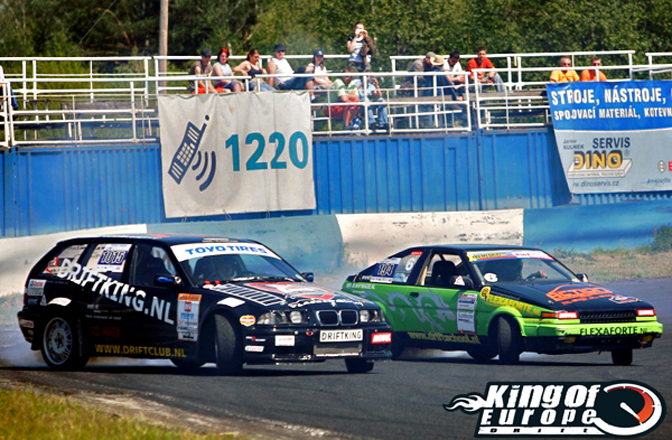 King of Europe
The King of Europe is a fast growing drift series that also happens to be one of the most ambitious in the world. For 2008 KOE will be holding events in places as far reaching as Russia, Serbia, and the Czech Republic. Last year there was even an event in Dubai! The KOE is also one of the few drift series worldwide where European cars outnumber Japanese cars. The BMW 3-series in particular is an extremely popular platform for drivers in this series. The current series champ is well known drifter Paul Vlasblom of the Netherlands who drives an E36 BMW 3-series wagon. While looking through photos of some of their past events, I even noticed a few people driving old Camaros and Trans Ams!
Nordic Drifting Series
Pro drifting for Norway, Finland, and Sweden. This series also has a wide variety of cars. We have even seen a few ex-D1GP cars imported from Japan being driven here. BMW cars are also popular here although the majority drive Japanese machines. When I browse through the Driftworks forums looking at people's car builds, I notice a lot of the really cool ones are coming from this area.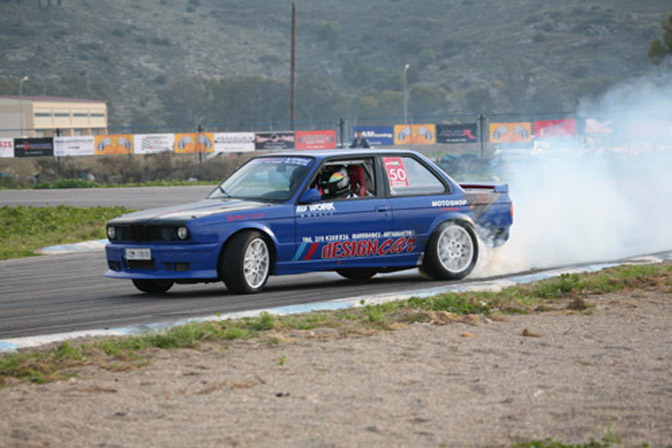 Hellenic Drift Championship
Greece has a surprisingly large drift movement. In fact Antonio traveled there last year with Team Orange as they performed drift demos for the Greek fans. At the forefront of the drift scene in Greece is the Hellenic Drift Championship which was just started this year. The judge for the this new series is "Sleepy" who also judges in the EDC. The Greek drift scene has a very interesting mix of cars including Japanese and European cars and it also looks to have a large number of classic cars that can still be seen competing.
Australia
Of course the car-crazed Aussies also have a very large drift scene. There are a few different drift series that are held across Australia.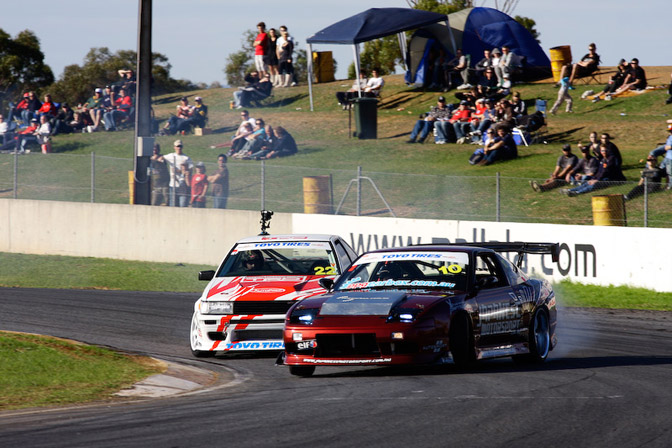 Drift Australia
The biggest series down under is the Toyo Tires Drift Australia series. Started in 2005 Drift Australia's calendar includes events that take place all over the large country. Like Formula D, the Drift Australia series also sees national TV coverage in Australia, except the coverage for each round is three hours long in total! DA is considered the "official" Australian Drift Championship. A few of the top Australian drifters even came to the United States last year for the D1GP all star event. The cars in this series include a lot of Japanese imports and even a couple examples of Australia's native Holden muscle cars. A unique aspect of the DA series is the long length of the courses they run on and many of them have straight sections between the corners.
Super Drift
Super Drift is a feeder series that is run alongside the Drift Australia events.
Initial Drift
Initial Drift is one of Australia's oldest drifting associations and a leader in the Aussie grassroots drift scene.
New Zealand
Like in Australia, there is also a very big drift scene in New Zealand.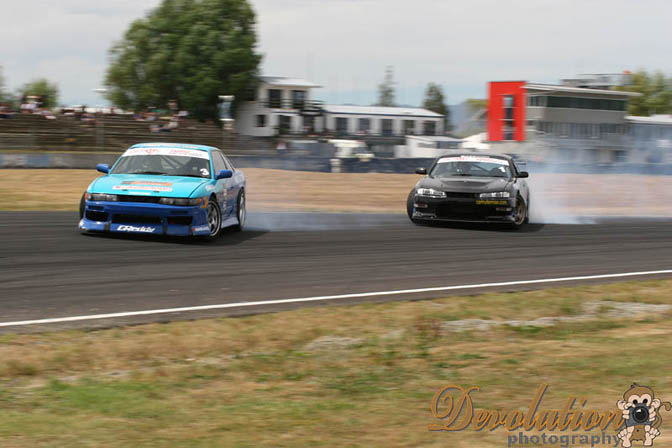 D1NZ
Started in 2003, D1NZ is one of New Zealand's biggest drift series and operates a number of events throughout the country. Despite the name, it is not related to the Japanese D1 series. Like the Australian series, a few D1NZ drivers came to Irwindale last year including "Mad Mike" Whiddett and his crazy RX7 which I recently featured here on Speedhunters. New Zealand has very lax importation laws so many secondhand Japanese cars can be found competing in the series. There is also national TV coverage on NZTV.
Stil Vodka Drift
Another of the big drift series in NZ is the Stil Vodka Drift Series. This series was started more recently and is headed by the Parskside media company. New Zealand is a small country and many drivers can be seen competing in both this series and D1NZ. Like D1NZ it also receives a lot of television coverage in New Zealand.
Drift Revolution
More NZ drift action. Drift Revolution offers competitions and practice sessions for everyone from beginners to pros.
Malaysia
Malaysia is on the forefront of the drift scene in Asia and Malaysian drifter Tenkgu Djan has been making quite a name for himself in D1 competition both in the United States and Japan. Old school Toyota cars seem to be a very popular choice for Malaysian drifters as you can see from the Corolla in the photo below.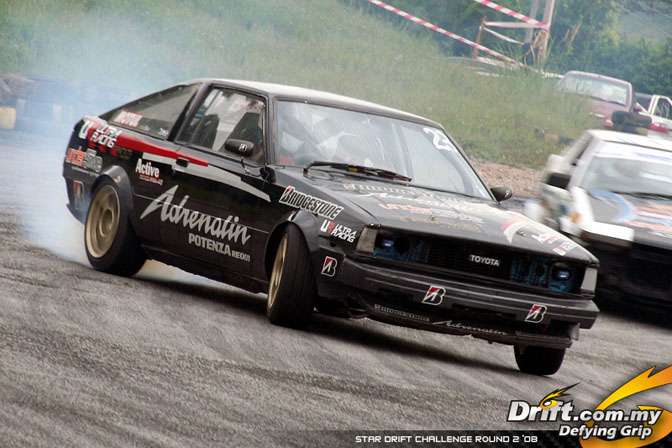 Star Drift Challenge
The Star Drift Challenge is Malaysia's biggest drift organization and its competitions have seen up to 60 drivers on the roster. Tenkgu Djan can be see in this series driving his Team Bridgestone 180SX.
That should give you a decent overview of some of the worlds bigger drift series. I know I sure learned a lot during the process of putting together this post! Feel free to let us know about your local drift scene or any of the series we missed in the comments section.
-Mike Garrett