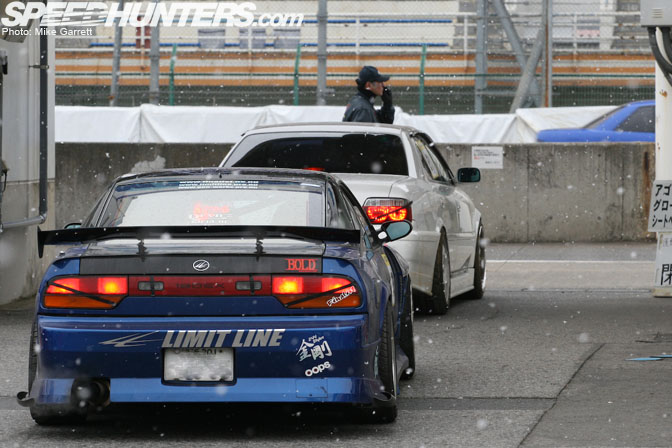 As another introductory article for our focus on drifting this month, we wanted to do an overview of some of the popular drift car platforms seen around the world. It has been said that any rear wheel drive car as well as many AWD cars or even FWD cars can be "drifted" with the right amount of driver skill, but keep in mind that for this article we are focusing on the most commonly seen
platforms in the grassroots/privateer scene. Also we are not dealing with pro cars here, so don't expect to
see cars like the Viper and Porsche from Formula D or Kumakubo's Evo as
part of this article.
Seeing as how the sport of drifting was originated in Japan, the vast majority of drift cars seen worldwide are Japanese in origin. Of course that does not mean that Japanese cars are the ONLY ones that make good drifting platforms, as anyone who has seen the Top Gear segment with Yasuyuki Kazama driving the Vauxhall Monaro can attest.
I will try to give a brief rundown of each car's positives and negatives as I go through the list. Much of this info might be common knowledge for a lot our hardcore readers, but feel free to follow along and enjoy some cool photos anyways.
TOYOTA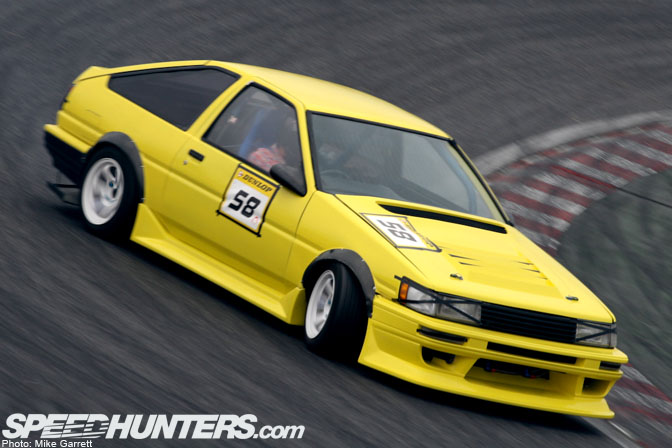 AE86 Corolla/Levin/Trueno
Although the AE86 has had a lot of accomplishments in traditional motorsports, the Hachi Roku got most of its fame from its association with drifting. The AE86 had been a favorite in Japan since the early days of drifting and it had already reached legendary status before it caught on in the rest of the world. The AE86 is known for being a fantastic driver's car and one that is perfect for learning drift techniques with. Even though they are down on power in stock form, the AE86 is very light and nimble compared to other drift cars. The old age and popularity of the car has made finding a decent example a hard task, and when you do find one you will have to pay for it. The standard 16 valve 4AGE makes enough power to enjoy although many choose to upgrade to the later model 20 valve versions. Much to the chagrin of Antonio, many AE86 pro drivers have swapped in powerful motors like the SR20DET and Honda F20C to remain competitive with the higher powered cars.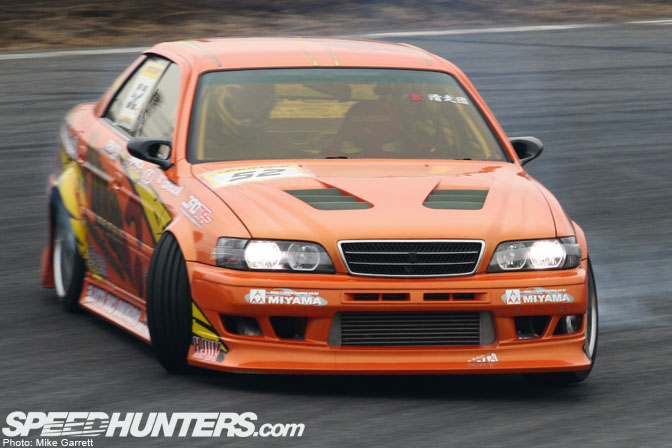 JZX81,90,100,110 Chaser, Mark II, Cresta, Verossa
The Toyota JZX family is one of the most commonly seen drift cars in Japan. Unfortunatley, these fantastic cars were never sold in the United States. However, some nice imported examples can be seen in the UK, Australia, and elsewhere.  The most popular cars in this family are ones powered by Toyota's stout twin turbo 1JZ engine. Although these cars are four door sedans, the chassis is quite nimble and many praise the car's amount of steering angle. There is also a huge aftermarket for these cars in Japan. One of the main negatives is the difficulty in finding one with a manual transmission. The manual equipped cars typically sell for a lot more than their automatic cousins. Some Japanese tuning shops do offer complete automatic to manual conversions though.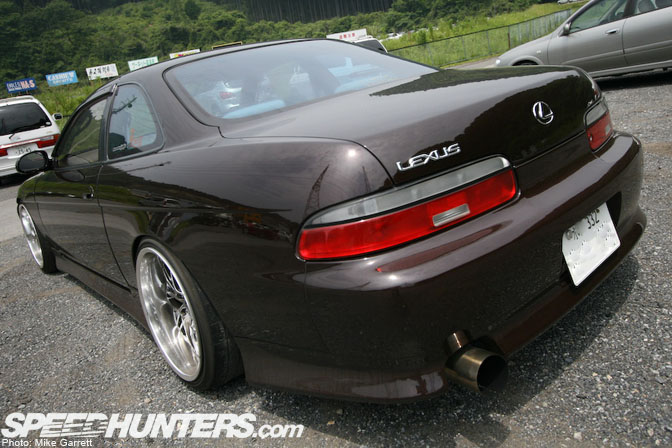 JZZ30 Soarer/Lexus SC300
Anyone who has seen Takahiro Ueno compete in the D1GP knows what the JZZ30 chassis is capable of. The Soarer 2.5GTT model is equipped with the same 1JZ engine that is found in the JZX chassis. Although the US never got the turbo model, the popular model for the Americans is the five speed version of the Lexus SC300 which has a naturally aspirated 2JZ powerplant. Seeing how the car was originally sold as a mature sports coupe, finding a manual transmission version can be very hard both in Japan and elsewhere. For US owners, parts for these cars can be significantly more expensive than other popular drift cars. Those that do stick with the car are rewarded with a great chassis that shares lots with the Toyota Supra and offers near limitless potential.
NISSAN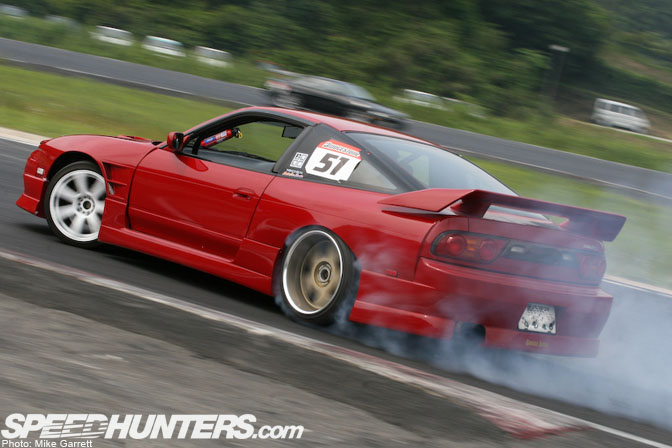 S13 180SX/240SX/Silvia
The Nissan S13 is the quintessential drift platform. Although the chassis originally debuted about 20 years ago, it is still the most commonly used drift car just about anywhere in the world. Despite the car's age, tuning companies are continuing to develop new parts for the chassis and the number of S13's still being used for pro drifting worldwide shows just how capable this car is. In most countries, the car was available with Nissan's legendary SR20DET engine though the USDM version was powered by the less desirable truck-derived KA24 engine. There is no need to bash on the KA24 though as its potential has been proven by numerous American tuners. The biggest drawback of the S13 is that is its continued drifting popularity has made it very hard to find cars that have not been overly abused. Here in Japan where used cars are known to be cheap, S13 prices have been on the rise and it costs a fair amount of money to score anything that isn't a total beater.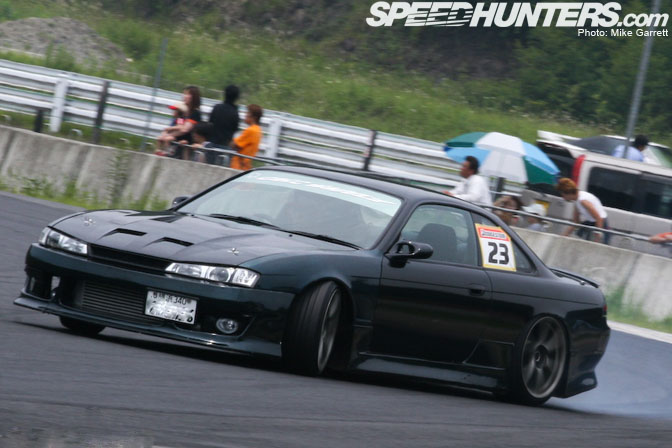 S14 Silvia/240SX
Much of what is said for the S13 goes for the S14 as well. Although they are typically a little more expensive than S13's, you do get some added features like 5-lug wheel hubs as opposed to the often disposed of 4-lug stuff on the S13. In the United States it can be hard to find a manual transmission S14 so at times it might better to get an unmolested automatic car and swap in a 5-speed. The facelifted kouki models are very rare (particularly in the USA) and still bring quite a bit of money. The S14 still remains a popular choice among grassroots drivers.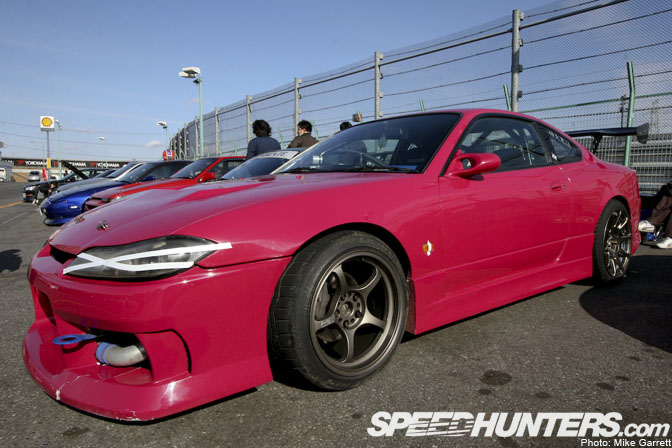 S15 Silvia
The S15 model is the pinnacle of the S-chassis family. It offers the most powerful version of the SR20DET and styling that in my opinion is some of the best ever seen on a Japanese car. Like many other desirable Japanese performance cars, this one was never imported to the United States. The Spec R turbo version is the most popular although there was also a naturally aspirated Autech-tuned version which had some impressive performance figures. Since the S15 is still a fairly new car and is the last of its type, they command fairly high prices.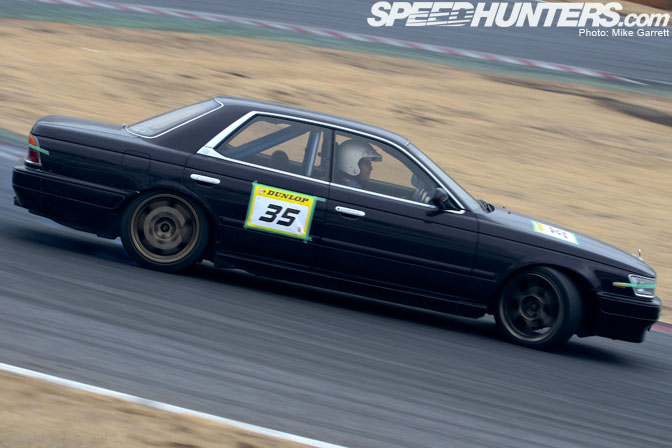 C33,C34,C35 Laurel
Like Toyota, Nissan also offers a number of four door cars that are popular for drift use. The Laurel is one of them. Laurel models were originally offered with variants of Nissan's RB series inline six, and modified RB25DET and even RB26DETT engines can be found under bonnet of many of them. The SR20DET is also a popular swap for those looking to shed weight up front while still having plenty of power potential. The original C33 models of these cars are also getting fairly old so it can be hard to find decent examples nowadays. D1 driver Takashi Haruyama can be seen competing behind the wheel of the later model C35 version.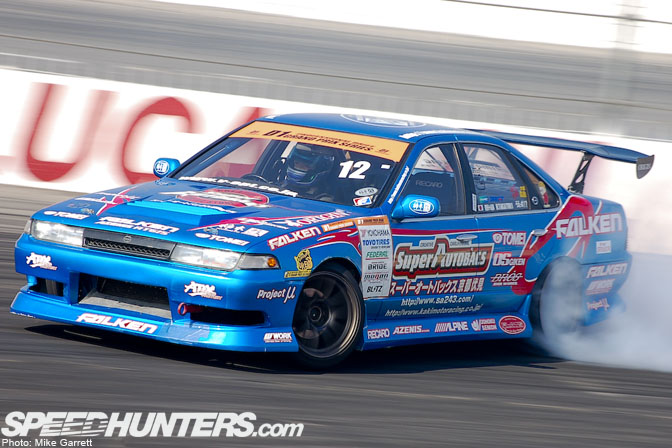 A31 Cefiro
The A31 chassis Nissan Cefiro is a four door cousin to the Laurel. Like the Laurel it was originally powered by an RB engine although the SR20 is also a very popular swap for this car. If you take the car's styling into consideration, an SR20-swapped A31 is about as close as you can get to a four door Silvia. Just be sure you don't get a Cefiro that isn't an A31 because the versions after that are front wheel drive cars similar to the Nissan Maxima and Infiniti I30. The A31 model is also getting up there in age so it may need a little refreshing before it's ready for the drift course.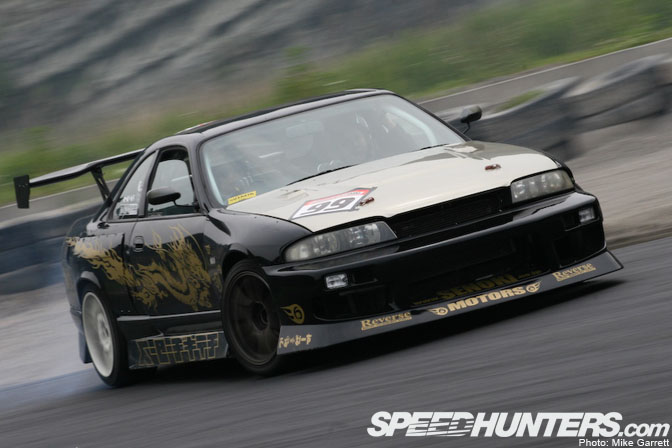 R32, R33, R34 Skyline (FR models)

While the AWD Skyline GT-R is not a commonly seen drift car, the rear wheel drive turbo models are very popular for drifting in both sedan and coupe form. The rear wheel drive Skylines have lots of aftermarket support and are still very common on the used car market. In Japan it is probably easier and cheaper right now to score a good condition rear wheel drive R32 or R33 Skyline than it is to get a 180SX or Silvia. A lot of the drift-tuned Skylines are running high power RB25's and some even have RB26 swaps. Drivers do have to deal with the added weight in comparison to the S-chassis.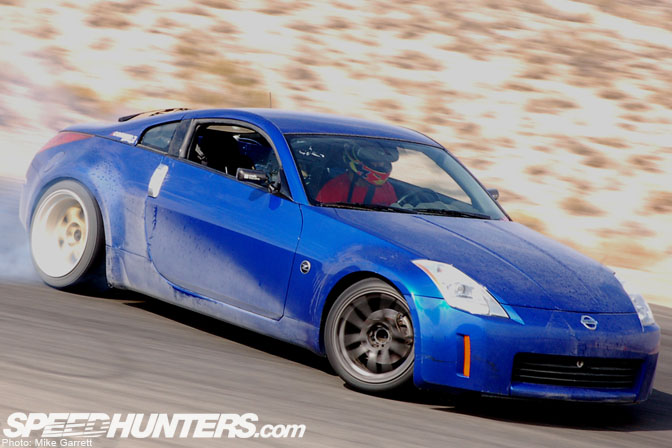 Z33 Fairlady Z/350Z
While the Nissan Z has never had the drift following that the S-chassis has, the Z33 model makes for capable drift car. Since the Z debuted around the same time that the Silvia was axed, the aftermarket for the Z33 is huge. The Z33 is the newest and probably the most expensive car on this list, but the older models are starting to get into the price range where they could be viable for grassroots drift use. Even in stock form, the VQ35 offers plenty of power and there are many options if more power is needed. Chassis-wise there are also tons of aftermarket parts available. The biggest drawback besides its initial price is that the cost of replacing parts on a Z33 will be much higher than something like an S13 or S14.
MAZDA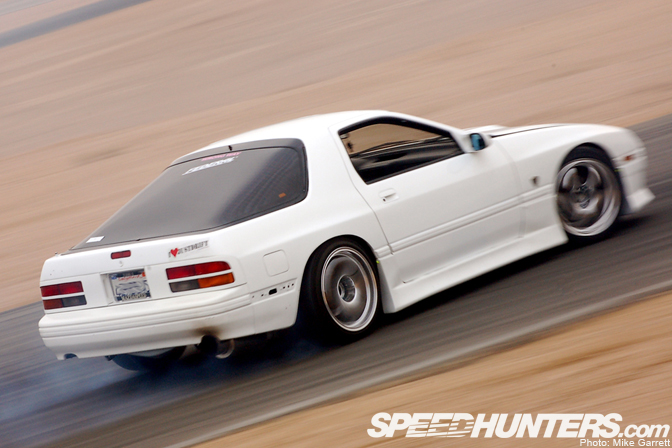 FC3S, FD3S RX7
The RX7 makes for an interesting drift platform and they capable all the way up to the pro level. The FC3S model offers a robust and capable chassis, and NA models can typically be found for a lot cheaper than an S13 or AE86. The turbo model FC3S's are significantly more expensive and harder to find, but they do offer a nice power increase. The FD models are still very expensive in most places and you would need pretty deep pockets to have a dedicated FD3S drift car as a privateer. Although capable of insane power, the rotary engines can be a drawback to those not familiar with working on them. Of course there is also the possibility of swapping in something like an SR20 or even an LS1 V8.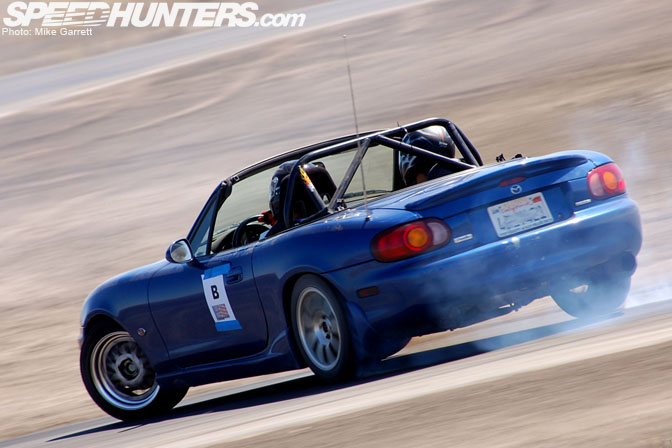 NA,NB Mazda Roadster/MX5/Miata
Recently, as it has been getting difficult to find a good S13 or AE86, many people have taken to drifting Mazda's nimble little two seat roadster. While they are fairly underpowered in stock form, the Roadster has one of the lightest chassis around and there are plenty of choices for those looking for more thrust. This is one of the world's best selling sports cars so they are relatively easy to find anywhere. Being the world's favorite Roadster also means there are a ton of aftermarket parts to be found. For more on this be sure to check out Rob's website Roadsterdrift.com.
SUBARU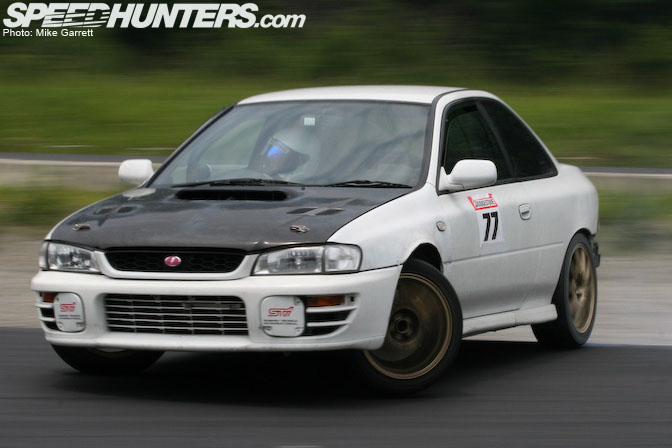 GC8 Impreza
I know what you are thinking. "An AWD Subaru on a list of common drift cars?" While Team Orange has shown the capability of RWD-converted Imprezas for pro drift use, it also seems like these cars are gathering popularity as grassroots drift cars. The older GC8 model seems to be the most common and I have seen a couple different ones tearing it up at recent drift events here in Japan. I also know of some seeing drift use elsewhere. Drifting these cars actually makes sense when you think about it. They have a lot of power, a huge aftermarket, and in many places they can be found for less money than a similar year Silvia. These cars have a lot of potential when you overcome the difficulties of a chassis designed with AWD in mind.
BMW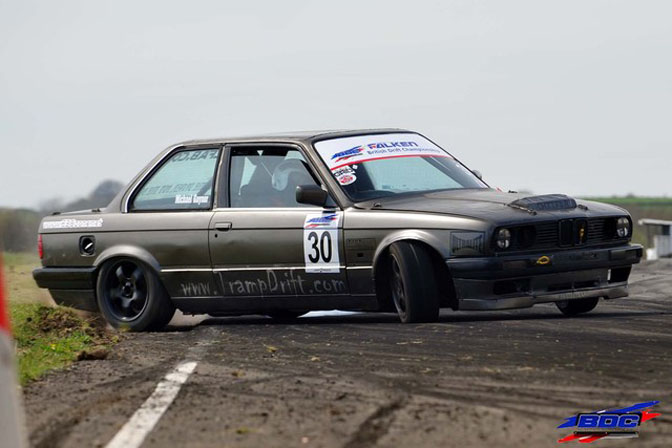 E30, E36, E46 3-series

In Europe especially, the BMW 3-series is an extremely popular car for drift use. In fact, in some European drift events the BMW's outnumber the Japanese cars. Nearly all generations of the 3-series can be seen in drift events and the E30 and E36 models in particular are very popular due to their lower costs. If you think about it, the 3-series is essentially a European version of the Silvia. The chassis is excellent, there is plenty of aftermarket support and endless potential for modification. The biggest drawback of using the 3-series for drifting can be the expense of parts and maintenance in areas outside of Europe. Nonetheless, even in the United States the 3-series sees its fair amount of sideways action.
FORD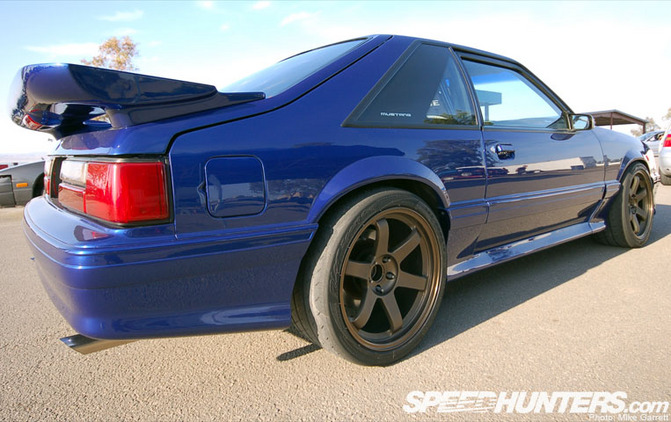 Fox, SN95 Mustang GT
In the United States, there are few cars that have the enthusiast following of the Ford Mustang GT. While a lot of Mustang owners prefer drag racing, there is still a large group of Mustang drivers who are involved in road racing and even some involved with drifting. Of course you also have Vaughn Gittin Jr.'s Mustang, but that's a whole different story. The small block Ford 5.0 V8 engines offer lots of instantly available power and even more torque. Drawbacks include less than ideal brakes and a soft suspension, but all of that stuff can be fixed with aftermarket parts. There are also chassis parts which can help make the car more drift friendly. Check out the website drift50.com for more on using the 'Stang for grassroots drifting.
GM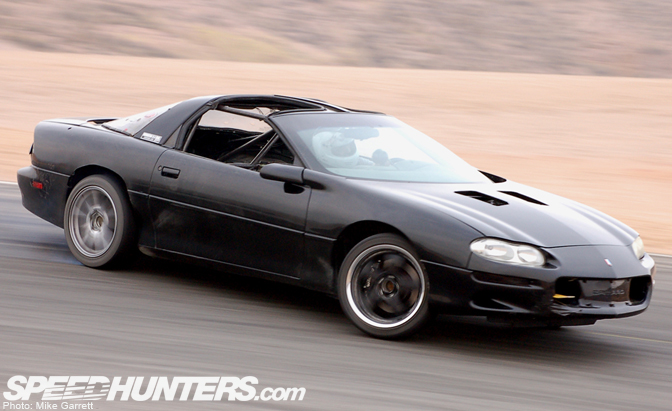 3rd and 4th Generation Camaro & Firebird
Like the Mustang, the Camaro and Firebird also offer a lot of potential as drift machines. The Chevy small block offers gobs of power for not a lot of money. The biggest drawback with both these cars and the Mustang would be the high weight and inherent lack of nimbleness found in other popular drift cars. Nonetheless, these cars still have a lot to offer for drifting use. There is near limitless supply of parts for the third generation cars to be found in American junkyards. Drift Tengoku Magazine even featured a guy in Japan who drifts a red third generation Camaro!
So there you have it. A rundown of some of the most commonly seen drift machines worldwide. Let me know what you think in the comments section.
-Mike Garrett