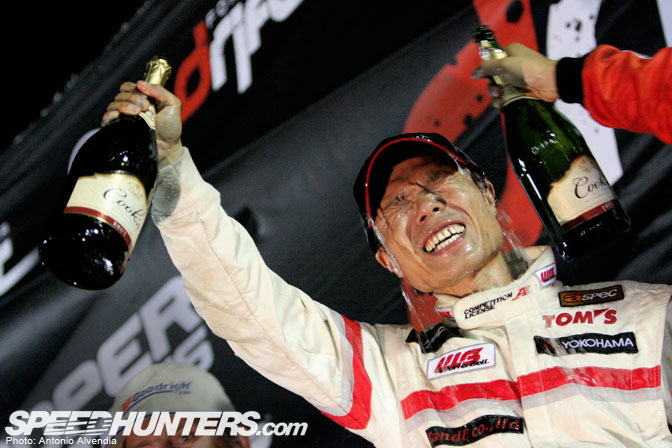 When you're playing the Craps tables in Las Vegas, my good friend Brian Urbano always says "always bet on the 8 and 6."
That appears to be true also at drifting events in Las Vegas, because late last night, legendary AE86 driver Toshiki Yoshioka from Team Droo-P piloted his AE86 with its normally aspirated (nitrous assisted) blacktop 20 valve 4AG to beat everyone in the entire Formula D field!!! This was only his second time competing in a Formula D event – the first time was at Formula D Long Beach, but he ended up having car issues, making it difficult to drive at his full potential, and he didn't make it to the Long Beach finals. However, in his second Formula D performance, Yoshioka showed everyone why the legendary 86 was originally the most popular drift car in Japan, and the king of the winding road.
Two years ago, at the D1 event in Las Vegas, Yoshioka even beat his good friend – the tsuisou king himself, Nobushige Kumakubo in the D1 finals to win First Place there too. I think Yoshioka should try his luck at gambling at a Vegas casino, because he seems to have really good luck when he's here in Sin City!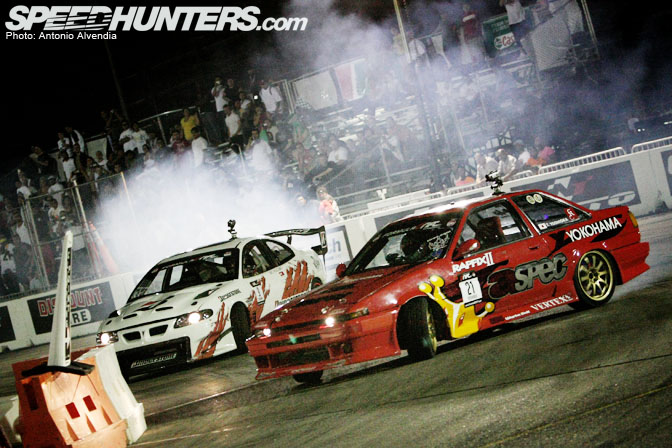 Like I mentioned in a previous post, Yoshioka is notorious in Japan for speaking softly and carrying a big stick. He is somehow able to drive his 300 horsepower 20 valve 4AG powered AE86 to the limit, and even people with much higher horsepower cars can't keep up with him! Some of the Formula D drivers who tried matching Yoshioka's speed through the course actually ended up slamming into the wall!
Daijiro Yoshihara, driving Rhys Millen's former championship car, the infamous Pontiac GTO, is an extremely skilled driver, so he didn't slam into the wall, but even Dai had a hard time keeping up with his good friend and former roommate Yoshioka!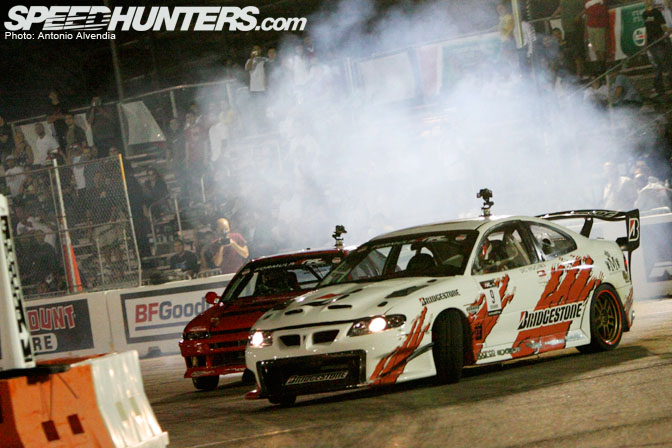 Check out the flip side… when it was Yoshioka's turn to follow, he was following Dai so close that Yoshioka's front bumper kept almost touching the side of the GTO! Incredible… all the photographers standing on the sidelines with me kept saying "no effing way!!! No way!!! Damn, Yoshioka is the sh!t!!!!"
Hell yeah! AE86 owners around the world should be proud. Yoshioka is holding it down!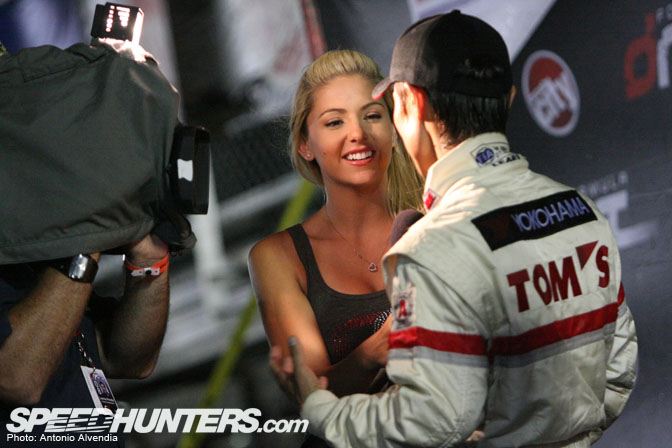 Courtney Day, the gorgeous host for Speed Channel's Formula D TV show, interviewed Yoshioka after the event, and his super-polite Japanese demeanor, combined with his vocab of broken English and Los Angeles hip hop slang words kept Courtney laughing all throughout the interview!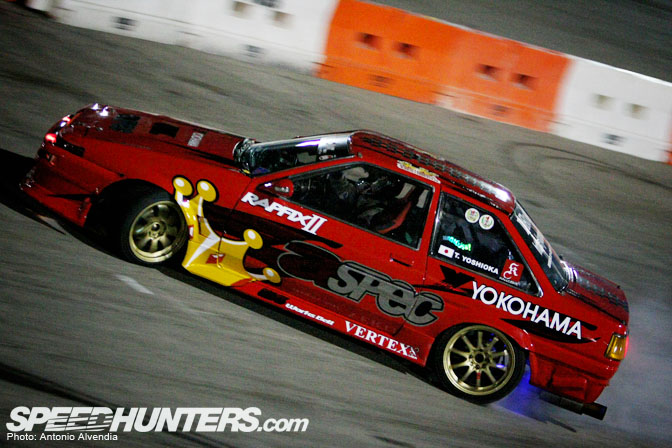 Hell yeah. Otsukare san Yoshioka!!! Great job last night! You made all AE86 owners lso proud last night! And of course Yoshioka's sponsors, A-Spec Performance, Works Bell, and Yokohama Tires were extremely happy! (Maybe now they will be down to kick down some extra money to change those unfashionable "Toshiking" graphics on the car! LOL)
Live The 86 Life!
-Antonio Alvendia