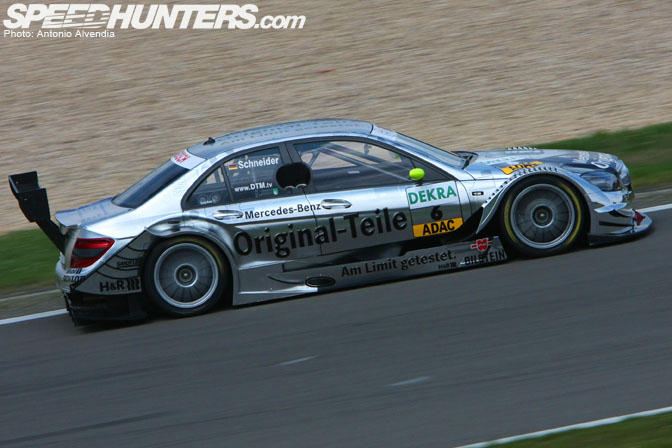 Right now it's about 6:00am in the quiet town of Nurburg, Germany. The sun is just rising right now, and the sky is filled with spectacular deep red and deep blue hues, which contrast to the lush green grassy fields right outside my window. I left my big windows open all night because it was so damn hot and stuffy inside my hotel room. From what I've been told, this area is always cold, and we're visiting in a very rare hot spell – even in the summer. Since it's a normally cold region, the famous Am Tiergarten hotel where we're staying doesn't have air conditioning in the rooms! Seriously, I was burning up in here before I opened up the windows. The bad thing about leaving my windows open though, is all these moths started flying into my room, blinded by the light… Damn! Those German moths are huge! They're like tiny Messerschmidt airplanes or something! Nasty! Anyway, this was the scene in my hotel room as I stayed up all night to go through all the photos I shot over the past week. Anyway, I decided to make a gallery for you guys to check out.
These images are from the DTM qualifying session at Nurburgring last weekend. DTM stands for Deutsche Tourenwagen Meisterschaft… but to put it simply, it's a highly popular form of touring car racing in Germany. I won't go into too many details about the cars or the drivers or the race numbers – particularly because I don't know the info! It was my first time attending a DTM race – previously I had only seen this type of racing in videos and magazines.
We attended the race "just for fun" as normal spectators, not as official media. This means we had to pay for tickets just like everybody else, and had no special priveleges. It's not a problem, we totally could have gotten media passes if we just arranged them ahead of time, but for some reason we thought it might be cool to experience the race just as normal spectators do. However, now that I've experienced it, screw that! I'll gladly take my media passes, thank you very much!
I was so frustrated because with the passes we had, we weren't allowed to go anywhere! We weren't allowed into the grandstands, which we found out only after we walked about 2 miles uphill. We couldn't move around the circuit at all to shoot photos in the good spots! Our tickets designated that we were stuck on this sheisty grass hill on the back straight of Nurburgring's newly renovated Grand Prix circuit… which means, I couldn't even get down low (to the height of the cars) to take oncoming photos of the cars, and cornering photos were EXTREMELY DIFFICULT!!!. And on top of that, we were soooo bloody effing far from the action, I just had a hard time in general. It was a super hot day, and for some reason Nurburgring doesn't believe in drinks with ice in them, and the bottled drinks aren't even that cold, just a little colder than lukewarm. Man, I wanted to get a Slurpee from 7 Eleven so bad, I'm telling you!
But even under these conditions, I had alot of fun. Why? Because THE CARS are insanely awesome, of course!!!
Come on! Where else are you going to see a chrome painted Mercedes slammed to the ground, nearly scraping the pavement with aggressive aero that actually works, charging down a racetrack?! Come on, people! Obviously the cars of the DTM series are dope as hell.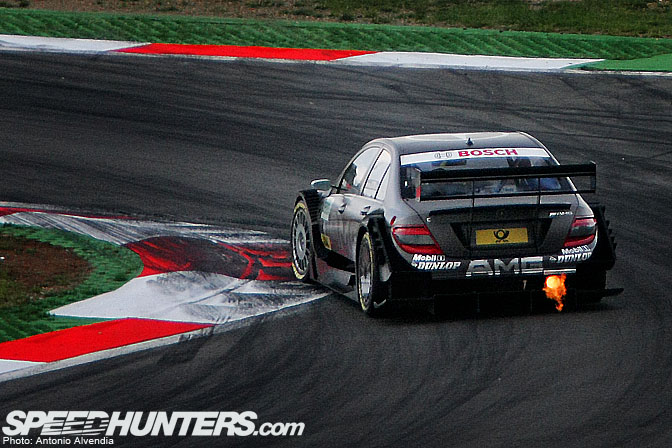 I got super lucky with this shot! I had to shoot this at a high ISO, so it's kind of grainy, but as I always say, I'd rather have a grainy photo in focus than a blurry photo with no grain! And just look! I got lucky and captured flames shooting out the exhaust of this AMG Benz as the driver downshifted and entered the S turn!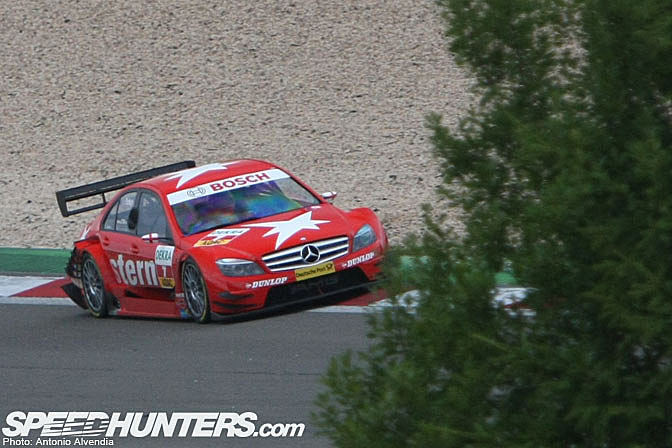 OMG. Soooo dope. Just look at how low this Mercedes is, with its sinister looking headlights, widebody fenders, DTM aero flaps and canards galore! Sooo fikking cool.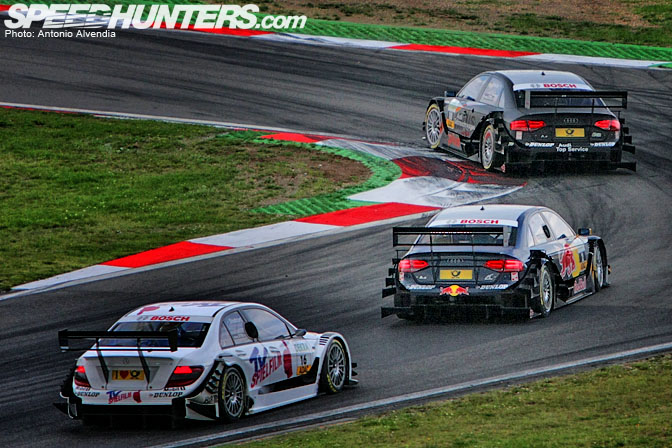 Basically, the DTM series is a battle between Mercedes and Audi… I didn't see any BMWs on the track at all. But just look at the highly developed use of canards, vents, and wings on these Audis! The rear canard flaps (is that what you call them?!) look like little trumpets or something. Pretty cool looking!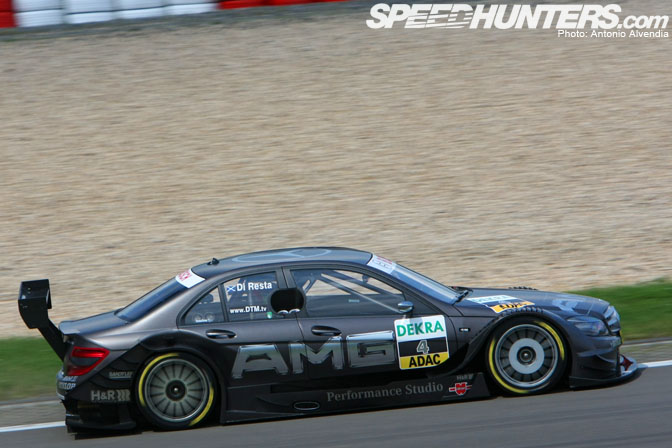 This AMG Benz had a satin finish carbon fiber looking wrap all over it. I think it looks pretty damn cool, don't you?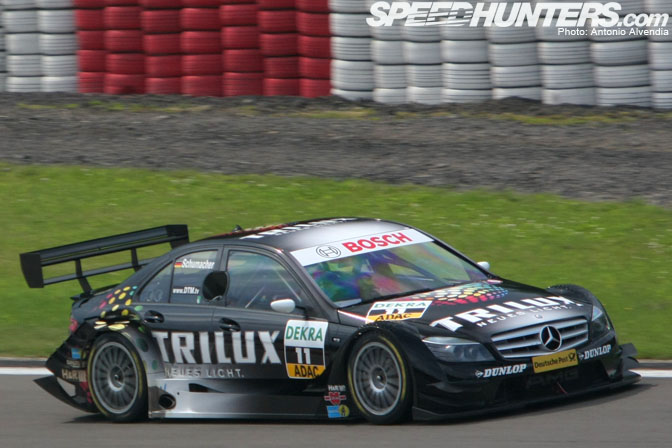 I need to get toy of one of these DTM Benzes. I don't even know where I'd put it though, I have so many diecasts already.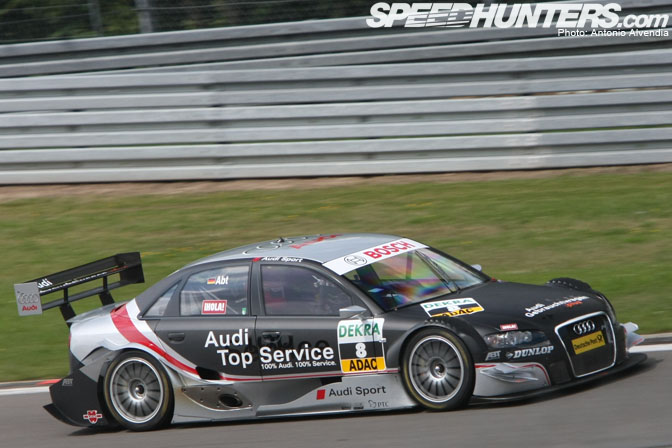 Look at the Audi Top Service car's graphics! Very simple, clean, but well designed and easy on the eye! It looks so professional! I wonder why European/UK drifters can't get their ish together and put cool looking, cohesive graphics like this on their cars, instead of the low budget unplanned graphic schemes they normally run.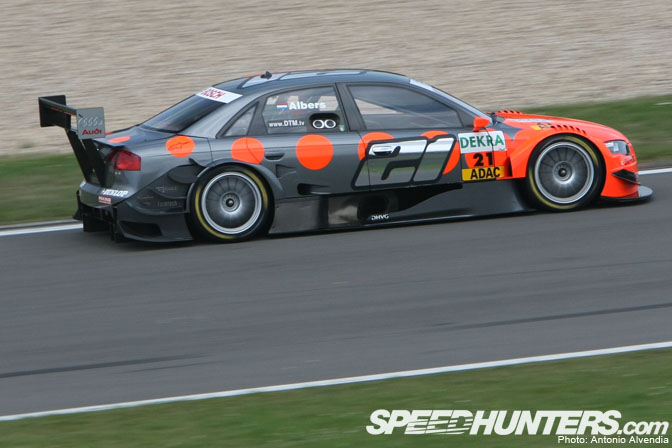 See? Even this Audi's graphics look very cool, even though they are so simple! I love how European touring cars use bright colors (like this orange) to contrast against dark subdued, normal colors. The gunmetal gray on this Audi might have been the OEM color, and the orange mirrors, orange front end, and orange vinyl graphics can be easily applied, and it makes the car look so professional, and stands out to the crowd and the media officials! Good job Audi team!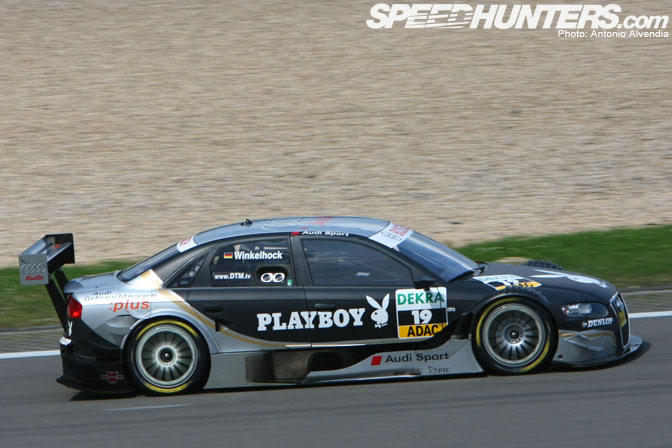 We all believe in the Playboy dream! Well… at least I do, haha.
On another note, the black area on the lower part of the door is actually a huge vent. The exhaust pipe sits in there, it comes direct from the headers! These cars are super loud, but they sound very, very cool! The metal on the rear door/sideskirt is a heatshield for the hot exhaust fumes!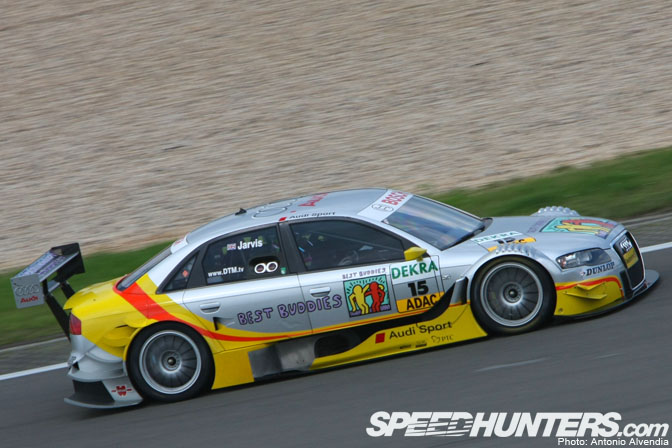 Look at this Audi! It has a Keith Haring art installment on the side of his car for crying out loud!!! Normally, you would say WTF is he thinking, that's ridiculous… but the team owner actually pulled it off very well! Okay okay let me stop talking about the damn graphics long enough to point out the scalloped fenders above the front wheels. Super cool don't you think???
Okay, well now that I'm done typing, the sun is getting higher in the sky, and I'll have to pack up all my heavy luggage and camera equipment and head down 3 flights of stairs to the car… can't be late, we need to get to Belgium by 11:30am!
-Antonio Alvendia