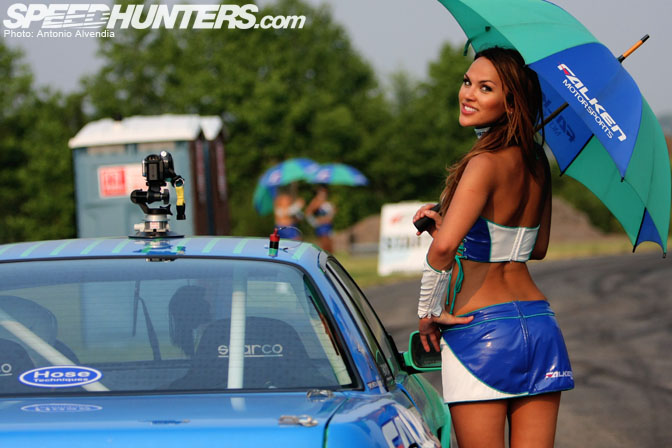 Time sure creeps up on us quickly! It's almost time for Formula D Round 4, which will take place in two weeks in the searing heat of Las Vegas! So today as I busied myself trying to reserve golf carts, rental car, and getting the info for the Formula D host hotel, I felt it was only fitting that I post up some nice motivational photos to give everyone one more reason (other than watching awesome tandem drifting battles at the exciting event) to look forward to Las Vegas… and well, since I don't gamble (budget baller over here), and I don't have any photos of buffet lines, here ya go… some eye candy from the last Formula D event we went to!
Above: As CJ looked back over her shoulder to flash me the award winning Colgate smile, I could hear random guys standing behind me said "damnnnnnnnn" under their breath. Agreed!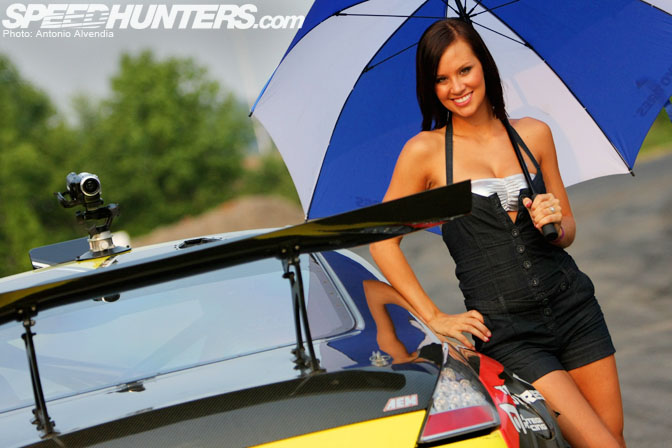 I wonder if the rear-facing camera onTanner Foust's 350Z was recording while I was shooting their model?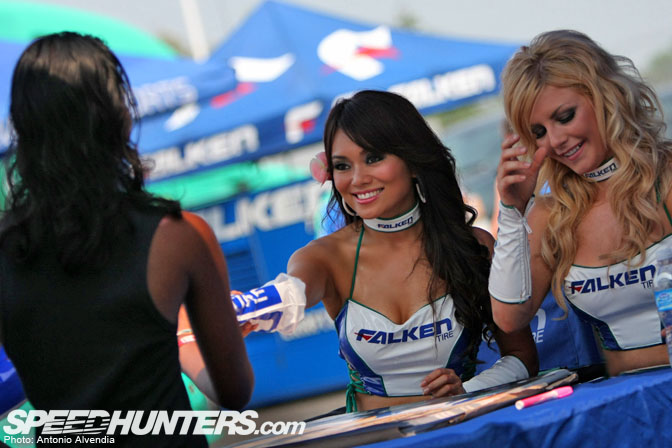 Eri Moriyama is so gorgeous and sweet when she's signing posters for the fans, it brought a little tear to Lacie's eye – not surprising. Extremely surprising, however… was when this particular fan turned around, it was a guy! Whoa!
But man, I think Eri looks so beautiful in this photo! Cho kireiiiiiii yo.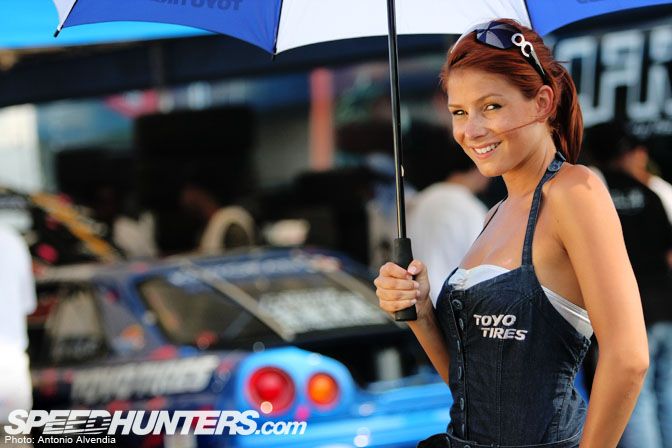 When my good friend Kelvin Tohar from Toyo Tires prompted her to stand up to pose for my camera, Toyo's new model must have thought it was going to be a quick 5 second snapshot. Sorry, not with me… I take a little longer when I'm taking photos of women, because I always pay attention to the minute details like the light, the background, her pose, her facial expression, her hair, and how to better position her body. She wasn't expecting me to make her work during this shoot! Haha! It's okay, I think the attention to detail matters. To me at least, and that's what counts!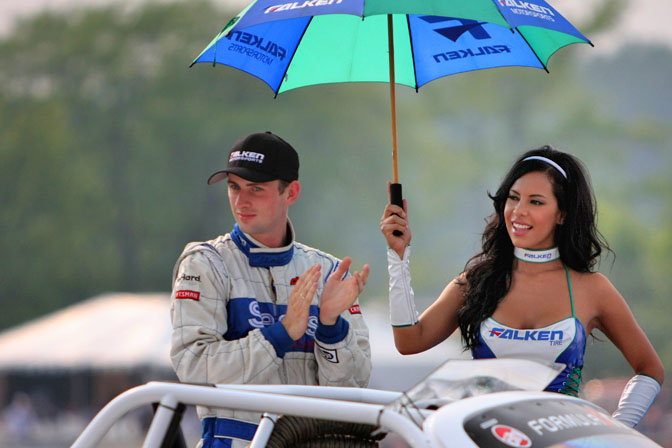 It was funny watching D-Mac do a quiet "golf clap" when the other Top 16 competitors were being announced. Such a classy lad! Speaking of classy, I think Lisa Angeline looks very pretty standing there next to him!
All these photos make me hope that Speedhunters will have a budget for trackside umbrella girls for the photographers next year! That would be awesome!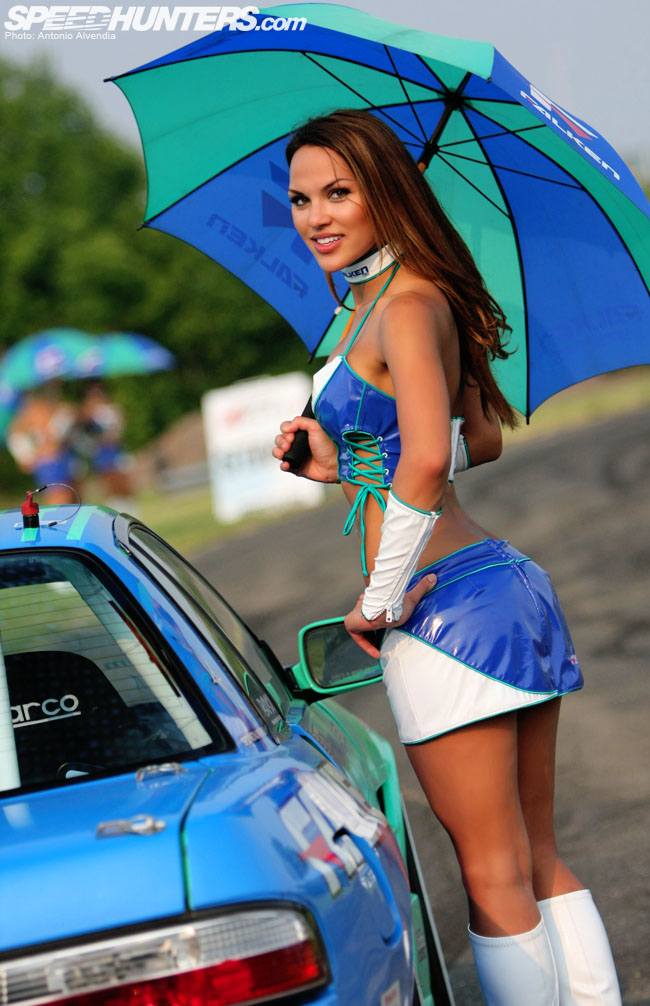 OMG. Pick up your jaw and just right click to save it already. You're welcome.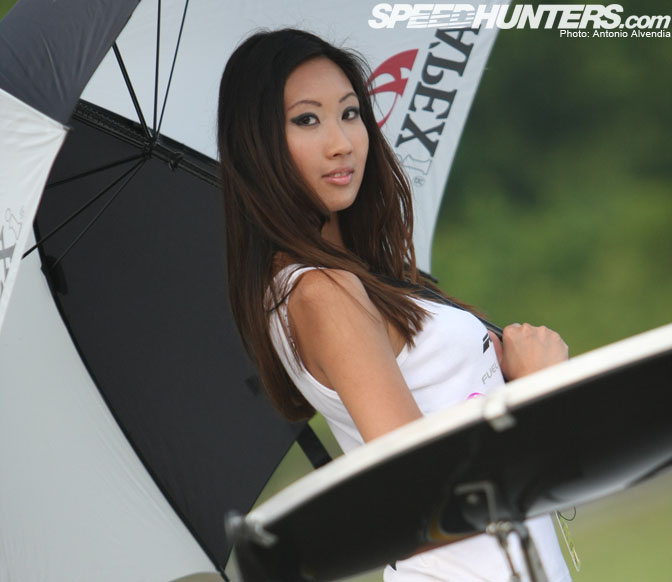 Here's Caroline from Apex'i.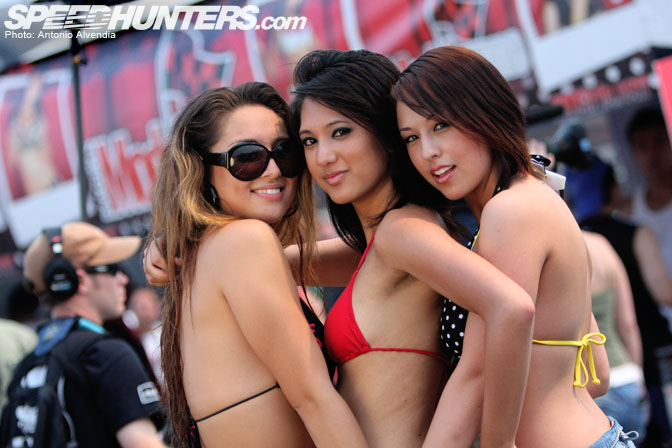 These girls gave me their phone numbers, but I can not find the piece of paper that I wrote them on. Damn.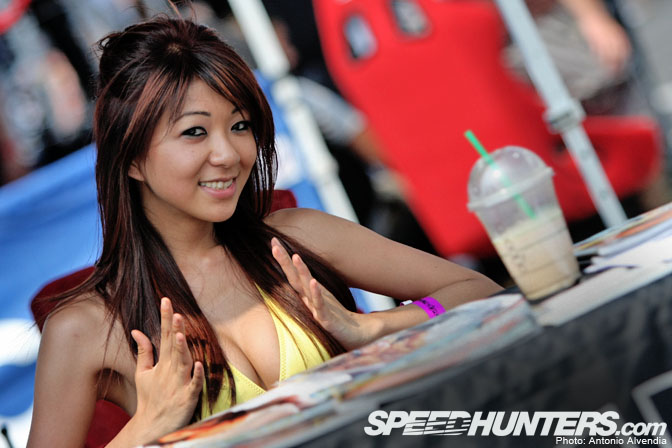 This photo just makes me laugh!!! This is Connie, the model for the 0-60 Magazine booth. She is really funny, but she got soooo mad at me when I accidentally called her Caroline (hell if I know, I can't keep the names of models straight) but see… I did actually meet a girl named Caroline (see Apex'i girl above) just 20 minutes earlier, so please don't get upset when I can't remember the names of all the models. After a while, she calmed down enough to pose for a pic because she wanted to be on Speedhunters! So my boy Rob and I directed her on how to pose, using the bullhorn I borrowed from the EatSleepRace booth. Haha! As I shouted random instructions on how she should pose from behind my amplified bullhorn, Rob was on the golf cart beside me, dying of laughter.
Made me feel like Vince Vaughn for a minute! Come on! Every guy wants to say the stuff that Vince Vaughn says – he's a genius!
See you in Vegas!
-Antonio Alvendia
Eri Moriyama on Speedhunters>> Beauty and the Beast HD Video
Eye Candy on Speedhunters>> Formula D Atlanta Umbrella Girls