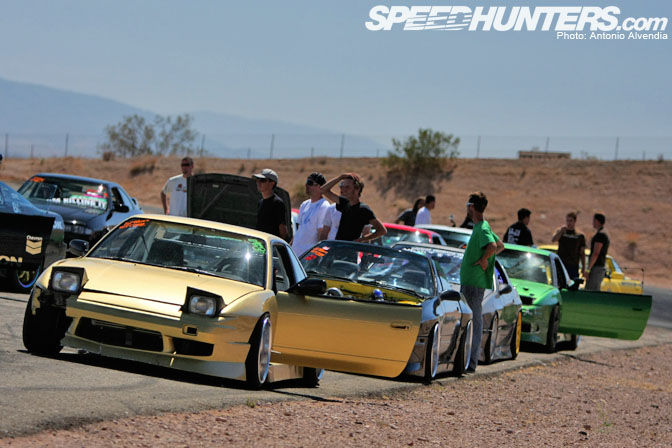 We've been getting a pretty good response on the photos I shot at the JustDrift/Ziptied All Star Bash 4, so I thought I'd post up some more photos for everyone to check out!
Here's the starting grid at the Willow Springs Balcony… it was like a Good Offset Festival, so that definitely brought a smile to my face! It's like… the paint is cool, the aggressive and low aero kits are cool, but the stance is the main thing that makes me think a car looks cool or not. It still holds true… Offset is Everything.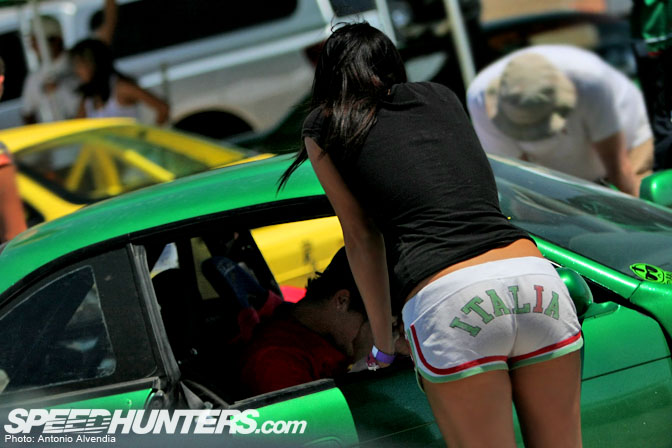 Ahem… Viva Italia!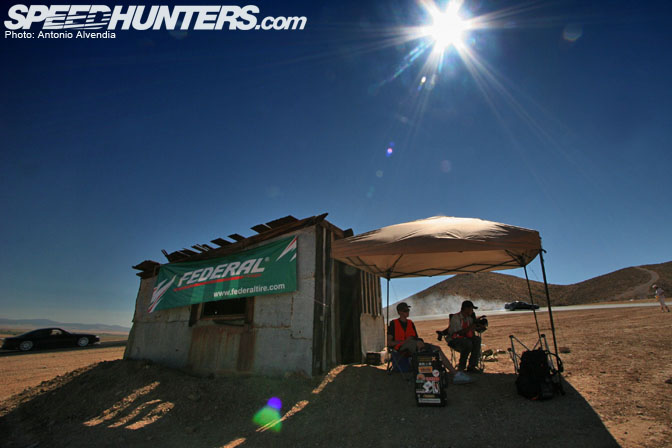 Here's the little run down shack in the middle of Horse Thief Mile… which, during events, is used as a Federal Tires trackside flagging station. In the photo, my little brother David is chillin under the shade with Hiro Inada, brother of Daijiro Inada from Video Option fame. In the background you can see cars drifting, and the course worker standing out there with a flag.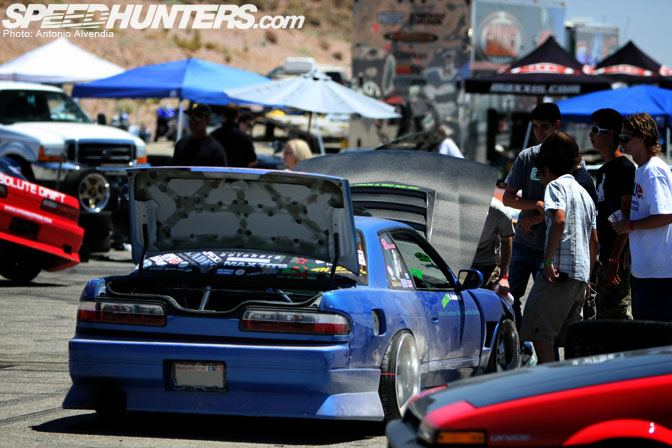 All these guys were gathered in the pit area to look under the hood of this S13 Silvia from Washington, but I couldn't stop staring at the wheel fitment! Super dope.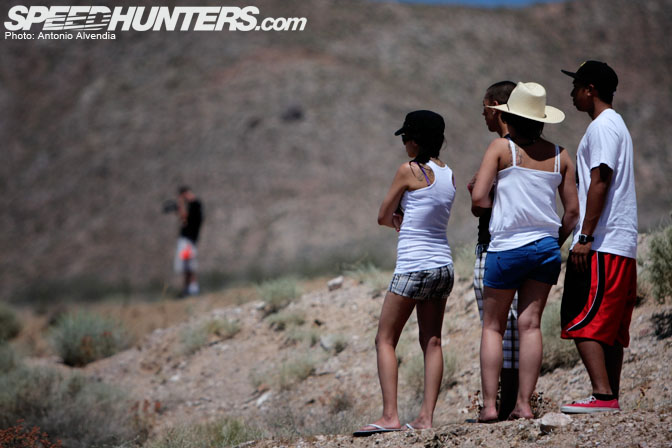 Since All Star Bash is an extremely grassroots event, don't expect to find grandstands or any type of seating at the track. These spectators hiked up the hill to get a view above the track, since the area up against the chainlink fence was all packed.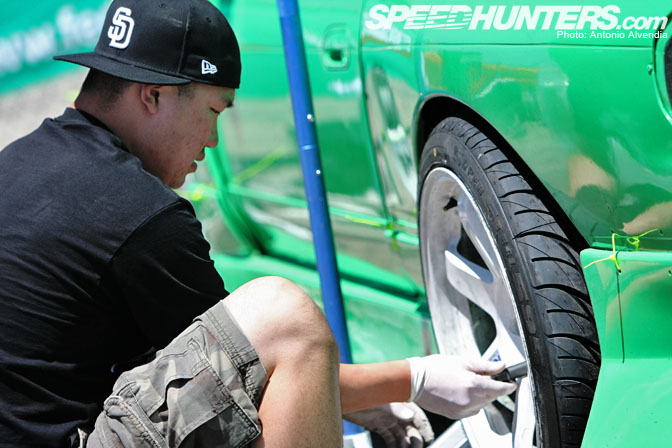 Sometimes people at drift events purposely run their directional rear tires backwards – I don't remember why. Taka Aono told me he's done it before, when he was still an amateur driver. Check out the tread on the tires in the photo… and I hope all that dirt comes off the white finish of the Volk TE37 wheels easily! I've had white wheels in the past, and you have to be careful what you spray your wheels with, as some cleaners eat away at the clear coat and the powdercoating finish. Or maybe the owner of this car isn't worried about it.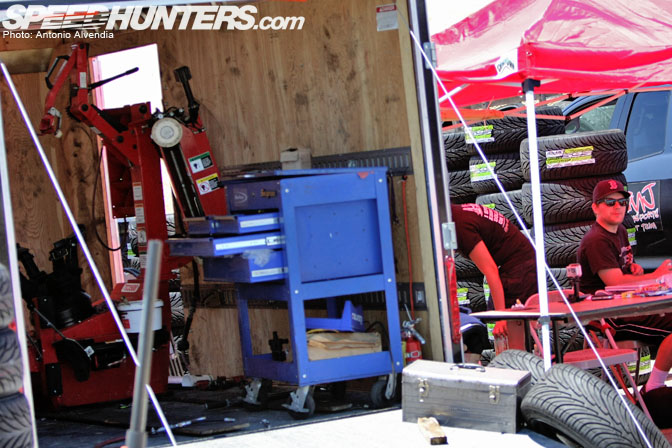 City Tires came all the way out from Southgate CA (home to big engine importers, Cypress Hill, and Latino gangs) to bring tools, tires, and a tire changing machine to the track! It's great to see business owners supporting drifting like that! Show your appreciation by buying some tires from them – you can buy online at City Tire Online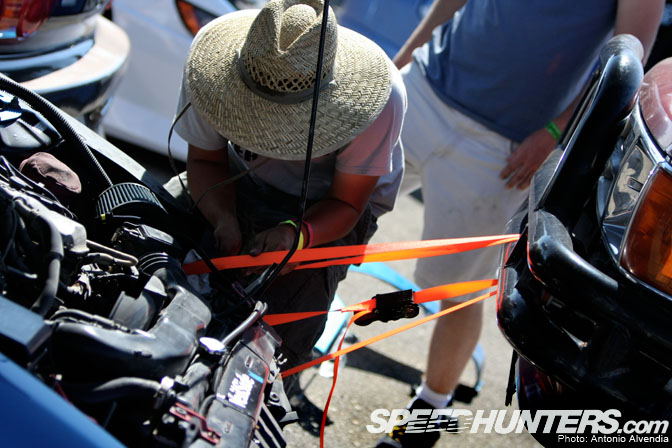 After our boy Brian Harte's tandem drift crash at the balcony, some friends got together to try and pull his fender apron and radiator support out, so it would be closer to how it was before the crash. See what they're pulling with? A 1980s Toyota truck! Hell yea! Makes you want to hum the catchy song "I love what you do for me… TOYOTA!"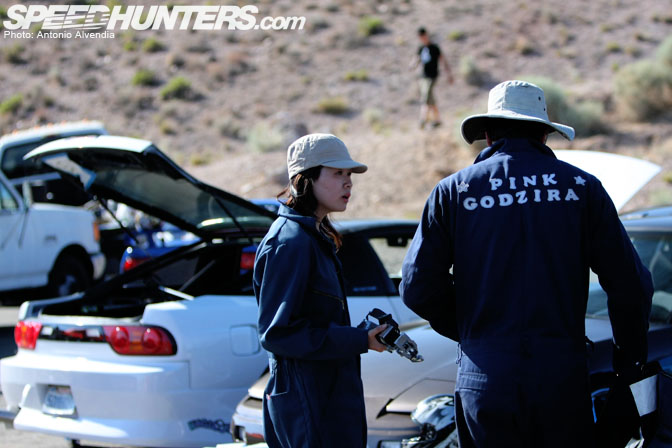 Aaron from Pink Godzira even made a jumpsuit with his crew name on the back! Damn, that is Japan style right there. But I bet he and his girl were burning up in their jumpsuits, especially in the 110 degree heat! I mean, I was wearing a t-shirt and shorts, and I know I was burning up, so they should have been dying over there.
-Antonio Alvendia
Down and Dirty at JustDrift/Ziptied All Star Bash 4!
Smoke, Sunburn & Stretched Tires: JustDrift/Ziptied ASB 4!