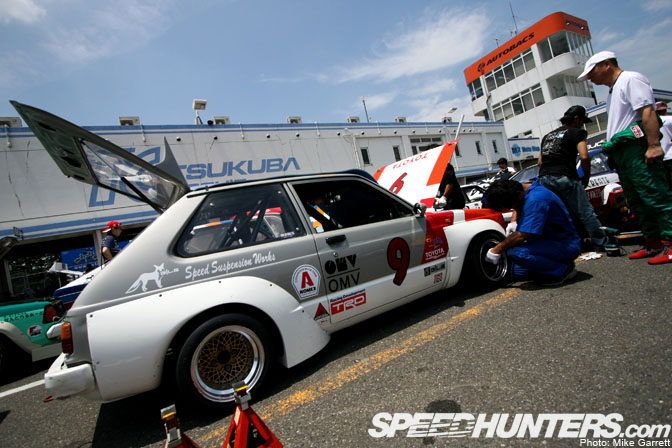 The Japanese Classic Car Association is old enough to be considered a classic itself. When it comes to the classic car scene in Japan, there a few organizations that are bigger or more respected than the JCCA. Besides their annual New Year Meeting which draws hundreds and hundreds of classics to Tokyo every January, the JCCA also hosts a number of race events including the Fuji Jamboree and a pair of meetings at Tsukuba Circuit. The Tsukuba Summer Meeting has been held for over 30 years now and despite happening during one of the hottest and most humid months of the year, it still draws a full grid of some of the finest vintage race cars seen in Japan and plenty of spectators as well. The Summer Meeting is another one of those events that I had been not so patiently waiting for since I arrived in Japan last year, and of course I would not be disappointed after spending the day watching vintage machines running flat out on Tsukuba's 2000 course. There is a lot to cover here so I will break this up into a couple posts to keep things from getting too crazy.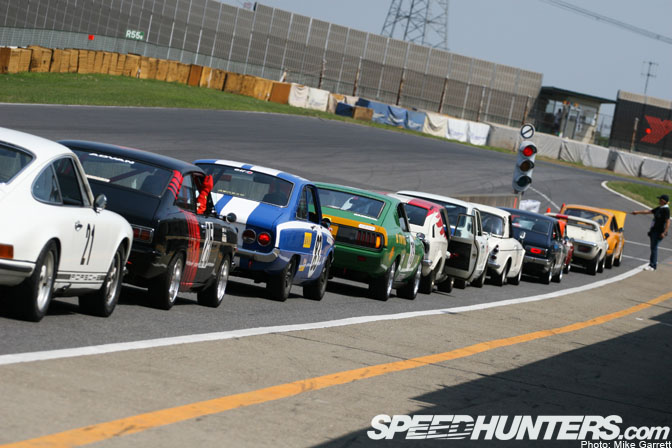 There are a number of different racing groups at the JCCA meetings and they include everything from near stock restored street vehicles to period race cars. There are races for both Japanese and foreign cars and as you can see in the photo above, there is a nice variety of nostalgic machines to be seen. You can see Porsche's, Nissans, Toyotas, Mazdas and a Lotus in the P68/75 race group. Although there are many heavily modified race cars, you won't find any Frankenstein late model engine swaps or other craziness as the racing is made to be period correct.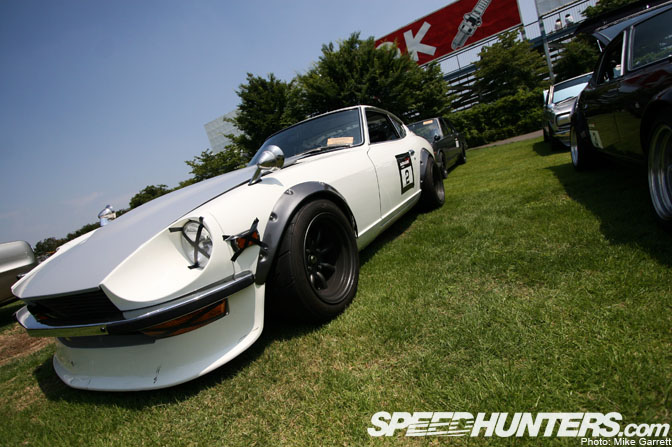 Besides all of the race cars on hand, there are also special groups for modified street cars. Unlike the other groups which have wheel to wheel competition, these groups were out there just for the enjoyment of the drivers and the fans. Some of the coolest cars at the event were to be found in these groups and there were more tastefully modified Skylines, S30Z's and sets of negative offset RS Watanabes than I could count. Despite the fact that most of these were street cars, many of them were fully tuned and making some very impressive runs on the circuit.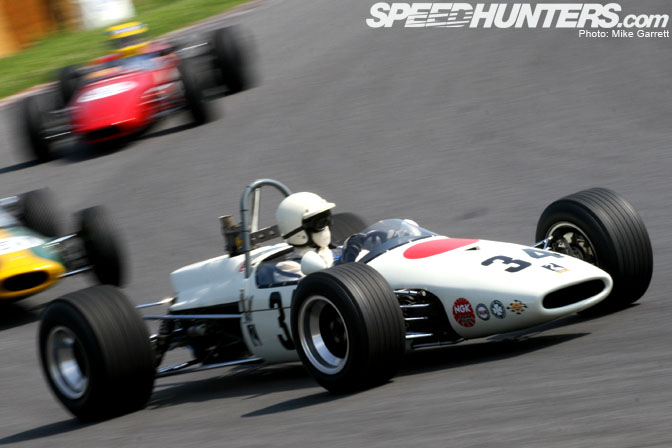 There is also a race just for vintage Formula cmachines. Although I can't say that I am well versed on the subject of these cars, they were very exciting to watch and provided fans with some very close racing action. I was really digging the style of the 1968 Brabham BT21 in the photo above.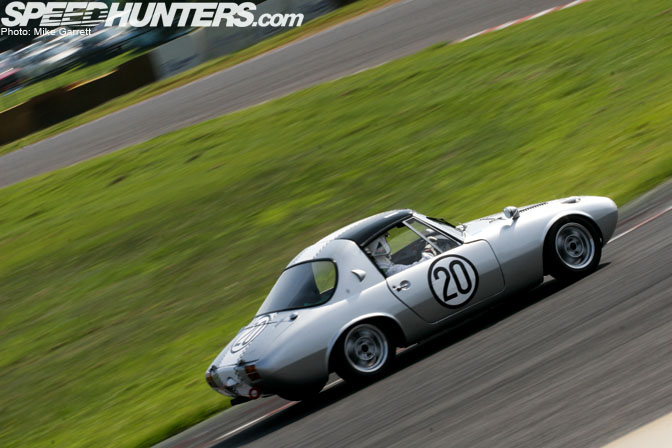 The S65 class offers a nice variety of tuned mid '60s era sports cars from both Japan and abroad. This silver 1965 Toyota Sports 800 was one of them.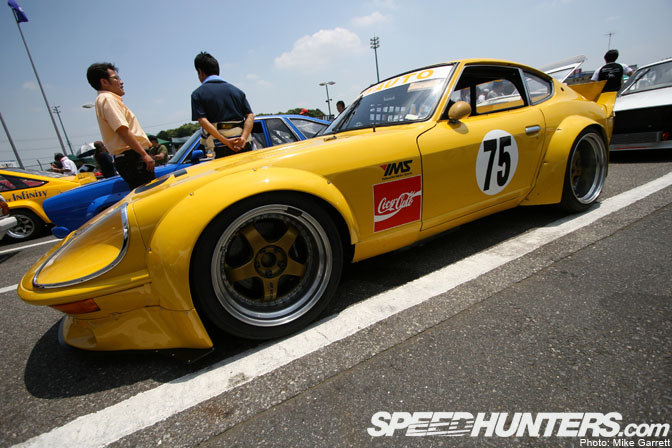 The F Race class is home to the most heavily modified cars at the event. Check out this 240ZG from City Auto in Gunma Prefecture. With its fully-tuned L engine and massive rubber wrapped around a set of Work Meister wheels, this car would be one of the top runners in the class. The body work on this car is even more aggressive than Kuni's S30 which I recently featured here.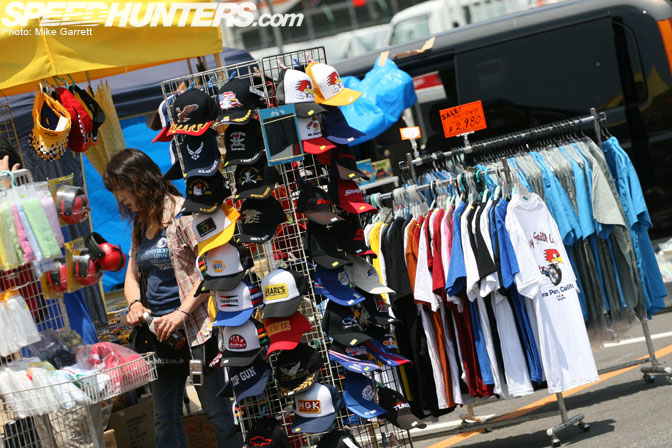 There was also a small vendor area to purchase car parts and other goods. This booth selling American style racing apparel seemed to be quite popular. I can't count the number of people I saw wearing Clay Smith Cams gear. That's cool and all, but you better believe I had my eye on that hat with flames and the bald eagle.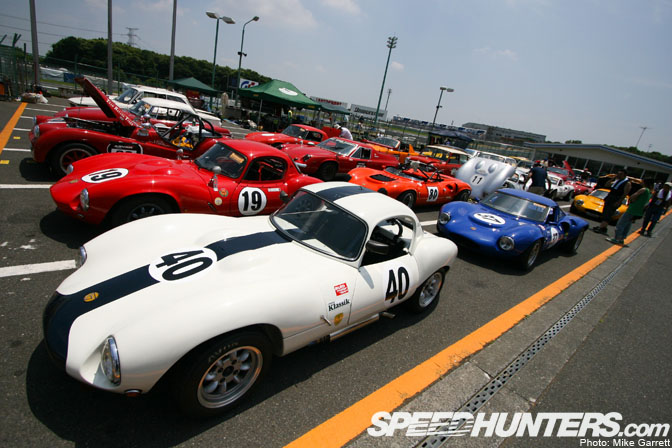 Another race class was dedicated just to Ginetta cars including both the G4 and G12 models. They were powered by engines that included Ford ZETEC's and Lotus and Cosworth-tuned race motors. These tiny little cars look like an absolute blast to drive on the track!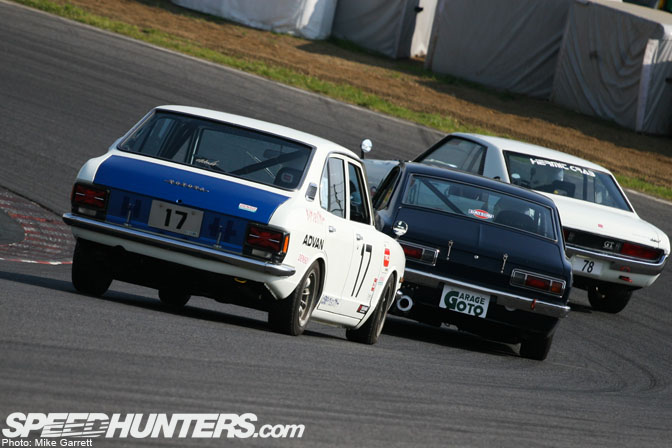 Some close action during the P68/75 race as a KE20 Corolla sedan battles a B110 Nissan Sunny and a TA22 Celica 1600GT.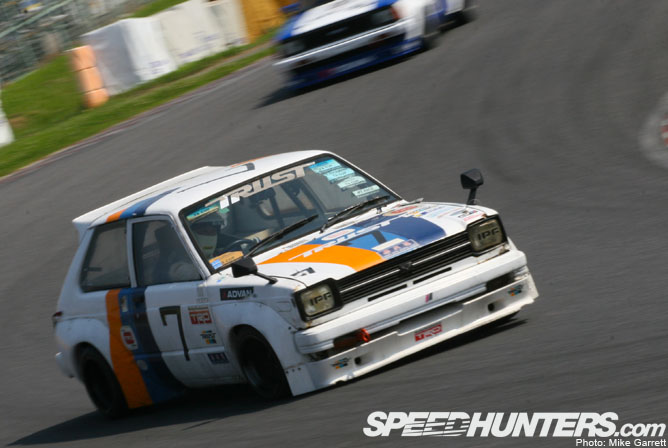 One of the most popular and exciting races is the TS Cup which pits B310 Nissan Sunnys against their arch rival, the Toyota KP61 Starlet. The Nissans heavily outnumbered the Starlets, but the KP61's held their own. All of the TS Cup cars are powered by fully tuned versions of their original pushrod engines, the Toyota 4K and Nissan A-series. This KP61 in Trust livery was so cool.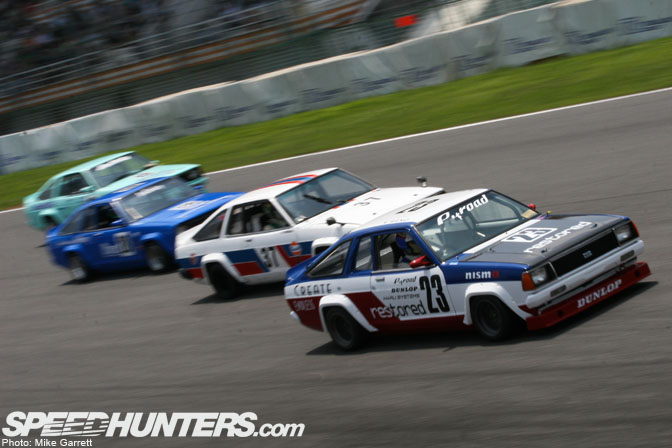 Seeing four fully tuned TS Cup Sunnys blasting down the front straight at Tsukuba is a sight to see (and hear). If these 310's weren't so hard to find, they would make for a good build platform in comparison to the more commonly seen Z's and 510's.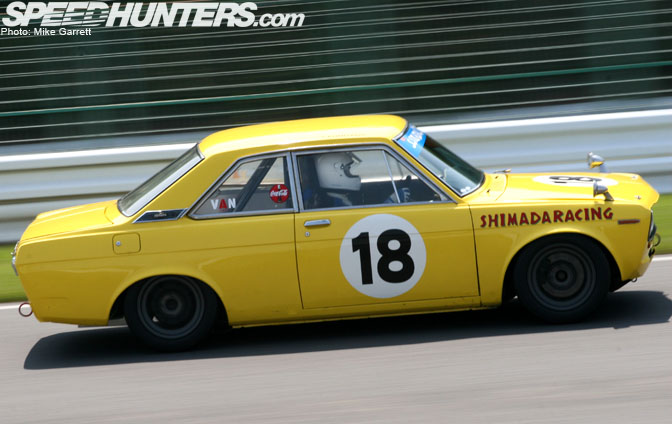 Speaking of 510's, check out the Shimada Racing Bluebird 1800SSS Coupe. Man I love how sexy the Bluebird Coupe's roofline is compared to the standard two door 510 model. This car also happens to look really cool due to its low stance and wide RS Watanabes. This machine was involved in some fierce competition with the Mazda Savanna GT during the S68/75 Race.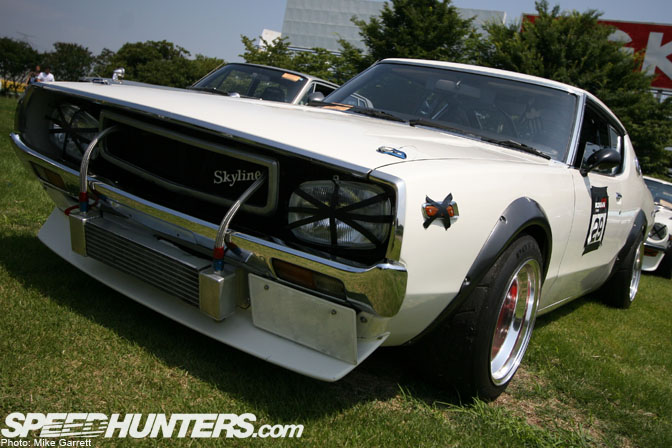 I love Kenmeri Skylines. This one is equipped with all the right exterior modifications like an external oil cooler, angled one-peice headlight conversion, front spoiler, and of course GT-R style over fenders. Unlike a lot of the so-called "boso" cars that are so popular now, this car built for a lot more than cruising around and making noise, as hinted by the sticky Bridgestone rubber.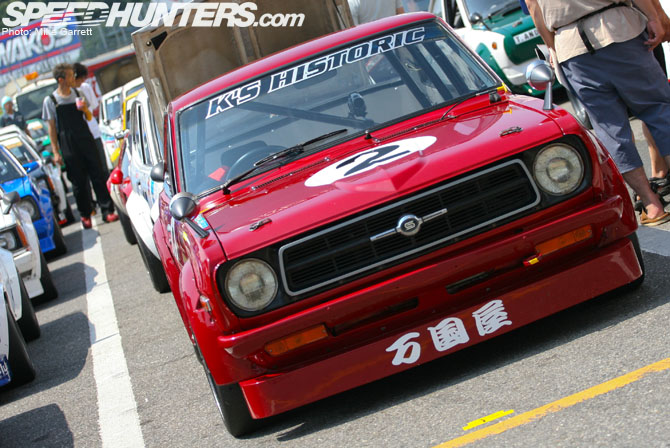 The K's Historic B110 Sunny sits quietly in the paddock as it awaits the start of the F Race.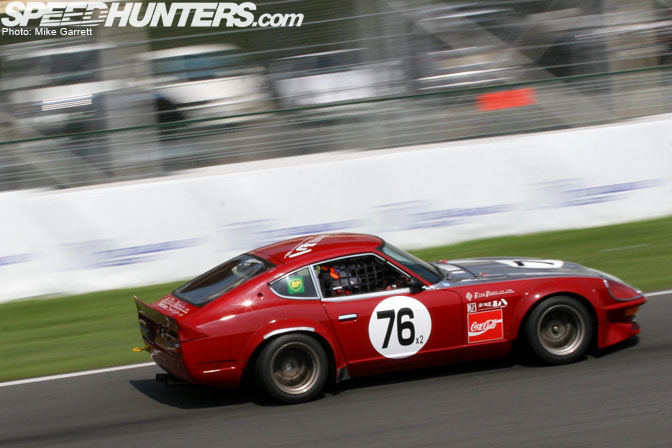 Another badass F Race machine is the Fine Parts S30Z with its vintage racing livery.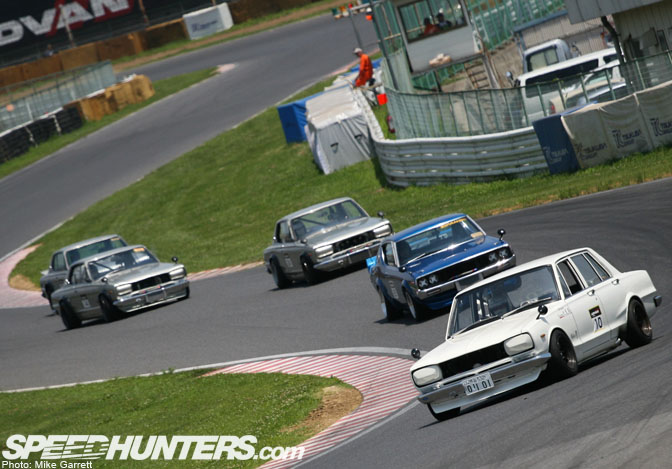 Hakosukas and Kenmeris fill the track during the free run sessions. The sound nearly 30 tuned L-series engines (and a few S20's) running full bore at the same time cannot be described. It was like an opera sung by the singers Solex and Mikuni.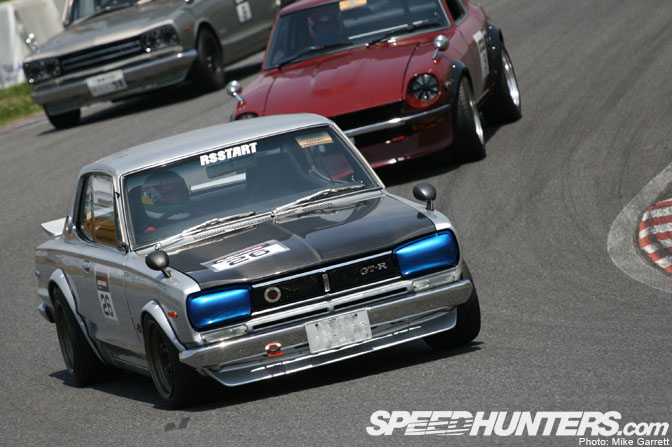 This particular Hakosuka from Racing Service Start is genuine S20-powered KPG10 GT-R. The fact that this is one of the most rare and desirable Skylines ever has not kept the car from being tuned for heavy circuit use. I'm liking the way the blue headlight covers look on this car. Pretty close to perfection I would say.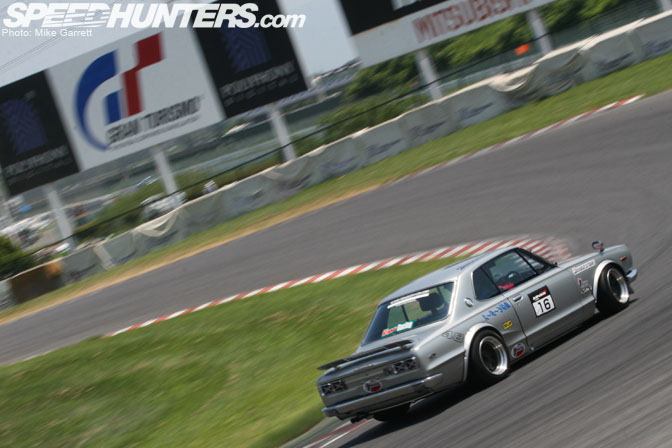 I'll finish this up with one more Hakosuka shot from the free run session.
More is on the way soon!
-Mike Garrett