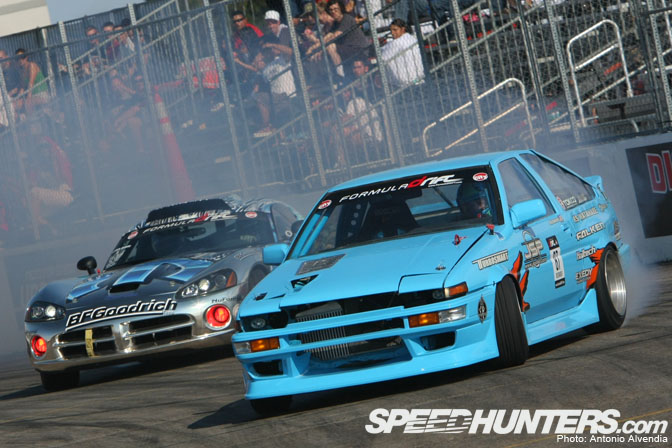 Whew! I just got back from Las Vegas late last night! I'm sure some
of you have been checking the site for the Formula D Las Vegas photos,
and here they are! I decided to put up an action photos gallery, since
that's what many of you are looking for first and foremost, right?
On top, we have John Russakoff driving his light blue AE86, with
Samuel Hubinette giving chase right behind him! Samuel's Viper always
seems to be in tandem bouts against AE86s… Alex Pfeiffer (Formula D
Atlanta 2004), Taka Aono (Formula D Atlanta 2005 or 2006. I forgot, and
I don't feel like looking it up in my book.), Toshiki Yoshioka (Formula
D Vegas 2008), and even John Russakoff.
John is a super down, super hardcore 86 driver (Even though he has
the heart of a Honda! *cough*cough* hehe) who does very, very well in
D1GP and Formula D competition when he competes! In my opinion, he is
good enough to run the entire Formula D series – he often gets into the
Top 16 when he does compete, which is better than I can say for some of
the drivers who do the entire Formula D tour! I guess the real question
is… which sponsor is willing to man up and add John to their
team, transporting him and his AE86 around to the events? I certainly
know some tire companies who could use a driver like John on their team!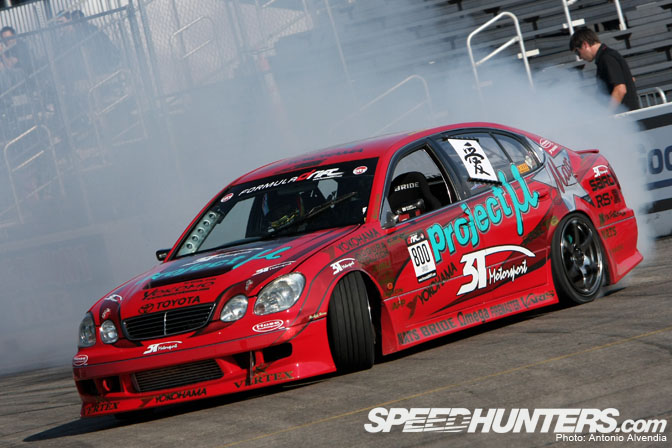 Manabu Orido decided to change his name to "Max" (LOL) so he could
get more American fans when he entered the Formula D series. I don't
think he needed a name change – the JZS161 Aristo he's driving looks
super dope, and even though it's a big VIP sized car, he certainly
drives it to the limit!!! He's going to get fans just from the car
alone! There was alot of media hype and excitement surrounding Orido's
entry into Formula D, but at the end, it was Yoshioka who pulled
results and got the win. Congrats Yoshioka!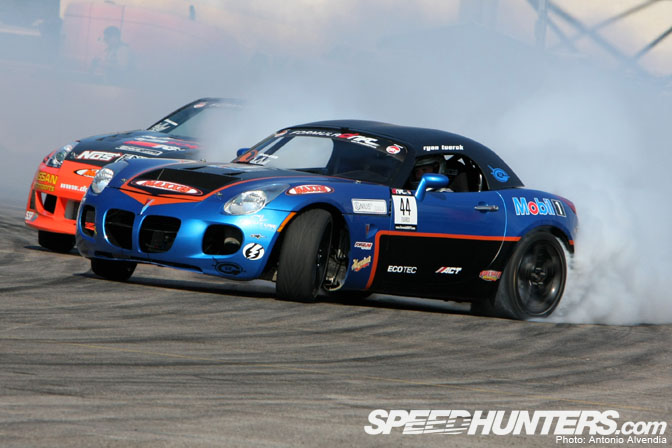 One of my favorite tandem runs during practice was when Ryan Tuerck
and Chris Forsberg went out and ran together! Look at how much smoke
they're both throwing up, and look how close Chris is to Hampshaa's
car!!! Very cool looking run, no doubt about that!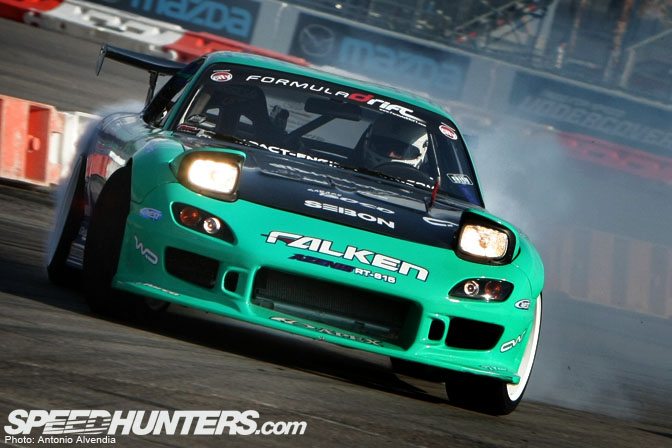 Our fellow Speedhunter, Calvin Wan was running well in practice and qualifying – he ran well enough in his FD to be the only driver from Team Falken to make it into the Top 16! Even though he was still running on his old original 13B Type RZ
engine setup from 2004 – the rebuilt rotary engine that was scheduled
to go into his FD didn't arrive in time to be installed and tuned
before the Las Vegas round.
Calvin attributed much of his success during this round to the fact
that he had the full attention and trackside support from the ASD
mechanics, who normally concentrate on JR Gittin's Mustang and Darren
McNamara's Sky also. They helped Calvin tune the chassis and suspension
settings for the Las Vegas track in between runs, which helped greatly
in negotiating the technical course.
On top of that, Calvin's old FD rmotor eceived a new engine re-tune from Frank Siharath from Garage Boso
in Gardena, California. Frank was actually able to make more power out
of Calvin's existing setup from 2004, which really surprised Calvin! He
said Frank's knowledge and tuning really helped him extract the most
out of his RX7 – which, by the way, was the only RX7 to make it into
the Top 16 during this round of Formula D!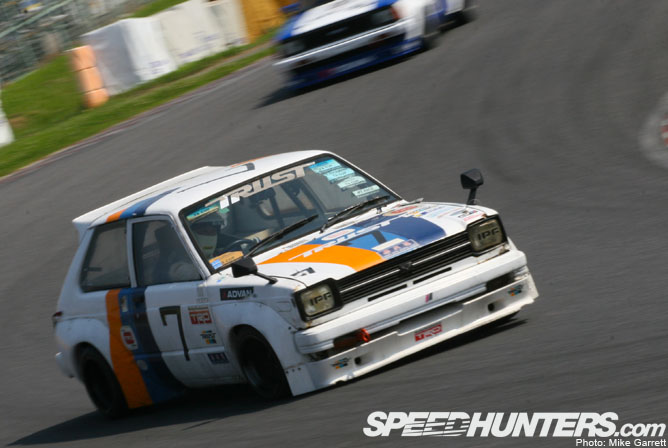 I don't know what's more awesome – Hiro Sumida or his SPD
Metalworks-built Lexus IS350. With his new Hasselgren V8 engine, Hiro
was throwing down ridiculous amounts of smoke! It was as if Tommy
Chong, Snoop Dogg, Cypress Hill, Harold and Kumar, and Barrington Levy
were stuck underneath the rear of the car!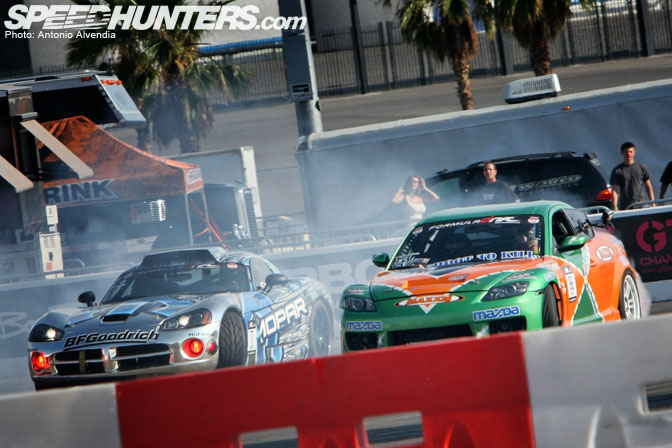 Here's Samuel Hubinette hot on the tail of Tony Angelo's RX8! Watchout now!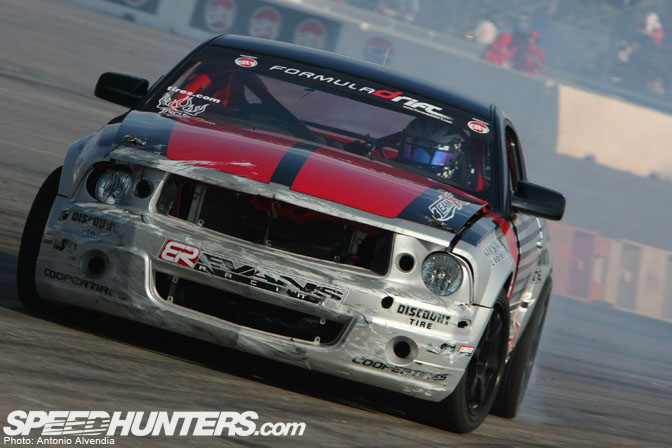 Tony Brakohiapa from Team X was holding it down! I've never seen
Tony drive with so much intensity! Look how battlescarred and cool the
front of his Mustang looks! Since the area around the headlights is
painted silver instead of black, it kind of makes the car look like a
shark that just got punched out (and maybe bitten) by Mike Tyson! I
love it. And apparently the judges loved it too, because our boy Tony
advanced into the Top 16 to face off against Michihiro Takatori in the
heat of the night!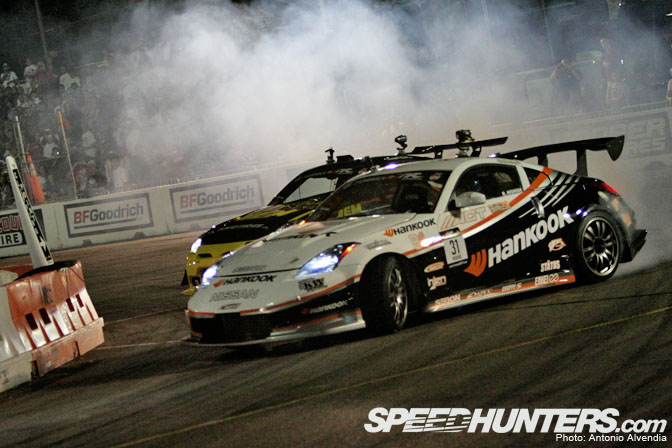 350 vs 350! Robbie Nishida and Tanner Foust went head to head as one
of the beginning bouts in the Top 16 tandem competition! Tanner is
always smooth, always consistent, and always fast… but this time, it
was no match for the technical driving skill of Robbie Nishida from
Japanese drift team Hey Man! Hey man, good job Robbie! Otsukareeeeee!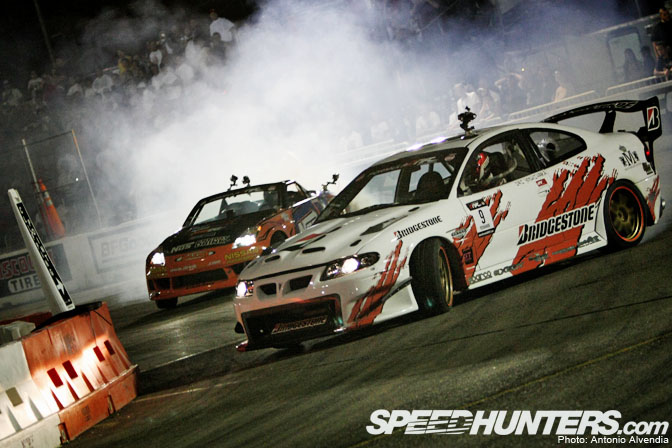 When crowd favorites Daijiro Yoshihara and Chris Forsberg faced off
against each other, I thought it was kind of funny. I'm used to them
running each other in Nissans! S13, S15, 350Z, whatever. I guess I'm
still not used to Dai in the GTO – subconsciously I still think he's
supposed to show up to the track in an S13 or S15 or something.
However, Dai apparently is getting used to the GTO… he drove it well
enough to beat Forsberg and advance to the next round!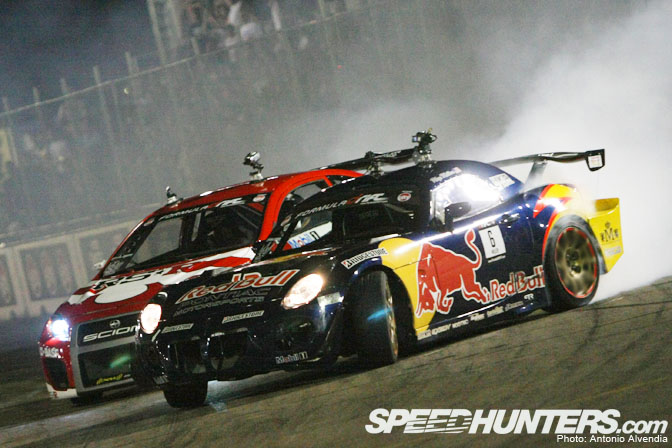 Speaking of GTO… the GTO's former driver, Rhys Millen, had a
pretty exciting tandem run with Ken Gushi! Until now, Ken seemed to
have been struggling with his Scion TC – but it must be all dialed in
now, because Ken was driving the TC brilliantly this weekend, and look
how close he is on Rhys's tail! And Millen is not a slow driver by any
means – he's definitely one of the best out there! Much respect to Ken
and Rhys for putting on such a good fight – we all loved watching it!
Amazing!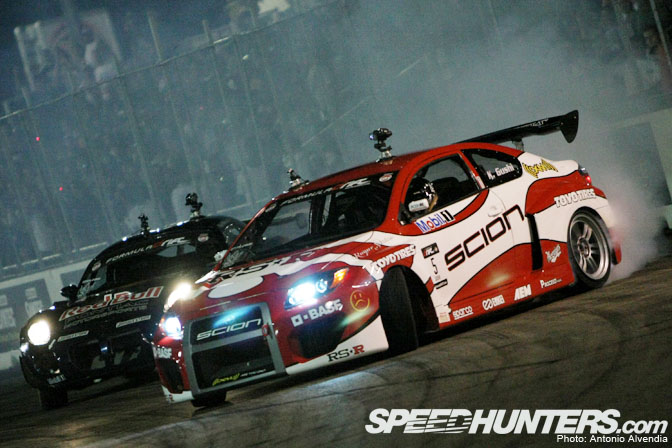 Gushi was throwing up smoke with his Scion TC, with Rhys approaching
quickly from behind! One crazy thing about Rhys Millen's Solstice, is
it has so much lateral traction and power – it can accelerate super
hard, even mid drift, where most cars would just be spinning their
wheels! Such an exciting bout, but Millen ended up advancing to the
next round to go head to head with Toshiki Yoshioka.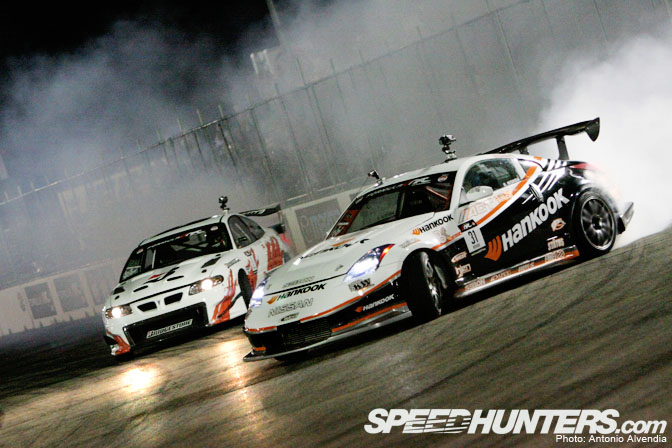 Nishida vs Yoshihara! These two Japanese guys from the Tokyo area
(well, close enough) went up against each other, leaving the crowd
ridiculously doused in smoke and tire chunks! Just look at the
bleachers behind them, it's nothing but smoke! Dai ended up winning
this battle, and advanced to the next round!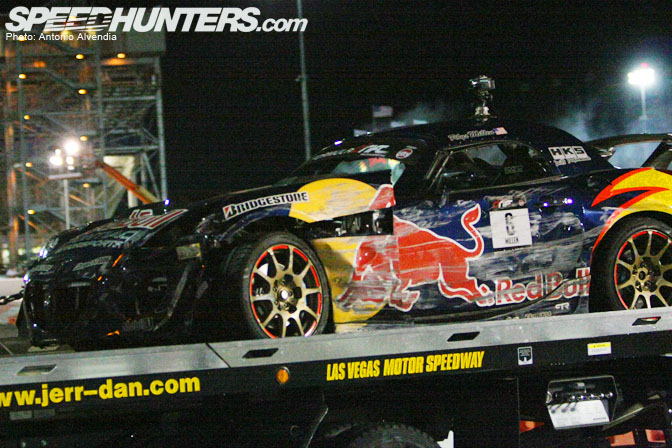 Toshiki Yoshioka might be competing in a normally aspirated AE86,
but that doesn't stop him from being a very fast driver. Rhys Millen
found this out the hard way, as he tried to chase after Yoshioka as he
was blazing through the course… Millen ended up slamming his Solstice
hard into the tire barriers right in front of the main grand stand and
judges tower.  Thankfully, Rhys wasn't hurt too bad, and made it out of
the car with just a few bruises and scuffs. The car was bruised and
scuffed as well, but Iit certainly wasn't drivable after the big hit.
Yoshioka obviously advanced to the next round.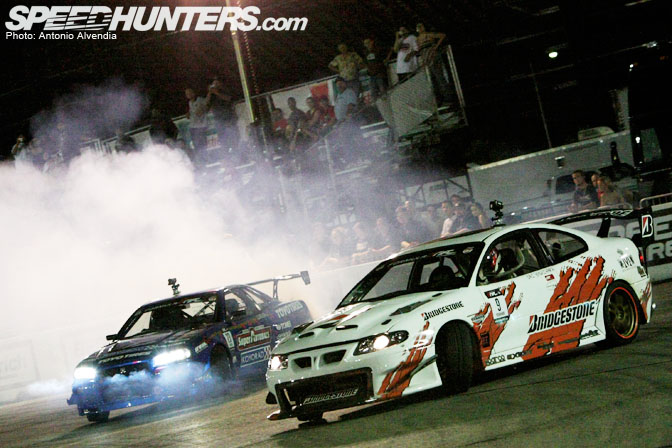 Dai vs Takatori! With these two big power cars on the track
at the same time, you know the crowd was being treated to loud engines
screaming and walls of smoke wafting through the air into the
grandstands! This was an exciting fight as well, but at the end,
Daijiro was awarded the win… and Takatori had to battle Samuel
Hubinette for Third Place.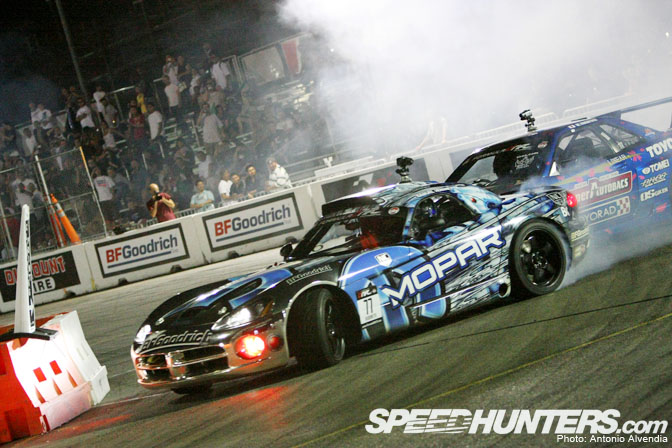 Takatori and Samuel are both amazing drivers, but look how clean and
consistent Samuel is! He was completely unfazed by Takatori, even
though he was following extremely closely… look how clean and how
tight Samuel's line is into the clipping point! For this reason, Samuel
won the Third Place bout, and won the right to be doused with champagne
at the end of the night!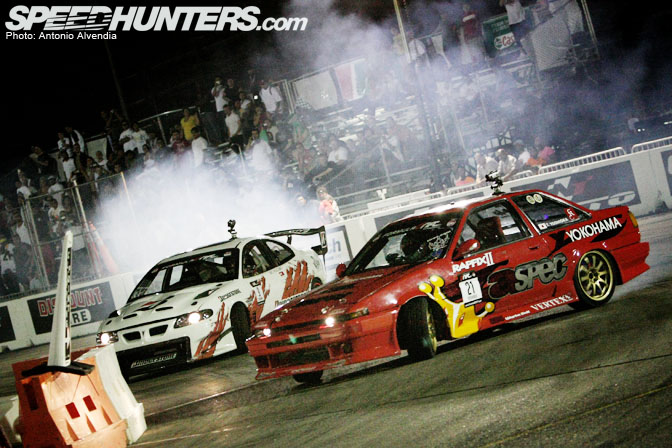 We all know how this one turned out. Daijiro and Yoshioka both put
on spectacular performances, but at the end, the 86 rose to the top of
the podium as Yoshioka achieved his very first Formula D win! Such an
exciting day! Stay tuned to Speedhunters for more photos soon!
-Antonio Alvendia
Toshiki Yoshioka wins big in Las Vegas!