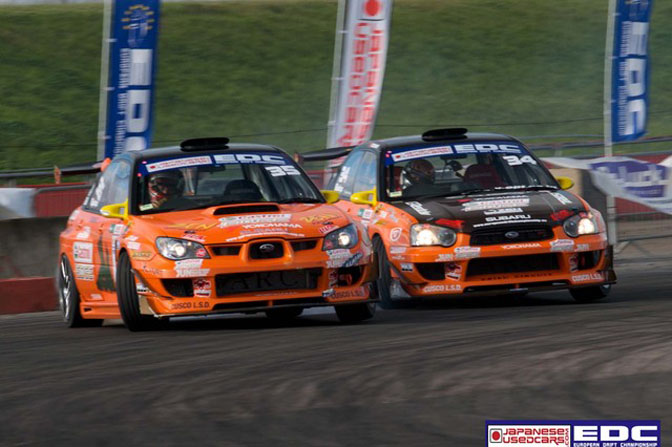 This weekend it was EDC time again as Europe's best drifters headed to Santa Pod Raceway in England for the fourth round of this year's series. Besides the all of the EDC regulars, the roster also included Team Orange's Nobushige Kumakubo and Kazuhiro Tanaka making an appearance in their second round of EDC competition after an impressive performance last month at Silverstone. In addition, this round also saw Adam Richardson, the former champion of the D1 New Zealand series making his EDC debut in his A31 Nissan Cefiro. The makeshift course at Santa Pod makes for an interesting contrast to some of the more traditional circuits that are seen on the EDC schedule and throughout the event there would be some very exciting action with the competitor's cars getting extremely close to each other during the tandem matches. Of course the event would not be without its casualties either, as you saw by Rod's post about Paz's AE86.
And now on with the event photos which we have courtesy of Doristars and Ross L'anson.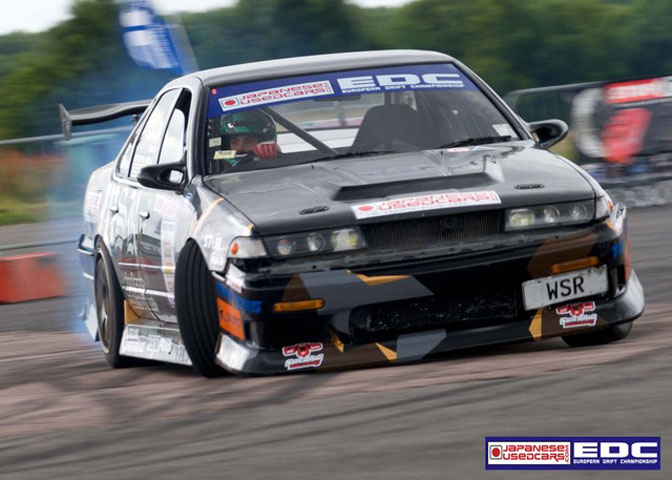 Here is Adam's RB26-powered Cefiro drift machine. Adam wanted to spend some time traveling Europe but didn't want to give up drifting while doing it so he came up the idea of bringing his drift car along with him. Brilliant! This car is an absolute beast. I remember getting a good look at it during last year's D1 World All Star match at Irwindale and being very impressed.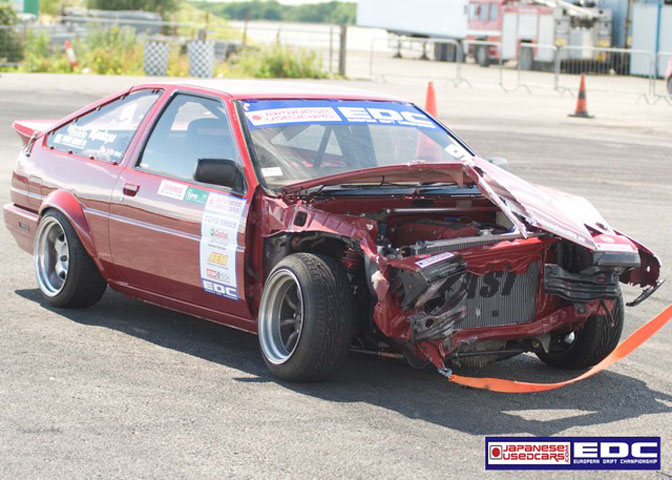 Here is another shot of Paz's damaged 86 after the crash. He was having an extremely good and held the fourth position in qualifying up to the point where he crashed. Luckily he was not hurt and was still in good spirits about the whole thing. He is already making plans for a come back, possibly with a new shell. Still an AE86 thought of course! We wish him the best and hope to see him back in action soon.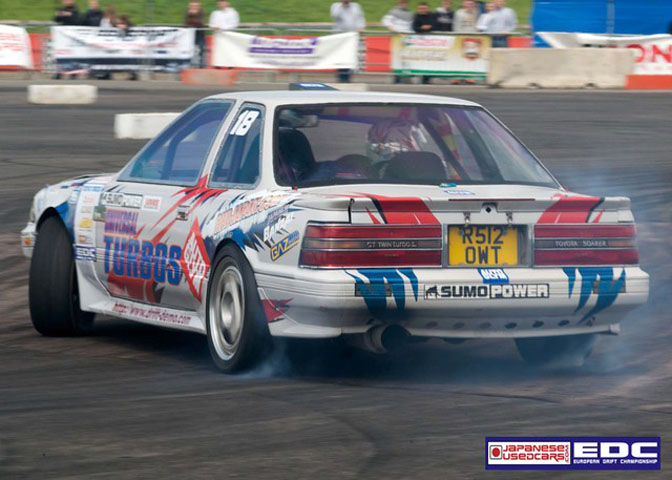 It looks like Declan Hicks in his Z20 Toyota Soarer was laying down some good runs on the course at Santa Pod. It's always nice to see some love for the early model Soarers.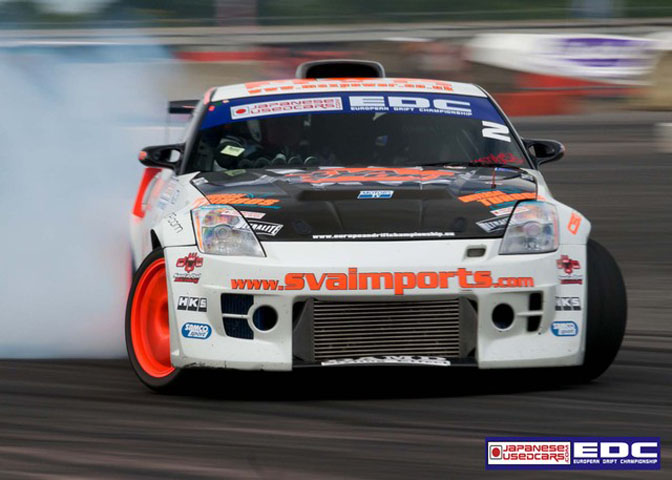 Mark Luney is always a strong performer in his Nissan Z33. He headed into the Santa Pod event holding second place overall in the EDC standings. Maybe its the neon orange wheels, but I really like this car for some reason.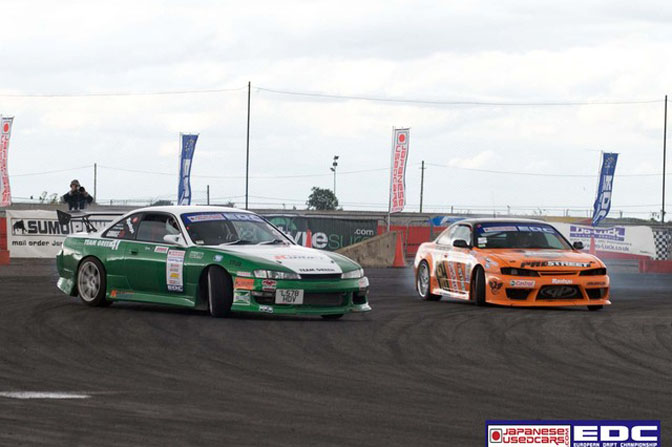 S14 tandem battle.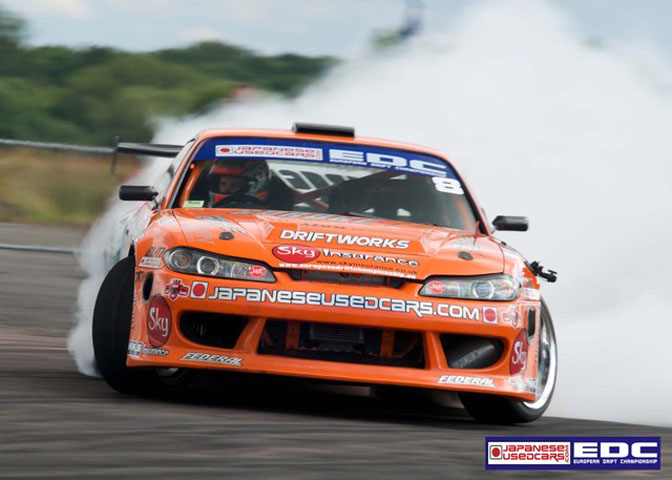 Phil Morrison of Driftworks was back in his new 2JZ-powered S15 Silvia smoke monster. Phil would put up a great fight but was defeated by Kumakubo in the tandem rounds.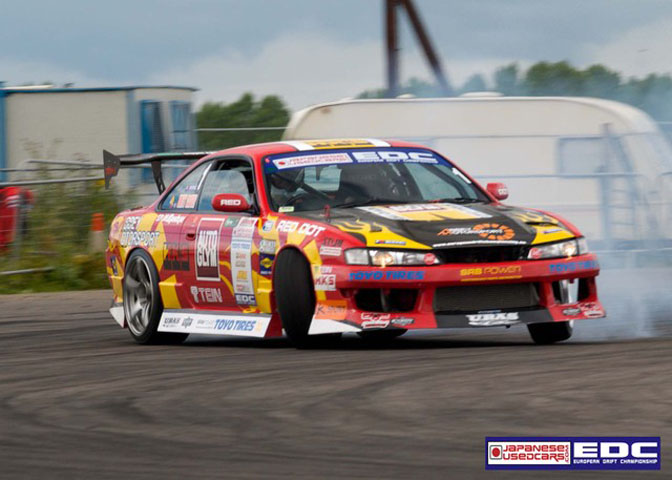 Brett Castle headed into the event with first place in the EDC standings after his narrow victory against Kumakubo at the Silverstone match. Unfortunatley for Brett, his run at Santa Pod would end during the best 8.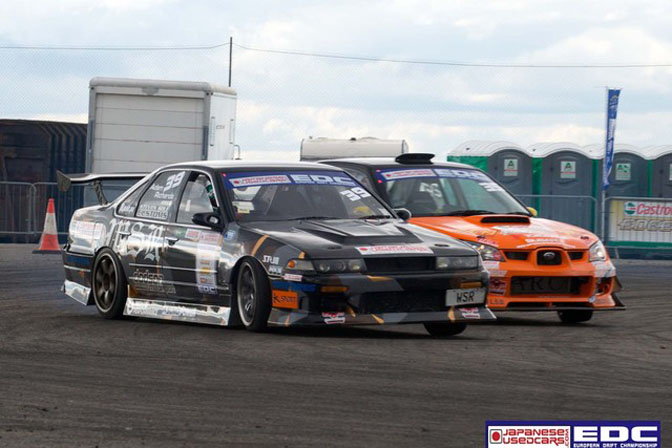 Battle of the foreigners as Adam's Cefiro meets the Tanaka's Impreza. Adam put up a good fight against Tanaka but a mistake during the first run put an end to his first EDC event. The fact that you have a driver from New Zealand battling a driver from Japan in England shows just how global pro drifting is getting.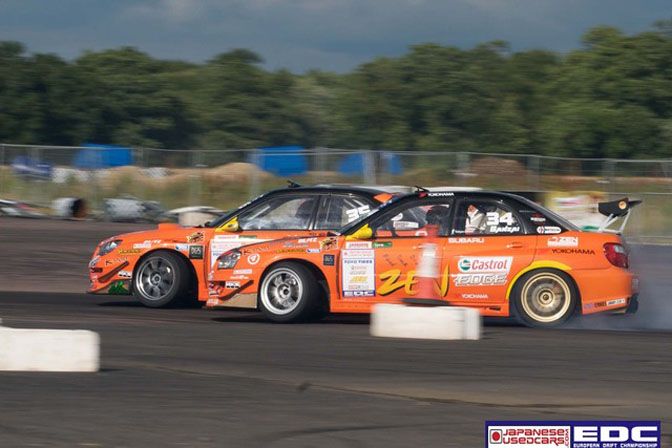 The final could have been named "The Team Orange Show" as the two Japanese teammates battled for victory in front of the EDC fans. In the end it was Kumakubo who would defeat his friend and take the win.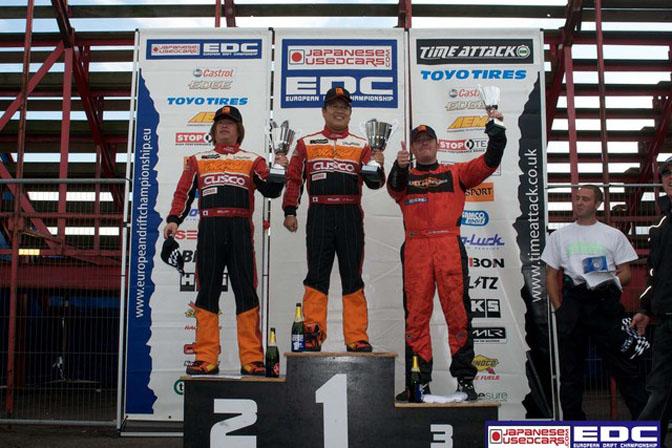 And here is your top three. Kuma in first, Tanaka in second, and Tim Marshall in third. With Yoshioka's victory in Vegas and Kuma's victory at Santa Pod, it was a good weekend for Japanese drifters competing around the world. This win should really help Kuma's rank in the standings in addition to his second place finish at Silverstone. He should now be in contention for this year's title for sure.
The next EDC round will be held at Silverstone again on September 6th and 7th.
Can't wait to see how things play out.
-Mike Garrett