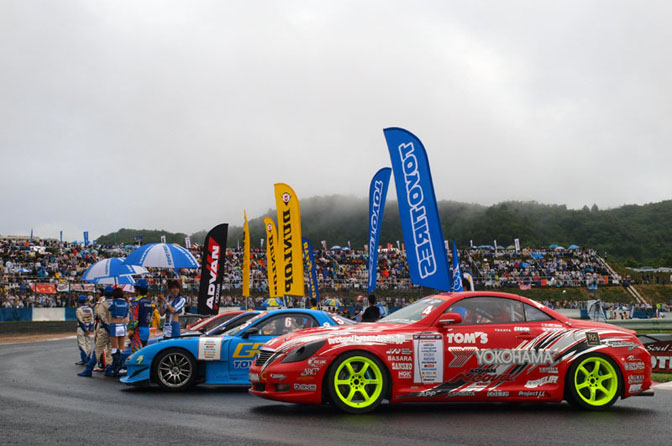 You probably already saw my quick update with the results from this weekend's D1 Rd.4 at Okayama International Circuit, but now we have some event photos from Car@Nifty.com. Okayama, located in the western part of Japan is a new addition to the D1 schedule. It is one of Japan's larger race tracks and sees visits from both Super GT and Formula Nippon. In fact, Okayama even hosted Formula One back in the '90s.
In addition to the standard D1 round, the event also included the 3rd round of this year's D1 Street Legal series. D1SL does not have near the media following that D1 has, but I managed to find a just a couple D1SL photos.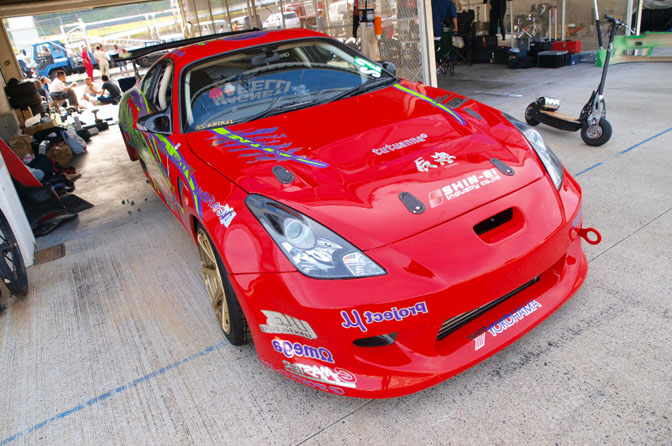 What kind of car is this? It's a JZA80 Supra with a Celica front end. This machine has been seeing a ton of action this year both D1SL and MSC events. I think this conversion actually looks pretty cool. At first glance it looks a little like a 350Z doesn't it?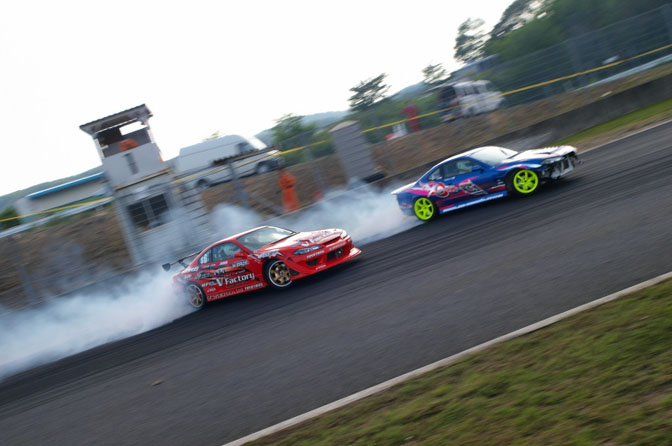 The victory In D1SL went to Naoki Nakmura in the D-Max S15 (right hand side).  This broke Naoto Suenaga's streak of two consecutive D1SL wins since the season opener. Nakamura is a member of Team BURST and has really been making a name for himself lately in both MSC and D1SL competition. I imagine it won't be long before he is seen in the top ranks of D1.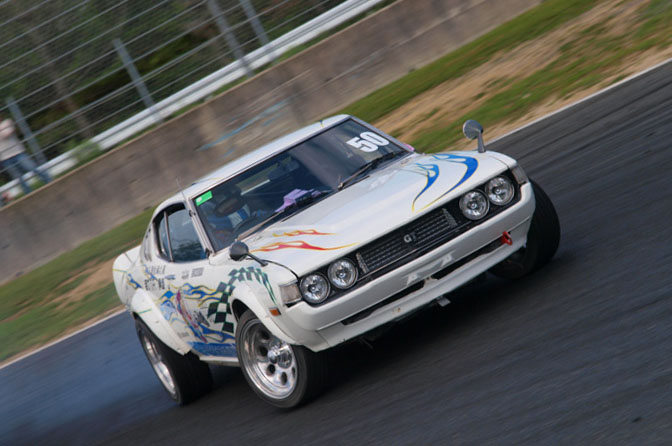 Now for D1 action. Here is the RA28 Celica from a couple posts back. Antonio doesn't like it because its Nissan powered. That doesn't bother me but I think this car would look better with some nicer wheels. Nonetheless, it's awesome to see classic cars seeing competition in D1.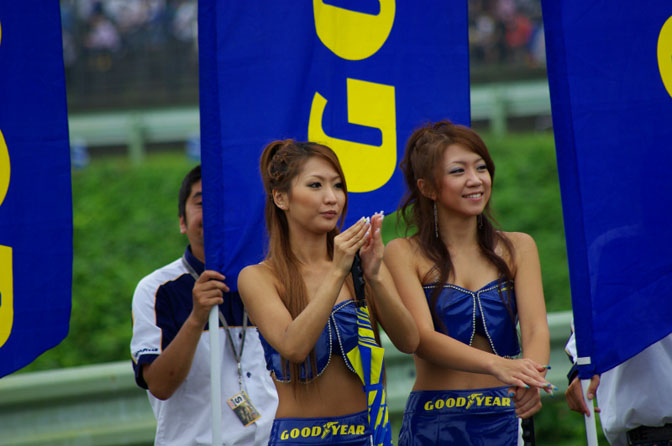 I like Goodyear…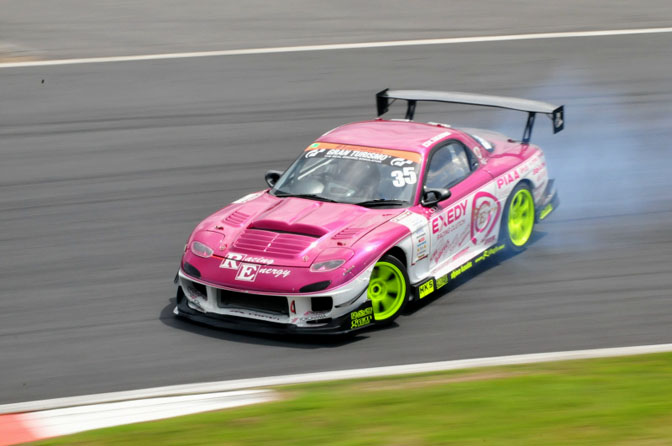 Kenji Takayama's R-Magic FD is one of the coolest new D1 cars.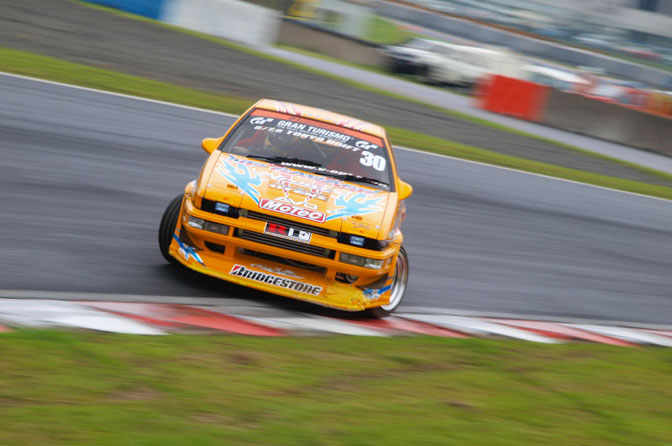 Nice to see Ken Maeda back in action in the Up Garage turbo AE86.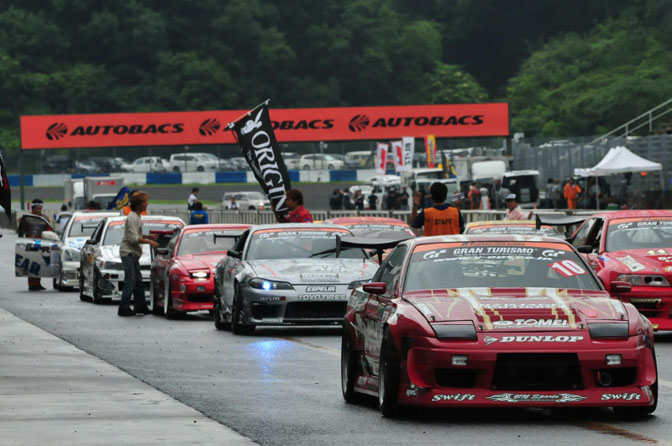 Preparing for driver intros.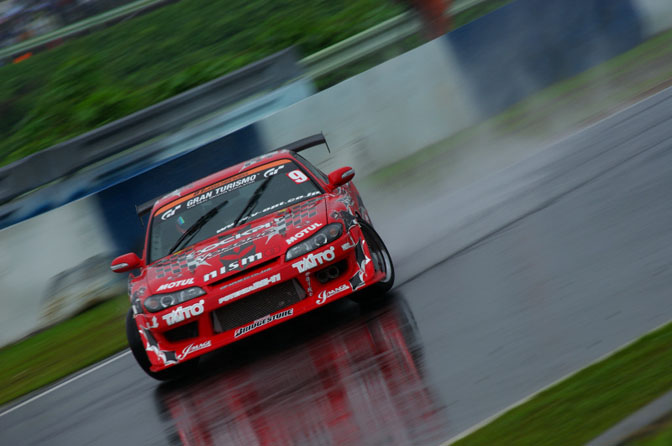 Here's Imamura showing excellent car control in the wet.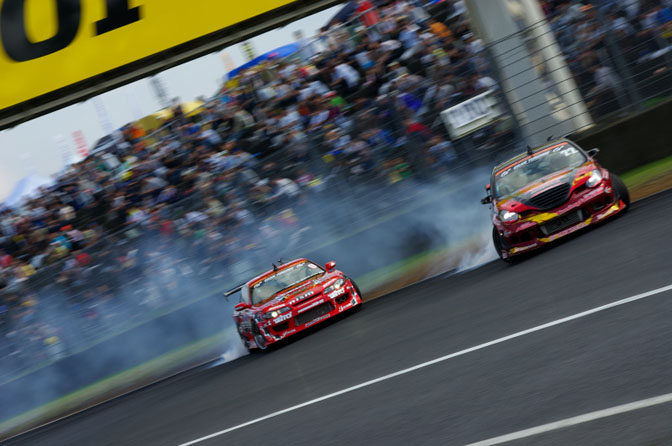 The final battle between Hirota's JZX110 and Imamura's S15.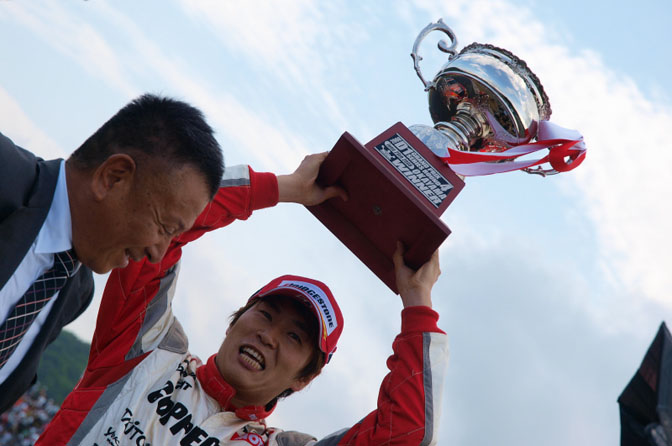 Lastly, we see Imamura celebrating his first points round victory in quite a while. Tsuyoshi Tezuka had the points lead going into the event but he failed to qualify for best 16 competition so this ought to shake up the season points standings quite a bit. The next round will be held at Kyushu's Autopolis in just over a month from now.
-Mike Garrett