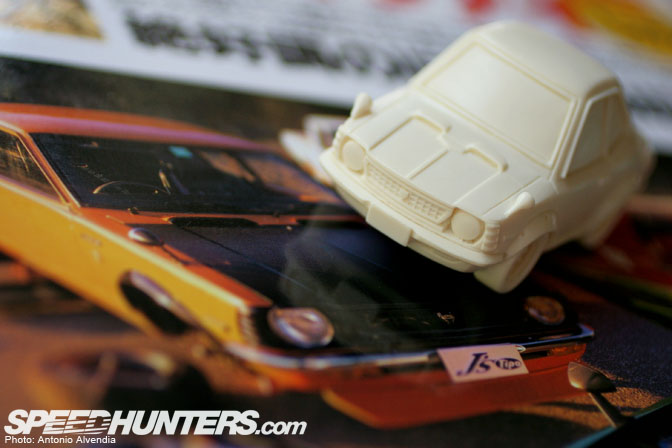 I've been thinking about Japan lately… man, I miss it there. The sights, the sounds, the smells, the cars, the women, and of course… shopping for car parts and automotive die casts!
Anyway, I spent the entire month of January in Japan after attending Tokyo Auto Salon. Aside from visiting my extended families at Ebisu Circuit and in Tokyo, I had a lot of fun buying all my favorite car collectibles! So there I was, filling up a shopping basket full of AE86 and TE27 toys, when I noticed that one of my favorite resin car manufacturers, Neko Works, was now selling TE27 Toyota Levins! Hellll yeah!!! I searched all over the toy store, and I still couldn't find it – I was getting extremely frustrated. I went up to the counter to check if they had any more in the back. The guy at the counter said, "I'm sorry, but an American guy came to the store a couple days ago and he bought the very last one. We won't be getting a new shipment until next month." What the!!! Oh hell no. I was very polite to the counter guy, but inside, I was extremely upset and disappointed. I couldn't stop thinking about the "lost Neko Works TE27" even on the plane back to LAX. Damn!!!
Fast forward like 5 or 6 months. I get a phone call from my good friend David Huang, who was inviting me to meet up with him and his boys for dinner. I was busy working on a Speedhunters deadline, so I couldn't make it to dinner, but I told him I could probably meet up with him after, if they were going to be out late. Around midnight, I get the call from David, saying he left his friends at the restaurant, and he was heading over to meet with me.
When he finally rolled up in his pimped out white JZS161 Sport Design edition Lexus GS300, he hopped out with a big smile, and said, "Hey… I got something for you when I was in Japan for Auto Salon, but I kept forgetting to give it to you until just now!"
And guess what it was… "The lost Neko Works TE27" that I was trying to find the whole time I was in Japan! Apparently, David was the American guy (actually he's Chinese) who bought the last TE27 the store had in stock! Damnnnn!!! Awesome! Funny how things just work out sometimes!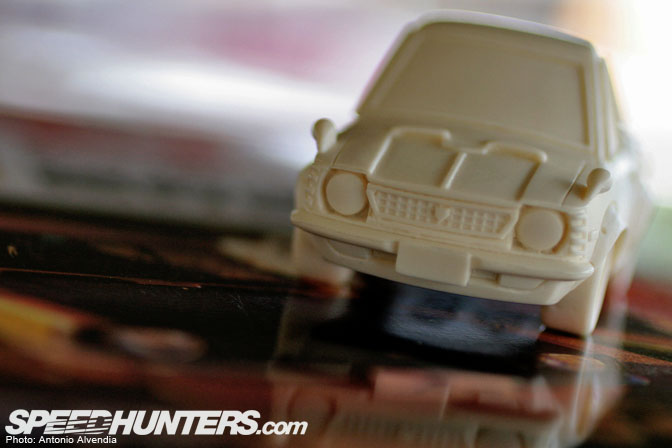 Check it out – it's an almost perfect replica of my actual car; however, this resin TE27 is actually a miniature of the Japan market TE27 Levin, which has "banana shaped" front indicator lights underneath the bumper (these came on 1972 Corollas in the USA) and fender mounted mirrors. The super rare USDM version of this car, the 1973 Corolla 1600 SR-5speed, came from the factory with round front indicator lights underneath the bumper (US and European models only) and a single door mounted mirror, only on the driver side of the car.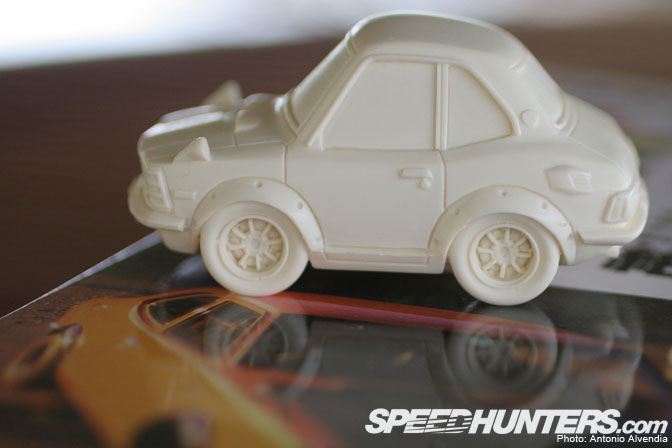 Oh wow, how I love it. It even comes with RS Watanabe wheels! I think they could have at least supplied the Neko Works resin car with RS Watanabe Type Rs, so the wheels would be more aggressively concave, with a deeper lip, but oh well, I can't complain too much now. This thing is a damn near perfect replica of my orange TE27!!! Cooooooooooool!!!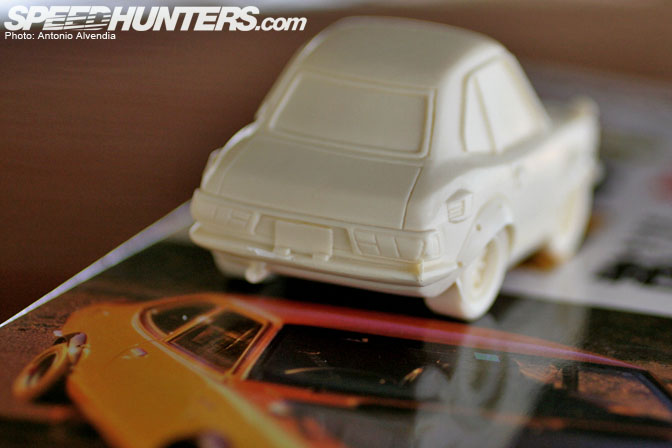 Here's an example of the "long butt" TE27 rear end… this lets you know it's a "mango" and not a "peanut." Peanuts came with the less attractive, shorter rear end, and are the less sought after of the two. Of course! Everyone's after the sexy mango rear end, because it's all about having more junk in the trunk!
BIG THANKS to my friend David Huang for this super cool present!!! I love it!!!
-Antonio Alvendia