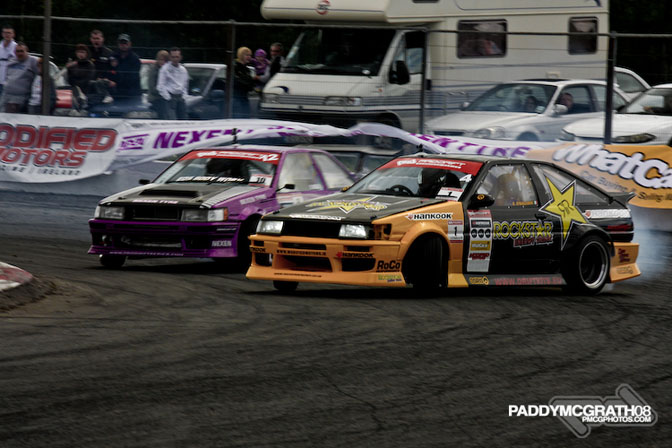 The Pro Drift series from Ireland has begun to expand its territory, adding events across different parts of Europe. Even though it's being dominated by Irish drifters at the moment, new challenges from local drifters arise as the series moves from place to place.
Pro Drift features some impressive machinery, ranging from Skyline's to BMW's and everything in between. Let's have a look at all the different cars that compete in the Prodrift Series in no particular order:
First up we have the Corolla AE86 driven by Eric O' Sullivan in the picture above. A very consistent driver, he is one of the top contenders and is heading up the current championship table. This very light car features a F20C sourced from a Honda S2000 – the sound it makes is incredible.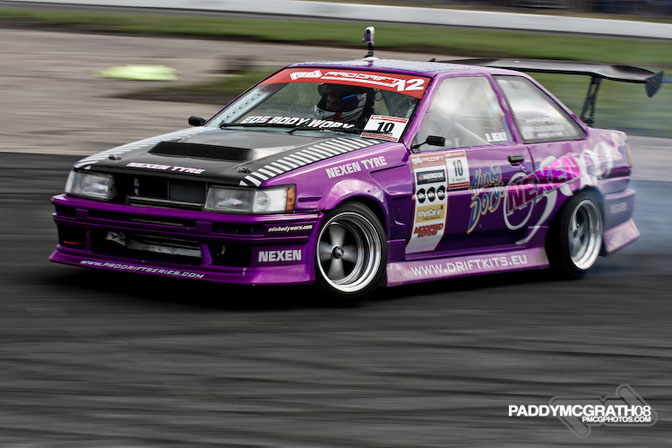 I really love the look of this car, it belongs to Denis Healy. The car is powered by a SR20 and features a set of Work Equip 01 wheels with deep outer lips. It's interesting to note that Nexen Tire is a sponsor of some of the ProDrift cars – they are one tire company who have not yet joined the Formula Drift Series in the USA, which has more tire manufacturers involved than any other motorsport series in the world.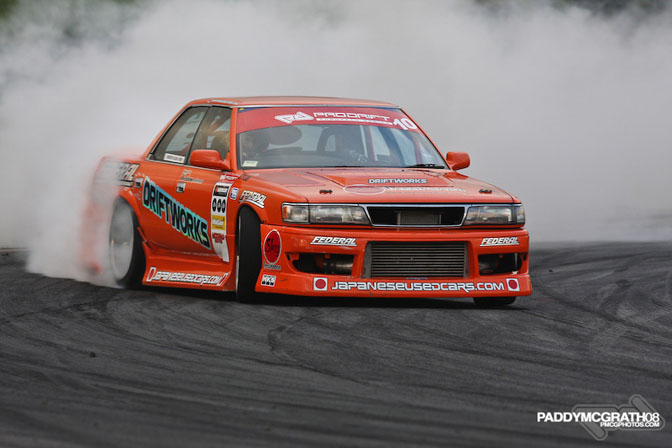 This JZX81 Chaser belongs to Ben Broke Smith aka Bon Bon. You can find his Car Spotlight made by Antonio Alvendia right here. This car has only appeared at a few Pro Drift rounds so far….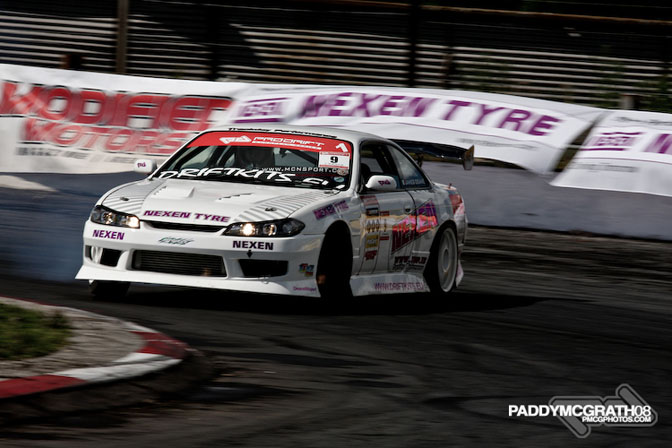 Here we have a S14,5 that belongs to James Deane. Currently second in the standings, he is right behind Eric O Sullivan, with only a 2 point margin separating the two. At 16 years of age he must be one of the youngest to compete at this level. I have mucho respect for this guy! When I was 16, I was busy with girls and scooters – I guess James keeps himself busy with girls and cars!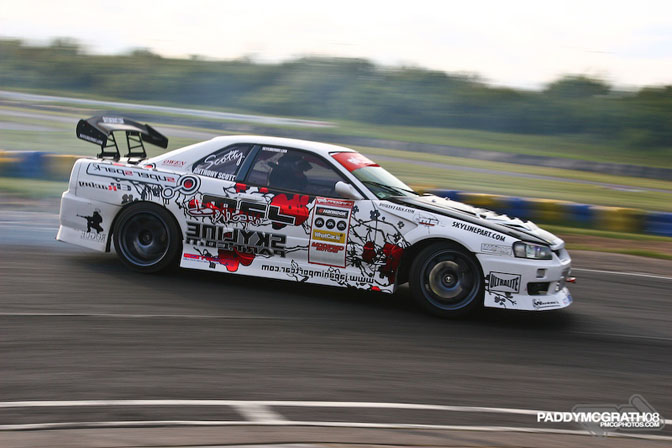 You don't see a lot of R34's competing in Drift events, but luckily we have Anthony Scott from Skyline Parts who drives this amazing looking example of an R34. The car has a RB26 with Wiseco pistons and a custom Garrett GT4088 turbo. It's changed colours a few times: from green and purple to white with some amazing decals.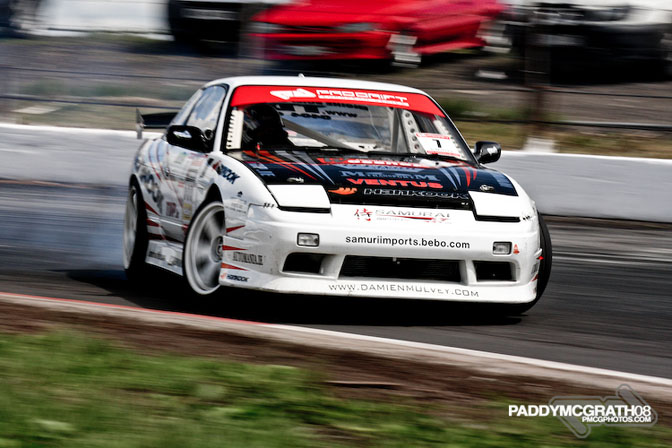 This is Damien Mulvey with his Hankook sponsored Nissan Onevia. I have always loved the look of the Onevia, especially when they look as clean as this one. Damien is placed 7th. (For those who don't know, a Onevia is a 180SX front end mated to a S13 Silvia chassis, basically a JDM-esque recreation of a USDM 240SX!)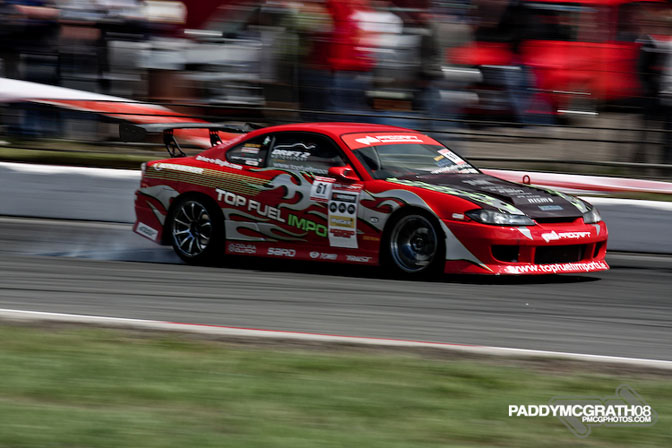 Here's our first S15 driven by Christy Carpenter. He is currently 12th in the overall standings.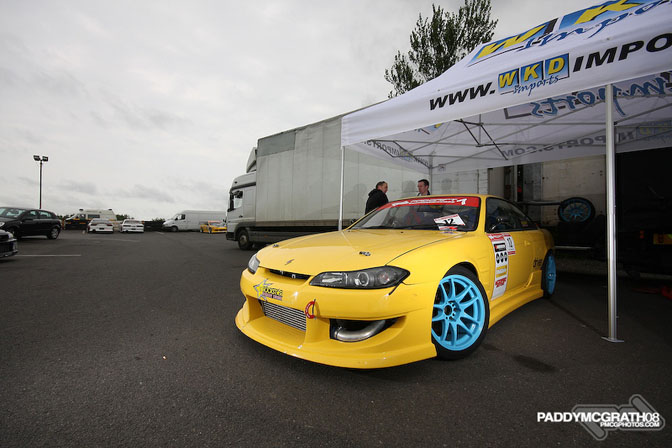 Martin Ffrench's yellow and blue S14,5, it is running a SR20 with 435bhp @ 14psi courtesy of a Greddy TD06-20G turbo. The wheels used are a set of Rota's Torque Drift. I know everyone is hating on these wheels in the US because they are copies of Work wheels, but let's not start this argument again.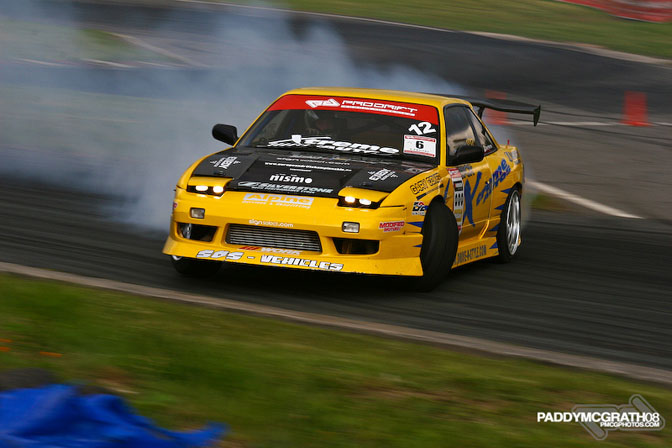 Look at that opposite lock, this is what I call sideways! The car is driven by Dean Kearney, who is 5th overall in the championship.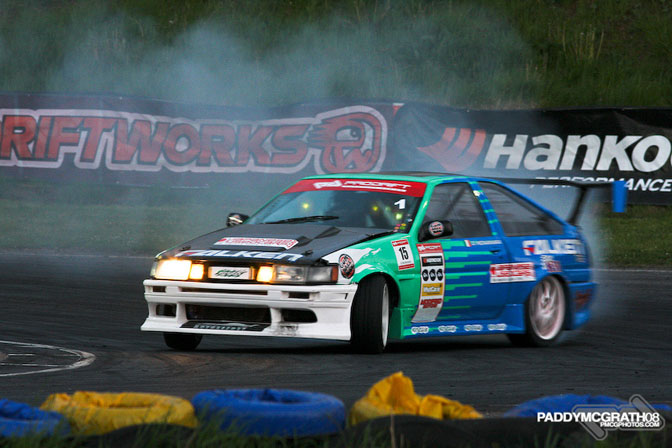 This is the AE86 used by Darren McNamara when he competes in the European Series. This car was used in Formula Drift competition last year and features an SR20 swap.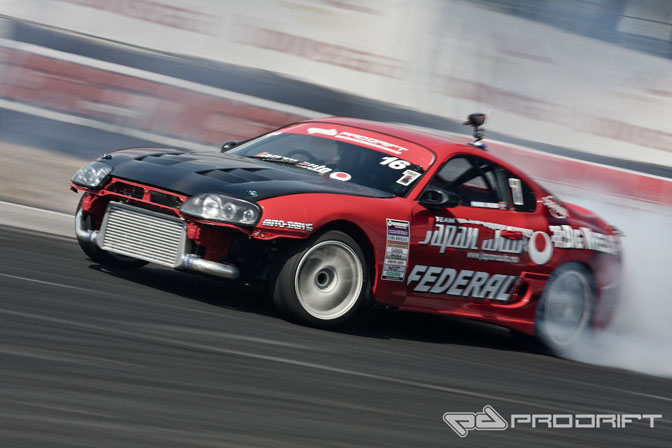 Here we have a fairly new contender that kicked some serious ass in Sweden during round three in Sturup. The car belongs to Fredric Aasbo and features a 2JZ with 400bhp and 550Nm. He plans compete again in August at the Prodrift Finland round as a prelude to a full program for the 2009 European Series.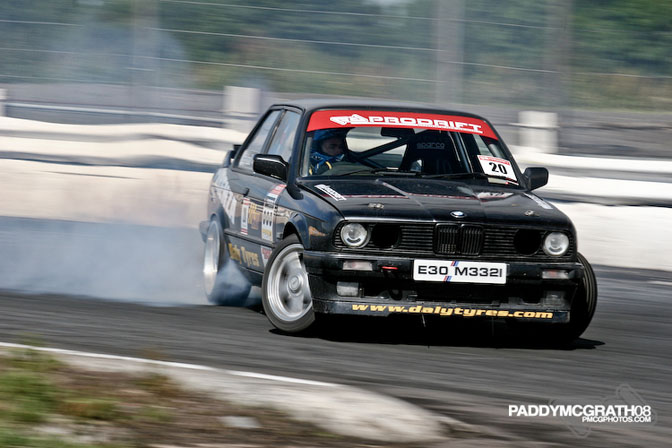 The Prodrift team also hosts a drift series in their home country, Ireland. All the Irish lads that compete in the European Prodrift series also compete in this Ireland-only Prodrift series. James Deane leads the Irish series, and Eric O Sullivan is second, which is the exact opposite from the points standings in the European Series – Eric O Sullivan leads the European Prodrift Series, with James Deane following close behind.
There are also some guys that only compete in the Irish series. Here's a small summary of those other drivers.
One of the more traditional cars in the Irish grid is this BMW E30 M3 that belongs to John O Connell. He is doing very well against the Japanese cars, he is in 4th place right now.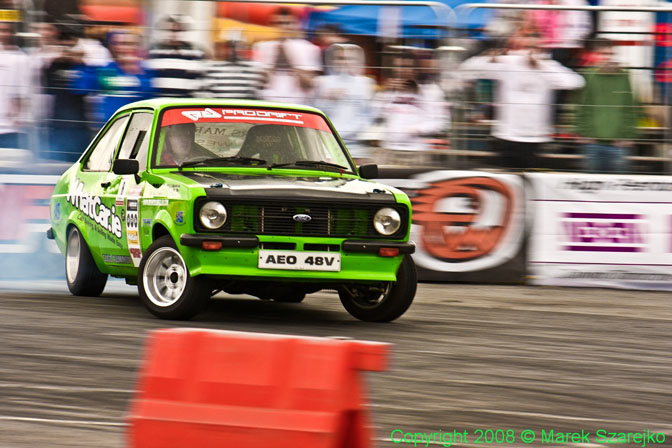 Here's a car you don't see everyday, it's a Ford Escort MKII that is being driven by Declan Munnelly.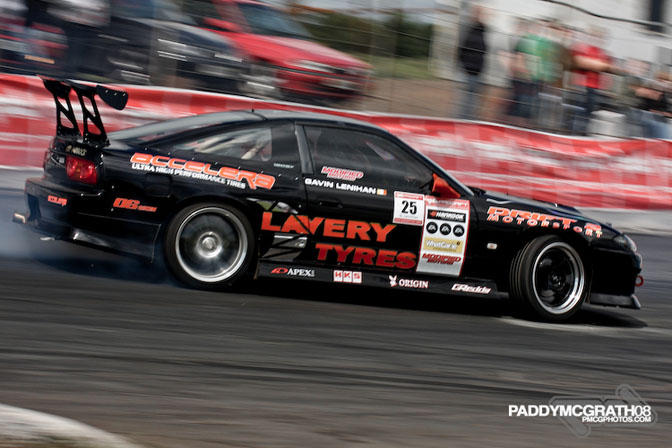 Gavin Lenihan drives this S13 with a S15 front end.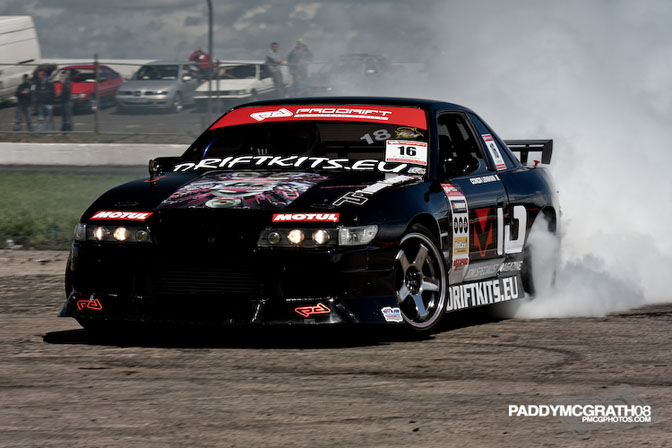 Another competitor in the Irish Series is Conor Lenihan, he is placed 5th so he is doing quite well. 
-Jeroen Willemsen
Thanks to Paddy McGrath and Marek Szarejko for the photo's