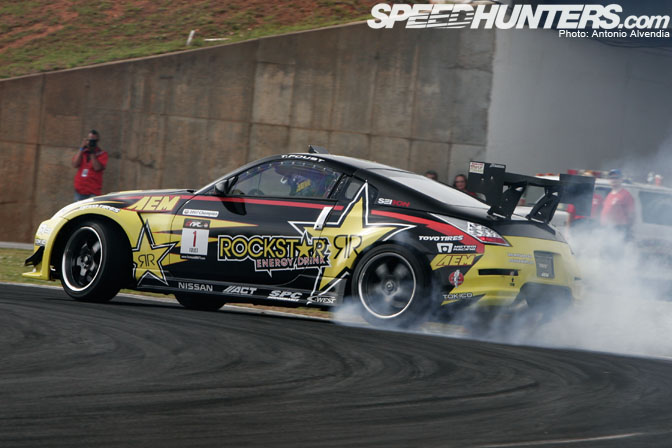 By now you must have seen my fellow Speedhunter Mike Garrett's posting on "The Cars of the D1 Grand Prix." I thought I'd continue this theme, with photos of the cars in the Formula Drift Championship series. Here are the Top 16 cars (in order, based on the rankings on the Formula D website) in Formula Drift, as well as some other cars that I just thought were interesting!
Starting with car number one, we can't forget Tanner Foust and his AEM/Rockstar Z33 350Z (above). He won the overall points championship last year, beating Chris Forsberg by just a hair. Seriously! It was such an exciting battle for points, which climaxed at the end of the night in the Final 4 tandem competition! I can't wait for the Irwindale Speedway finale again this year!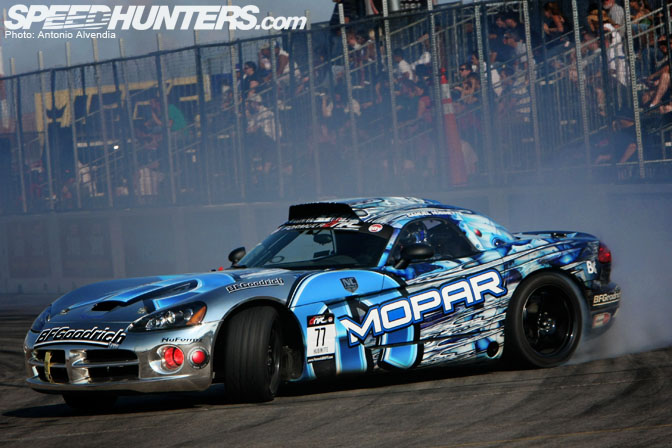 Next up, we have Mopar's front man, Samuel Hubinette, the Mighty Iceman from Sweden. Samuel was the first champion of Formula Drift, and has an incredible presence out on the track, no matter what he's driving! It's nice to see Samuel back in a Dodge Viper SRT10, tearing up the track! Samuel is always in the media, not only because he's an incredible driver, but also because he's always so cool and nice to people! Check out the Speedhunters video feature on Samuel's Viper!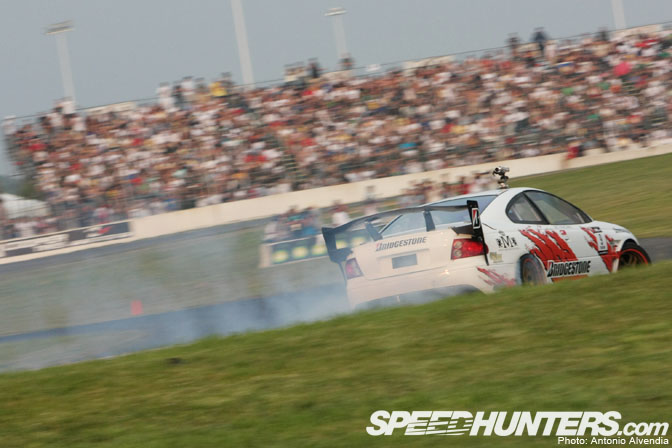 I'm still not used to seeing Daijiro Yoshihara in the RMR Pontiac GTO. I guess in my brain, he's just been permanently branded as a top Formula D contender and main driver of the Pacific Rim Drift team, which was the team that gave Dai his start in US drifting. Nonetheless, Dai's been driving Rhys Millen's old GTO all year, and has been pulling very good results with it! I'm very impressed that the same car that RMR built in 2004, is still a highly competitive top car in 2008! It shows you how well the RMR team engineers their machines. Good work RMR!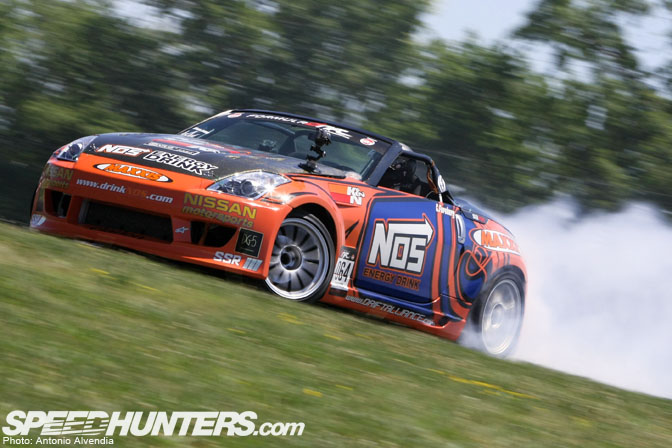 Chris Forsberg is always a fan favorite on the track! If not because of his rockstar image – black Drift Alliance shirts, rocker tight jeans, Electric sunglasses, drinks in hand (err… Nos Energy drinks that is!), and groupies all over the place… it's because Chris drives his VK powered 350Z convertible with the throttle always mashed to the floor! I give props to Forsberg because he always initiates with his throttle pinned, with big smoke out the back! After all, who likes hearing the big engine cars driving around the track with a non aggressive feather-throttle, sounding like "blaaap… blap… blap… blaaaaaaaaap…." Certainly not me!
Big respect to Forsberg and his crew chief Kevin for keeping up with the big teams and showing them how hard work, dedication, and a lot of full throttle driving around the track still gets you top points, even without the huge support team and umbrella girls. Impressive.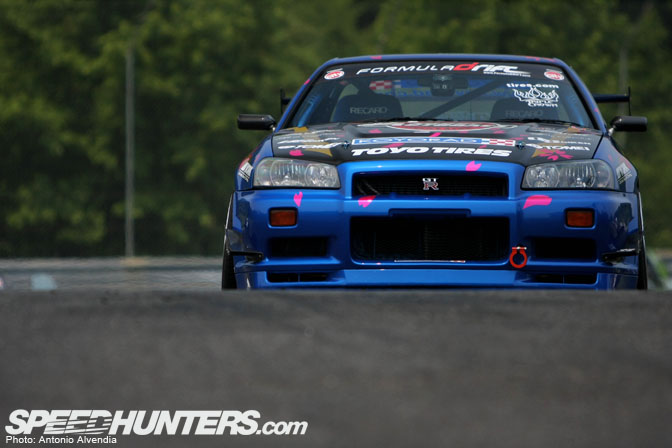 Michihiro Takatori's Super Autobacs R34 Skyline GTR has a stance like an AE86, and I love it! He is definitely a force to be reckoned with – Takatori is from a famous old school drift team called Heaven in the Kansai region of Japan. I'm glad to see Takatori doing so well in Formula D!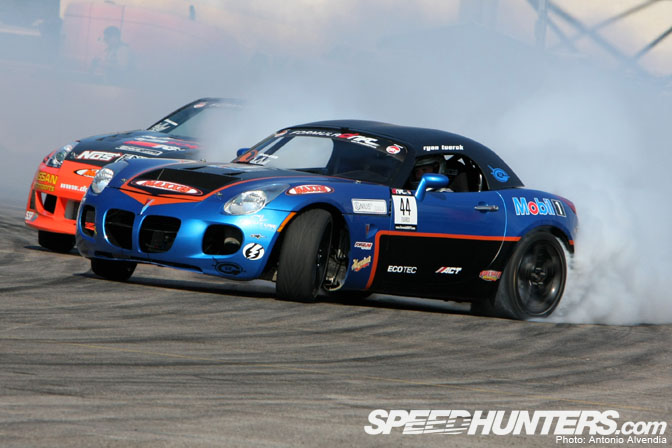 I'm honestly not the hugest fan of the graphics scheme/livery on Ryan Tuerck's Gardella Racing Pontiac Solstice, but I guess we need to get over it! Even though it pretty much looks like a stock Solstice with stickers from the exterior, Ryan pilots this thing better than a lot of people who have the fancy graphics on their cars. Just look at the big smoke and angle he's throwing out as he tandems with his DA buddy Chris Forsberg! Sick! Big respect, Ryan!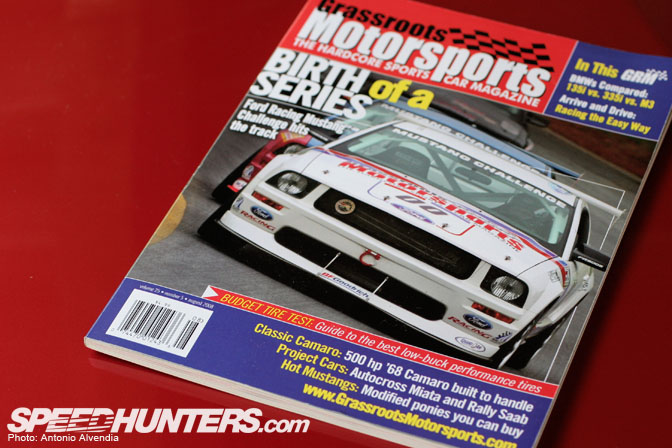 Speaking of Solstice, here's the man who started the whole trend… Rhys Millen was the second Champion of Formula Drift, leading in overall points in 2005. Shown here with his Red Bull/RMR Pontiac Solstice, Rhys has always got it together when it comes to drifting, rally, or any other type of professional motorsports. I have huge respect for Rhys and his accomplishments – from being the top name in the field of movie stunt driving, to his position as a top ranked Formula D driver… Rhys is always super consistent as a driver, nailing perfect lines with high overal speeds, big smoke, and good angle! With help from his crew at RMR, they even got the bug-eyed Solstice to look pretty fancy, done up with the cool Red Bull livery and other aero enhancements that the team has made.
So glad Rhys made it back to the Formula D series safely, after his first successful high flying truck backflip and also his huge backflip crash in Las Vegas for a big New Year's Eve stunt. Everyone in the motorsports community heard about that one! Even Kumakubo and the Team Orange guys found out about it, and asked me if Rhys was going to be alright – and they're all the way in Japan!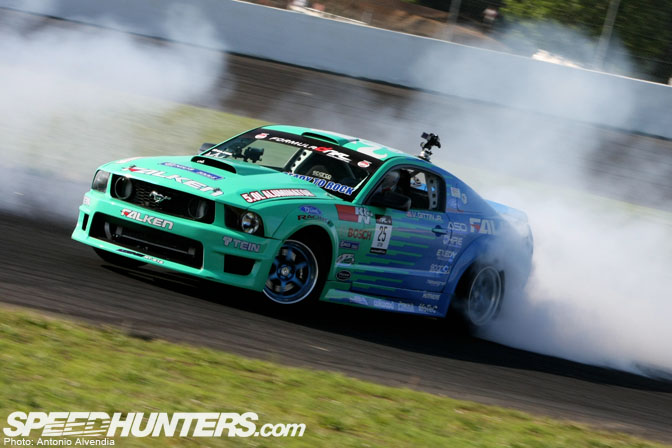 If you've been to a Formula D event, there's no doubt you've heard our fellow Speedhunter Vaughn Gittin Jr tearing up the track with his Ford Mustang, as the FD announcer J-rod shouts into the microphone "now there's Vaughn Gittin Jr, the beast from the east, in the Falken Tires Ford Racing Mustang! Check out JR out there on the track, he's letting it all hang out as he lays down big smoke in front of the other guy!"
By far, this is the most successful and most recognizable Ford Mustang in the drifting community – JR and his Mustang are everywhere, from D1GP podiums to NBC network news, to the Birth of Pro Street documentary film, which aired on Spike TV in the USA and Motors TV all over Europe!
Also make sure to check out JR and his Mustang on their video feature on Speedhunters, if you haven't already!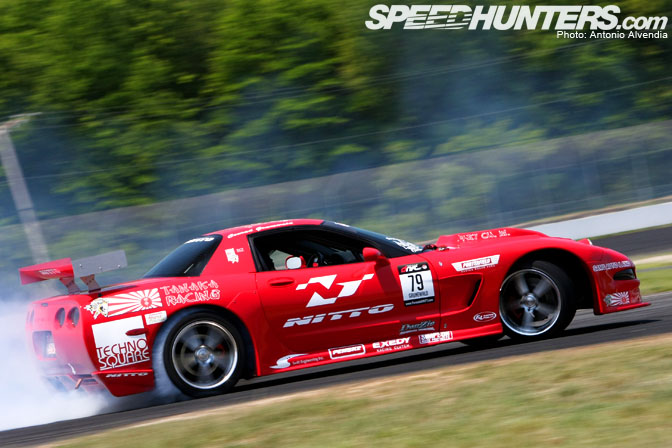 Conrad Grunewald is definitely making his presence known in the Formula D series, behind the wheel of the Tanaka Racing Corvette Z06! This is definitely one of the loudest cars in the series, whenever it passes me, I feel like my eardrums are going to pop! Make sure not to miss the Speedhunters video feature and photographic car feature on the Tanaka Racing Corvette!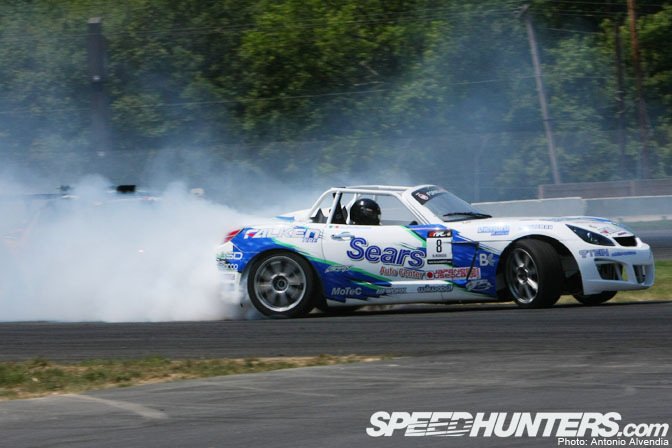 This year, Darren McNamara decided to leave the keys to his SR powered AE86 back in Ireland so that he could drive the Sears Auto Center Saturn Sky, which was custom built just for him as a right hand drive competition car! Darren's always throwing up big smoke in the Sky, and does an extremely good job piloting it – I was surprised at how well he has been able to drive a newly built car! I don't know if the car is just set up perfectly, or if he's just killing it as a driver! Maybe a little bit of both?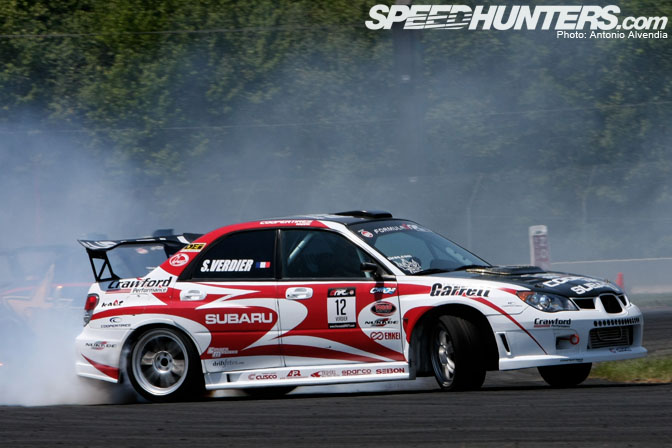 Stephan Verdier reminds me of one of the guys from the movie Lord of the Rings! However, he doesn't need a sword and a cape to show his skill when he's at Formula D events, he's perfectly capable of showing everyone what's up in his Crawford Performance Subaru Impreza WRX. To me, it kind of looks like a non-orange version of Kazuhiro Tanaka's Impreza, with Kumakubo's wheels. Maybe I just watch D1 too much.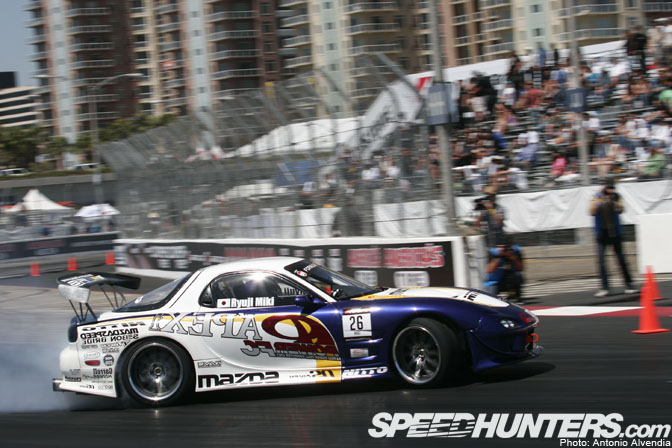 Former D1 champ Ryuji Miki is adjusting to life in a left hand drive! Driving the Bergenholtz Racing Apex'i Nitto FD3S RX7, he is doing very well in the Formula D series, but I can only imagine how hard he'd be running things if he had a right hand drive competition car in Formula D!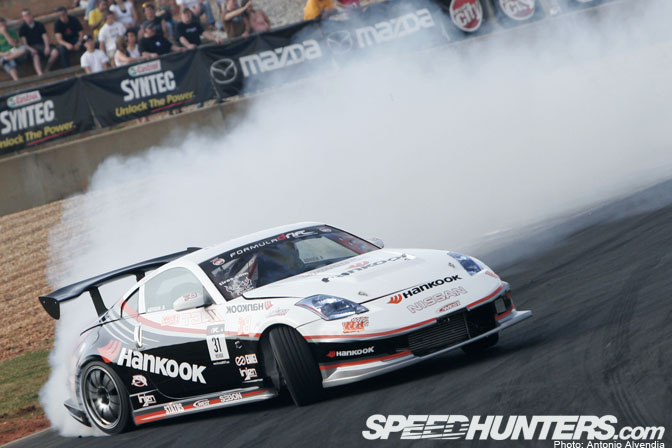 Robbie Nishida from popular Japanese drift team Hey Man is really putting Hankook Tires on the map as a Formula D team to look out for. Robbie makes his presence known by making huge smoke out of his Z33 350Z, and is doing very well in the series! He was the top qualifier at Formula D Las Vegas, and had one of the highest entry speeds! If he keeps these types of performances up, we'll see Robbie on the podium very soon, so look out for him!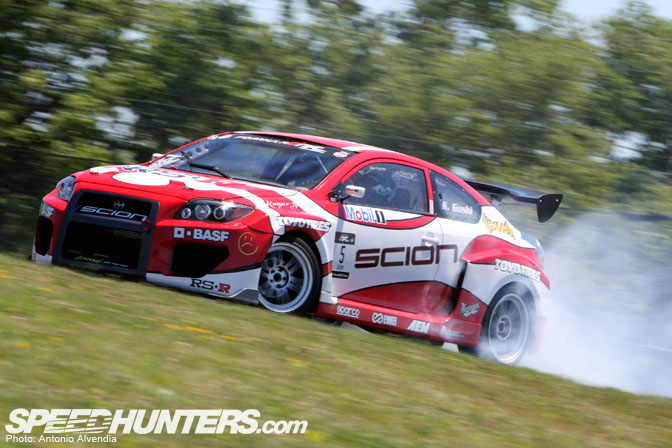 Media favorite Ken Gushi is certainly turning heads with his new RS*R Scion TC! With a rear wheel drive conversion (modifying an existing AWD system from a different Toyota), this TC certainly looks cool on the track! It's a pity Scion didn't make them FR in the first place!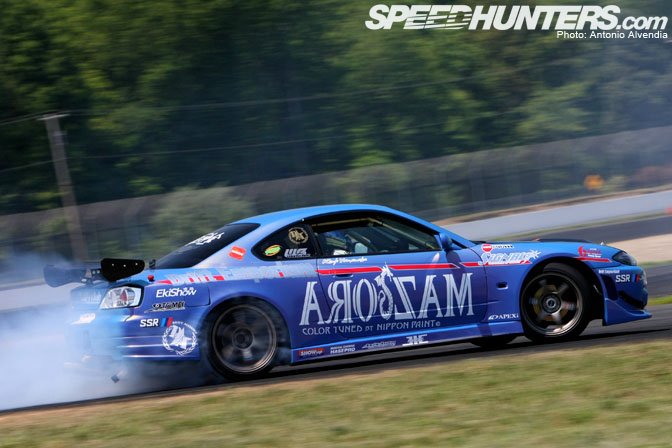 Kenji Yamanaka is a wild and crazy guy, and is now behind the wheel of this Mazoora Paint S15 Silvia!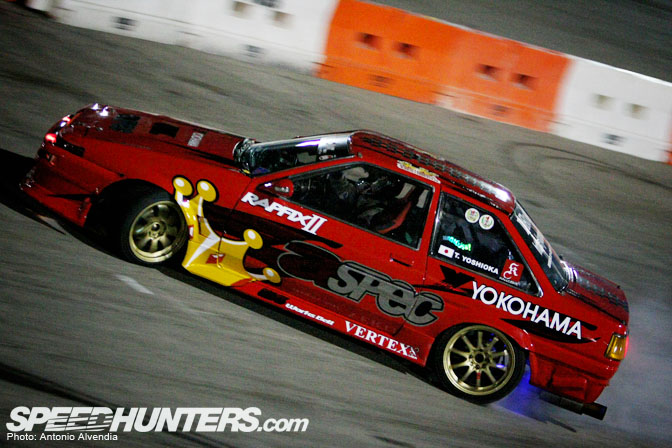 Toshiki Yoshioka just won the Las Vegas round of Formula Drift with his A-spec Works Bell AE86 Trueno! Yoshioka is a fan favorite for showing everyone what a 22 year old AE86 can do, with the right person behind the wheel! Fans also like him because he has been trying hard to learn English, and loves talking to fans! Yoshioka is a very cool and friendly guy!
Now let's move past the Top 16 drivers in the Formula D rankings – I just want to profile some of the other cool and interesting cars in the series! I didn't have time to include ALL of the interesting cars, so please don't cry or email me if your car didn't make it to the post!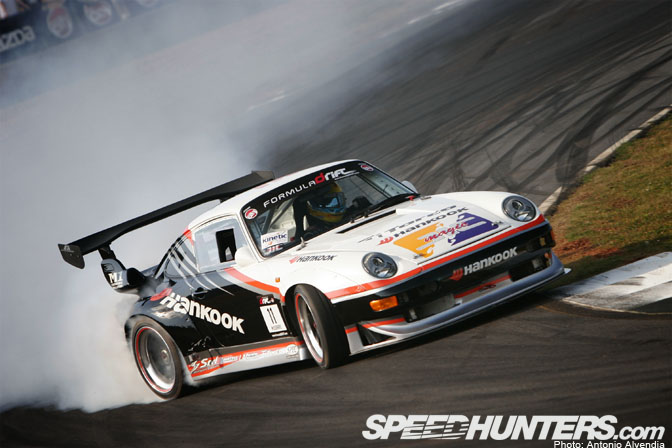 Tyler McQuarrie is certainly doing a great job driving his JIC Magic Hankook Porsche GT2 – he was definitely killing it in New Jersey, with the Porsche's first podium finish!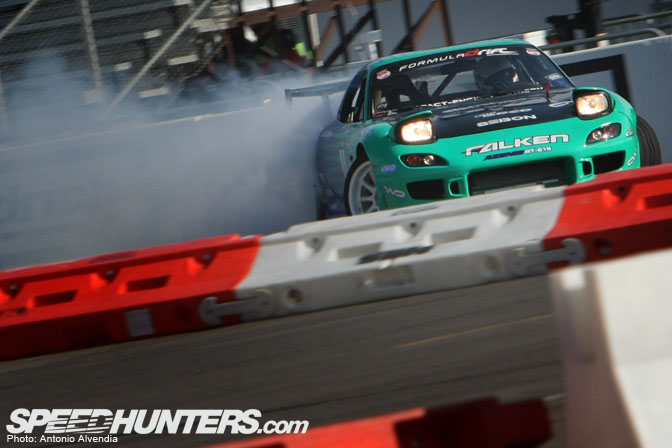 Our fellow Speedhunter Calvin Wan made rotary fans in Las Vegas proud when he managed to drive his way into the Top 16 competition with his used and abused, near stock, 4-year-old 13BREW Type RZ engine in his personally owned FD3S RX7, which he wrapped in Falken colored vinyl because his V8 350Z is still unfinished and overdue.
Buy a copy of Calvin Wan's Drifting Performance Handbook on Amazon.com!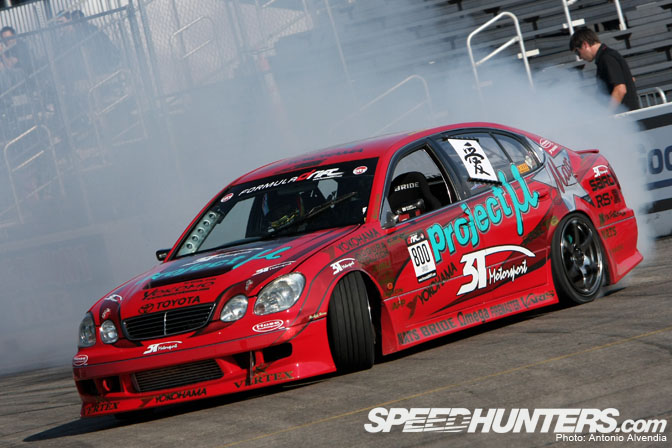 Former D1 judge and Super GT driver Manabu Orido made his Formula D debut in Las Vegas – his JZS161 Aristo certainly looked great out there, but Samuel Hubinette put the smack down on him in the Top 16 tandems. I tried to get more info and talk to Orido in Vegas, but he was apparently too busy to talk to us, so we'll try again in Sonoma if we have time.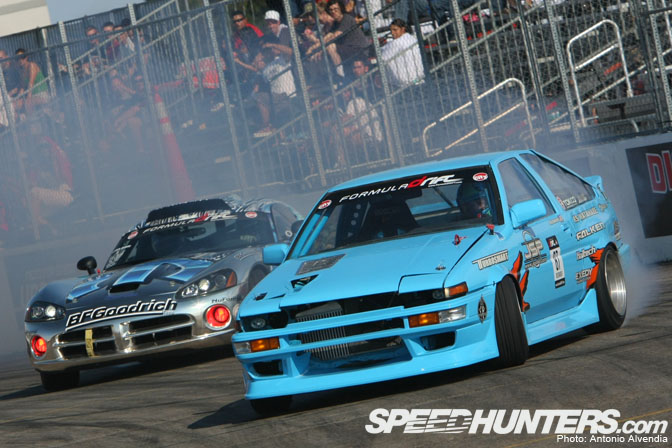 John Russakoff is a privateer from San Diego who is pretty good at welding, lowering cars over good offset wheels, and making it into the Top 16 of Formula D and D1GP competition. Seeing his S2000 powered AE86 kind of brings a tear to my eye, but hey, he's doing big things with it, and he's a friend, so I give him props regardless. How many privateers do you know, that can just show up randomly to a local Formula D event and kick ass enough to immediately make it into the Top 16? Not many! You gotta give it up to Mr John!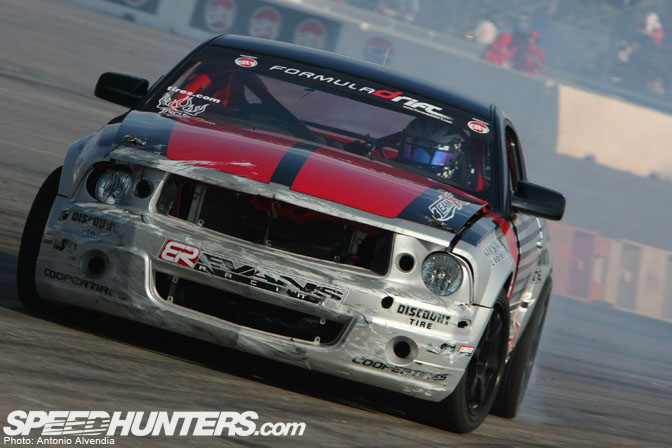 Tony Brakohiapa is a really cool guy and a great driver! I like how aggressive he was getting with his Team X Ford Mustang – that thing looks cooler when it's all scuffed up! It's kinda like Biggie Smalls, got a story to tell!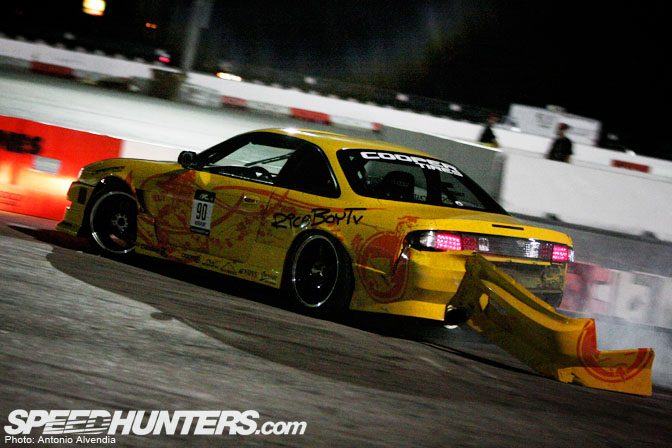 Now that Ken Gushi has graduated from high school, Patrick Mordaunt is the new kid on the block when it comes to Formula D… not that he listens to New Kids on the Block, I've heard him driving around town bumping Hieroglyphics hip hop CDs. He looks super young, but don't let his cheeks fool you, Pat has skills behind the wheel of his RiceboyTV Nissan 240SX! Watch his reality show on Riceboy TV!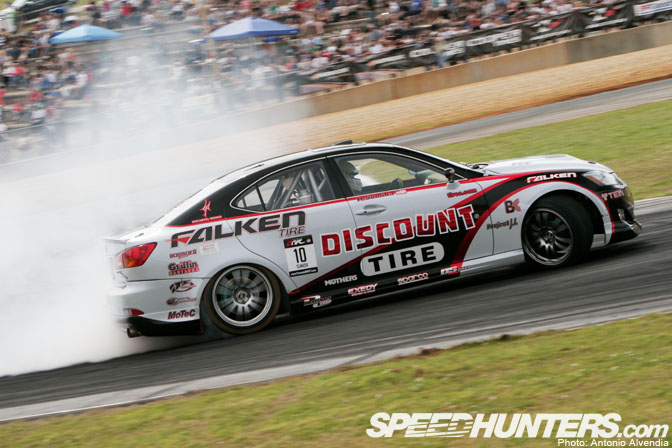 Hiro Sumida has a new engine hin his Discount Tire Lexus IS350, and was making huge smoke in Atlanta and in Las Vegas! I wish I could see him drive the banking of Seattle Formula D, but we'll be shooting overseas… we'll just have to wait for the Sonoma round!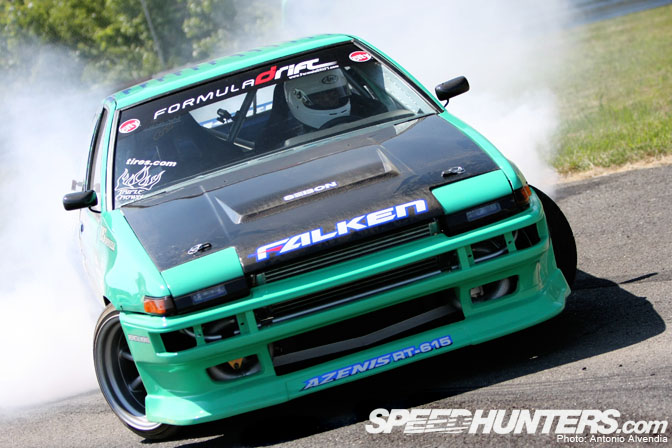 Last but not least, I need to give the utmost respect to my good friend Taka Aono. Taka doesn't need to brag how real he keeps it… he has been driving an Falken Tires AE86 in Formula D competition since the beginning, and has gone through tons of different engine setups – normally aspirated 20 valve 4AG, supercharged 16 valve 4AGZE, Hasselgren Formula Atlantic 4AG, and now, a Hasselgren built 4AG turbo engine.
No matter what engine is powering his AE86, I think Taka is one of the most dedicated drivers in the Formula D series, giving up his career as a chiropractor to join the tour as a Formula D driver.
Taka is probably the best AE86 driver in the USA – he always initiates full throttle, even though sometimes his aggressive driving style and full throttle, full lock commitment sometimes has him wind up riding in the wall, or even flipping over! Keep an eye on Taka in the next few rounds of Formula D, I can't wait to see how he does with the new turbo engine!
-Antonio Alvendia