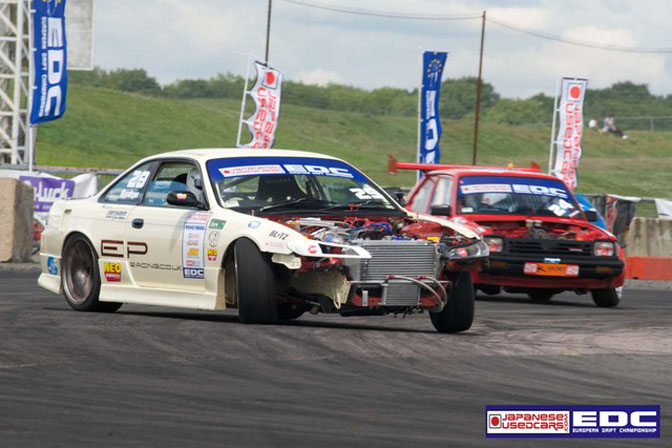 It's time to finish up our week-long look at the cars of the various international drift series as we examine some of the cars from the European Drift Championship. Before working on Speedhunters, I had only a vague knowledge of the EDC, but I have been learning more and more about the series and its cars over the past few months and have been quite impressed with what I have seen. While you won't find quite the variety of cars that you see in the US Formula D series, the EDC has plenty of top quality cars and they seem to be getting better and better.
Not surprisingly, the most commonly seen car in the EDC is the Nissan S-chassis and there a fine examples of the S13, S14, and the S15 on the EDC roster. As of late the EDC has been drawing drivers from outside of Europe and this has brought even more flavor to the cars seen at EDC events.
Now let's take a look at the cars.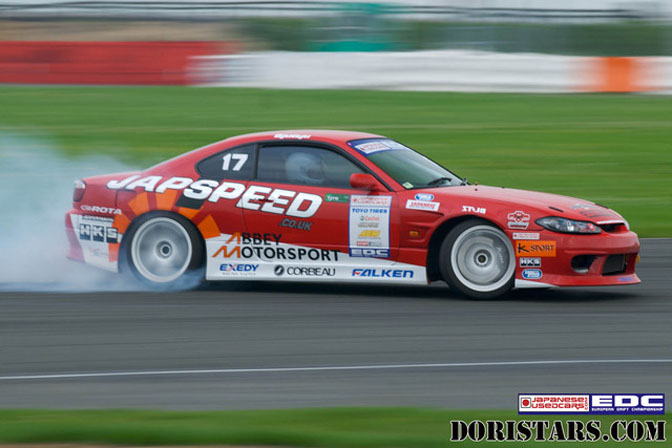 Paul Smith S15 Silvia
Paul Smith's 200SX AKA Silvia is a pretty standard drift-built S15. The car is sponsored by Abbey Motorsport which is one of the UK's big Japanese car tuners and works on a few EDC machines. Besides supporting the EDC, they also have experience running GT-R's in the UK Time Attack Series. You might notice the Rota sticker on the rear quarter panel. It seems that Rota Wheels is a big sponsor of EDC competitors and their wheels can be seen on many EDC cars.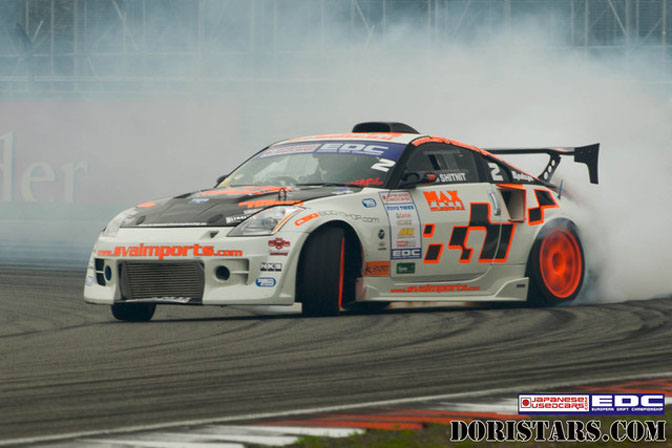 Mark Luney Z33 Fairlady
Mark is one of the top EDC drivers behind the wheel of his "zed" 33 and he is currently in second place in the '08 season points standings. This Z is one of the most established drift cars in the UK and his seen plenty of action both in the EDC and in the old D1GB series. It is powered by a 3.8L turbocharged version of its original VQ35DE powerplant. You can see the vents behind the door that feed air into the car's rear-mounted radiator set-up.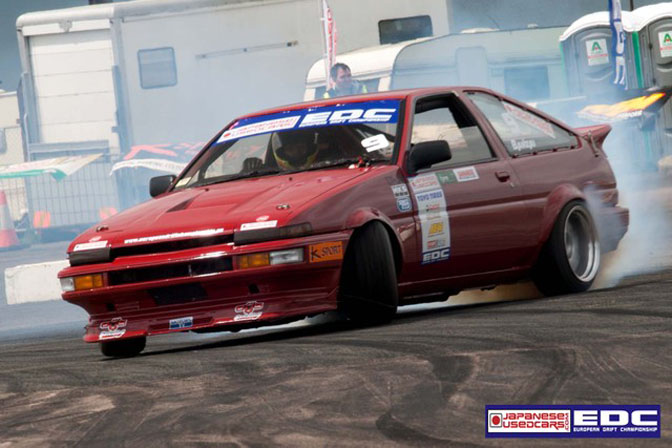 Chris Parry AE86 Trueno
No article about the cars of the European Drift Championship would be complete without privateer driver Chris "Paz" Parry's awesome-looking AE86. This machine is powered by an F20C VTEC engine from a Honda S2000 (just like John Rusakoff's 86 in the states). There aren't many AE86's in the EDC, but luckily Paz makes up for it with both the quality of his car and his aggressive driving style. Speaking of aggressive style, this car took some heavy damage during a crash at the last EDC round. Paz should be back soon though.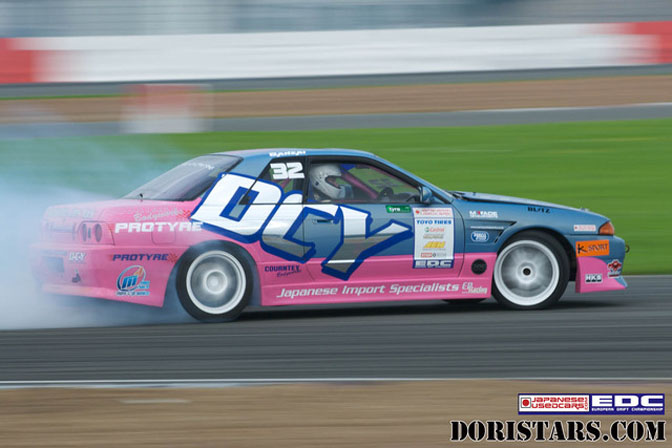 James Russell R32 Skyline
This eye-catching pink and blue R32 Skyline was built by Distinctive Cars York and is driven by James Russel who was added to the DCY team for the 2008 season. The car is a rear wheel drive GTS-t model but its powered by a GT-R-sourced RB26 that makes close to 400hp. Besides this drift car, the DCY team has also built cars that compete in both time attack and drag racing.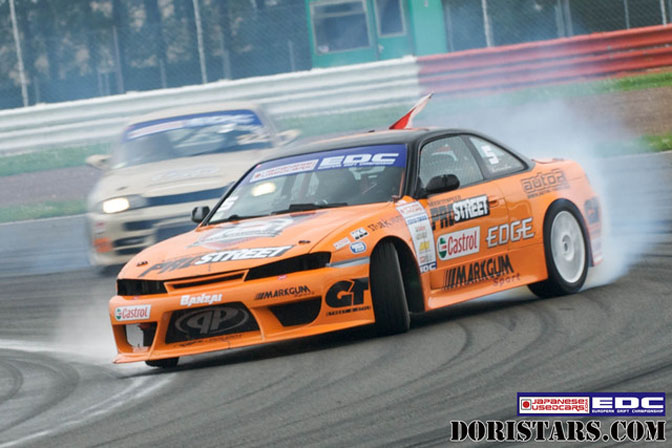 Maciej Polody S14 Silvia
While looking through photographs of EDC cars, I can't help but notice the large number of orange cars running in the series. One of these orange cars is the NFS-sponsored S14 Silvia of Polish driver Maciej Polody. You can identify Maciej's S14 by its lack of front headlights. The car is built by the Polish tuning shop Markgum Sport.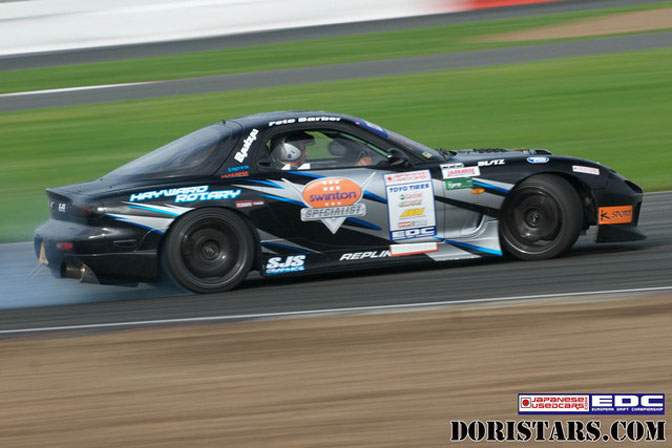 Peter Barber FD3S RX7
Every drift series seems to have at least one RX7 out there showing what the rotary engine and and Mazda's fantastic chassis design can do. In the case of the EDC, it's Pete Barber in his FD3S that represents for the rotary crowd with it's fully built NA engine sourced from an RX8. The car's engine was built by Hayward Rotary who is one ot the UK's bigger Mazda tuners. Besides working on Barber's FD, they have built tons of fast old school rotary-powered Mazdas.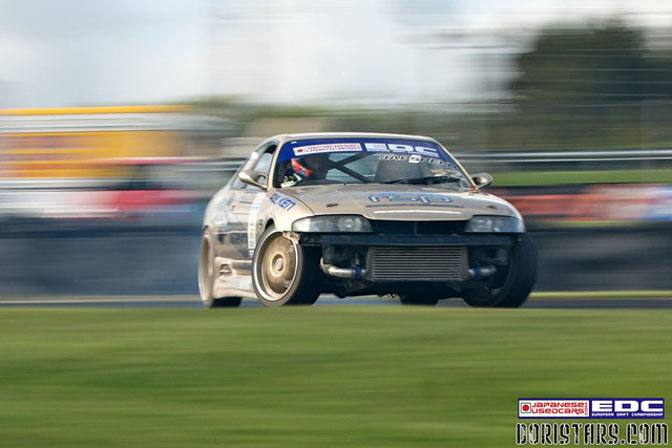 Daniel Eyles R33 Skyline
Daniel's gold R33 GTS Skyline seen in this photo without its front bumper is one the many EDC cars that is sponsored by Japspeed. This car is powered by a tuned version of the standard RB25DET. Although I am not really sold on the looks of this car's JDL aero kit, I do like the looks of the gold paint and matching gold wheels. I can't help but think of Top Secret's demo cars after seeing this one.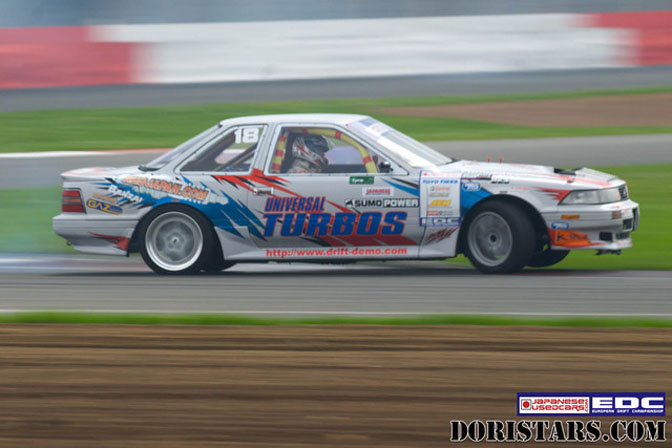 Declan Hicks GZ20 Soarer
Declan's older Toyota Soarer is one just a few similar cars that have competed in pro drifting worldwide. Besides this car, Tokita's Z10 that used to run in D1 comes to mind. In additon to that I have also seen a few Aussie drivers running the early Soarers.  According to Declan's site, there are just four GZ20 Soarers in all of the UK. His car is powered by a 1JZGTE that makes 500hp.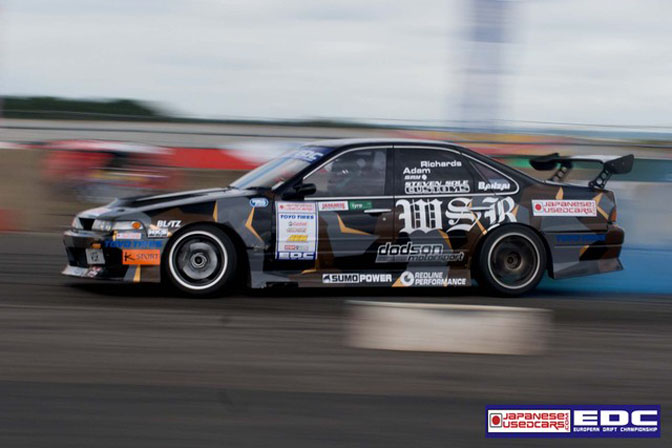 Adam Richards A31 Cefiro
This car probably looks familiar to you if you read my post about the cars of the New Zealand drift scene. Not content with sticking to his homeland of NZ, Adam Richards brought his camo-painted, GT-R-powered A31 Nissan Cefiro to the UK to compete in the EDC. He made his debut at Santa Pod where he put in an impressive performance against the top European drivers.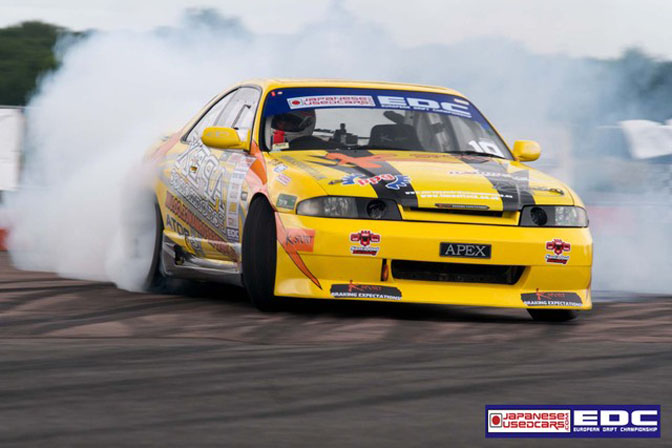 Tim Marshall R33 Skyline
Tim Marshall's R33 is another one of the several rear wheel drive Skyline models that can be seen in the EDC. What sets Tim's Skyline apart from the others is its Chevrolet V8 engine which gives the car a muscle car-like sound. Much to the chagrin of the "purists" ,the cost efficiency, power output, and reliability of the GM V8 makes it a very enticing choice for drifters in many countries. Tim is currently in 7th place overall in the EDC standings.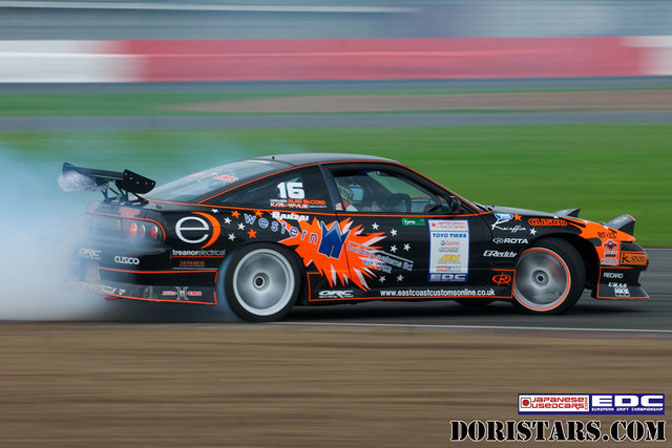 Alan McCord RPS13 180SX
Alan's 180SX is another fairly standard S13. Of course a standard car does not mean standard results as Alan is currently ranked at 6th place in the EDC standings. He has some very interesting graphics going on with the orange pinstriping. You can also see the orange pinstripes on the wheels. Speaking of the wheels, this another one of the EDC cars that is running wheels from Rota.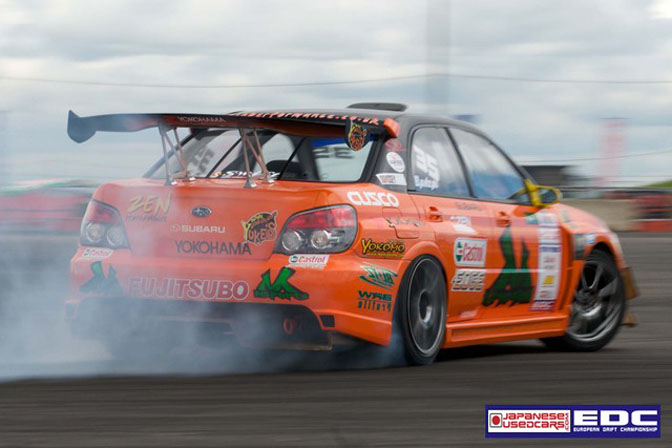 Kazuhiro Tanaka Impreza
As you have probably heard, Team Orange members and D1GP stars Nobushige Kumakubo and Kazuhiro Tanaka are now competing in the EDC. They are both using their overseas cars which were previously seen in the United States. Just like in Japan, Tanaka's car has green graphics and the later model front end. Both of the Team Orange Imprezas are maintained by Zen Performance while in the UK. Zen also runs a very competitive GC8 Impreza in the UK Time Attack series.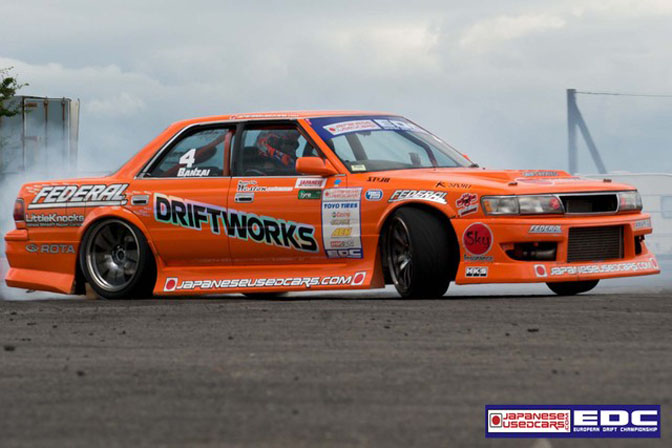 Ben Broke Smith JZX81 Chaser
Ben Broke Smith AKA "Bon Bon" is one of the most active drifters in the UK competing in the EDC, the Pro Drift Series, and the JDM All Star series. His car is the Driftworks JZX81 Toyota Chaser seen above. For more on Bon Bon's Chaser, check out Antonio's piece about the car right here. Not only is his car really cool, but Ben is an amazing driver as well and he is the current points leader of the EDC series.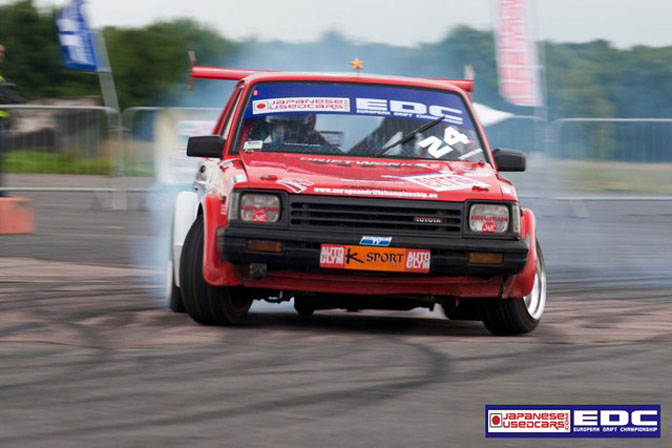 Stephen Evans Toyota Starlet
Stephen "Stiggy" Evans' Toyota Starlet has to be one of the most unique cars in the EDC. First of all, the Starlet is a rare car in general, but Stiggy's car is powered not by a 4AGE swap, but by a Ford four cylinder engine similar to the one found in the Pinto. I couldn't find any technical details on this car, but from what I have read the Pinto swap is actually fairly popular among the Starlet guys in Europe. Anyone have more info on this car?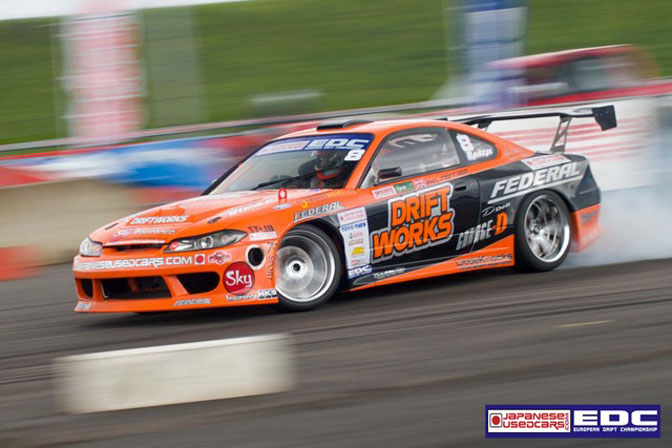 Phil Morrison S15 Silvia
Phil's S15 is one of the new EDC cars for 2008 and after a long build process, it made its debut earlier this season. This car has been built with an incredible attention to detail. It is powered by 2JZGTE engine from a Toyota Supra that has been pushed way back into the firewall for better weight distribution with the heavier inline six. On the outside the car is running aero from Vertex Ridge and a custom set of Do-Luck's Double Six wheels.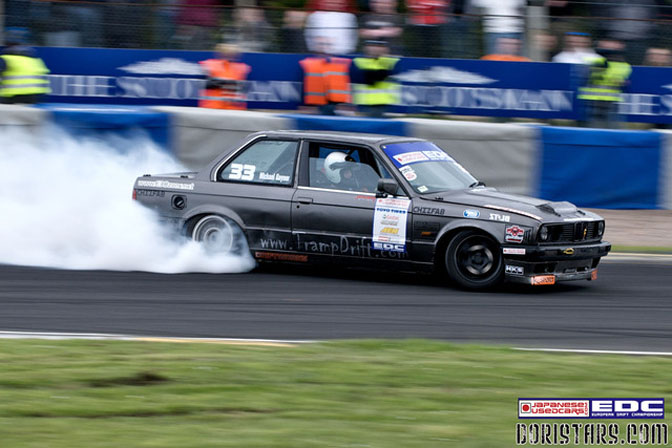 Mike Gaynor E30 BMW
For the polar opposite of Phil's S15, we have the "Tramp Drift" E30 BMW 3-series driven by Mike Gaynor . Interestingly, this is one the few European cars to be found in the European Drift Championship. Many components on this car are homebuilt and although its not an EDC-regular, it has seen some EDC action after Mike had success in the British Drift Championship feeder series. As you can see in the photo, the car looks to be capable of some nice smoke production.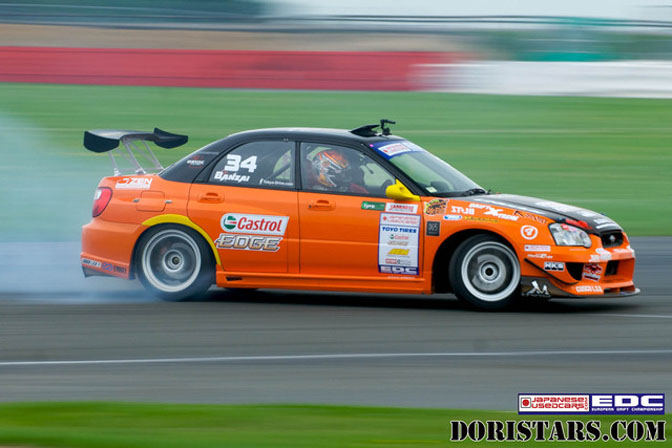 Nobushige Kumakubo Subaru Impreza
Of course we couldn't leave out Team Orange's Nobushige Kumakubo who after competing in only half of the EDC rounds this year is already in 9th place overall. He was the runner up and the winner at the past two events respectively. While he is driving his Evo IX back in Japan, his international car is an Impreza that is not unlike his 2006 D1GP championship car. With two rounds left this season, Kuma will surely be aiming for the championship.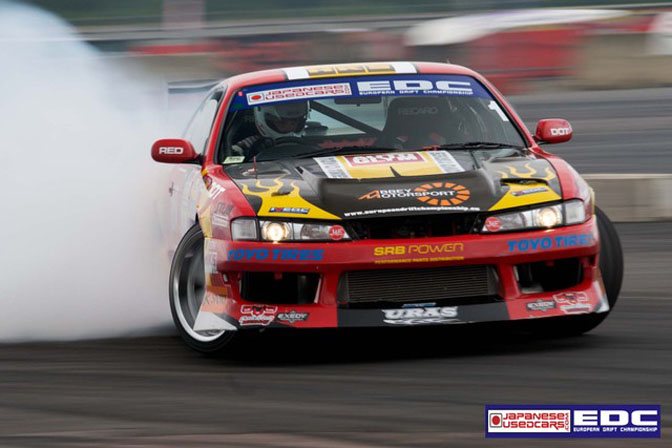 Brett Castle S14 Silvia
What better car to finish out this post with than Brett Castle's S14 Silvia. Brett was the 2007 EDC Champion and is currently in third place in the 2008 standings. His S14 is outputting around 450hp, but I'll leave the rest of the details to our HD Car Tour video which you can see here. There is nothing outrageous about this car's specs, but combined with Brett's driving skill it is one of the best performing and most consistent machines in the EDC.
Well that wraps up our look at the drift cars of the world. I know I learned a lot while putting these articles together and hopefully you did to.
Photos courtesy of our friends at Doristars.
-Mike Garrett