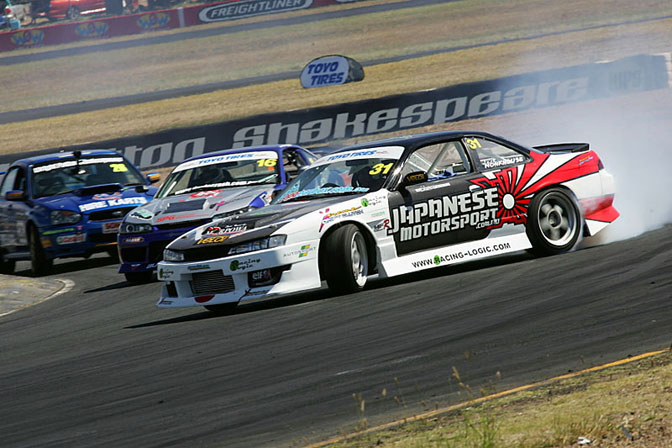 Snakes, Kangaroos, Koalas, and drifting. The adventurous Aussies have a love of drifting that can rival any other country in the world and when it comes to Australian drifting, the Toyo Tires Drift Australia Series is where you will find the country's best drivers and most serious drift cars. For this post we will be taking a look at some of the notable cars that can be seen competing in the Drift Australia series. You will find that some of the cars in the series fall under the category of "traditional" Japanese style drift cars while others bring a unique Aussie approach to drift car style.
A look at Drift Australia's car roster will reveal that the series is dominated by Nissan S-chassis along with a strong showing of rear wheel drive Skyline models. Many of the cars in Drift Australia were imported secondhand from Japan and the tuned for professional drift use. Of course the muscle car is also quite popular down under and you will also find a few Holdens using their V8 power to compete against the Japanese machines. Many of the Drift Australia events are held on very large courses so having plenty of power on tap is a big advantage in this series.
Now let's take a look at some the cars of the Drift Australia Series.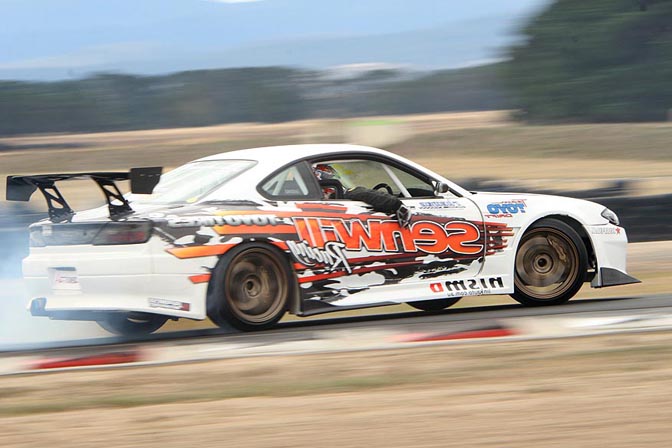 Christian Pickering S15 Silvia
Christian Pickering's Senwill Racing S15 Silvia represents traditional drift car style with both the chassis and the modifications. The car is packing a tuned SR20 and the exterior has simple and tasteful look with its Ray's TE37's and standard style aero. Nismo is one of Christian's sponsors so there are plenty of Nismo parts to be found on this car. Christian was the runner up in last year's Drift Australia season standings.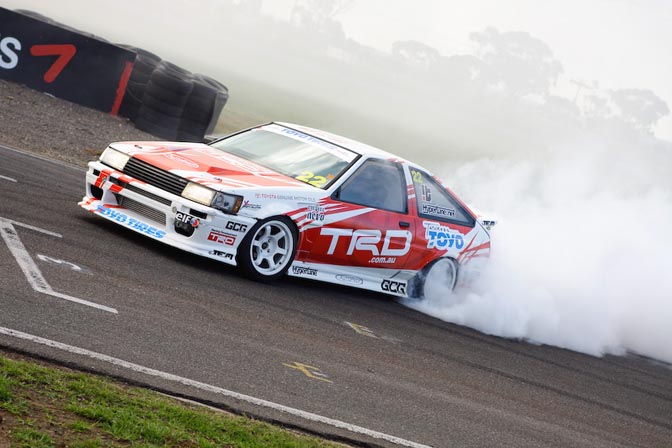 Beau Yates AE86 Levin
Nissans aren't the only Japanese cars running in the Drift Australia Series. Beau "The Show" Yates represents for the AE86 crowd with his turbocharged Beams 3SGE-powered three-door Levin. Beau and his TRD-sponsored machine are known for bringing some of the highest speeds in the series. Strange to think that an 86 is one of the fastest cars in the series, but it goes to show the quality of this build. Beau is currently holding onto third place in the 2008 standings.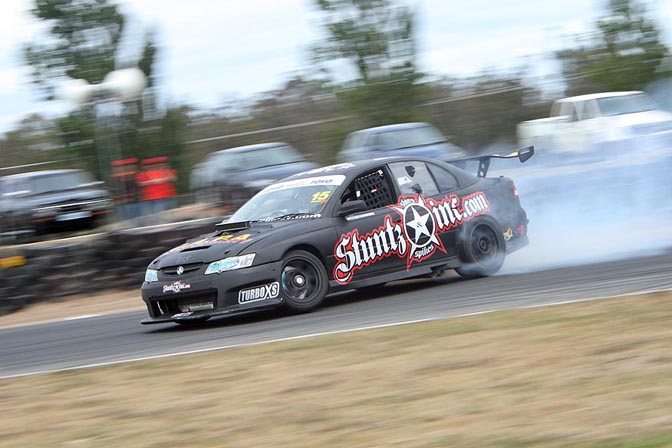 Matt Mingay Holden Commodore
On the opposite side of the spectrum from Beau's nimble AE86, we have the Holden VZ Commodore sedan driven by Matt Mingay. Matt's Commodore is powered by a 454 cubic inch Chevrolet V8 and brings the Mad Max style with its flat black paint. I would say that It looks sort of like a V8 Supercar from hell. Check out the engine peeking out through the hole in the hood. So cool.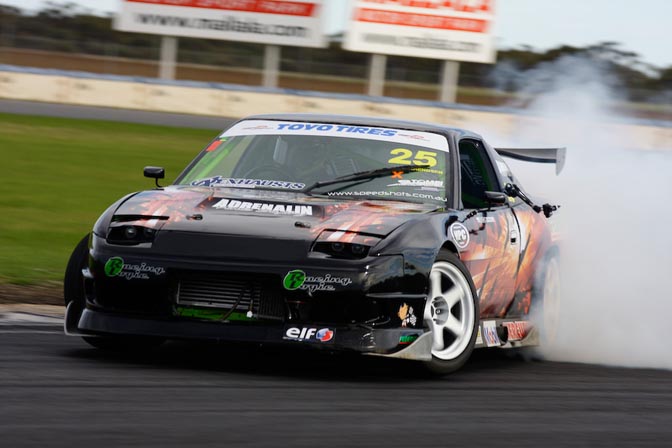 Eugene Arendsen RPS13 180SX
Queensland's Eugene Arendsen burns Federal Tires in his 180SX that sports a blacktop SR20 with a number of Tomei parts. Eugene is currently in 10th place for the '08 series. This car has some very interesting looking graphics on the side which must have something to do with the graphics company that sponsors it.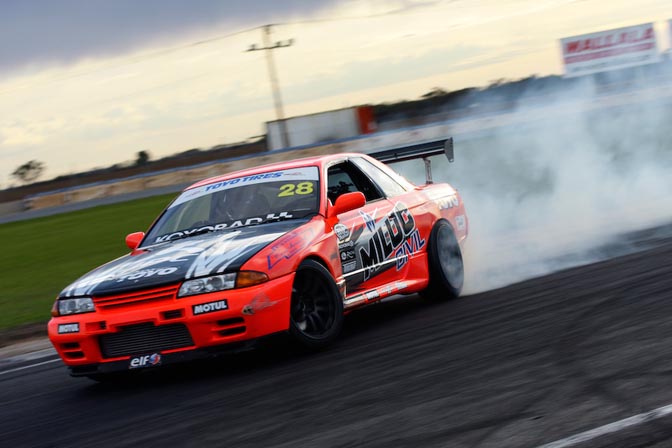 Clint Brown R32 Skyline
Clint's R32 has been knick-named "The Chainsaw" because of its high RPM exhaust note. Clint is part of the a three car team from West Australia that competes in the series. His R32 originally started off as a mild street drift car, but soon evolved into the high power, single turbine beast that you see here. If you don't hear this car coming before you see it, I'm sure the bright orange paint will grab your attention.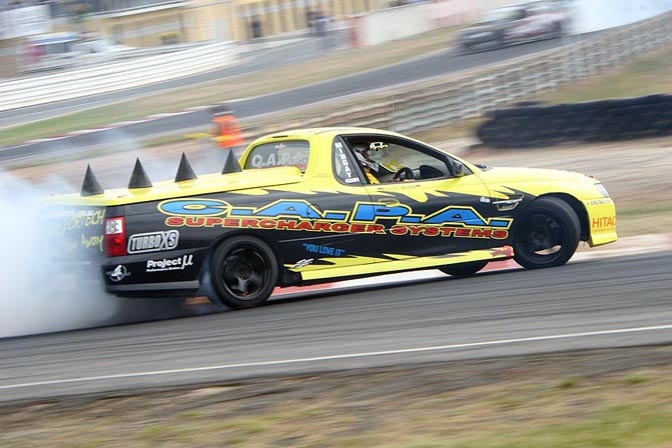 Holden Ute
Honestly I'm not sure who the driver of this Holden Ute is, but I had to add it to this article because it's so unique and so uh…Australian. The Ute is basically a pickup version of the Commodore/Monaro and is like the modern day El Camino. Check out the "spikes" on the bed cover.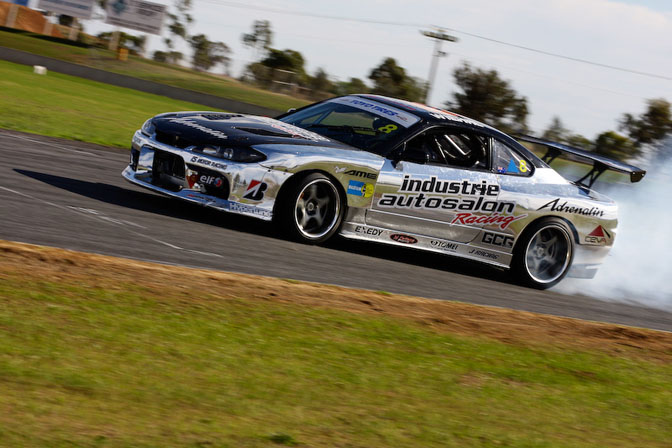 Fernando Wiehrl S15 Silvia
One of the most eye-catching cars in the series has to be Fernando Wiehrl's "chrome" S15 Silvia. I saw Fernando in action at Irwindale last year and came away very impressed by the style of both his driving and his car. The Tomei 2.2L stroker kit is just the beginning of this car's fully tuned SR20 powerplant. The super wide AME Circlar wheels wrapped in Bridgestone Potenza tires also give this car a lot of grip and plenty of style.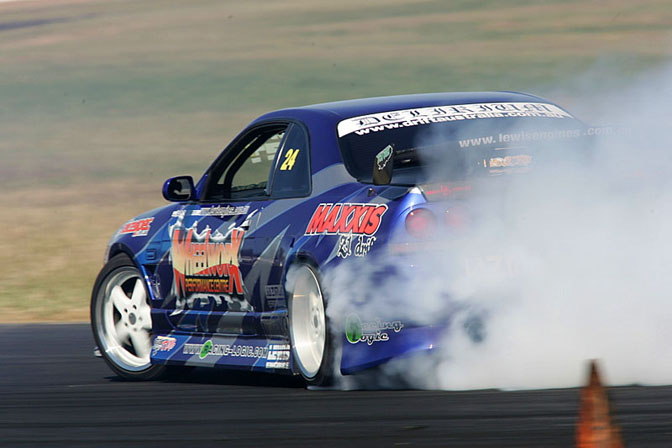 Adam May R33 Skyline
Adam May and his R33 Skyline are part of the large WheelWorx team that has been doing very well in the DA series recently. Adam's R33 is sporting a fully built 455HP RB25 that was tuned by Lewis Engines and the car's exterior is done in the same blue livery as the other WheelWorx cars. I'm really liking the style of this car along with the other WheelWorx competition cars. Adam is currently fourth in the series.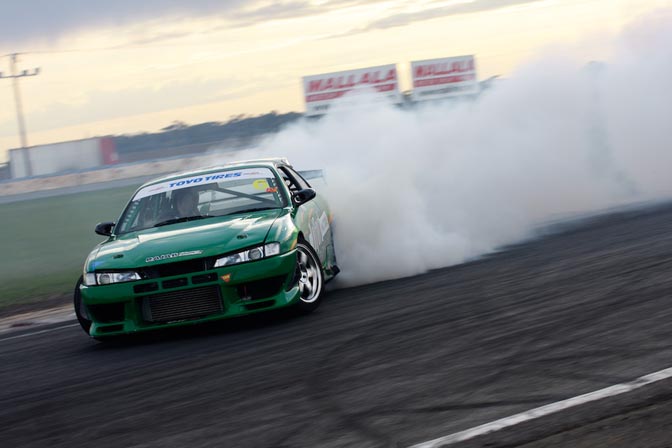 Luke Fink S14 Silvia
Luke Fink is one of the top drivers in the Drift Australia series and also happens to be a former BMX bike champion. He is driving the green Holford Motors S14 Silvia and is currently in 2nd place overall as he battles for the series title. The car's fully built SR20 makes its power with a 2.2L stroker kit and Blitz turbine. Luke is one of the younger drivers in the series and is definitely one to watch for the future. Just look for the green S14 and you won't miss him.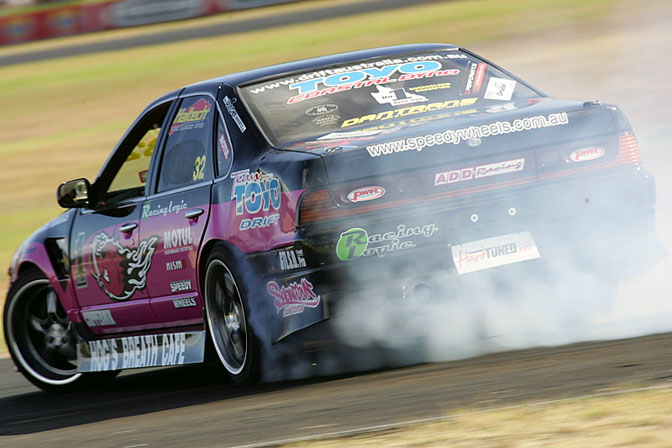 Dan Kenneally A31 Cefiro
Dan has been seen competing in both the A31 Cefiro seen above, as well as an S13 that has been converted into a pickup truck. The Cefiro is powered by an RB25DET that is fed by a Turbonetics 60-1 turbine and controlled by a custom Halltech ECU. On the exterior, the aero is from URAS and the wheels are from Speedy Wheels. Speedy actually sponsors a few cars in the series.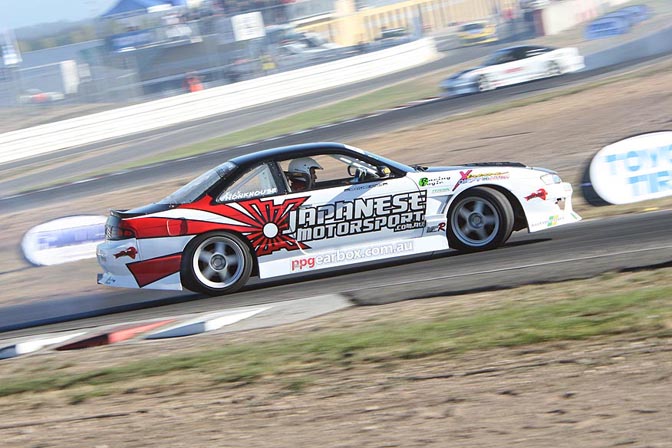 Jack Monkhouse S14 Silvia
Jack's S14 Silvia looks a lot like the S14 that his brother Tom drives in the series. Both of the cars were built by Japanese Motorsport which is the Monkhouse family business. Jack's car has an SR20 with a Garrett turbo and he shifts through a dogbox transmisison. The car's body has been lightened with a number of carbon body parts and the aero comes from URAS. Nomuken's parts seem to have a big following down under.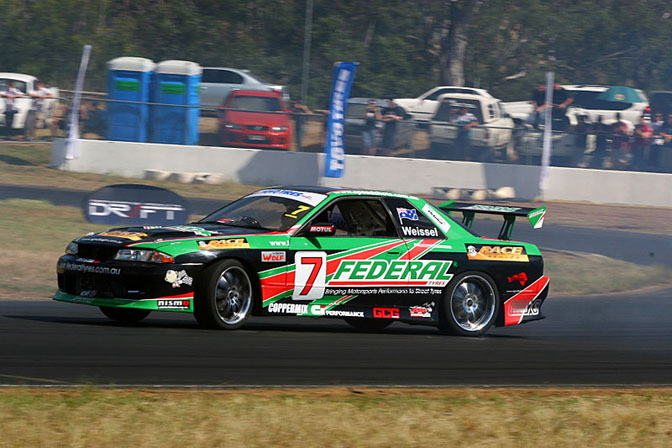 Nathan Weissel R32 Skyline
Nathan's Federal Tire-sponsored HCR32 Skyline has had its stock engine swapped out for a fire breathing RB26 built by O2 Autosports. With this car Nathan is currently running 12th in the series. I really love the support that Federal Tires has shown for drifting at the both the pro and grassroots level around the world, but I just wish their graphics were a little more easy on the eyes.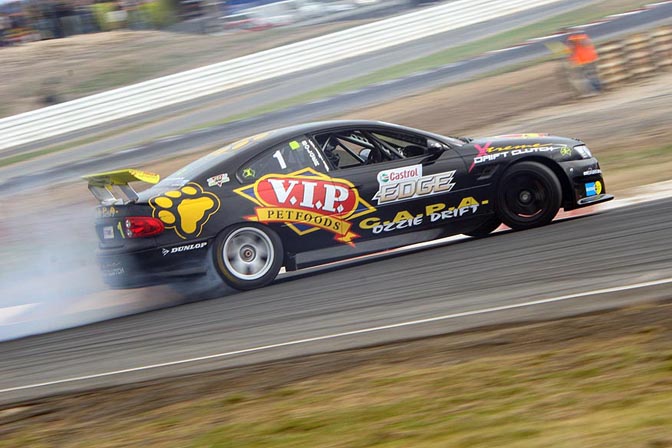 Robbie Bolger Holden Monaro
Irish expat Robbie Bolger is the defending champion of the Drift Australia Series and is currently holding onto to 7th place in the season standings. He is has been driving the fully built V8 Holden Monaro pictured above but, he is currently completeing his new drift car which is a Holden Ute pickup. Besides his drifting performances, he also has been seen doing some very crazy stuff on motorcycles and quads.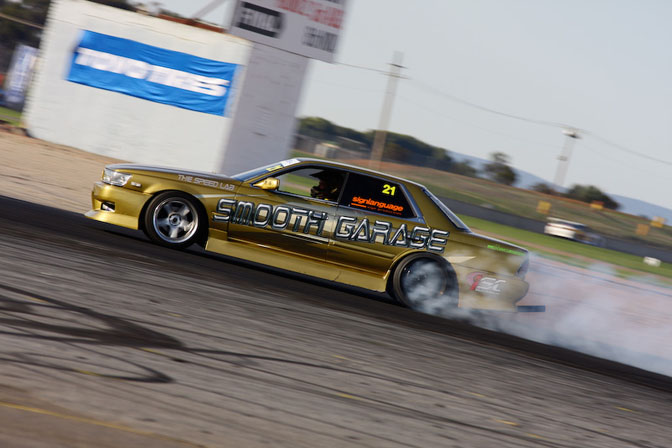 C33 Nissan Laurel
I'm not sure what the driver's name is, but this C33 Nissan Laurel from Smooth Garage really caught my eye with its gold paint and clean lines. This car looks a lot like the Laurels I see at Japanese drift events. Check out that exhaust too.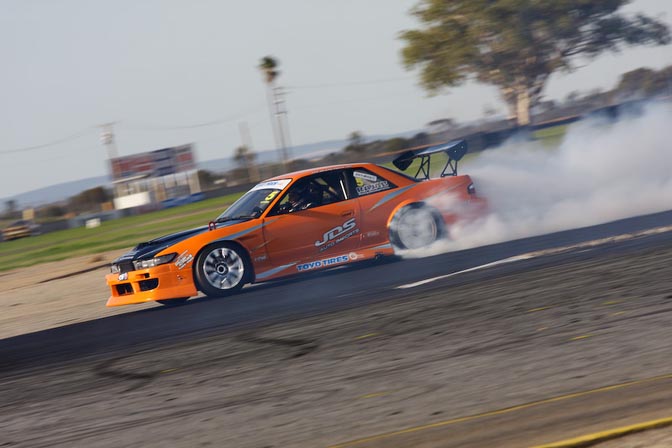 Khudar Elhaouli S13 Silvia
The large number of Holdens sold in Australia means that there are plenty of LS1 V8's to be found on the secondhand market. One those LS1's has a found a new home under the hood of Khudar Eihaouli's S13. Suspension-wise this car has a lot of Japanese parts including Kei Office coilovers and a number of Cusco components. The aero is from Vertex. I like the combination of JDM footwork and exterior with the heart of a muscle car. This setup has done very well for Khudar as he is currently in 5th place overall.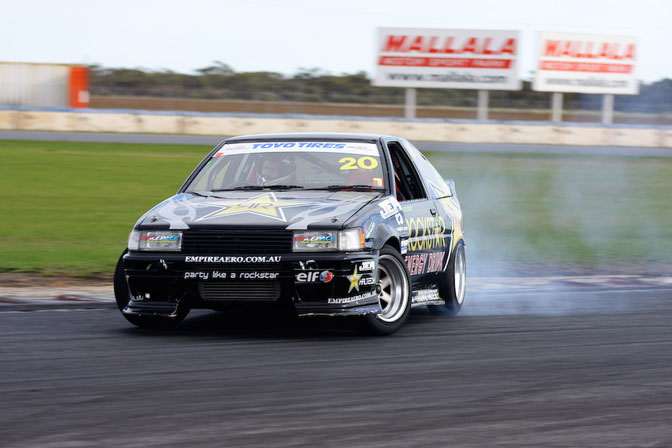 Jason Greenwood AE86 Levin
Another big AE86 driver in the DA series is Jason Greenwood in his Rockstar-sponsored Levin. This car is sporting an AE101 silver top engine swap with a custom T28 turbo set up. The aero parts on this car are from DMAX and the wheels are a nice set of 15" SSR Longchamps for that classic look. This car has actually recently been put up for sale as Jason is in the process of building up a new competition car.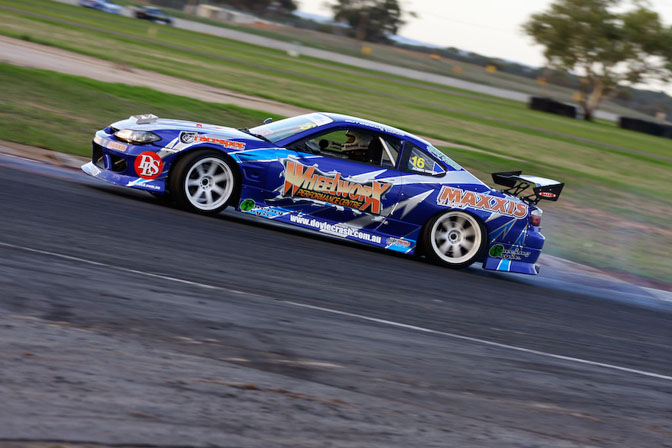 Linden Reynolds S15 Silvia
Linden is another member of the WheelWorx team and his S15 is one of the most interesting cars in the DA series. Besides the car's attractive exterior, you will find that this Silvia not running SR20 power and instead is running a tuned Toyota 1JZGTE inline six that is making 455hp. I guess I'm a sucker for strange swaps.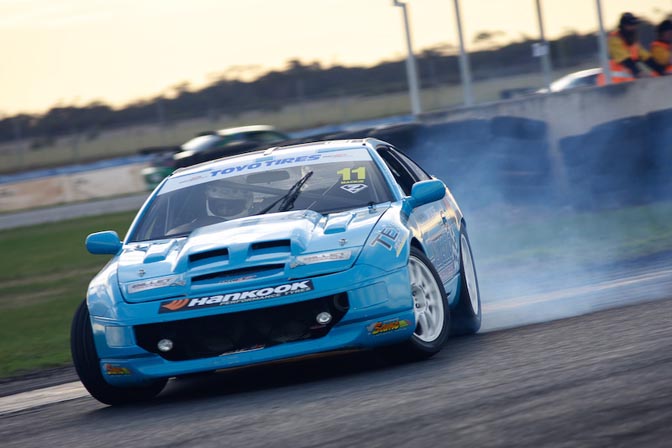 Dan Mackie Z32 300ZX
Dan's 300ZX is another one of those cars that is using Holden V8 power to smoke the tires. Besides the fact that the Z32 is rare drift car in general, this car's V8 powerplant makes it even more unusual. From the front view don't you think this car looks little like a Pontiac Trans Am with that big hood scoop?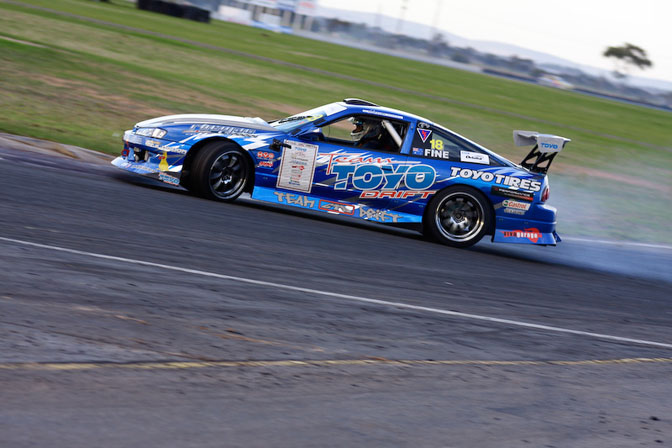 Leighton Fine RPS13 180SX
Last but not least, we have Leighton Fine's Toyo Tires S13 180SX which has been outfitted with the front end from a kouki S14 Silvia. Leighton is the current Drift Australia points leader and is looking to hold onto his position as the season winds down. There is nothing crazy under the hood, just simple tuned SR20 power. He is one of the most consistent performers in the series and holds onto the series lead despite having machine trouble at the round 3 event in Mallala.
Well that wraps up our look at some the cars of the Drift Australia Series. You can check the official website for more info on the series.
Drift Australia (Photos Courtesy of Drift Australia)
-Mike Garrett