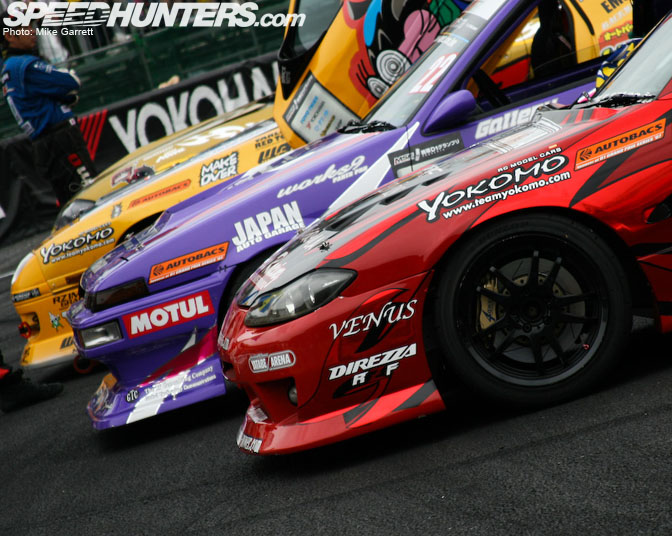 Over the course of this week will be doing a number of articles that showcase the cars of some of the various drift series around the world. It should give you a good idea of similarities and differences between some of the different series as well as some of the different takes on car builds. We will be showing both grassroots and pro level cars and we thought the Japanese D1GP series would be a great place to start.
First started in 2001, the D1 Grand Prix has evolved into one of the world's biggest drift series and is also the longest running one around. Although there are now top level pro drift series operating on all corners of the globe, people worldwide continue to follow the D1GP series with a watchful eye. Despite the fact that D1GP has recently scaled back its international operations, the original Japanese series continues to be very popular. The number of crazed fans that packed the grandstands at the D1 Tokyo Drift event can attest to the continued popularity of D1 in Japan. Now in its eighth season, the top D1GP cars continue to evolve with some drivers making changes to their tried and true rides and others switching to all new platforms. Now we will take a look at some of the top ranked cars that can be seen competing in the 2008 D1 season.
Here they are in no particular order-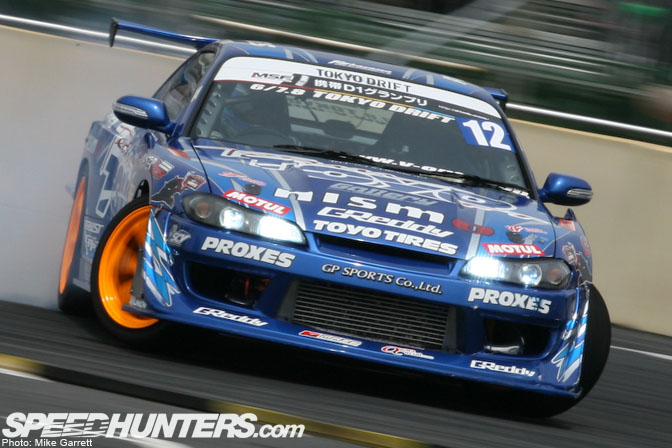 Tatsuya Sakuma S15 Silvia
At first glance this S15 Silvia might look like the car that Masato Kawabata won the 2007 D1GP Championship with. Actually, it IS the car that Kawabata won the '07 series with but he is not the pilot anymore. The new driver for this car is Kawabata's Team Toyo teamate Tatsuya Sakuma. This fully built machine is outputting 580ps via a Trust TD06-25G turbine and the GP Sports aero gives the car an eye-catching look. As Kawabata proved last year, this car is capable of great things with the right driver in the cockpit.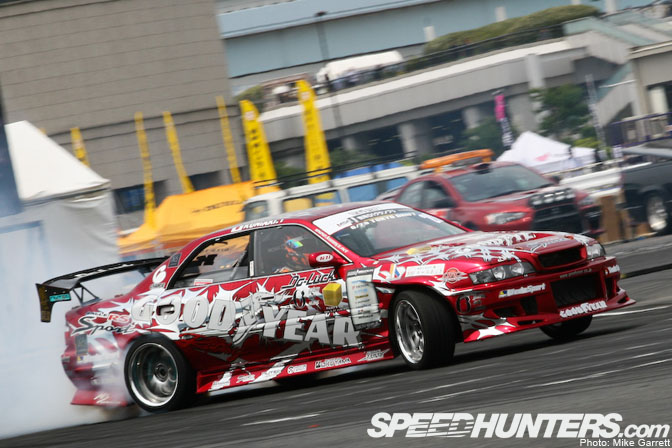 Kuniaki Takahashi JZX100 Chaser
Kanagawa Prefecture's Kuniaki Takahashi has been a mainstay of the D1GP for quite a while. His company Kunny'z is also one of the top JZX chassis tuners in Japan. As in the past, Takahashi is currently competing behind the wheel of his Goodyear-sponsored JZX100 Toyota Chaser. This car puts out 530ps via an HKS T04Z turbine and all the power goes through a custom Getrag transmission. Like many cars in D1GP, the suspension on Takahashi's Chaser consists of high end DG-5 coilovers.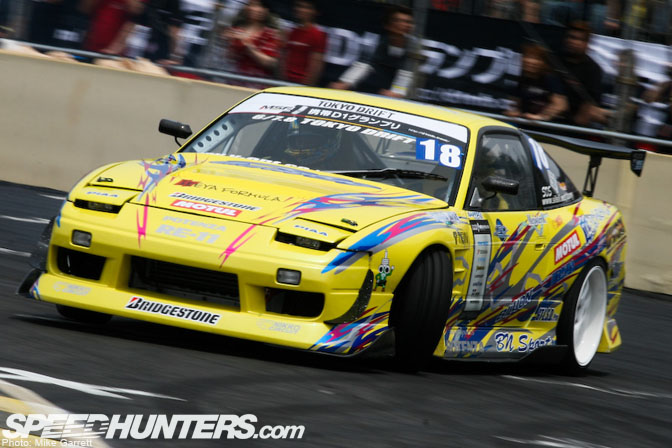 Hiroshi Fukuda RPS13 180SX
Hiroshi Fukuda of FLUKE is one D1's veteran drivers and has been burning up Bridgestone rubber in his signature yellow 180SX for several seasons now. Fukuda is a favorite of many old school D1 fans and he is well known for his FLUKE soukoukai events that are held at Nikko Circuit. He is one of the drivers that keeps the grassroots spirit alive in the D1GP. Traditional tuned SR20 power can be found under the hood and Hiroshi's car also happens to look super cool with its BN Sports aero and white Work Emotion XD9 wheels.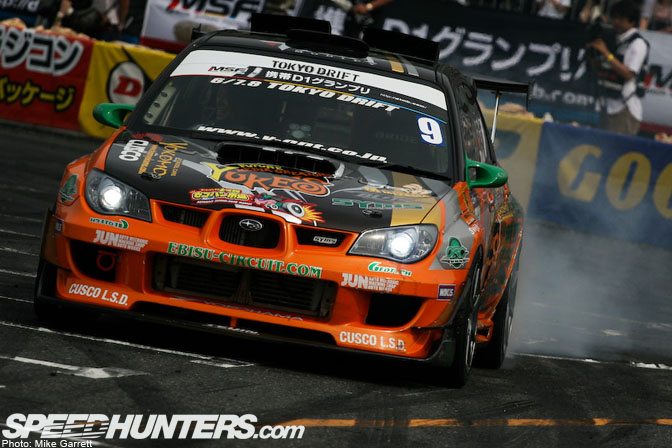 Kazuhiro Tanaka GDB Impreza
Because Team Orange's Kazuhiro Tanaka hails from Ibaraki Prefecture (my home in Japan), I have to show some love for the hometown hero. His JUN Auto-built GDB Impreza probably needs no introduction. The car's EJ20 engine is fed by a Blitz turbine and outputs 600ps. This proven chassis in combination with Tanaka's years of drifting experience help ensure that this car is always placed near the top of the series. Tanaka's Impreza is easily identifiable by its post-facelift front end. I can't help but wonder if there have been any plans to build a new GRB Impreza for Tanaka to use alongside Kumakubo's upcoming Evo X.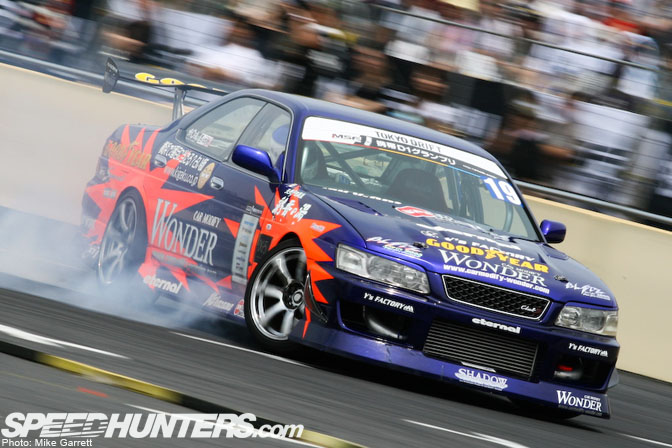 Takashi Haruyama C35 Laurel
Another member of the increasingly strong Goodyear team is Takashi Haruyama. Haruyama is known for both his goofy antics at D1GP events and for his love of Nissan's four-door sedans. He used to be seen behind the wheel of an A31 Nissan Cefiro but now drives the C35 Laurel seen above. This car is the only C35 that is a D1 regular. The car's tuned RB engine makes plenty of power to move the big sedan around and the attractive aero kit comes from Haruyama's company, Car Modify Wonder. I am a big fan of both Haruyama the C35 Laurel is this car is one of the reasons why.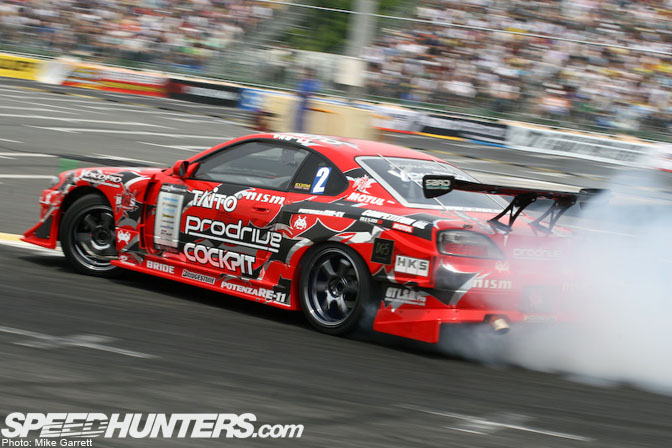 Youichi Imamura S15 Silvia
Youichi Imamura is another veteran D1 driver who's drifting roots go way back to his brown ICBM AE86. Imamura established himself as one of D1's top drivers in the Apex FD3S and then had some up and downs with the Top Secret/ORC Z33. For 2008 he is now driving the Auto Produce Boss S15 Silvia. The car makes 580hp via a 2.2L SR20 and Youichi uses an HKS sequential trans to run through the gears. Youichi's talent and the car building skills of AP Boss seem to be a good match as Imamura has won this season both at Odaiba and recently at Okayama.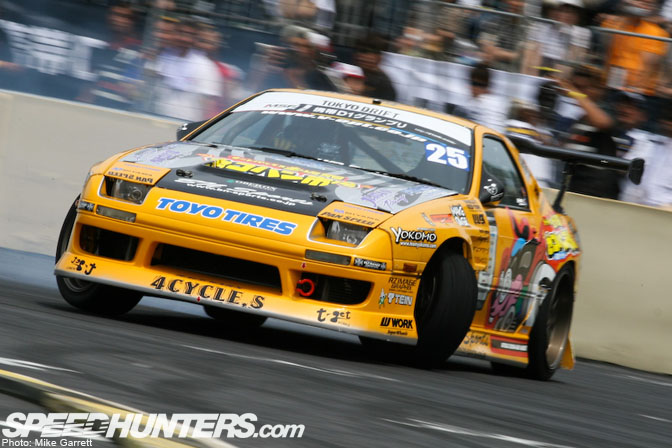 Drift Samurai FC3S RX7
I remember a long time ago at one of the D1GP Irwindale events, I was taking a photo of Drift Samurai in the pits and he stole my wife's Coke cup and autographed it out of nowhere. It's stuff like this make Drift Samurai a favorite among fans. He is easily recognizable by his Samurai outfit and matching sword. His yellow Autobacs Secohan RX7 is almost as recognizable as his costume. He is one of the last D1 drivers to still use the FC3S RX7 and although he is not really known as one of D1's top drivers, he has been putting in some very impressive performances lately. Another interesting note is that this car has recently been seeing some drag racing action as well.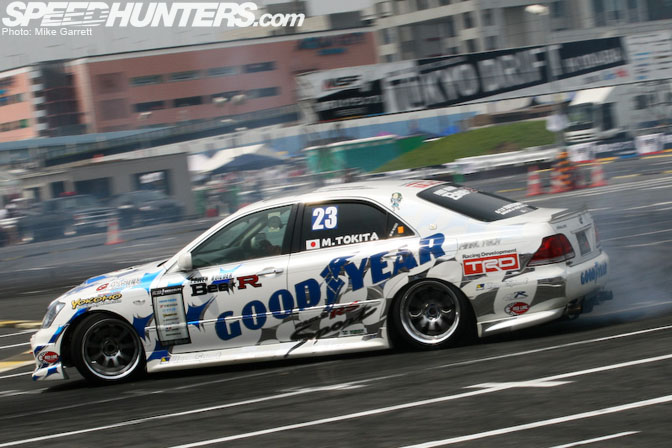 Masayoshi Tokita GRS180 Crown
One of the new D1 machines for 2008 is the Bee*R-built Toyota Crown driven by Masayoshi Tokita. The V6 typically found in the Crown has been removed in favor of a fully tuned 2JZ. Tokita used to drive an old school Toyota Soarer in D1GP and has now transitioned to this late model Crown.  Tokita made to the best 16 during the car's debut at Ebisu Circuit so this machine obviously has potential. It also happens to be one of the most unique (and largest) cars on the current D1GP roster.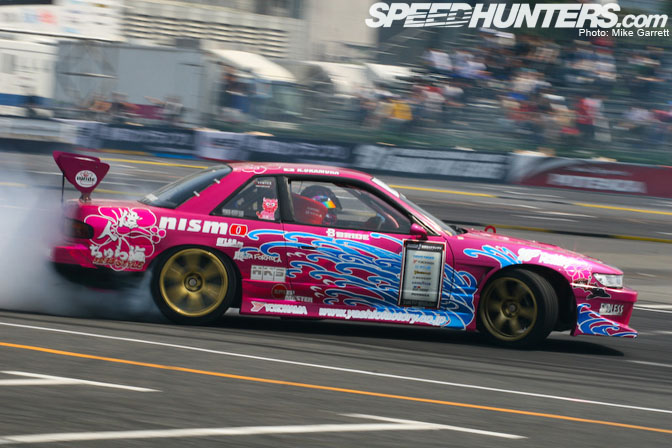 Kazuyoshi Okamura S13&S15 Nissan Silvia

Although Yashio Factory's Kazuyoshi "Oka-chan" Okamura has been tuning drift cars for a long time, he has only recently become a full time D1 driver. At 50 years old, he is probably one of the oldest pro drifters in the world. He can be seen behind the wheel of both his S15 Silvia and the S13 pictured above. Both of his Silvia's are painted in Yashio Factory's signature pink livery and make over 500ps via fully tuned SR20 motors.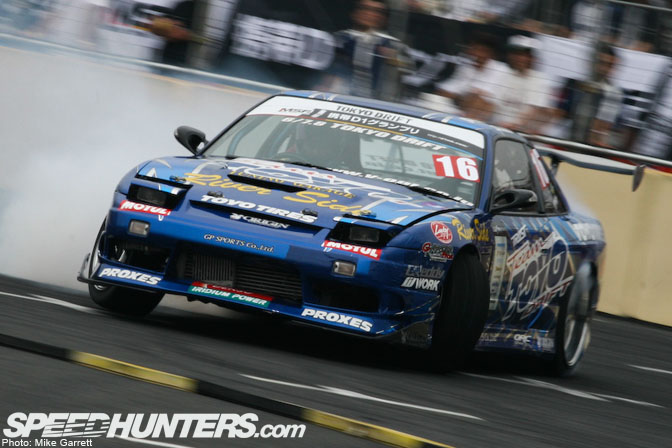 Atsushi Kuroi S13 One-via
Another D1 veteran is Kansai area drifter Atsushi Kuroi. He has been burning up Toyot rubber in his S13 "One-via" for quite a long time now. The interesting thing about Kuroi's car is that it is not powered by four cylinder SR but by a fully tuned inline six. He has been seen using both Nissan's RB26 as well as Toyota's 1JZ. Despite the added weight of the I6 of over the front wheels, the car has close to 600ps and Kuroi has really been putting in some great performances recently.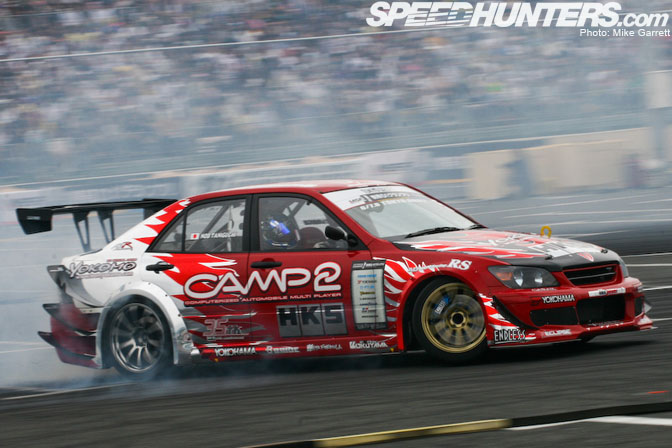 Nobuteru Taniguchi SXE10 Altezza
Although Nob Taniguchi's D1 events this season have been limited to just two rounds, he and his HKS-built Altezza are certainly worthy of a mention. There are actually two different HKS drift Altezzas, one powered by four cylinder 3SGTE and another powered by six cylinder 2JZGTE. The 3S car is the one Nobu primarily uses and it gets its power through an HKS 2.2L kit and 3037S turbine. Although he is not running enough events to be a championship contender, Nobu is a crowd favorite and has run quite well in the few events he has driven in so far this year. Hopefully he will return for more D1 action next year.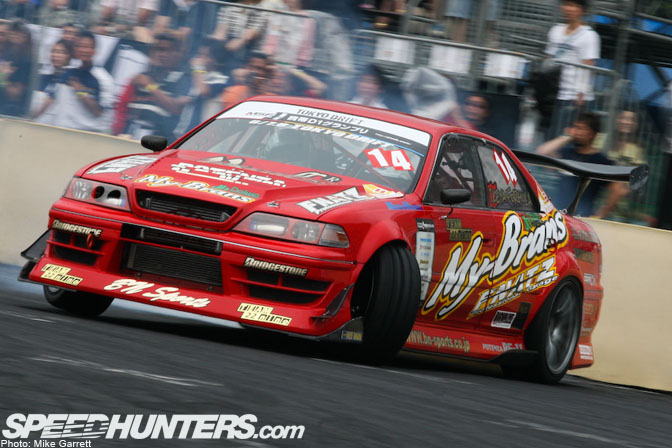 Saito Daigo JZX100 Mark II
As of this writing, this is the car that is currently leading the D1GP points standings. Although Saitama Prefecture's Daigo Saito has not dominated any one event, a consistent string of solid performances has put him at the top of the championship standings. He can always be seen driving some variant of the the Toyota JZX platform and is currently driving the crazy 800ps JZX100 Mark II seen above. Saito is always out there ripping it up with massive smoke production and gratuitous drift angle. One of my D1GP favorites for sure.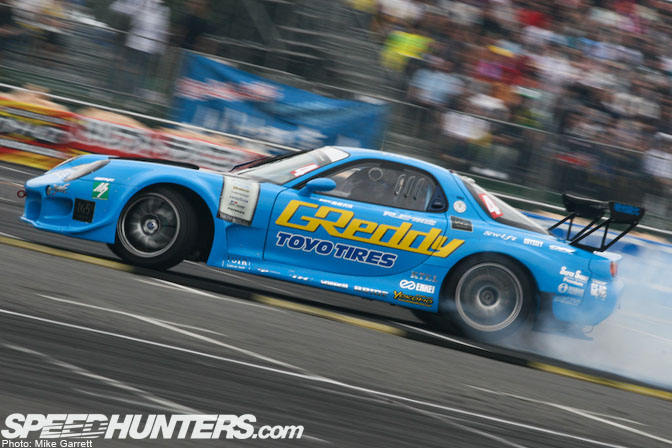 Masao Suenaga FD3S RX7
Masao Suenaga has been one of D1's top ranked drivers for a few years now and he is known for piloting the blue RE Amemiya-built FD3S RX7. He came extremely close to winning the championship in 2005 and has been a top contender ever since. The team recently debuted their updated car which is now running Amemiya's famous Porsche front end conversion. The combination of a light chassis and 500ps on tap makes this car capable of some of very impressive moves on the track.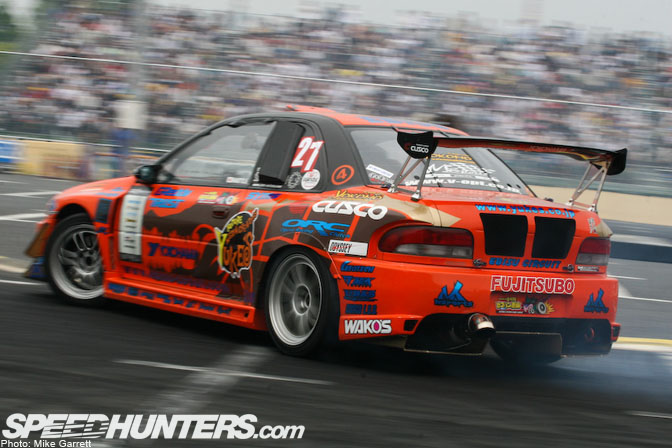 Naoto Suenaga GC8 Impreza
You can't have one Suenaga without the other. Here is Masao's brother and our fellow Speedhunter Naoto's two-door GC8 Impreza. Actually the car is built off the GC1 chassis but it has been modified to a point where the difference is meaningless. Like the other Team Orange Imprezas, it has been converted to rear wheel drive and is running a trick rear-mounted radiator. Naoto's car is the lightest one in Team Orange the car's older two-door body style stands in contrast to the later model Impreza sedans driven by his teamates Tanaka and Hiraoka.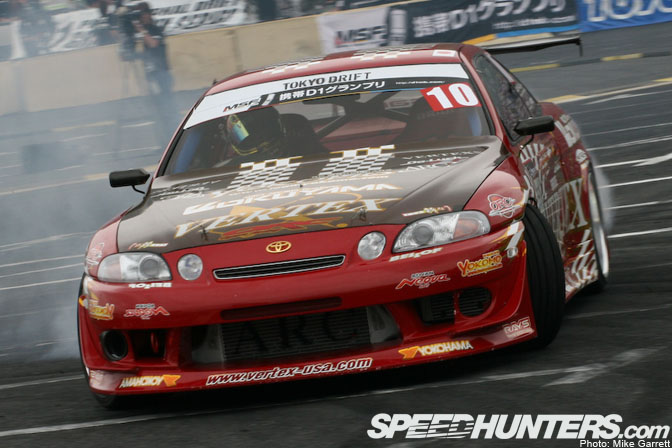 Takahiro Ueno JZZ30 Soarer
T&E owner and okanemochi D1 driver Takahiro Ueno has been piloting a red JZZ30 Soarer since the start of the series so many years ago. I have heard some rumors that he may be switching to the UZZ40 Soarer but we haven't seen anything yet. It would actually be weird to to see him driving anything but a JZZ30. For '08 this beast is now puts down 650ps worth of Yokohama-shredding power through an HKS T04Z turbine. Of course the aero parts on this car are from Ueno's own T&E parts company. Although he rarely dominates events, he always puts down consistently strong performances and his car looks great while doing it.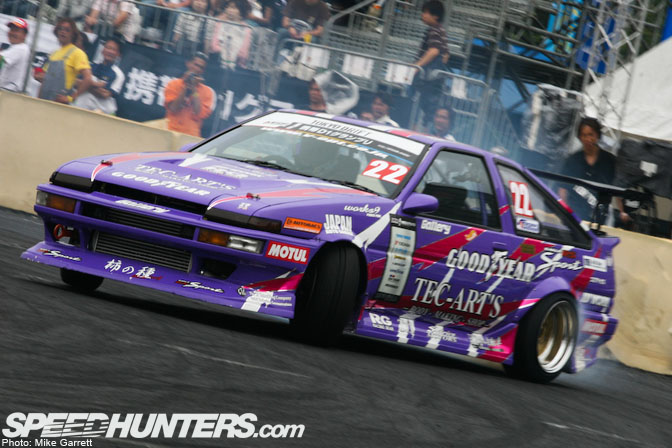 Kensaku Komoro AE86 Trueno
Komoro's Tec-Arts buiilt AE86 is certainly one of the most eye-catching machines in D1 with its purple livery and fresh looking Work Equip wheels. You probably already already saw my feature on this car and know that it's making big power through its turbocharged 16-valve 4AGE engine. In my opinion this is one of the most exciting cars to watch in the D1GP series. This car keeps the original 86 spirit alive in D1 for sure.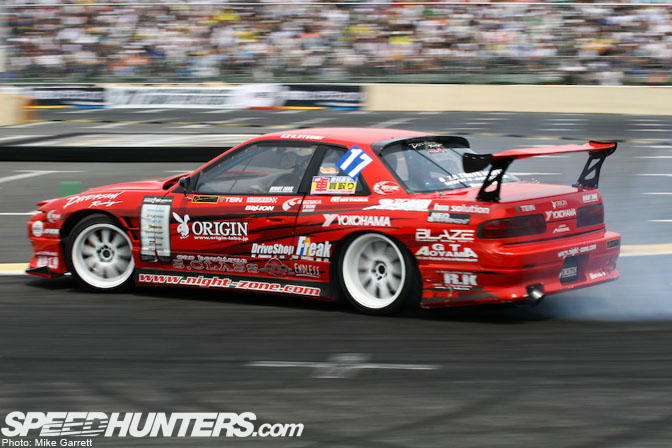 Akinori Utsumi S13 One-via
Another D1 veteran from the Kansai region is Akinori Utsumi of Night Zone. He has been making a comeback of sorts behind the wheel of this red S13 One-via. It's making 500ps through a TD06-fed SR20 and keeps its style with aero parts from Origin. He has two recent top 10 finshes and it looks like he has become a very formidable competition driver this season.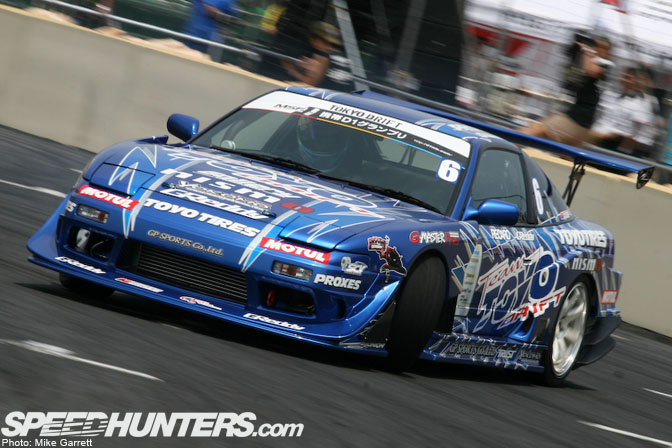 Masato Kawabata RPS13 180SX
For 2008, last year's champ Kawabata has switched from an S15 to this new 180SX built by GP Sports. This 180 is outputting an incredible 600ps through a nitrous-boosted SR20. Like many other D1 cars, the power is fed through an HKS sequential transmission. The extreme GP Sports aero kit also gives this car a different look than many of the other 180's that are driving in D1. Kawabata is currently tied for the eight position in this year's standings.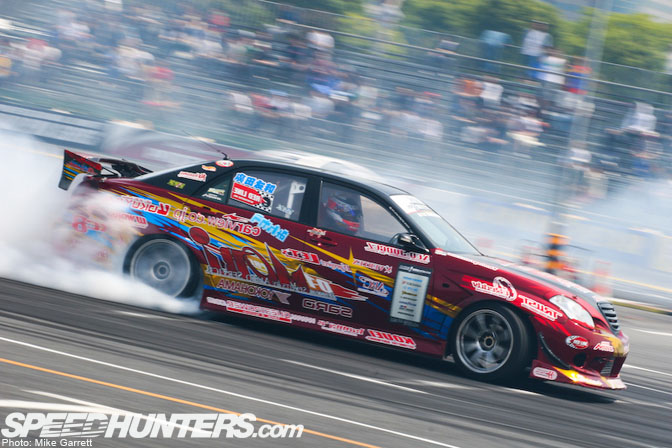 Tomokazu Hirota JZX110 Verossa
D1 judges Tsuchiya and Mana-P always say that Tomokazu Hirota is the "best Verossa drifter in the world". This comment is more about Hirota's unusual car choice than his driving skill. While the Verossa is a strange looking car in stock form, Hirota's car looks fantastic with its T&E aero and aggressive Work Emotion wheels. Although he has been driving in D1 for a while, he seems to have really stepped up recently and has had some great performances this year including second place at the recent Okayama event.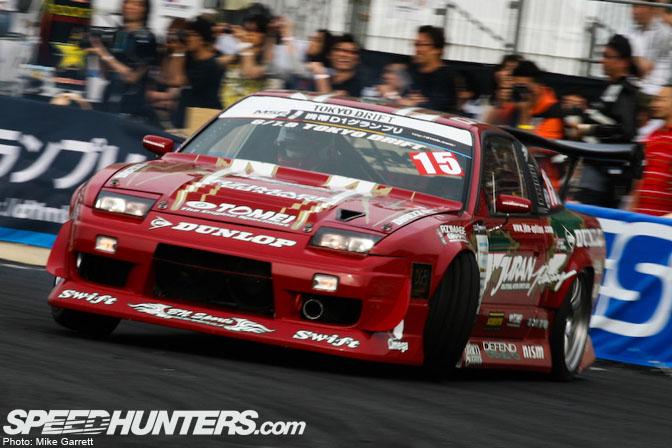 Yoshinori Koguchi RPS13 180SX
Representing Tochigi Prefecture, Yoshinori Koguchi is a pioneer in the Japanese drift world and a master of all things 180SX. After spending a little time competing in a JZX100 Chaser, Koguchi has returned to his 180SX roots and he has had a great season so far. He won this year's match at Fuji and is currently part of a tie for 8th place in the season points standings. His machine is now making 530ps and looks to be dialed in very well. I am excited to see how he will do during the rest of the season.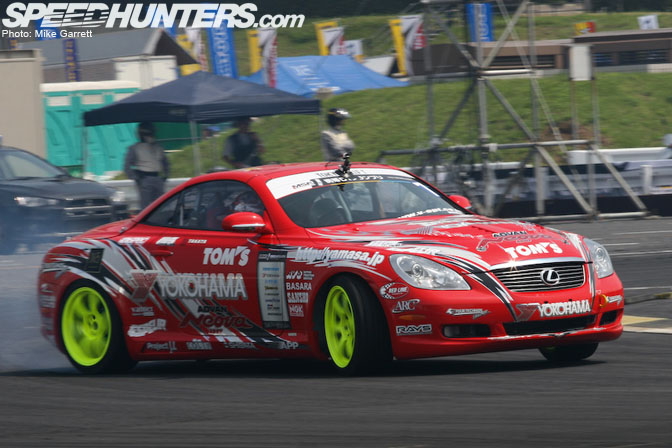 Toshiki Yoshioka UZZ40 SC430
"Toshi-king" Yoshioka is having quite a busy drift season this year competing in both the Japanese D1 series and Formula D in the states. While he recently won the FD Vegas event in his trusty AE86, in D1 he has switched to the drastically different Lexus SC430 which debuted at last month's Tokyo Drift event. The car is running a fully tuned 3SGTE four cylinder and although the car has tons of potential, Yoshioka is still working on getting used to the car. You can bet that once he becomes comfortable with the car it will be very competitive.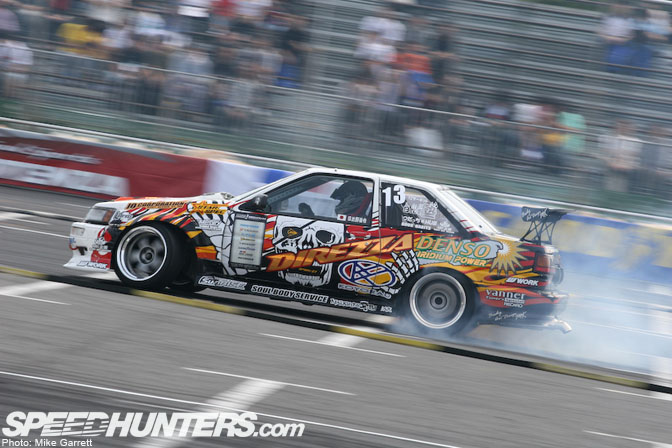 Tetsuya Hibino AE86 Levin
D1 Madman Tetsuya Hibino's car may have body of an AE86 but it has the heart of a Nissan Silvia. A 350ps tuned SR20 to be exact. Regardless of how you feel about cross-maker engine swaps, there is no denying Hibino's talent behind the wheel and his super aggressive driving style. Hibino's amazing car control skills allow him get some huge angle and very high drift speeds. I'm sure many of you remember the classic video of Hibino's flying AE86 at D1 Ebisu a few years back.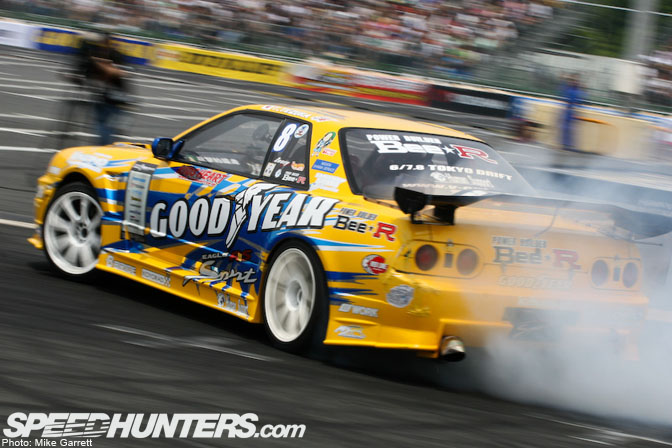 Tsuyoshi Tezuka BNR32 Skyline
Tezuka is another driver who has been having a fantastic season in 2008. He won this year's Suzuka round and is the top driver on the Goodyear team. His Bee*R-bult B324R is known for its shotgun-like backfire and insane exhaust note. This car is making nearly 550ps thanks to Bee*R's RB tuning magic. Although it looks like an R34 Skyline from the front, this is actually an R32 with a Bee*R front end conversion. I do miss the old days of seeing Tezuka rock it in his Kid's Heart JZX81 though.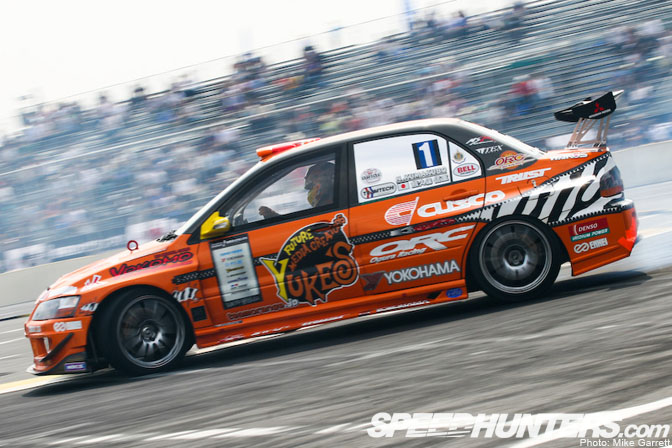 Nobushige Kumakubo Evo IX
There are few D1 drivers who have had as much success as Kumakubo has had over the past few years. Last summer his debuted his new JUN-built Evo and was competitive in the car from day one. The Evo's 4G63 has been switched to a traditional FR configuration and is tuned to make 540ps. It looks as though this car may not be around for much longer as Kumakubo's new Evo X is in development. I have no doubt Kuma will continue to impress the fans no matter what he is driving.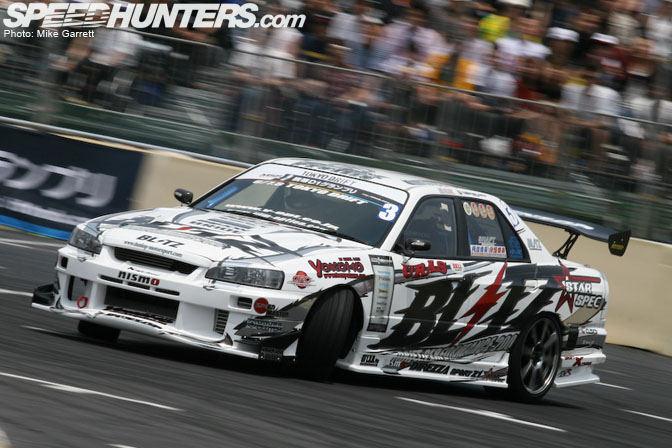 Ken Nomura ER34 Skyline Sedan
While on the subject of impressing fans, here is our final car. Nomuken is the most popular driver in D1 by far and has been driving his Bltiz ER34 Skyline sedan for many years. In its current state the car is making 580ps and the car's mechanicals are overseen by Abe-chan from Blitz. The car's constantly evolving exterior style is now dominated by a GT style aero kit from Nomuken's Fukuoka-based URAS parts shop. At Tokyo Auto Salon 2008, an R35 GT-R was debuted that will supposedly be Nomuken's new D1 car. We haven't heard much about that car since then so maybe it will be coming for 2009? If he does switch to the GT-R fans will have to get used to seeming him driving something other than his signature ER34.
-Mike Garrett