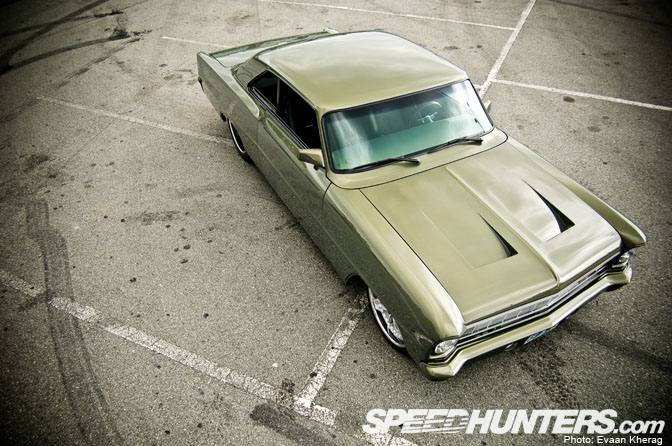 Ok let's take a little break from our July drifting fixation and look at a very different type of modified car: the Killer Customs built 1966 Pro Touring style Chevy Nova. Those of you who have been around American cars for the past few decades will know that the big trend in hot rods and street machines for many years has been the Pro Street style. The aim was to take a street car and make it look and perform like a full drag race machine; capable of outrageous 1/4 mile times, but still vaguely street legal. This was the de-facto standard for many, many years in the muscle car world. This all changed though when the Pro Touring style emerged a few years ago. Suddenly people wanted to make their classic American cars handle, accelerate and brake like modern performance machines. They wanted the style of a classic car but with the advantages of 40 years of technological development. A new style was born.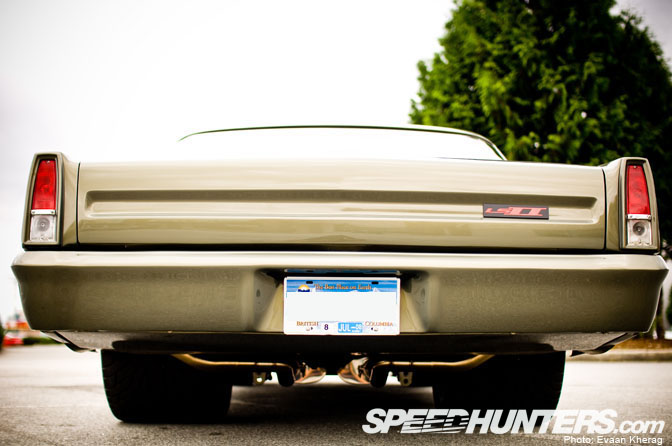 Like many aspects of American car culture, there are some machines in this style which are way over the top and others which manage to hit a nice sweet spot between an aggressive showmanship and classic refinement….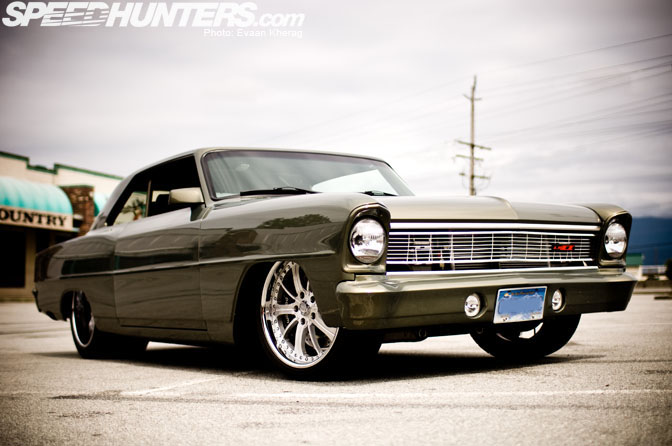 ….This 1966 Chevy Nova "LSII", built by west coast Canadian shop Killer Customs, is one such machine. This is an actual street driven car BTW, not an overdone SEMA special.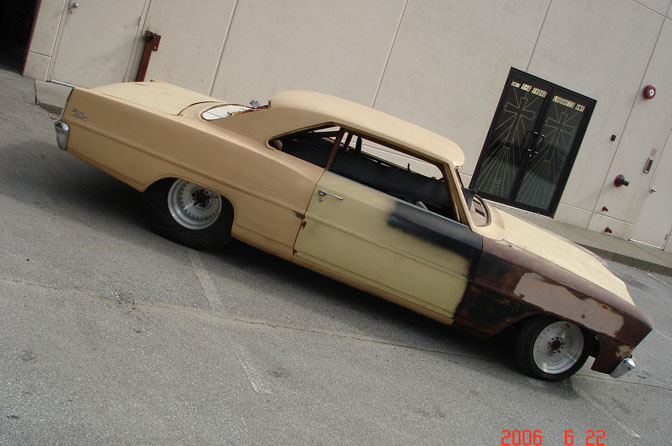 The car was a failed Pro Street build, found rotting away in a local barn. It had already been tubbed out with a full roll cage but otherwise was an empty, but solid shell. It was towed over to Killer to get a new lease of life.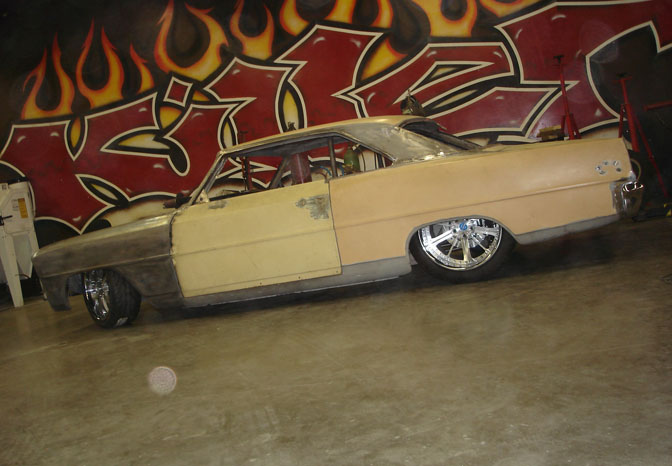 The first item of business was to mock the car up with its new wheel package. Our host at Killer Customs, Blake Foster explained to us how they always build the entire car around its wheels and stance. In the Killer Customs world Stance is Everything and all elements of
the car are designed around getting the car to sit just right.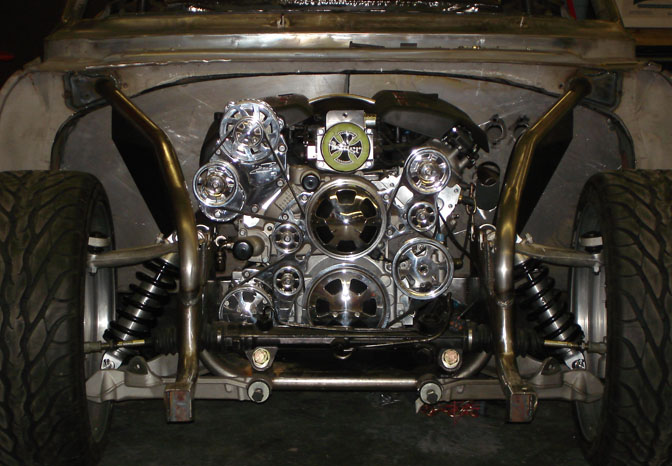 Blake and Co decided to keep the existing Pro Street style
narrowed rear chassis setup, but elected to custom fabricate a whole new front
clip. In order to get the full Pro Touring look and performance, these types of
re-engineered chassis setups are a must. The front suspension was lifted
straight from a Corvette C5 adding a massive improvement in handling and
agility. In this photo you can see the engine being tested for fit.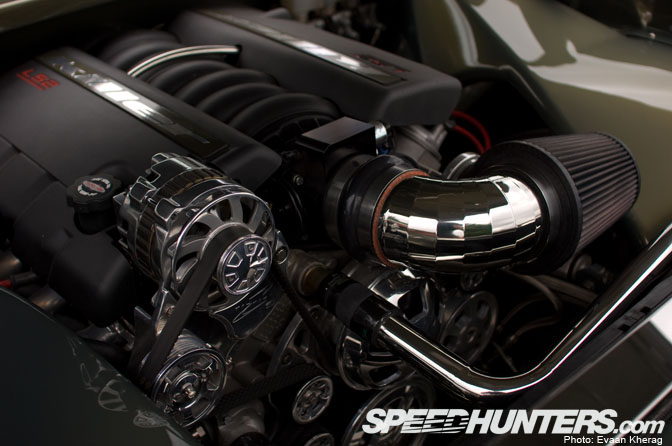 In keeping with true Pro Touring style the Nova is powered
by a modern power plant. It's a mildly tuned LS2 from Turnkey Engine Supply;
the same engine you'll find in a Corvette C6. Even in a mild state of tune it
makes a respectable 500 hp.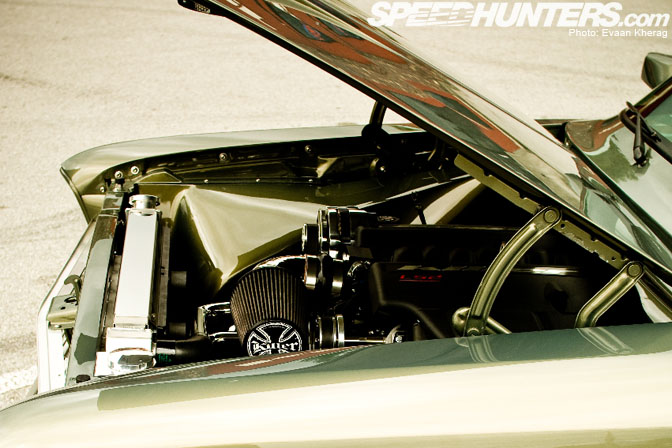 Here is where the modifications to the car get a bit heady. To achieve a more sports car like weight distribution and handling, the engine has been set back so it sits behind the front axle line. A whole new firewall had to be fabricated in order to squeeze the block into the engine bay.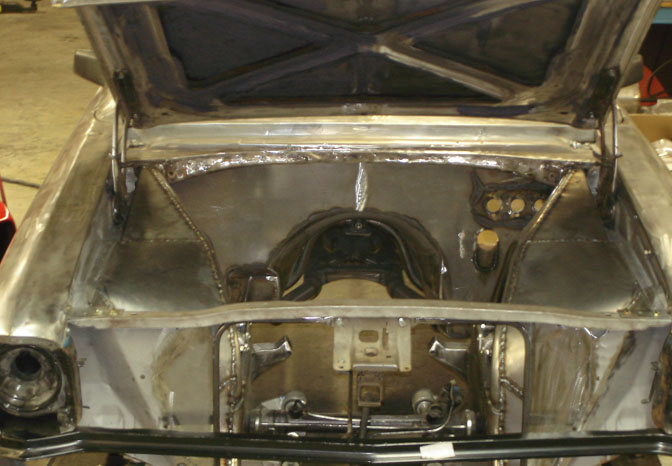 In this shot you can see the level of craftsmanship (craftspersonship?) needed for this level of custom building and engineering.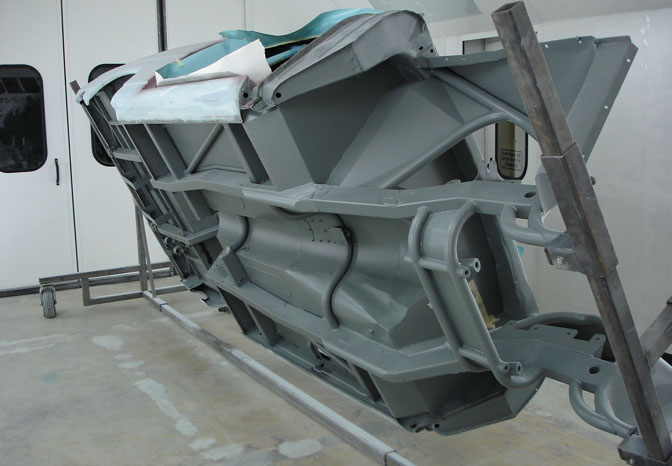 Check the custom chassis work in this shot of the car on the
rotisserie in the Killer Customs body shop…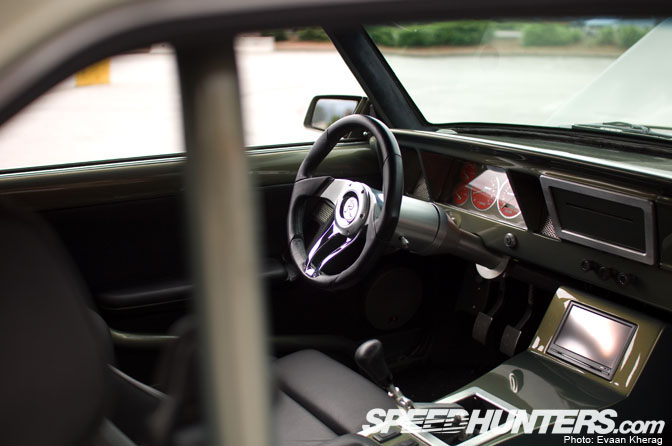 A beautiful shot of the controls!  The dash board is based on the original item but had to be pushed back into the car to clear the engine. The driving position has also been moved rearwards, converting the car from a 2+2 into a pure 2 seater.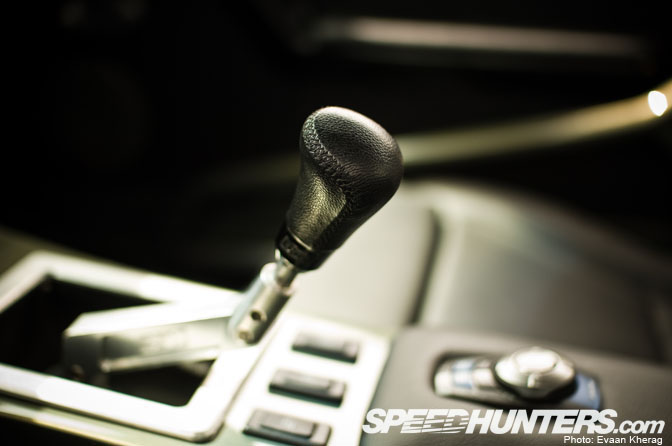 There ain't no slushbox here! This beautiful gear knob is connected to a Tremec T-56 six speed tranny.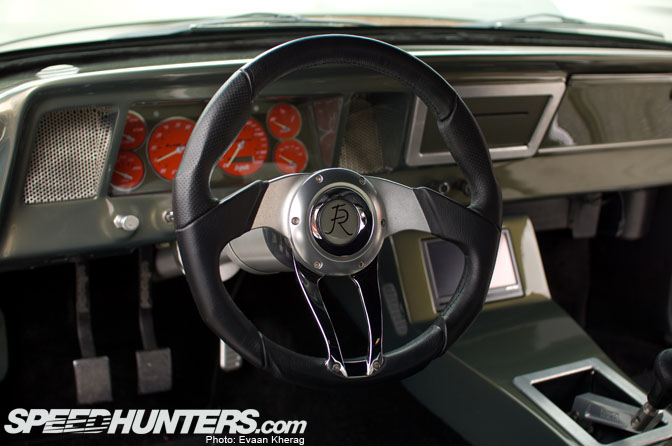 The steering wheel is courtesy of Flaming River. That's quite a name for a steering wheel company, huh? The mesh stainless steel plates function as air conditioning vents.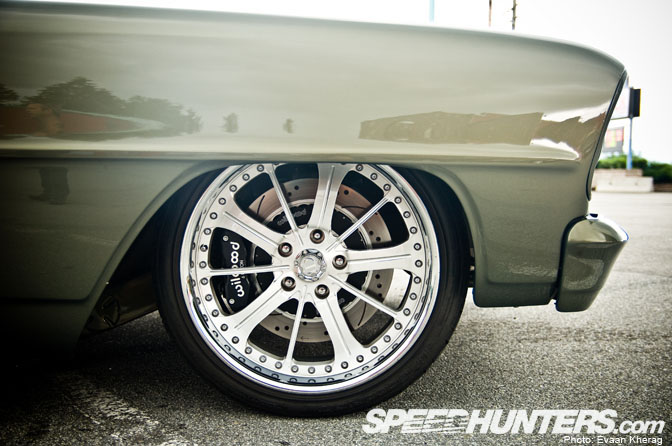 This photo nicely illustrates how low down the car is sitting. The brakes are six piston Wilwood calipers on 14 inch rotors. The wheels are by INTRO and measure 19 by 8.5. I'd be curious to see what this car would look like with 18s on it.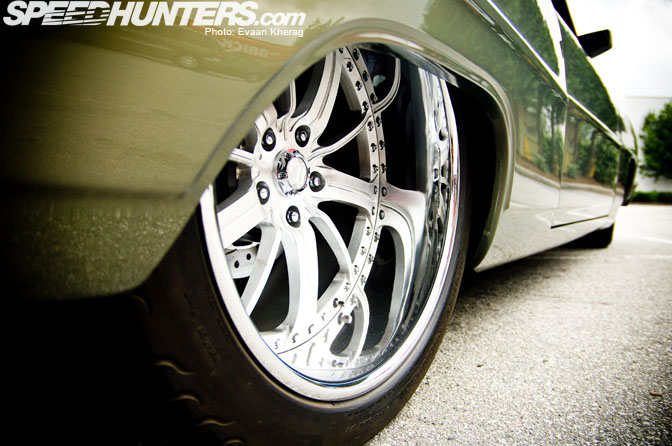 Got lip? The rear rims are whopping 20 by 15s and are bolted to an Art Morrison triagulated four-link rear
suspension setup.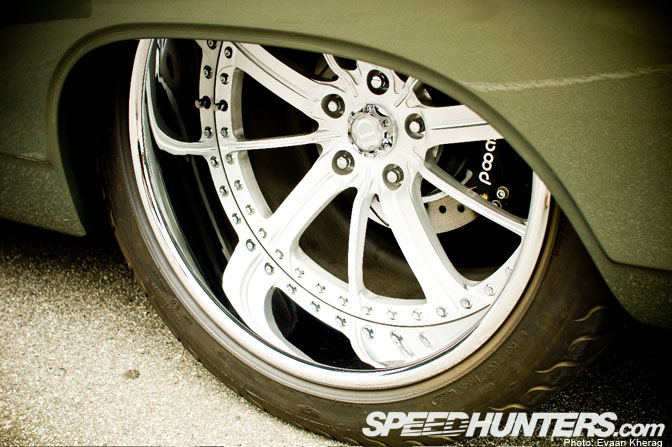 For Blake, 20 inch rims is really as large as you want
to go without an unacceptable loss of performance due to sprung mass. If anything, he is leaning
towards the use of smaller 19 and 18 inch rims on new Killer Customs projects.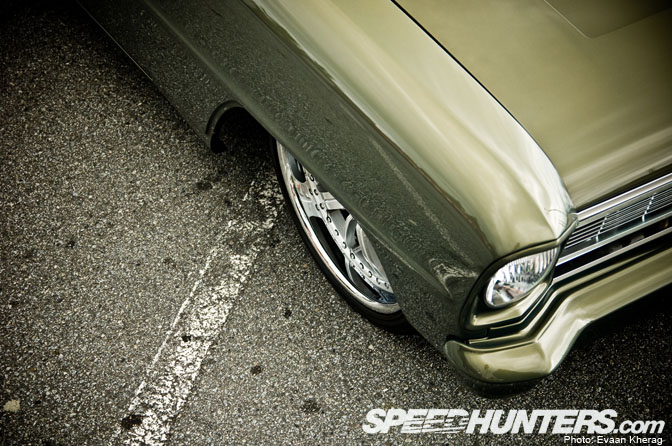 Nice and smooth. Blake told me that Killer Customs takes a lot of influence from what they consider to be a clean Euro inspired look. Various details on the body are smoothed out and blended into the original car shape. Thus the true essence of the car is maintained, but without an overload of trim detailing. This is a design philosophy that in some ways mirrors traditional 1950s customs.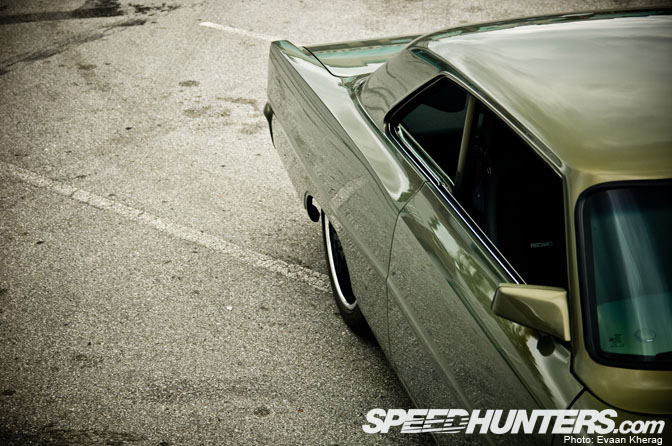 Killer Customs chopped the front of the roof ever so
slightly: 3/4 of an inch was removed to achieve more aggressive look. Also check
out how the windshield trim has been cleaned up and flush mounted. Nice
attention to detail, huh? The vent windows have been removed and the body has
been stripped of all chrome ornamentation. I like!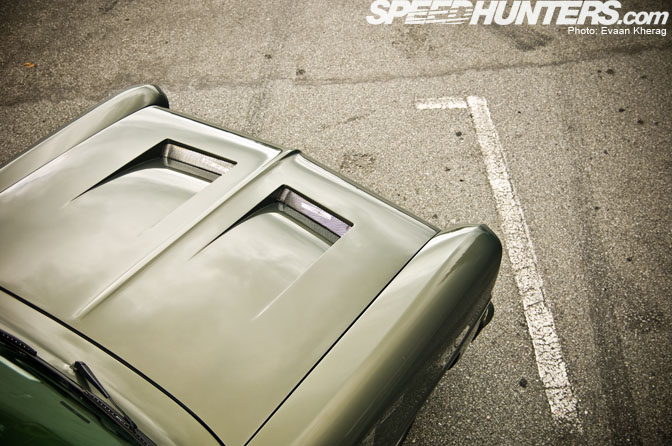 Custom air vents have been built into the all steel hood (bonnet if you are UKish). The stainless steel mesh details have been carried over from the interior of the car.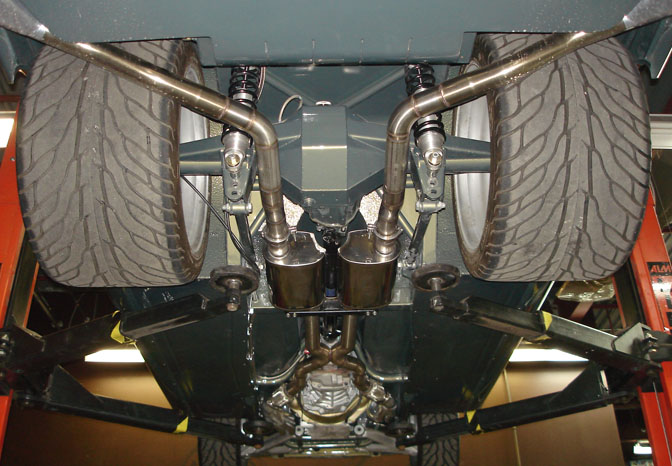 This shot allows us to fully appreciate the Art Morrison 4 link rear suspension setup. Look at those meats huh? In some ways this car still carries a slight Pro Street vibe just based on the size of the rear wheel/tire setup. Tires are Mickey Thompson 29×18.5×20 Street Radials.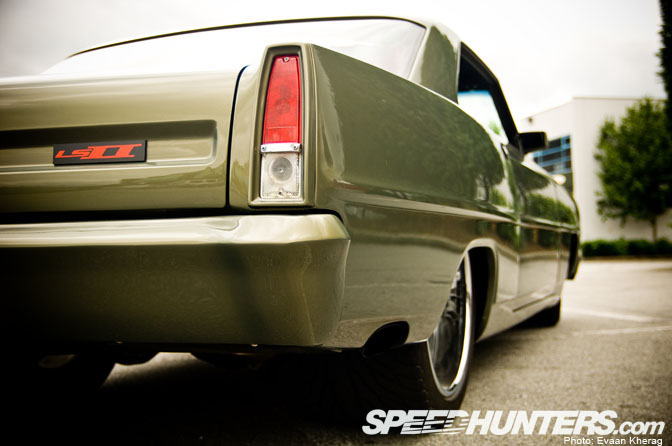 Check out the custom exhaust exits. Nice and sculptural. One other element I love about this machine is that it's definitely not a trailer queen. Quite the contrary, in fact!…. Since it was built a year ago, the owner has put several thousand miles on it.
I first spotted this car a year ago at a custom car show and have had it in my mind to hook up with Killer Customs ever since. I'm dreaming to one day to do a car project with these guys…. Perhaps a bit of a fantasy at this point in time but you gotta be able to dream to achieve things in life, right? I'm thinking to start out with one of those "new" 1967 mustang reproduction shells and then built up a remixed Trans Am track racer style car with them….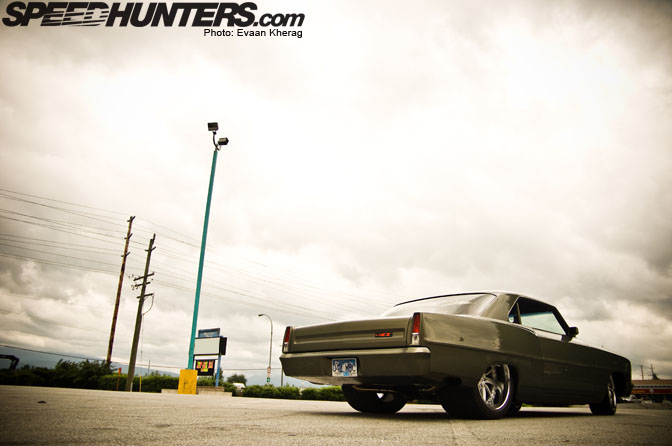 PS: I'd also like to put a big thanks out to my man, photographer Evaan Kheraj, for the snaps. We had a few scheduling problems putting this story together and he came on board at the last moment to do this shoot. Evaan's day job is shooting fashion photography in places like Paris, Budapest and New York and it's been pretty eye opening for me to see how a professional photographer of his caliber approaches shooting cars. Some pretty stunning shots, don't you think? It goes to show that if you have "the eye" it really can be applied to anything….
:Rod Chong