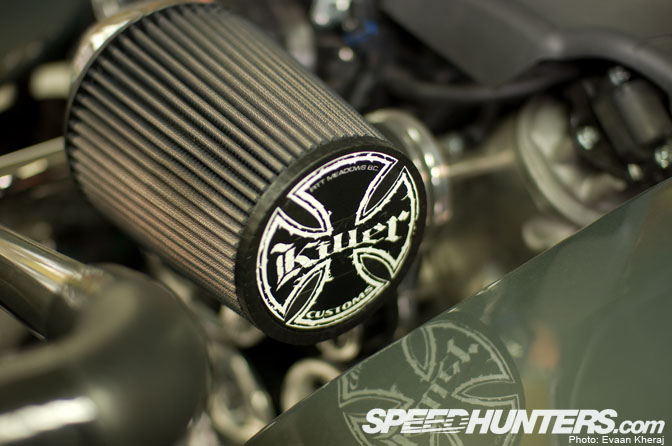 Although we normally tend to focus a bit more on the car cultures surrounding Japanese and European autos here at Speedhunters, there are a few of us on the team who know our way around the world of Customs, Hot Rodding and Muscle cars. I suppose I'm one of those people, as I track American car culture (well what I consider to be the cool aspects of it) just as much as  the European and Japanese based scenes. Perhaps it's the intoxicating sound of V8 American iron, or the fact that this scene is old enough to allow deep explorations of its cultural history, roots and traditions. Or am I just one of the most open-minded automotive fan-boys on the planet? I dunno.
What I can tell you is that I very much enjoy meeting people that devote their lives to building and driving cars – regardless of labels and categories. It's always a pleasure to check out their shops and in-progress builds; I enjoy chattingwith them about their car building methodologies. Last week myself and photographer extraordinaire Evaan Kheraj left our familiar territory of central Vancouver and drove out to the 'burbs – strange foreign places of dominated by strip malls, highways and large SUVs, MPVs and other acronym based vehicles. Although I come from a typical North American middle class suburban upbringing, I do rarely venture out that far a field these days…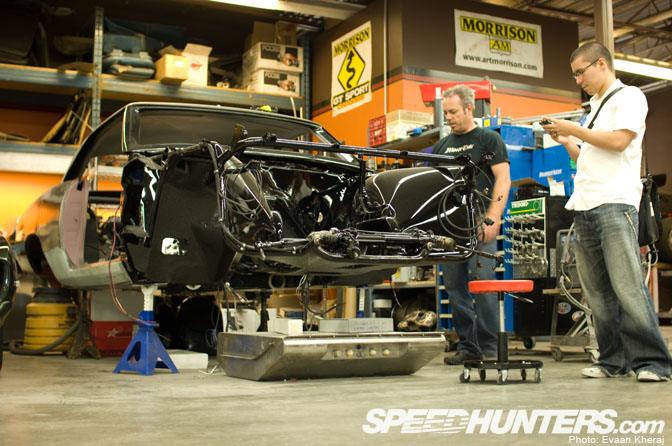 So why this journey into the unknown? A visit to Pro Touring specialist shop Killer Customs – we had an appointment to meet up with the company's co-founder, Blake Foster.
That's Blake on the left showing me (I type my notes on my crackberry) one of their main long-term projects: a 1966 Pontiac Beaumont called "Plan B". It features a Morrison Max G Chassis fully integrated into a hidden roll cage making the car basically a full tube chassis machine. It's going to have a pretty crazy engine bolted in: a twin turbo 502 ci big block that will develop in the vicinity of 1700bhp. Madness! They've had to source a straight cut dog box transmission to handle this kind of power and engineer a traction control system just to keep it pointing the right way down the road.
Blake tells me the owner is going to drive the s*** out of this car once its finished. He'll most likely need to keep it parked up during Vancouver's rainy seasons though!
Are you guys interested in Speedhunters tracking this build to completion? If so we'll keep visiting Killer to check progress on the car.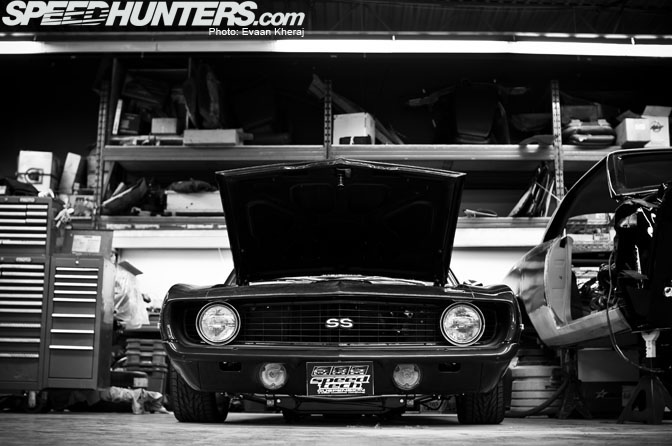 Parked next to the Beaumont is this rather low slung Camaro. They use this car as a test bed for their aftermarket product line: Speed Tech.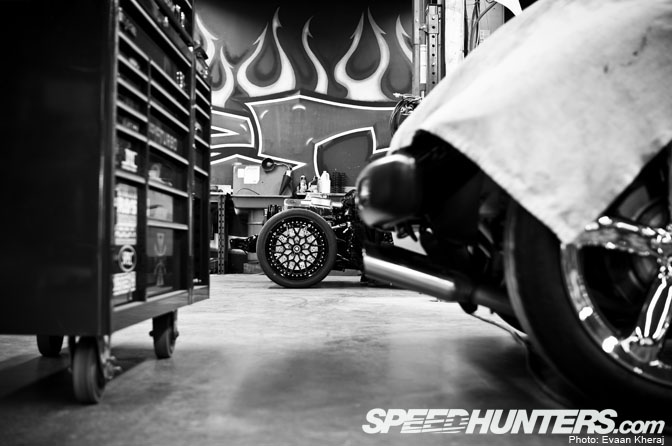 Looking over to the other side of the sizable 10,000 square foot shop I spotted this very cool WIP (work in progress, for those who never took accounting or business classes) machine.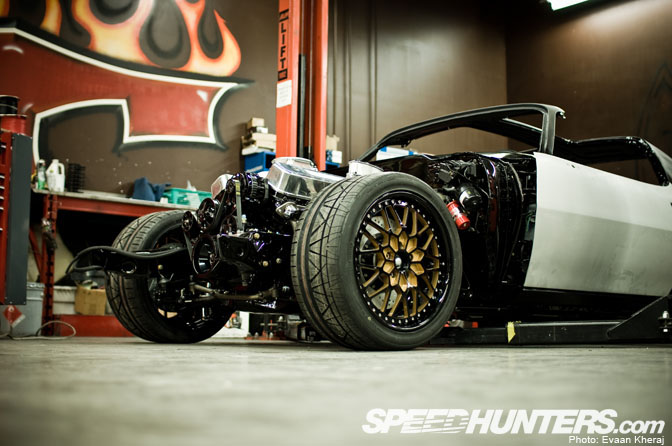 Mmmmm….. This is going to be one fine ride…. It's a 1978 Pro Touring style Pontiac Firebird. I have to say that I love the larger disco era Pro Touring muscle cars! Late 60s Pro Touring cars are a dime a dozen at this stage so it's nice to see the newer less obvious machines getting restored and re-engineered, especially when the wheel choice isn't too OTT (over the top, for those who don't understand internet acronyms).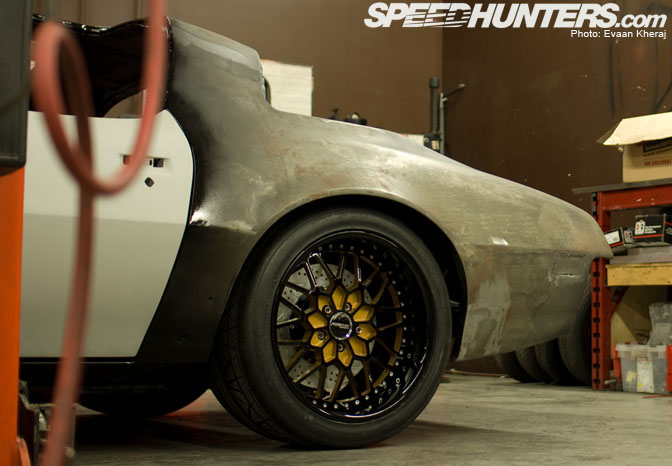 The rims are Forgeline TAs and have specifically been designed to mimic the spoke pattern on the late 70s era Trans Am Firebirds. Rears are 19×12 wrapped by 345 width tires.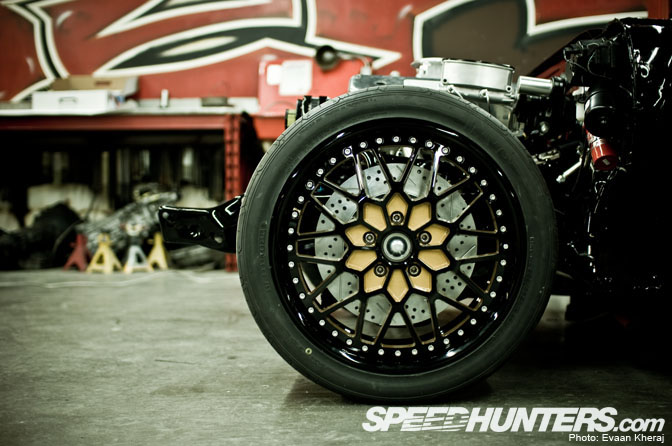 Fronts are 19×10 with a low profile 285 tire. I think the 19s are going to look quite good on the car. We'll find out next time we visit Killer.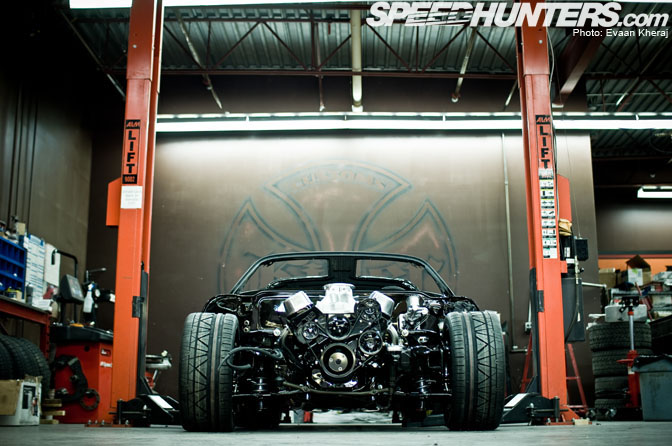 Love this shot…. Check the Killer Customs logo painted on the wall.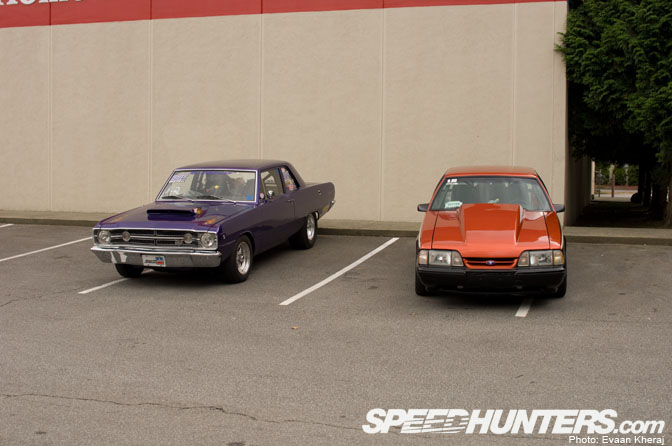 After wiping up my drool off the Firebird, we went out to the back of the facility to get to the body shop area, where these two customer cars were waiting for us.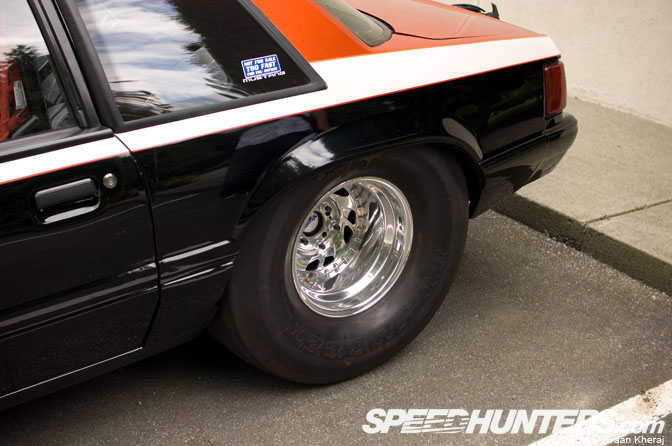 The rear wheels on this car are mad!…. the largest street legal tires that money can buy apparently. As Blake explained the cars specs to me (its an 8ish second car) I remarked how I've never actually been in a car with that kind of acceleration potential…..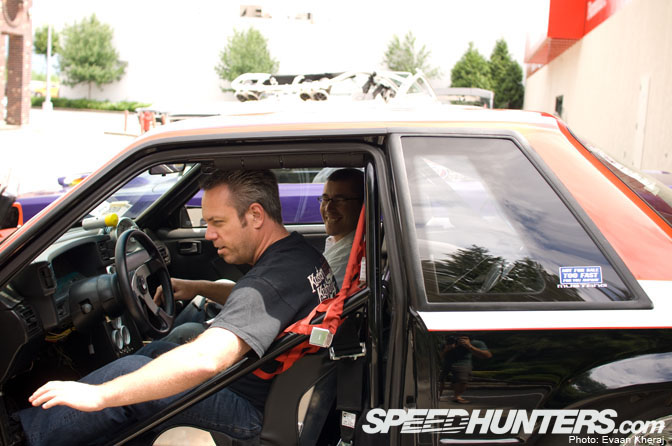 …so Blake decided we had to change that situation immediately, and fired the car right up. It's quite something else to be in the interior of such a harshly tuned 800 bhp, supercharged car. The whole things shakes and spurts like its about the tear itself apart at any given moment. A pure expression of uncompromised aggression.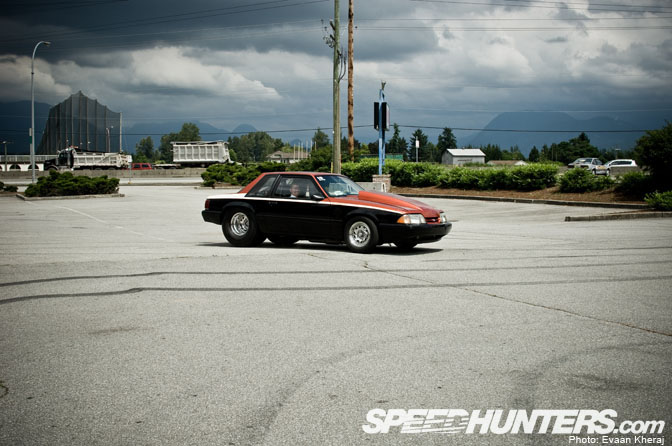 We did a burnout and full drag launch with the car in the strip mall parking lot; much to the chagrin of the other local shop owners I'm sure. Can you see my smile?
I have to say in all my life I have never experienced acceleration like this hahaha…..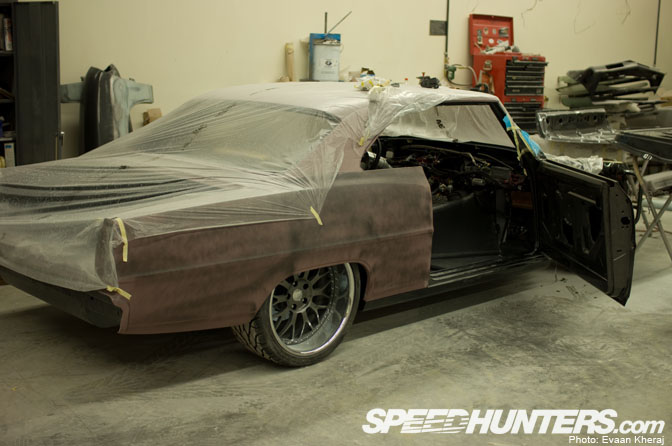 After my heart and breathing rates returned back to normal, we checked out the Killer Customs body shop area and spotted this 66 Chevy II in it's final stage of pre-paint prep. This car will have a bit of a different flavour to the LSII Nova we featured last week and will be visually much closer to a stock appearing car. I think I'm going to like this one a lot as it will have a clean, classic style; all the original chrome will be maintained but underneath it will sport the latest thinking and technology.
The Chevy II features an Art Morrison Max G Chassis mated to Corvette C6 front suspension and a unique backbone tube set-up similar to a Lotus Elan to add extra stiffness in lieu of a roll cage.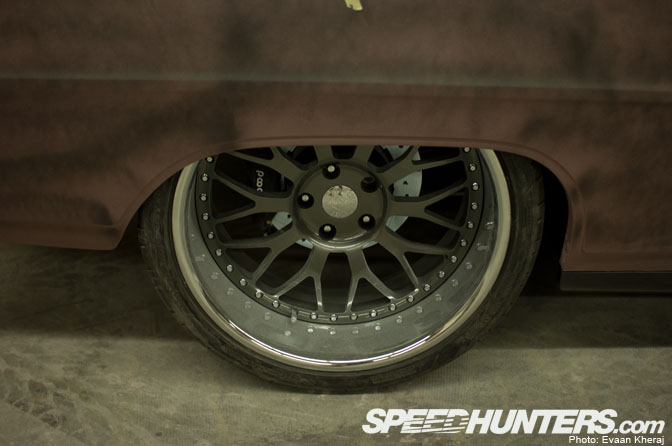 It sports iForged 20 by 10 wheels in the rear (nice tight fit on this car) and 19 by 8.5 on the front. What do you think of the rim choice on this car? You like or is it breaking too many rules?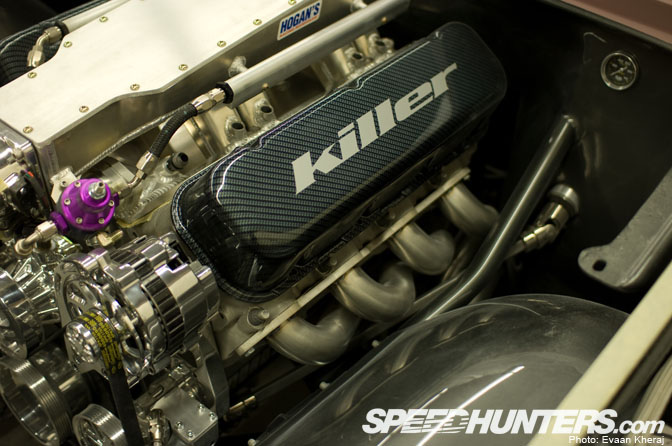 The crate engine is a bit of a monster fuel injected 540 cubic inch big block which shows 850 hp on the dyno. Pretty amazing numbers considering it's naturally aspirated.
I'm looking forward to seeing this car come together….. I have high hopes its going to be a perfect blend of the old and the new.
Are you interested in seeing this car get taken to completion?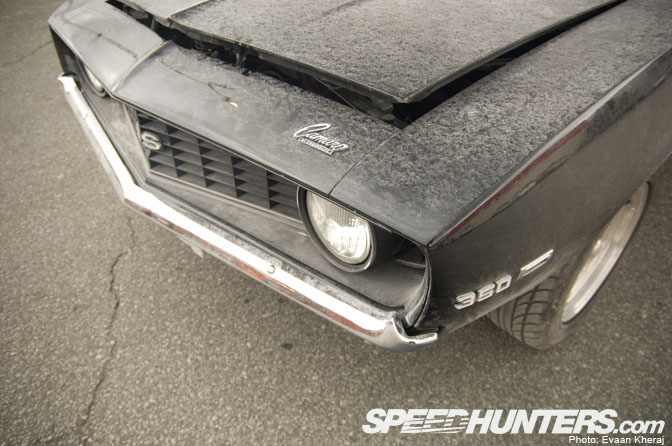 As we were leaving Killer we noticed this grubby Camaro sitting forlornly in the parking lot. Jeez these guys have extra muscle cars to spare huh? Wonder what they have in store for this car..?
Tx to Evaan for the snaps and Blake for being such a good host!
:Rod Chong