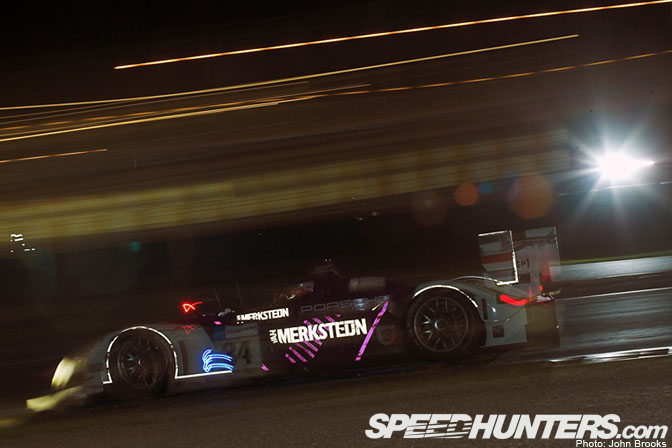 Thursday
Thursday night was eventful at La Sarthe. Red flags and an extended session made the first part of final qualifying exciting. As mid-night approached, most of the teams went for race set ups, but it gave the opportunity for the Charouz Lola Aston Martin move up the grid while the big boys were not watching.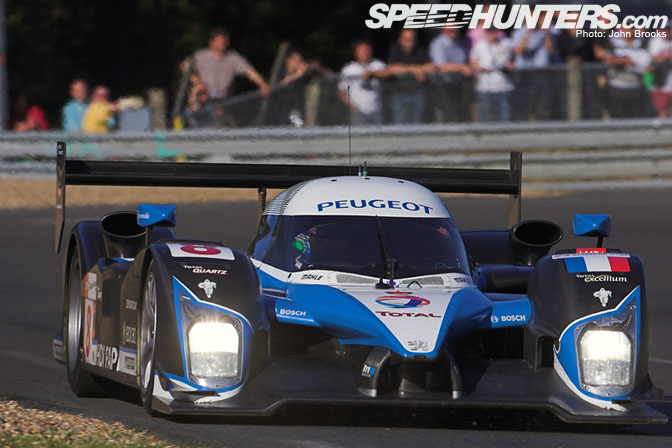 Peuegot lock the front of the grid with the No 8 Pedro Lany, Alex Wurz and Stephane Sarrazin car  taking pole with an amazing 3.18.513 The pace of the Peugeots has shocked everyone. Reliability may still be an issue (and with accidents, the lack of spare parts), but Peugeot were very dominant in qualifying.
The Lead Audi of Alan McNish (yeah!), Dindo Capello and Tom Kristensen is in fourth, SIX seconds behind the lead Peugeot. The aforementioned Charouz Aston (below) in 5th is an amazing peformance. Again, reliability could be the issue.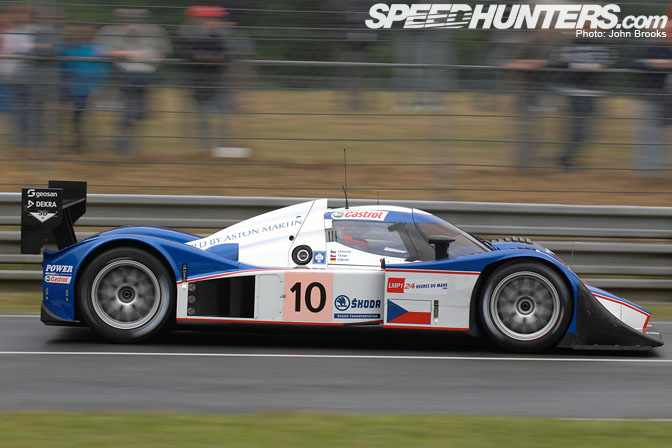 Dome also did well in 8th, just behind the third Audi.
In LMP2, its a Porsche lock-out with the Dutch team (very top image) beating the Danish Team Essex team. The Caparo sponsored Zytek is in 3rd.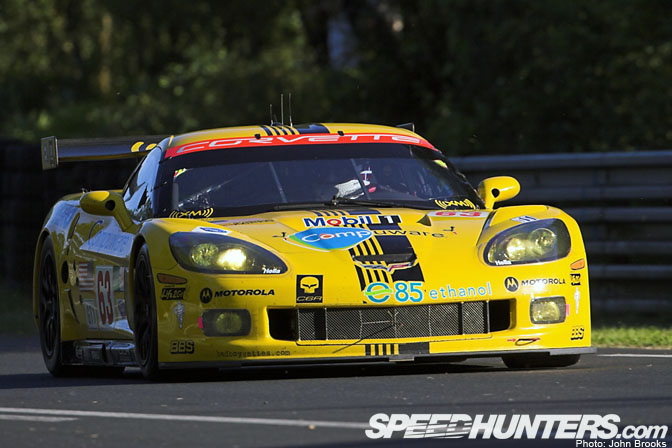 GT1 was a good battle with the Corvette in 1st and 3rd. However, what was a surprise was the fantastic performance of Christophe Bouchut (who should be in a works team!) who managed to get the ageing Saleen into 2nd. A real ahievement. The Gulf Astons were 4th and 5th.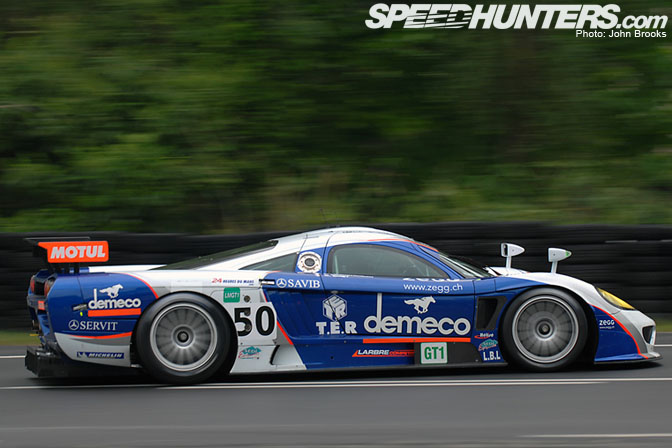 Finally, in GT2, the IMSA Performance Porsche took class Pole, after swapping the position a few times with the Felbermayr machine. The lead Ferrari was the Virgo Motorsport car.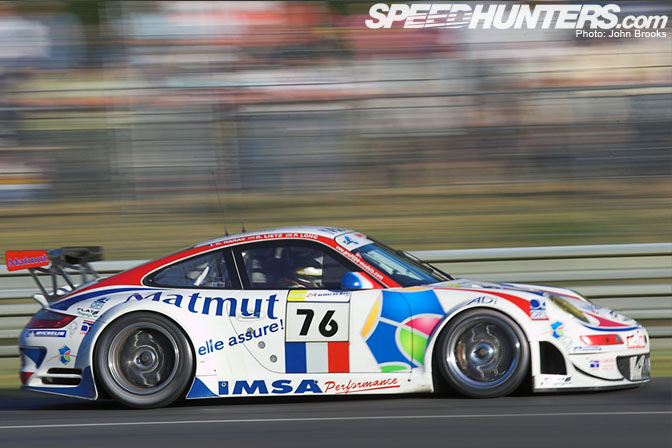 Full qualification times are available HERE
Friday
Friday is a quiet day for the teams and drivers, unless you are Creation, Kruse or JMB Ferrari. As Speedhunters will know, the Kruse Mazda suffered a massive accident on Wednesday and the car is currently being rebuilt. According to DailySportscar, the car should be complete this evening. Quite an achievement really.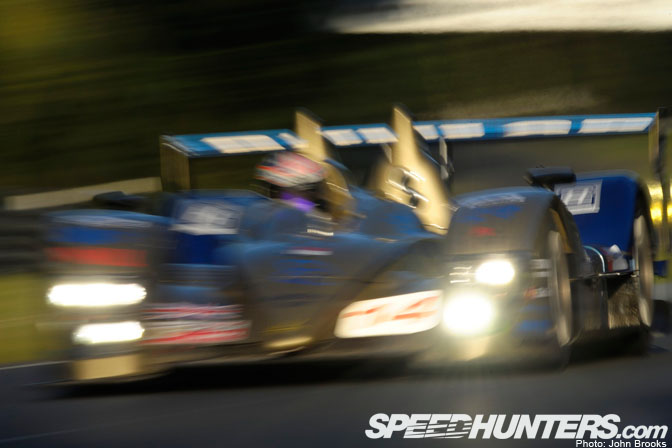 Stuart Hall in the Creation AIM suffered a big accident last night. Hall went to Hospital, but is OK. He still has to be passed fit to race. The car was heavily damaged and the  team is working into the night. DailySportcar.com reports, they should be finished early Saturday morning. Not the best preperation for a 24 hr race, later that day.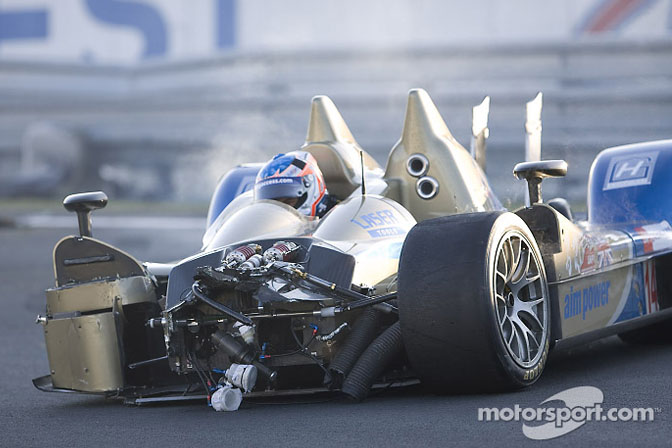 This image from Motorsport.com. They have additional imagesof the damaged Creation here
The GT2 JMB Ferrari also suffered a big accident and needs a comprehensive rebuild. They are hopeful to make the start. Photo Sequence of the crash, available here at Endurance-Info.com
Finally, Le Mans wouldnt be Le Mans without the Hawaiian Tropic girls in attendance. Apparently there are two cars in the picture, the Radical and a C2 Spice from the 80's.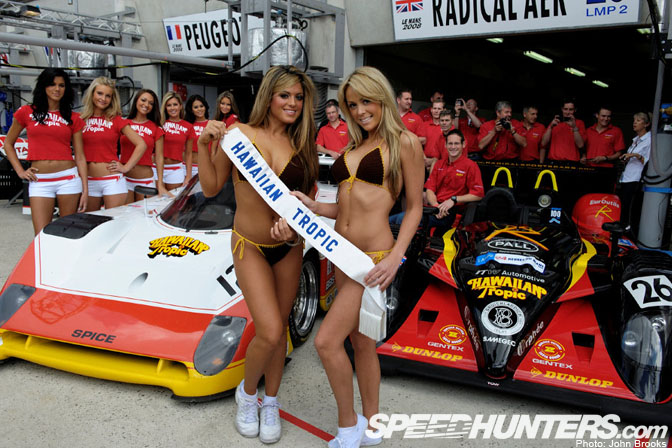 So, there you have it, your fully prepared for the 24 heures du Mans. The race starts at 3pm BST on Saturday.
TV coverage in Europe is on Eurosport, and North America on Speed TV as well as audio online at Radio Le Mans (who have pluigged Speedhunters.com a couple of times!).Don't forget to have the Speedhuntes Spotters Guide by your side