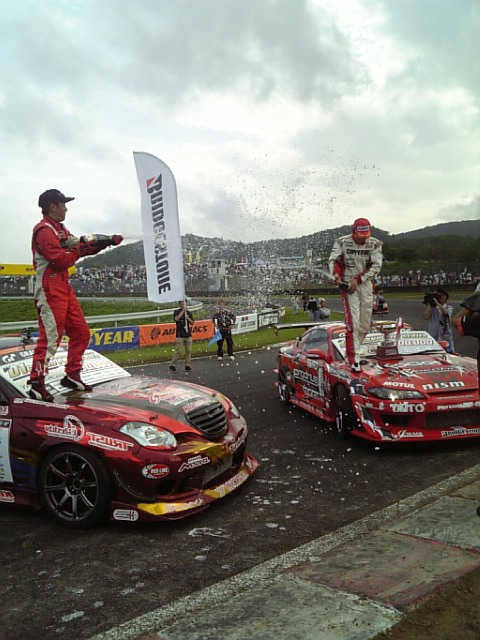 We should have some more in depth coverage up soon, but for now I thought you guys might be interested in hearing the results from this weekend's D1GP round four at Okayama International Circuit.
1. Youichi Imamura – S15 Silvia
2. Tomokazu Hirota- JZX110 Verossa
3. Tetusya Hibino – AE86 Levin
4. Daigo Saito – JZX100 Chaser
5. Masao Suenaga – FD3S RX7
6. Ken Nomura- ER34 Skyline
7. Akinori Utsumi – S13 One-via
8. Yoshinori Koguchi- RPS13 180SX
9. Kazuhiro Tanaka- GDB Impreza
10. Takahiro Ueno- JZZ30 Soarer
Looks like Youichi is continuing his hot streak after his win at the Odaiba exhibition match. His new S15 seems to be suiting him well. Just as impressive is that Hirota took home second place in his JZX110 Verossa. Congrats to all!
D1GP (Pic from Hirota's blog)
-Mike Garrett