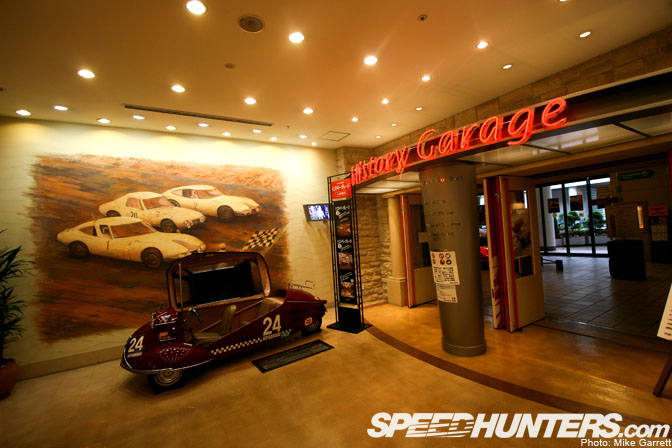 I already did a post about Toyota's Megaweb in Tokyo, but I had to save the best part of Megaweb for last. While Megaweb itself has a lot of cool stuff to see, the History Garage is even better. Megaweb has all the new cars and high tech things, but the History Garage is where you will find all the cool classic cars and vintage racing machines. It's the car geek's section of Megaweb, if you will.
If you have never been, it is a MUST visit for any trip to Tokyo. I have been there a few times and it's always a pleasure to go. The displays are rotated often so there is a good chance of seeing different stuff on repeat visits. The History Garage is actually a little hard to find if you don't know where to look. It's located not inside Megaweb, but next door in the Venus Fort shopping mall so you have to walk a little to get to it. Once you get there you will be greeted by a restored san-rin sha greeting you at the door.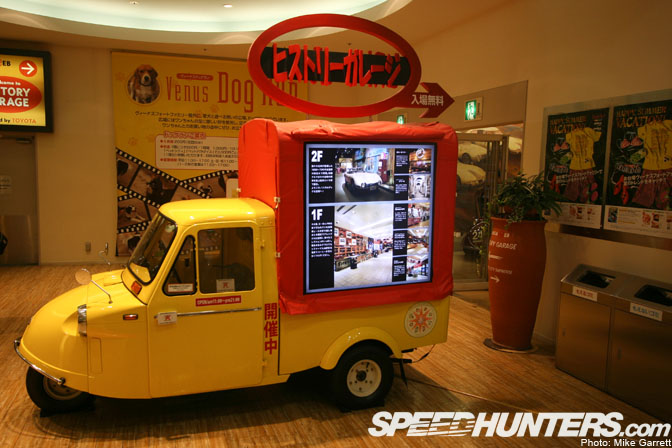 Cars like this three-wheeled pickup were some of the first vehicles to catch on in post-war Japan. I recently watched a Japanese TV drama set in the '50s where the characters are trying to win one of these in a contest. Not as sexy as a 2000GT, but very important nonetheless. This is like the original version of the kei trucks that I see EVERYWHERE in the Japanese countryside.
One of the cool things about the History Garage is that although it's owned by Toyota, you will find much more than just Toyota related displays inside. It's all about celebrating the love of cars and not just promoting the company. A very cool philosophy if I do say so myself.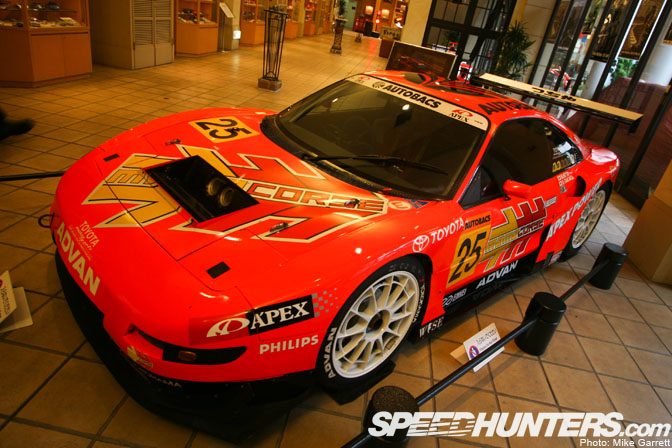 Once you step inside through the first floor entrance (free admission of course), you will find the Momo Corse APEX SW20 MR2 JGTC Car from 1999. This car dominated the series and was the GT300 class champion that year. Check out the center lock versions the classic spiderweb-like Enkei NT03 wheels.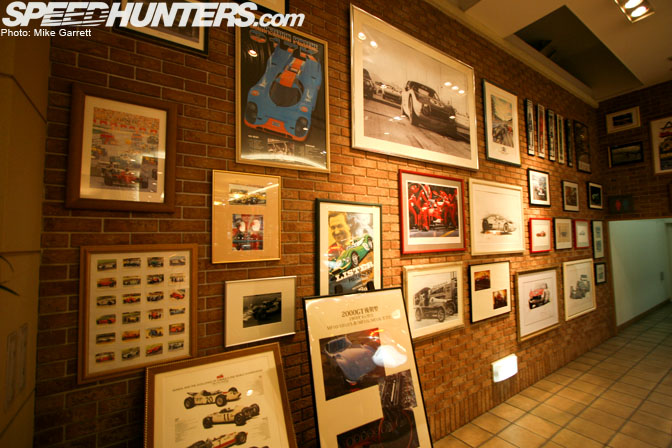 The walls of the first floor are filled with a very impressive collection of motorsports posters and other car artwork. Check out the vintage promo materials for the Toyota 2000GT and of course the timeless poster of the Gulf Porsche 917.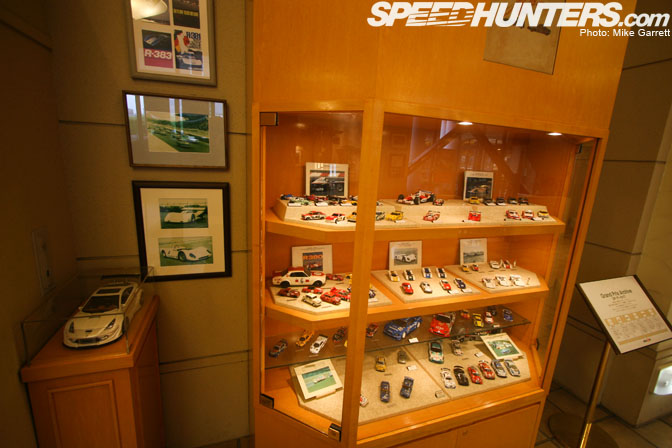 There is also a massive collection of diecast race cars of all types. Definitely one of the biggest collections I have seen.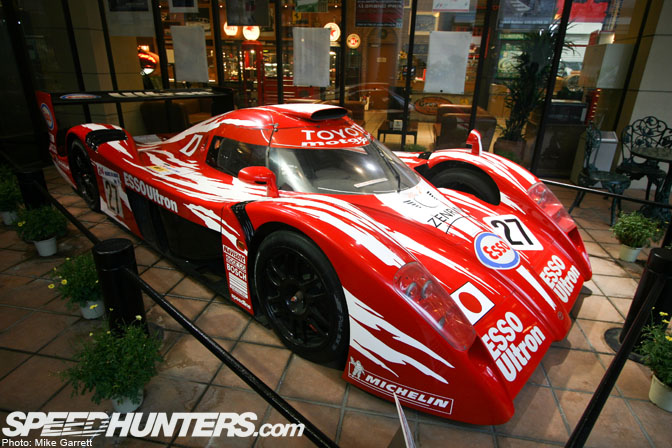 Outside in the patio area there are more race cars on display including the Toyota GTone driven by Keiichi Tsuchiya at Le Mans. I wish Toyota would get involved with sports car racing again, but Japanese car makers seem to have abandoned that venture after the '90s.
Rally is another sport that Toyota is sadly no longer involved with.This Celica GT-Four rally car is still sporting the battle damage from the off road action it saw back then.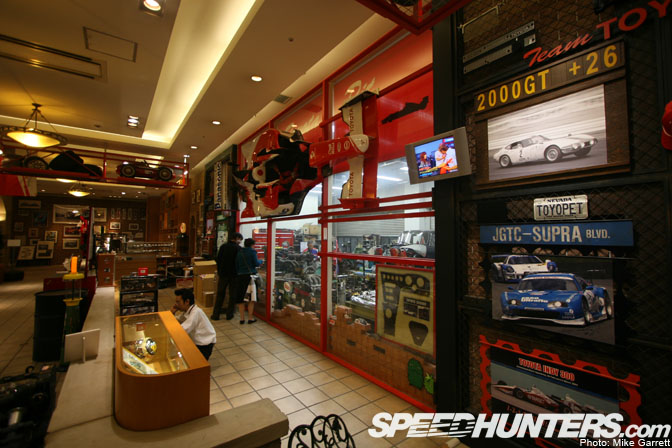 One of the coolest parts of the History Garage is the area where you can view the restoration pit. This is where all the cars are maintained and restored by a full time staff of technicians.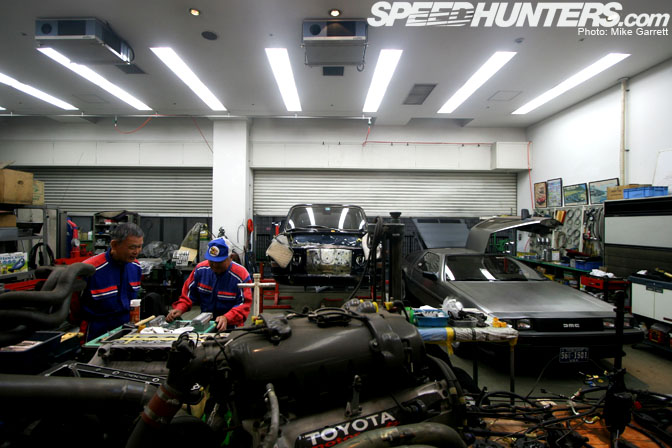 Here is the view into the restoration pit. Rare parts galore. I heard the mechanics were overhauling the flux capacitor on that Delorean over there. I wonder if it's hard to get work done when there is huge glass window where the public can stare at you as you work? These guys must be pretty good as they didn't even notice me taking this photo.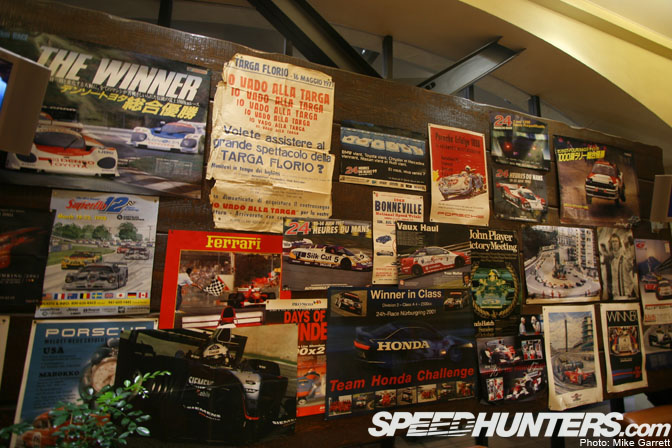 Here are more cool vintage racing posters. There is actually a cafe on the first floor of the History Garage that was created by former F1 driver Alessandro Nannini. I didn't try anything but it looked good. Maybe next time?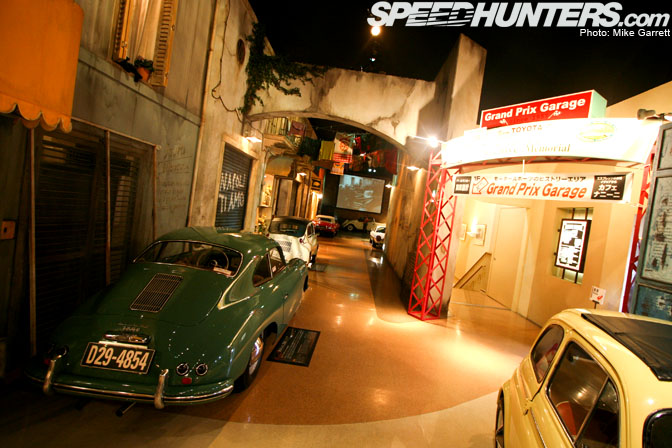 A trip upstairs will take you to the History Car Collection where there are numerous fully restored classics on display from all parts of the globe. I really like how the interior is done up to resemble classic street scenes. It really helps to bring the cars to life and adds to the atmosphere.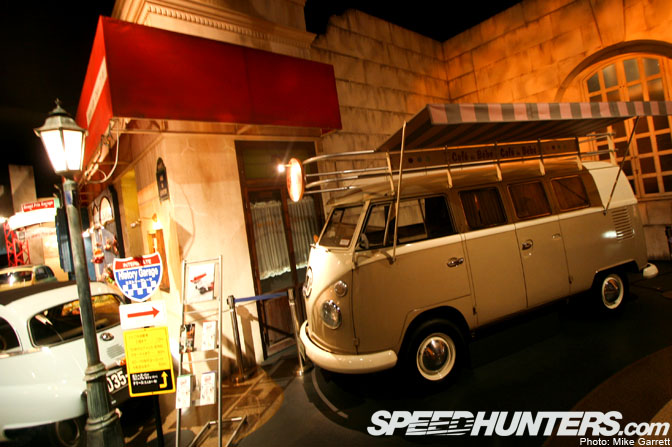 I was digging this VW Transporter complete with roof rack and canopy.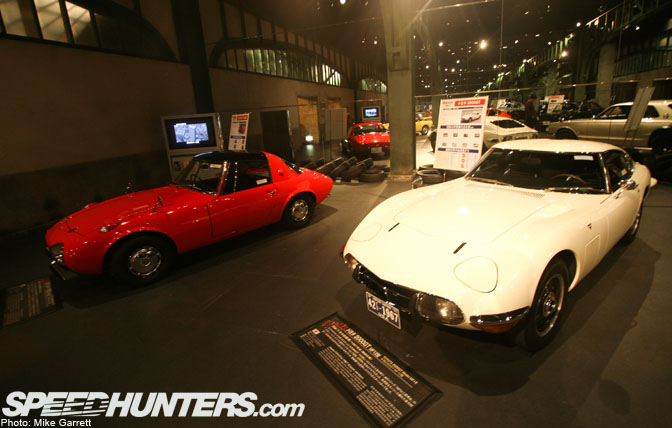 There is a large room full of classic Japanese sports cars like the Toyota 2000GT and Toyota Sports 800 pictured above. As expected, all the cars are fully restored to showroom status. My only complaint about the display is that it's dark in there! I guess it looks dramatic, but a little more lighting would be much appreciated!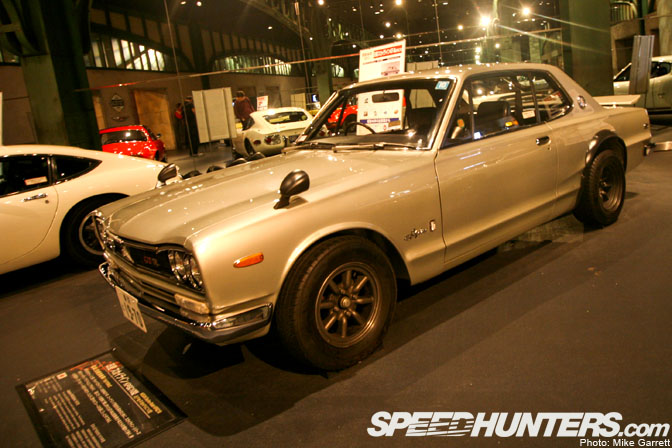 No showroom of classic Japanese sports cars would be complete without the KPGC10 Skyline GT-R…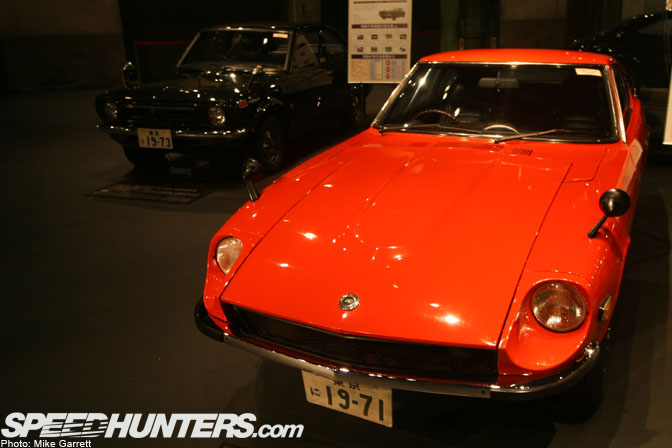 …or its S20 powered cousin, the Fairlady Z432 in its signature orange paint.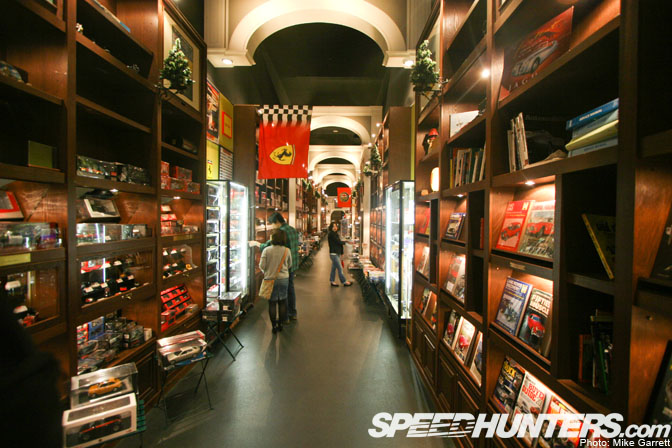 There is also a huge diecast car and bookstore called Grease where you have to be very careful not to spend all your money. Look at all that cool stuff!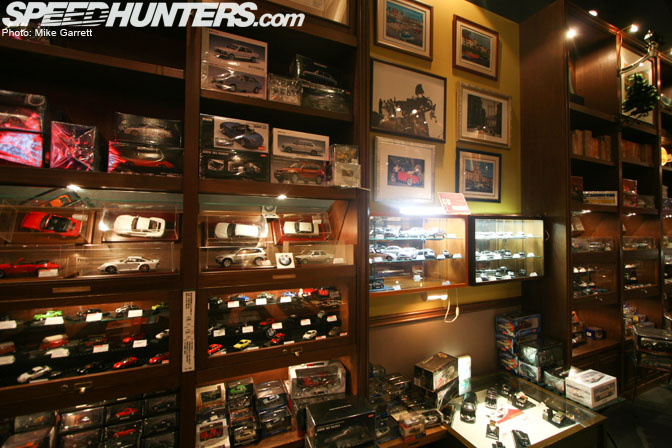 The store claims to have over 3000 different diecast cars on sale and after looking at these photos, its hard not to believe them.
This Mustang convertible is one of several American classics on display. The others include a '59 Caddy, a '59 Impala and '63 Corvette. Classic American movies and commercials playing on big screens also help to bring the "good old days" vibe.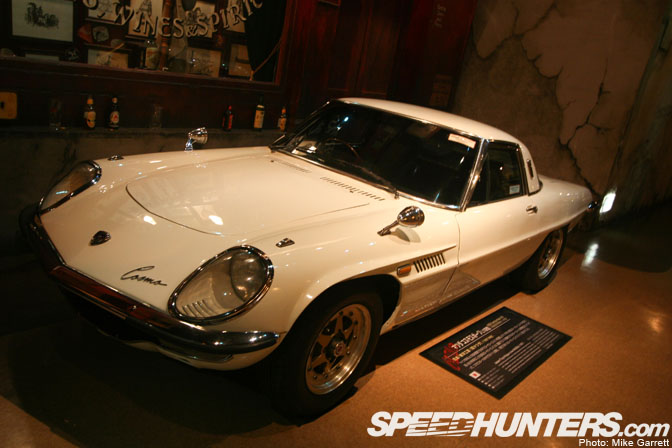 Kind of strange to finish a visit to TOYOTA's History Garage with this, but here's a shot of the Mazda Cosmo Sports with its Alfa Romeo meets Ford Thunderbird styling. This has to be one of the most beautiful Japanese cars ever made. Don't you agree?
Next time you are in Tokyo, make sure you stop by and have a look at the History Garage for yourself.
-Mike Garrett