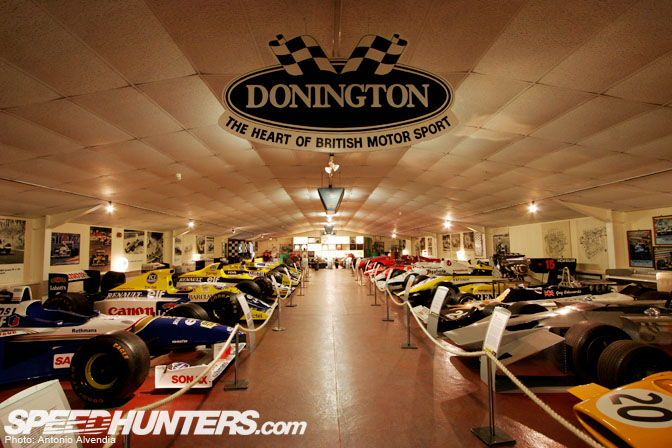 If you read my previous story on my experience visiting the legendary Donington Park Grand Prix Collection, and being enamored mostly by the vintage F1 and Grand Prix wheels, then you already know I have some mental issues.
However, there were soooo many amazing things to look at in the museum, we couldn't just stop it there; we thought it would be only fitting to show you some scenes from the halls at Donington, so you could get a scope of how massive a collection this was. I mean, some of these cars are priceless pieces of motorsports history. Priceless!
Okay, now back to my story… as I'm walking slowly through the massive halls of this museum
alone with my camera, I was amazed by all the priceless artifacts and
bits of British racing memorabilia in the museum… plaques and
trophies and awards and vintage advertisements and race posters and
helmets and driving suits and of course… the cars.
The halls of
the Donington Collection smelled like cars – old fuel mixed in with the
smell of old tires. Since they were conducting Time Attack practice on
the track while I was at the museum, I could hear the sound of cars
whizzing by as I wandered through the museum, and the wind outside
occasionally whistled by the windows for an eerie effect as I walked
through the dark hallways filled with historic race cars, all by
myself. It was a crazy experience!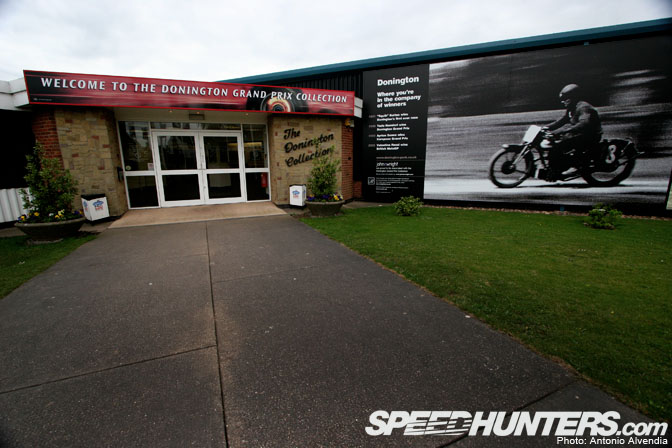 Outside and inside the museum, there were so many old photographs and huge printed wall pieces all over the place. They looked soooo cool! All the old photographs really had me amazed, wondering what it
would be like to walk on the paddock to shoot photos of the cars back
in those days – back then, it was all about manual focus and film.
Every shot had to count! Much respect to all those old school
motorsports photographers!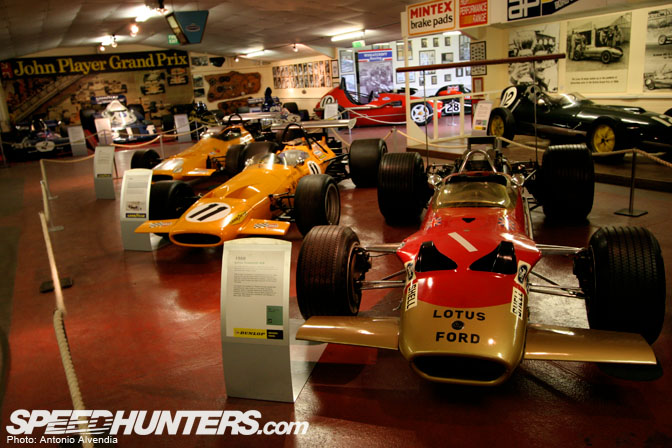 You've got to love the classic racing liveries of the Lotus/Ford Grand Prix car (and look at that super tall wing! Look closely at the photo!) and the orange McLarens. Sooo cool! The first thing I noticed though… "hey, look guys, this Lotus/Ford has stretched tires!"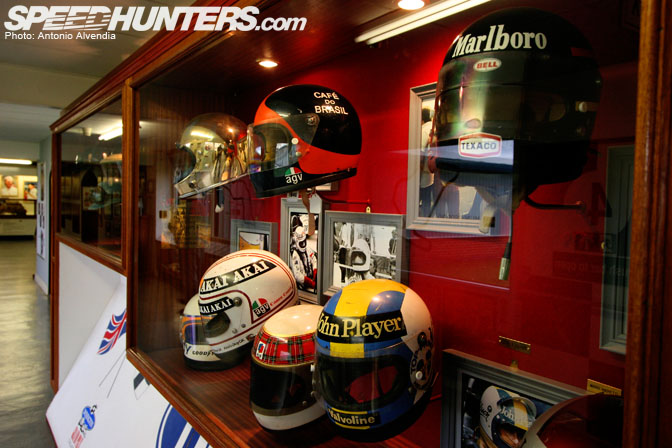 The vintage F1 helmet display case was soooo cool! I want to get my own helmet done up in a vintage looking scheme, maybe similar to something like this. I love it.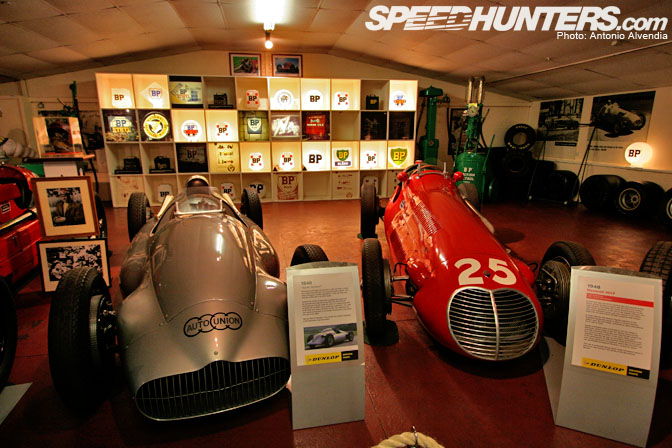 Before there was Audi, there was Auto Union. Cool, huh?
Look in the background – I absolutely loved this particular display!!! Look at the old lit up BP petrol station lights – I think these were the things that sat above the vintage gas pumps? Awesome, I love it. What an incredible display!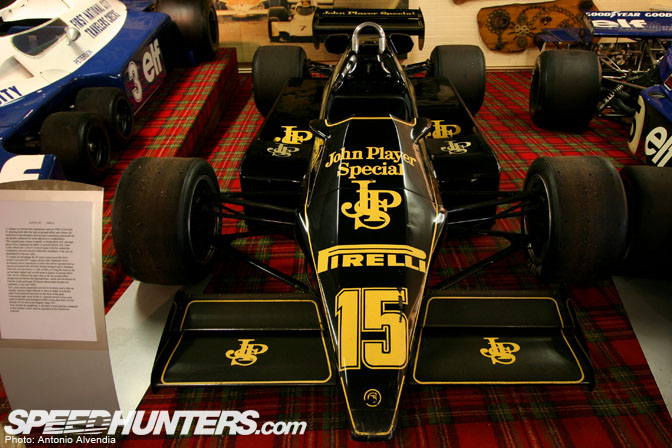 The OG player. John Player Special to be exact. So much style, and heritage to boot. This is Nigel Mansell's Lotus 92, which is privately owned, and still runs at vintage motoring festivals like Goodwood. Awesome.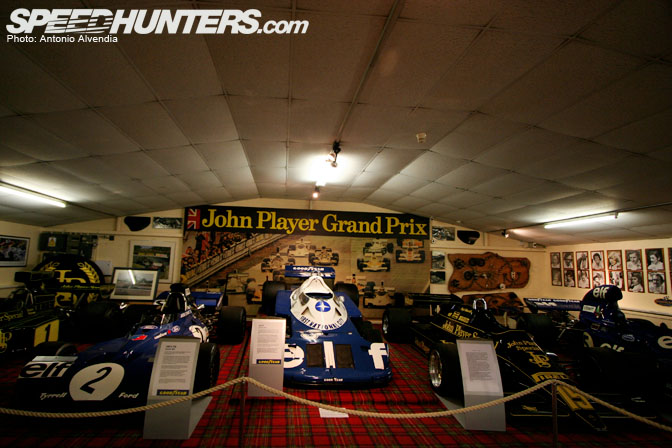 Seriously, I love the John Player GP graphics. They're so vintage and classy looking. Awesome.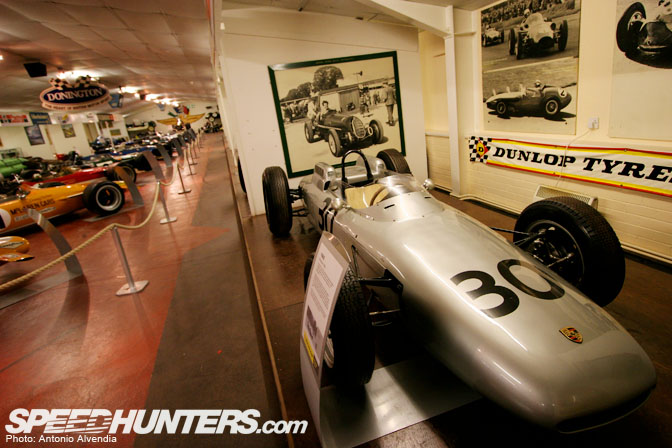 Very rare! This Porsche 604 competed in Formula One in 1962. This car is super rare, because Porsche only competed in F1 for a few years. This is one of the cars from those years. Look at that classic nose design! Looks kind of like a handheld vaccuum! An expensive handheld vaccuum.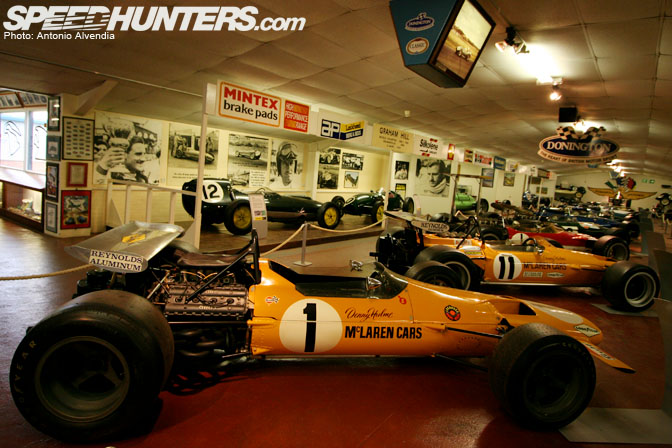 Vintage McLarens. Super cool with the Work Equip 01 style wheels!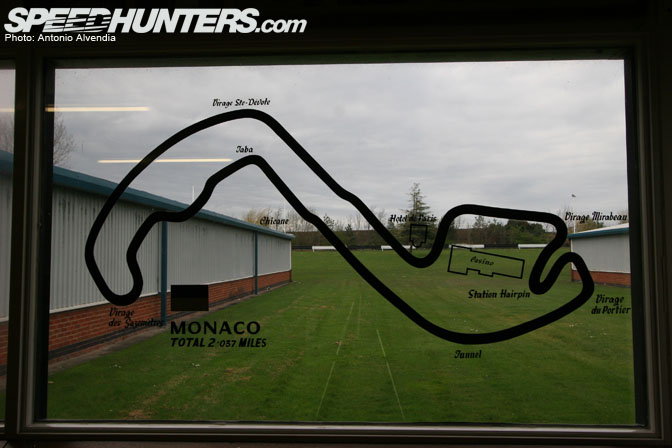 Come on! How cool is this?! They had several race track layouts on the windows going around the museum… this is such a super cool idea. When I move into my new place, I'm going to have to go to Graphtech in Daly City CA, and have Jay cut me some vinyl racetrack window treatments! So dope.
Okay, did you guys like what you've seen thus far? I took sooo many photos at the Donington Museum, but I felt these ones really represented the place, to give you the actual experience of visiting the museum, minus the vintage race car smell, and the sounds of the wind howling near the windows and the race cars whizzing by.
I loved my visit to the Donington Museum. How about you? What did you think of it?
-Antonio Alvendia