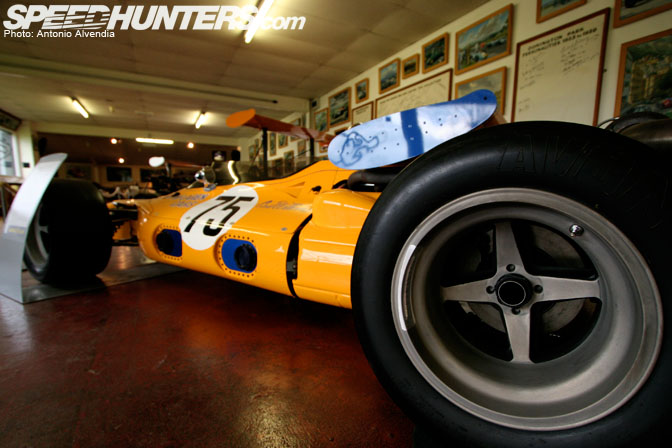 My personal experiences visiting the world famous Donington Park Grand Prix Collection, take two:
I just wrote out the most brilliant introduction to this legendary
place, and just as I had it perfect, I was cutting and pasting
something, and my hand slipped, and I accidentally deleted the whole
thing. DAMN! Just a reminder to save your work!
Okay. The title of this story may be misleading. Donington Park doesn't have an actual museum filled with just wheels.
(Although I think it would certainly be an awesome idea! Maybe I should
start something like "The Cipher Garage Collection of 4×114.3 Wheels
that fit well on Vintage Toyotas." haha)
So a couple months ago, I was given the extraordinary opportunity to
visit the world famous Grand Prix Collection at Donington Park, which
is the world's largest collection of Grand Prix and F1 cars. In the world. This is huge!
I was honored to be given the permission from the facility's
manager, Garry Rankin, to walk through this legendary museum filled
with priceless race cars, and shoot whatever I wanted – he gave me an exclusive all access pass to shoot the world's best F1 cars. Needless to say, I was in there for quite a while. Until closing time in fact.
Now I'll be completely honest with you. My specialty here on the
Speedhunters team, is subjects related to Japanese car culture, vintage
Japanese cars, drifting, and Toyota Motorsports. And although I have a
great respect for Formula One (especially F1 photography), I don't
really follow the history of F1 like some of my other friends do.
On the Speedhunters team, possibly the most well versed in the world
of F1 might be Rod Chong… who actually visited the museum with me,
but had to walk through it very quickly because he needed to get to a
meeting on the other side of the track. Therefore, I was just walking
all alone through the museum with my camera and my "all access status,"
without much guidance at all. When I mentioned my relative ignorance
what I was looking at (I definitely respected the brilliance and
technology and heritage of the cars, I just didn't know much about each
of the cars, like Rod did), I was quickly reassured that it was not a
problem.
In fact, right before he left for his meeting, Rod's exact words were, "It's okay that you're not an F1 history expert, mate… just take photos of whatever stands out to you. Whatever you like!" Okay! You heard it!
So I'm left all alone for hours in this world class museum filled with priceless vintage Grand Prix race cars, and what do I end up with?
A bunch of photos of wheels.
Jeez. In fact, I couldn't help but laugh to myself because I knew how ridiculous I was. I have some friends, like Ricky Silverio
or Dave Slidesquad, who are total vintage F1 fanatics, and would go off
on all the crazy pieces of motorsports history I had access to. So even
though I knew how special and how priceless this situation was (not to
mention the cars), being true to form Antonio, the thought that
kept popping up in my head was… "damn, these wheels are dope!!! If
they were 4×114.3 bolt pattern, they would look perfect on one of my
AE86s!"
Sad isn't it? I'm hopeless. I'm so typical and predictable
sometimes, it just makes you want to shake your head and roll your eyes.
But there it is… I love wheels. That's me, and at least I'm honest about it! So check out the "Donington Collection of Grand Prix Wheels," as seen through my eyes… err, lens!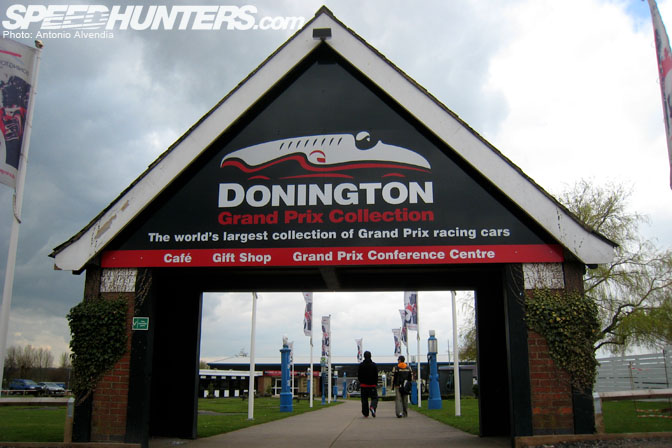 Outside the museum, they had awesome signage, vintage petrol pumps,
and commemorative flags adorning the walkway to the museum. You could
tell this was a special place. BTW, making their way down the walkway
are Speedhunters' own Rod Chong, and our good buddy Rob Bullough from
Formula 1. Yup, that Formula One.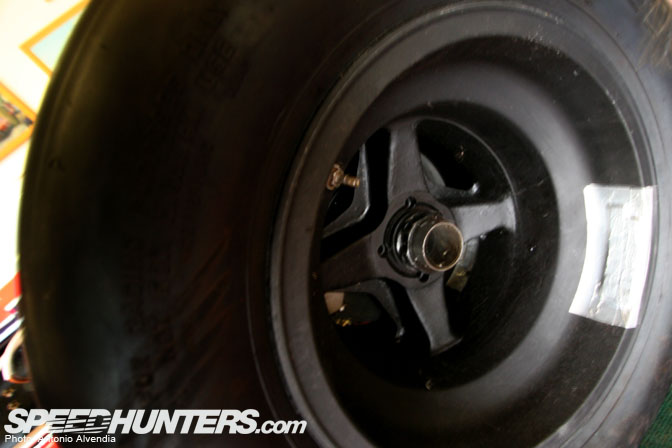 I mean, just look at this! This wheel is awesome! It reminds me of a
vintage one-piece Work Equip 01 wheel, like the ones I have on my zenki
AE86 hatchback! Looking at this wheel made me wonder if I should try
powdercoating my vintage Work Equip wheels matte black!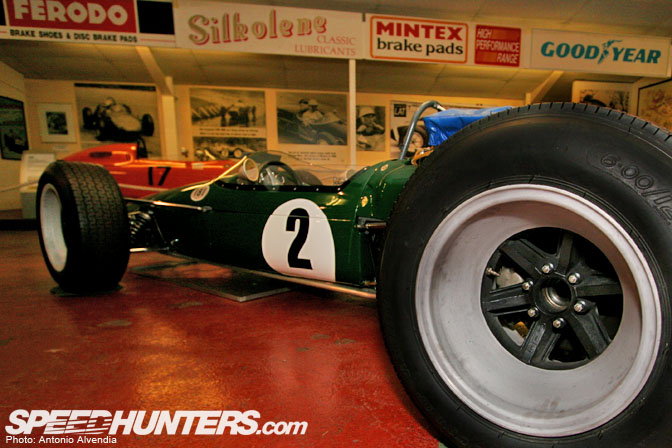 This is a nice fatlip specimen. What do you think, guys? A classic 6
spoke design with a fat lip… maybe the design inspiration for the
Speedstar XR-4 wheel? Most people who are into 1990s drift car style
like I am probably know it as the Longchamp XR4, but the original XR4
wheel was actually made by SSR – Speed Star Racing.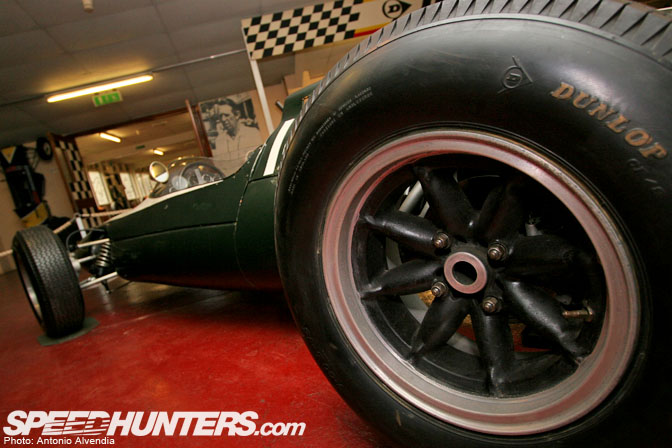 Vintage inspiration for the classic "banana spoke" wheel – from this
design came Minilites, Panasports, and my personal favorite, RS
Watanabe.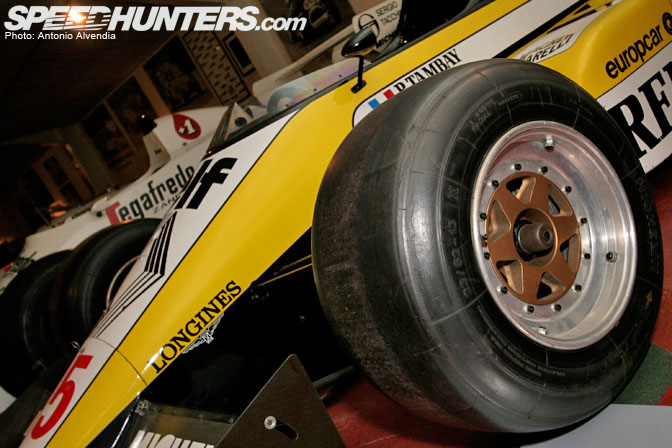 The wheels on this Renault are beginning to look even more like the
design of the XR4 wheels, especially since the wheels shown on this car
are 3-piece. However, those who know wheels well will recognize that
this wheel is actually a closer relative to an Italian wheel called the
Gotti. I remember seeing those Gotti wheels on a Mazda RX2 in South San Francisco back in the day. Looks very similar!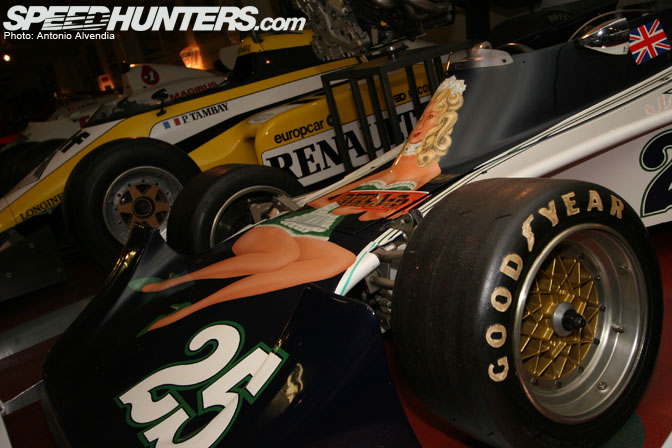 Does this "star mesh" design look familiar to you? Look at the
design of the center mesh – it reminds me of the SSR Formula Mesh
wheel. Not the SSR Reverse Mesh, because this F1 wheel doesn't have a
reverse lip, it has the normal "stepped" lip, hence the closer likeness
to the SSR Formula Mesh.
Man, I love Japanese wheels. 
Don't worry, I'll definitely show you photos of the amazing race cars in the Donington Collection also; keep an eye out for that in my next story! But this story on Japanese wheels has got me feeling a bit nostalgic, so before I post up anything about the F1 cars in the museum, I'm gonna take a moment to stare and admire the brand new set of 15×8.5J Work wheels sitting in my living room… maybe give em a little hug or something. I'll talk to you guys later.
-Antonio Alvendia