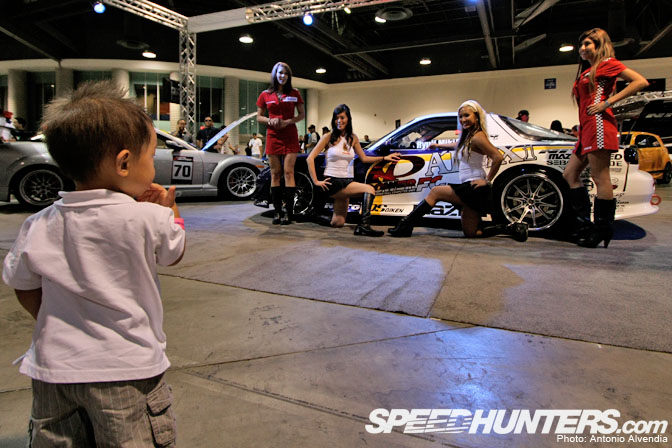 In Southern Cali last weekend, there were so many car events happening, I ended up shooting 3 car events within the two-day weekend, and I heard of a 4th, but couldn't make it there in time. Cool right? Southern Cali is all about car culture.
One of the shows we went to was the Spocom Show in Long Beach, which was put on by Pro-Motion, a large import parts distributor in City of Industry. I don't know why, but it was sooo incredibly hot in Long Beach this past weekend, even though we were right next to the water. That being said, I'm glad the show was inside the air conditioned Long Beach Convention Center, because I don't think many people would have been down to kill themselves walking around in the hot sun. Good thinking, Promo! Unfortunately though, the parking lot allocated for the show was pretty far from the actual venue, and even media people had to pay for parking. Nevertheless, it was a good event, and I'm sure we'll come back again for the next one.
Check out the photo above – this little kid is just my style! Starting em off young! He looks like he's deep in thought; I wonder which one he likes best? Haha, awesome.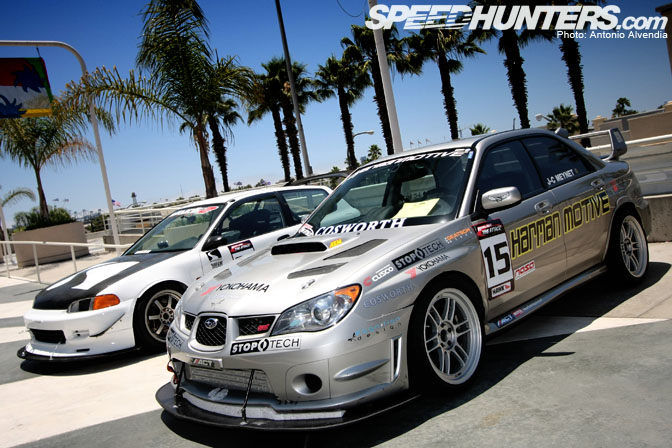 There were quite a few cars parked outside the venue, like this EG Civic with Rays wheels and this Impreza with Enkei RPF1s, but it was too hot to take photos of them all… so I just thought I'd show you the most interesting ones.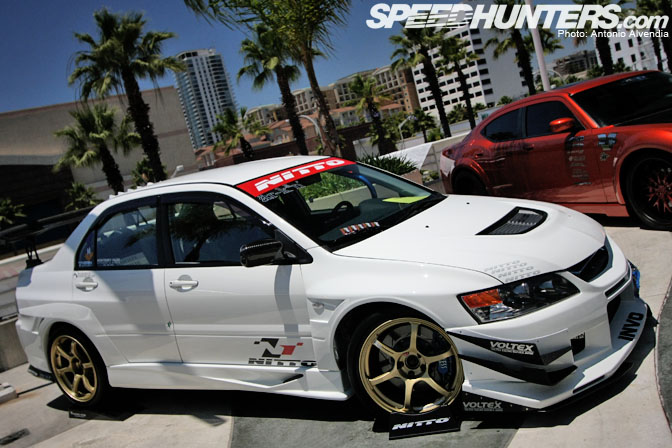 This Evo looks pretty cool, and bears some exterior similarities to the Carbon Fiber Time Attack Evo from the UK that we featured on Speedhunters not too long ago. Click the link to check it out. Voltex seems to be the hot ish for Evos right now, everyone's getting down with their aero parts!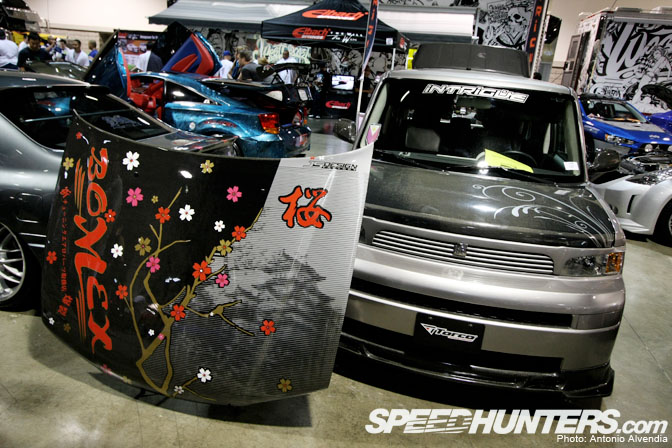 I thought this hood was pretty interesting – it reminds me of the customizable cellphone graphics that they sell in Japan. Do you guys like it? Or is it too fashion forward for you guys?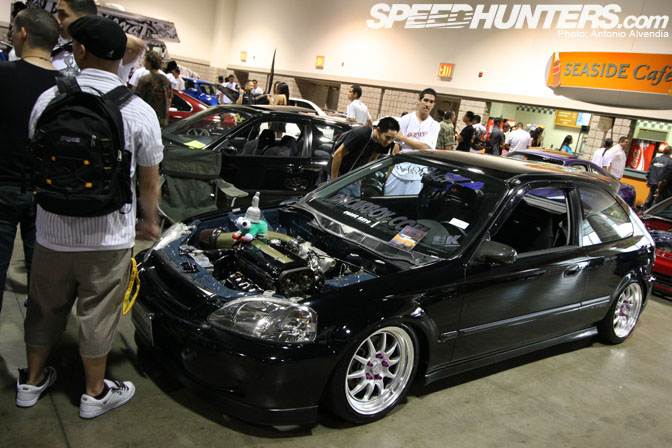 I liked the authentic GAB wheels on this EK Civic. I used to have some brand-new-in-box red GAB wheels, but ended up selling them dirt cheap to some Honda guy. So sad, wish I still had them, but I didn't have any more room to store them, and I didn't even have a car that would fit these at the time.
And even more unfortunately, some companies make fakes of these GAB wheels now, and some undiscerning Honda guys actually buy them and put them on their cars. It's times like this when I feel the need to quote the immortal words of Jay Bryan from JDM Ego, "Baby Jesus hates your fake wheels." Don't think we didn't notice, suckas. Be legit! We are bumming you out on the daily.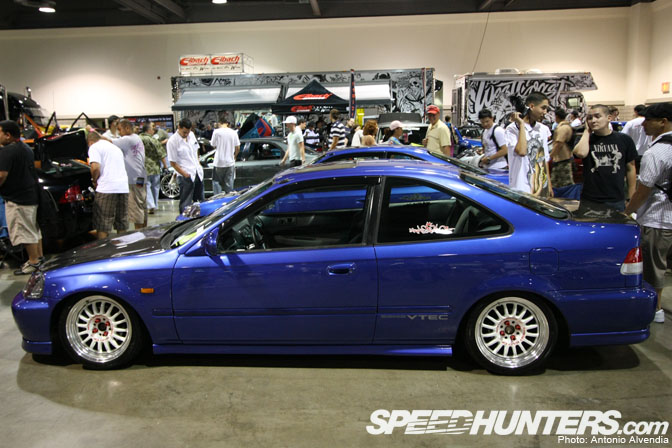 Ahhh, memories. I used to have 16×7 Sprint Hart CP-Rs also. I love these wheels!!! Suuuuuuuuuuper dope. I just wish the owner of this car would utilize some spacers to push them out a bit more. Very clean Civic though!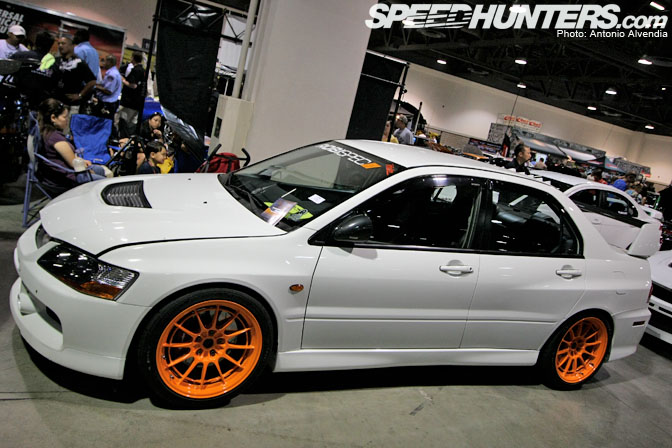 Ahhhh!!! I love orange wheels! I've been telling my friend Chris to put orange wheels on his Evo for quite some time now, but damn, it appears this Evo from Robispec beat him to the punch! It's okay, Chris still has the chance to use wheels with more aggressive offset. Still, I love how those Enkeis look in orange. Props to whoever owns this Evo! It looks dope with orange wheels. I think we better put some pressure on Chris to hurry up and finish off his car already.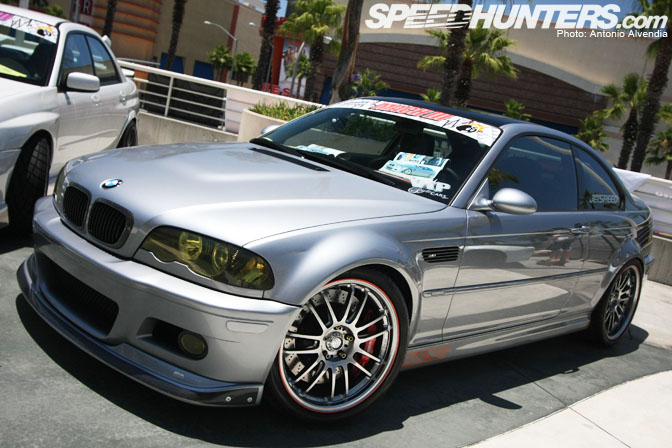 Whaaa? This M3 is from Northern Cali – I could tell right away from the Mach III banner on the windshield, and the Jetspeed sticker on the side window! Wow, I had no idea Jetspeed was still around. Back in the day, I remember a blue Civic from Jetspeed getting up in all the magazines cause the magazine editors were all jocking Mary, the owner of the car. Glad to see the crew is still representing!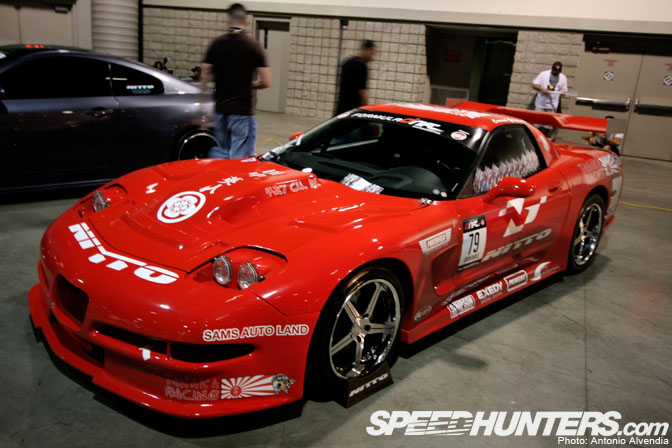 Although this isn't exactly an import car, alot of people were going crazy over the Tanaka Engineering Corvette, especially when we turned the headlights on and raised the hood to take photos! Dwight Tanaka was also nice enough to allow us to put Speedhunters flyers all over his car, thank you Dwight! Keep an eye out for this car in a future Speedhunters feature!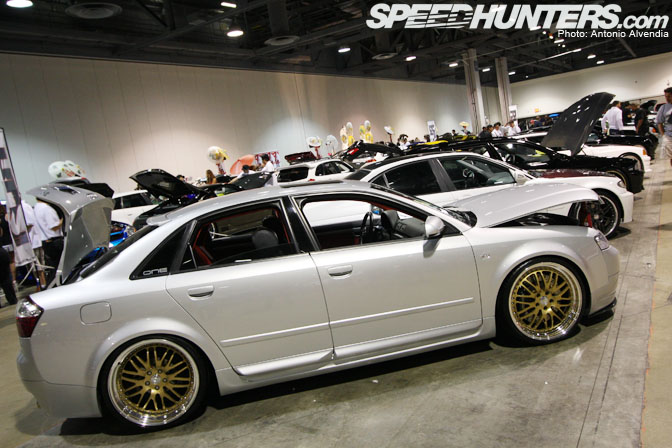 In the row of BMWs and Audis, almost all the cars were either black, white, or silver. I'm not quite sure, but see those moldings on the bottom of the Audi's door? Are those OEM or aftermarket? I don't know enough about Audis to comment on it.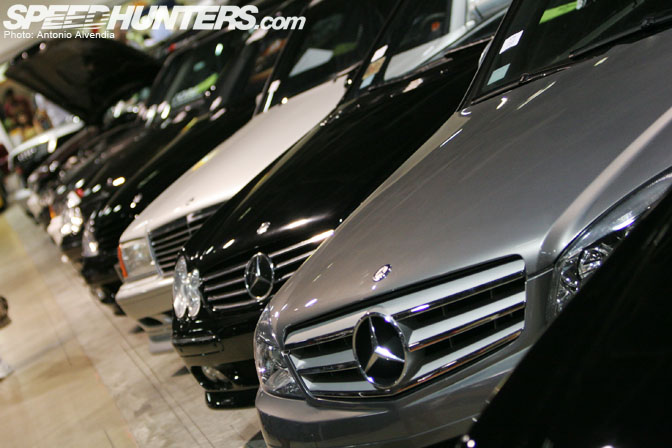 Oh yeah, there were also a ton of Mercedes Benzes in attendance!
-Antonio Alvendia