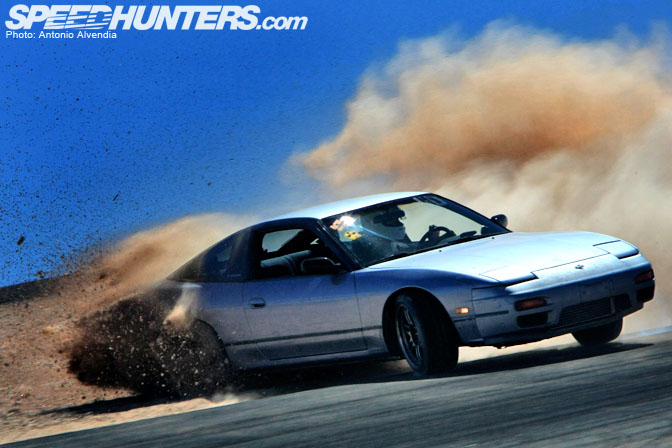 This past weekend, tons of hardcore drifters from all over the West Coast braved the 100+ degree heat in Southern California's Mojave Desert for the JustDrift/Ziptied.com AllStarBash 4, presented by Federal Tires.
I've been working all day on downloading, organizing and selecting my best event photos for you… but since I know everyone's anxious to see pics from this weekend's event, I thought I'd drop a little teaser on you.
Here's my favorite "dirt drop moments" from this weekend's event! As seasoned drifters already know, a "dirt drop drift" is when a driver/car comes out wide and drops one of the rear tires off the paved section of the course. However, some of the cars at the event this weekend ended up dropping not just one, but two, and sometimes all four wheels into the dirt! And let's just say, when I was able to get the shot, it looked pretty spectacular.
Unfortunately for those of us standing trackside, whenever someone's tires went off course, they ended up creating humongous dust clouds, which float through the air, blanketing the photographers in a mixture of dirt and tire dust, which does a great job of sticking to your clothes and skin when you're sweating from the 100+ degree arid heat in the desert. It's even worse when you're wearing sunblock – the tire particles and trackside dirt sticks to your skin like glitter on a stripper's… oh wait. Like uhmm… sprinkes on a cupcake. How's that? And the dirt gets all up in the pores of your skin, not to mention every orifice of your cameras and lenses, if you're a photographer like me. But that's what you need to go through to create these types of images.
Hope you like em, because I'm still trying to scrub the dirt and tire stuff out of my ears!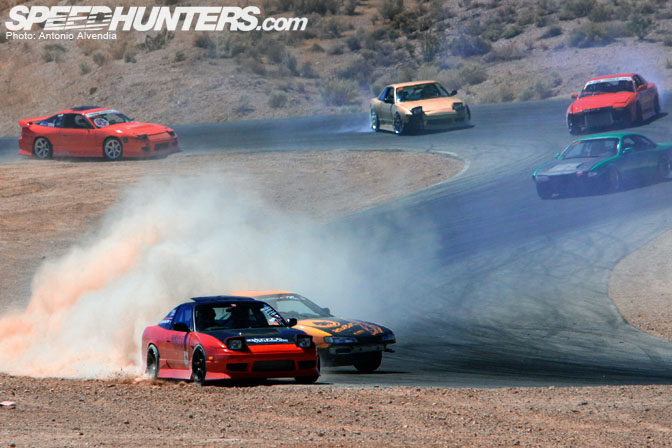 Here are some of the Group C drivers out on course. They looked like a sliding carnival of S13s and S14s – they were all different colors, but all were rocking aggressive aero kits and wheels (well, most of em), and all of them looked pretty cool driving together; they looked like aggressively shaped Skittles from far away.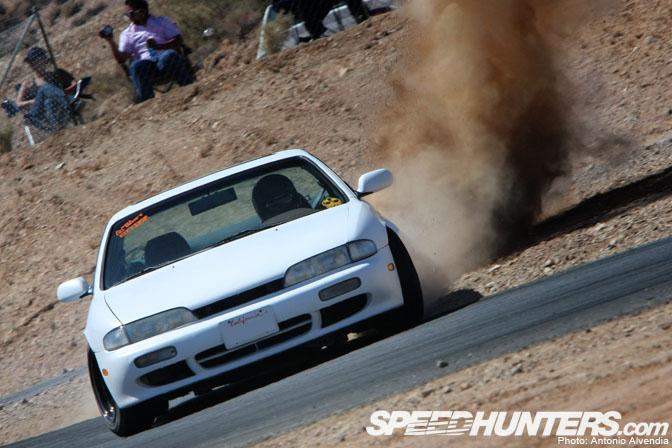 When this zenki S14 performed a clean dirt drop, it looked like he ran over a land mine or something – because when his rear wheel dropped off the track, a ton of dirt suddenly shot up vertically in the air! Very cool.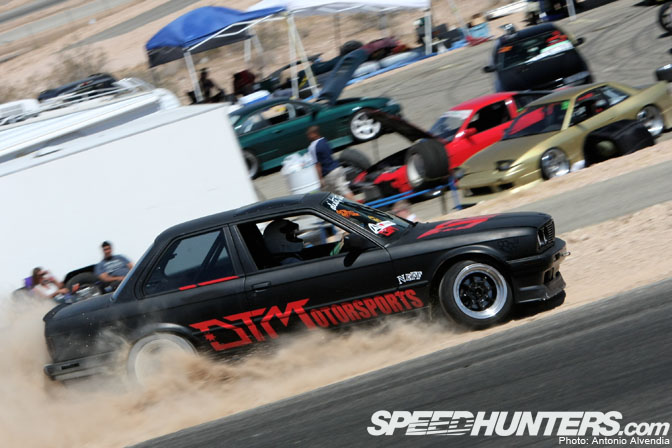 Dave Blunt from San Diego is from a crew called Dirty Thirties. I thought it was a brilliant name for a car crew, as his car is an E30 BMW 325i… and it seems he's living up to the "dirty" part in the photo here. Check out the cars in the grid below – don't they look super cool?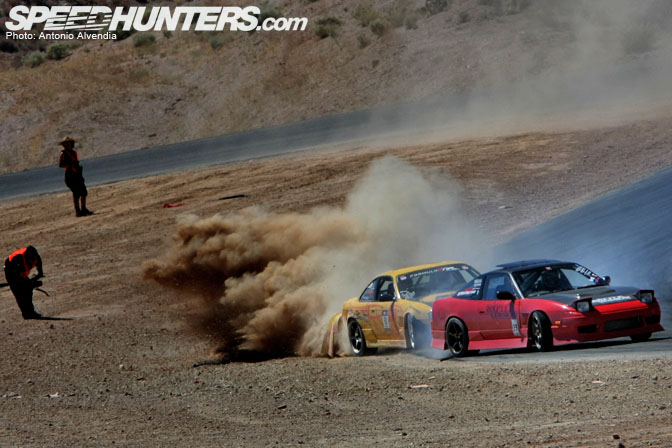 The current teen prodigy in the drifting world, Patrick Mordaunt drops his rear wheel and rear bumper off the course to show the videographer how he gets down! He was driving aggressively all day, constantly sticking to the tail of this red right hand drive RPS13, which was being driven by Alex Pfeiffer! If you don't know any better, Pat may look innocent like a smily, cuddly stuffed animal… but as soon as you put this kid behind the wheel, it's like Gremlins, because he goes bananas on the track! (Note: Pat would like to make it public knowledge that he does not, however, enjoy being called names like "Banana Split," and gets very annoyed and upset when certain people refer to him as such.) See more of Pat and his yellow S14 by watching him on Driver's Ed, his reality show on Riceboy TV, and on his website, www.patrickmordaunt.com.
Another note: If this were at a Formula D event, there's no wayyyyy the SCCA safety marshals would allow someone to film from a runoff spot like that, especially with no barrier or anything! This is grassroots drifting at its finest. Proceed at your own risk!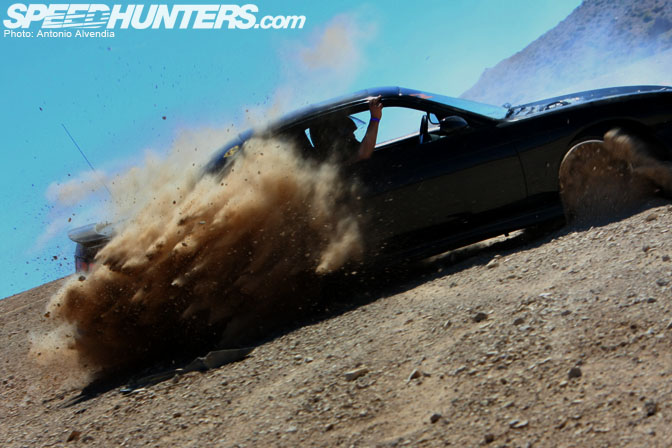 Those runoff sections opposite the apexes can be very dangerous! My little brother and I were trying to change shooting positions while the track was hot, so we began walking up the mountain so we could shoot from a different turn, and then screeeeeeeeeeeeeechhhh!!! This S14 lost control and hurtled downhill towards us, stirring up big clouds of dust and rocks in the process. I yelled "RUN!!!!!!!!!" to my little brother Dave, but I held my ground and kept shooting for just a bit longer so I could catch this shot.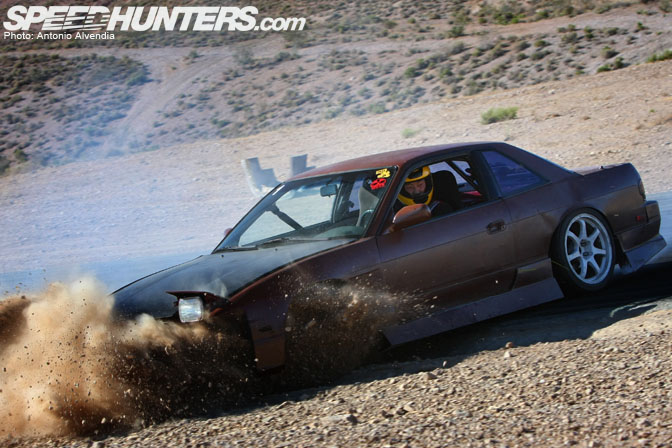 And again, this S13 Onevia came flying at us as we walked down the hill at the end of the last session! One thing to remember when you're out at the track – never turn your back on a car!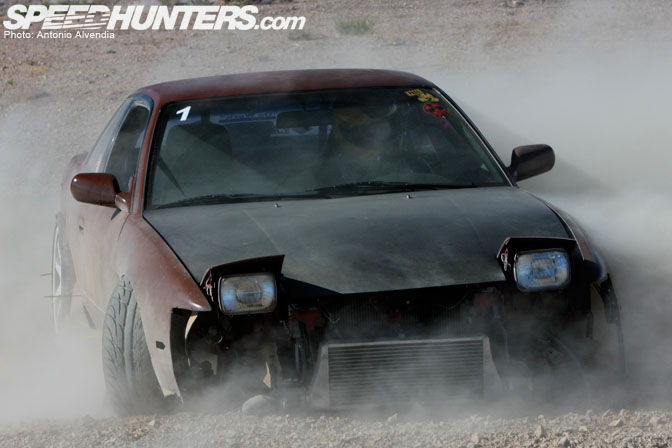 The End.
-Antonio Alvendia