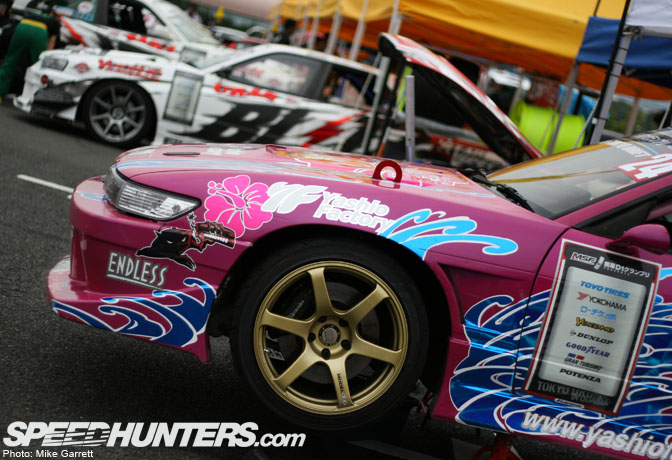 Now that you have seen the first day of action from the D1 Grand Prix Tokyo Drift exhibition round as plus the demo runs and girls from the event, it's time to wrap our coverage with a look at Sunday's exhibition contest. It would turn out to be a very exciting day. The weather forecast was calling for rain on Sunday, but much to the relief of drivers and fans, the wet stuff never came and the event was held under warm, but cloudy skies.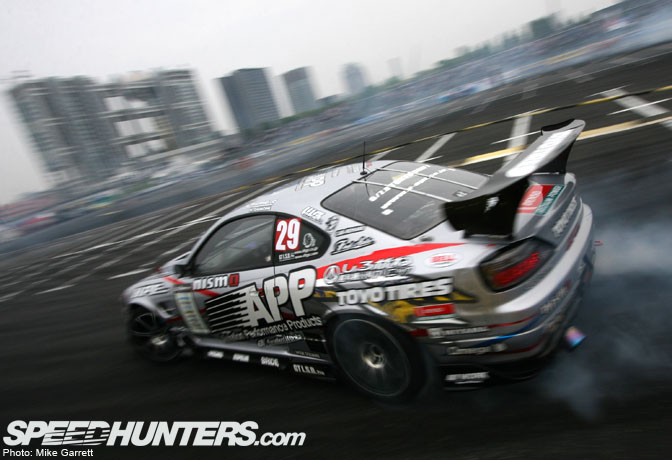 As on Saturday, Sunday started out with the morning practice session which gave the teams a chance to dial in their settings and adjust from repairs made after Saturday's action. I shot this photo with my wide angle lens at 13mm. The car was just a couple feet in front of me! I got a mouthful of tire smoke, but at least the shot came out alright!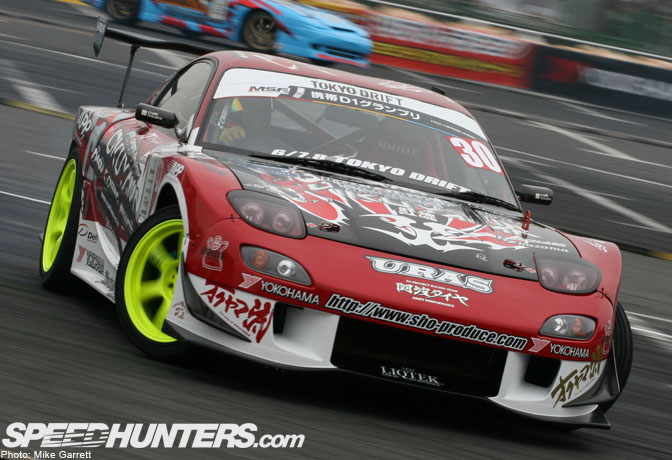 Man Tsutomo Fujio's FD was looking goodl! The neon yellow Gram Lights really set it off.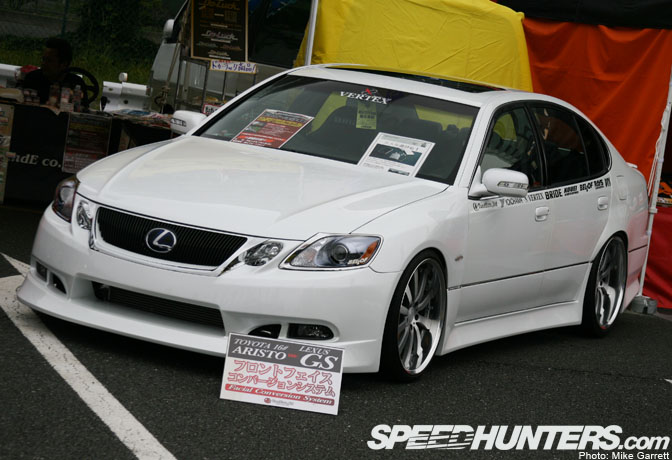 After practice was over I grabbed a delicious Kebab sandwich (very Japanese, I know) and took another quick look at the vendor area. Vertex had their JZS161 Aristo with the new Lexus GS face conversion in their booth. I  have seen this car before but I can't get over how cool it looks. The new GS front end looks so natural!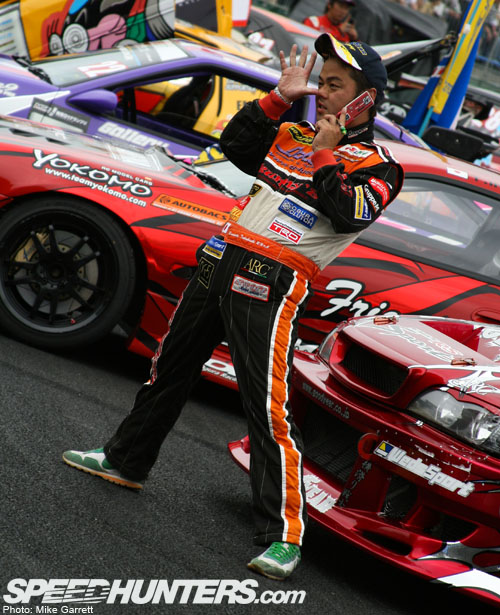 Kuniaki Takahashi obviously takes himself VERY seriously as this pose during driver introductions shows.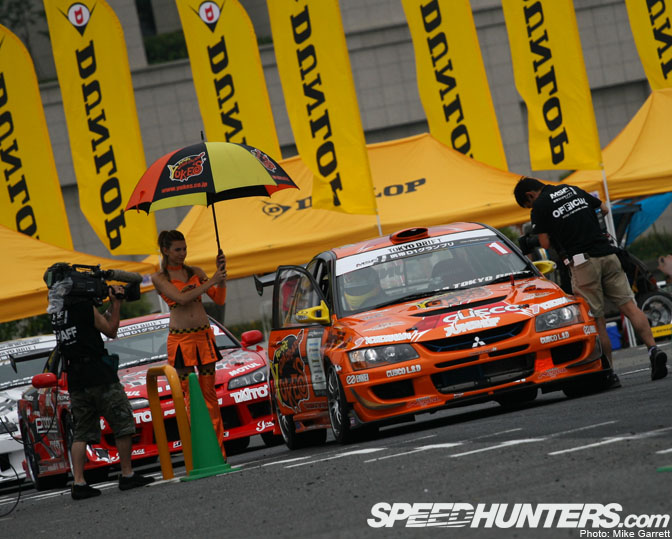 Here we see Kumakubo preparing to start the qualifying session. In a very rare occurrence, Kuma only qualified in the 18th position, eliminating him from the best 16 tsuiso round. Maybe he was hung over from celebrating his victory the night before?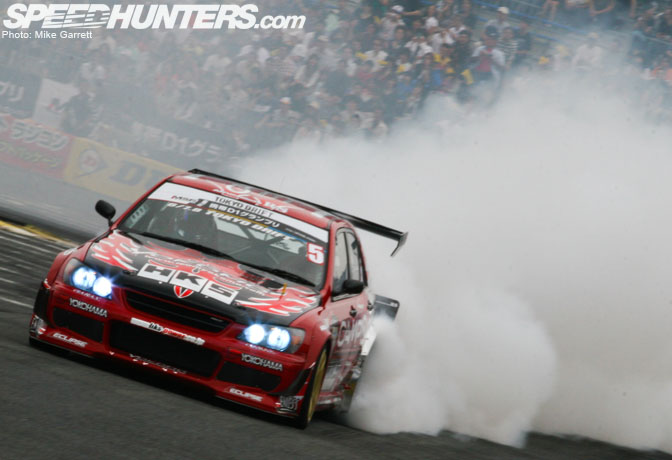 Taniguchi was continuing his smoke shows long after passing the end of the course. The crowd loved it.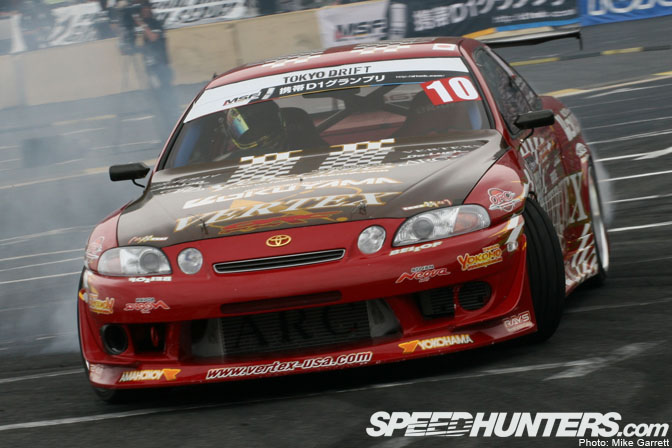 Takahiro Ueno put down some good runs in practice, but didn't have quite enough to earn a spot in the best 16. Notice the "Vertex USA" decal on the front bumper. Is this one of the cars that he used in the states?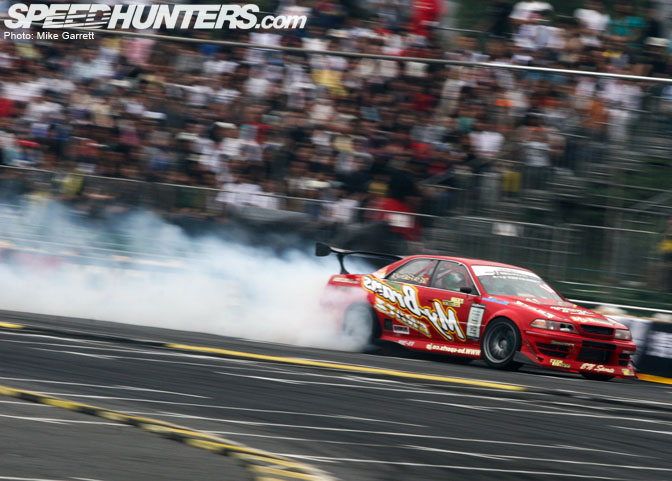 The king of smoke production for the whole weekend was Daigo Saito in his JZX100. White clouds poured from his tires from the starting line, all the way to end of the course. Even when he was going straight!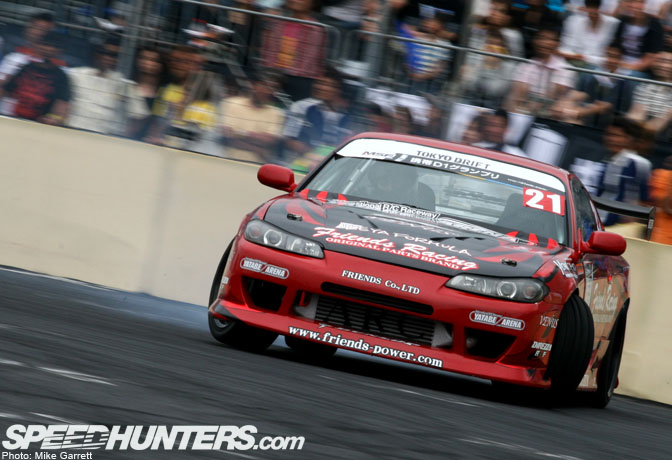 Tohru Inose in his Friends Racing S15 had a solid qualifying session and managed to secure himself a spot in the tsuiso competition.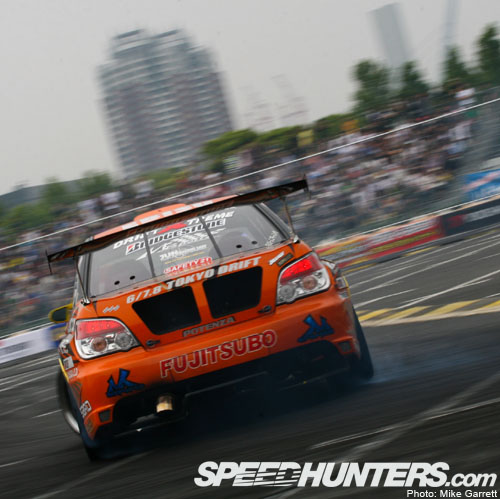 Amazingly, the only member of Team Orange to make it into the tsuiso competition was Hideo Hiraoka behind the wheel Kumakubo's old Impreza.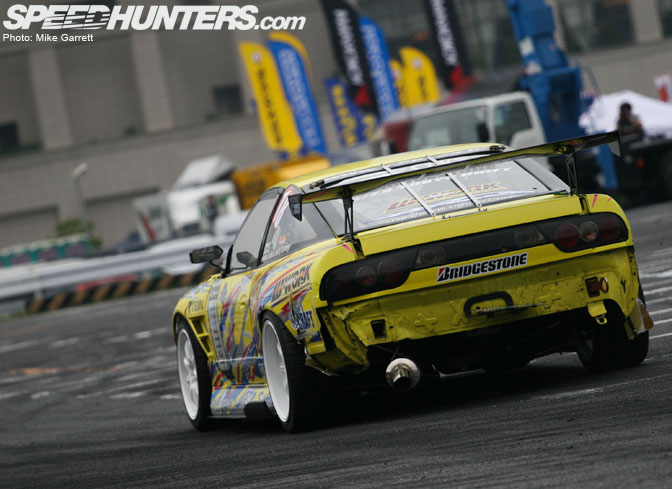 Fukuda retires to the paddock after losing his rear bumper.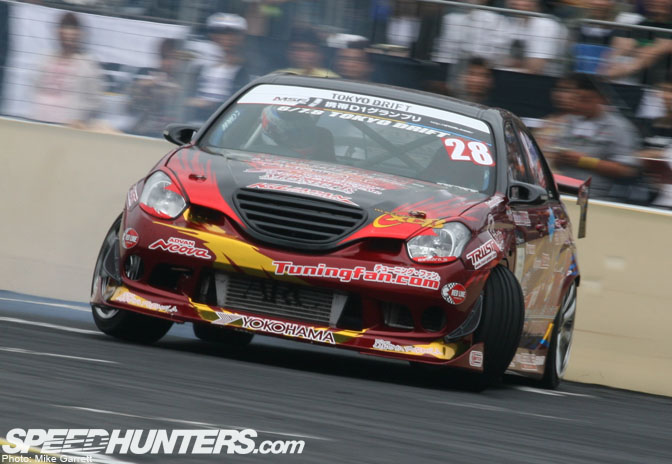 Tomokazu Hirota in his JZX110 Toyota Verossa had a super good day on Sunday and impressed the judges enough to win a spot in the best 16.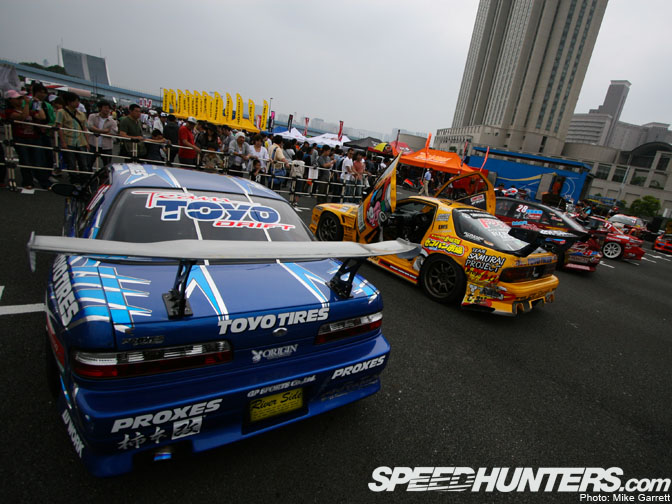 After qualifying was over, it was time for the pit walk. You can see the fans crowding to get an up close look at the D1 machines and possibly score an autograph from one of the drivers. I don't think I have seen more camera phones in my life.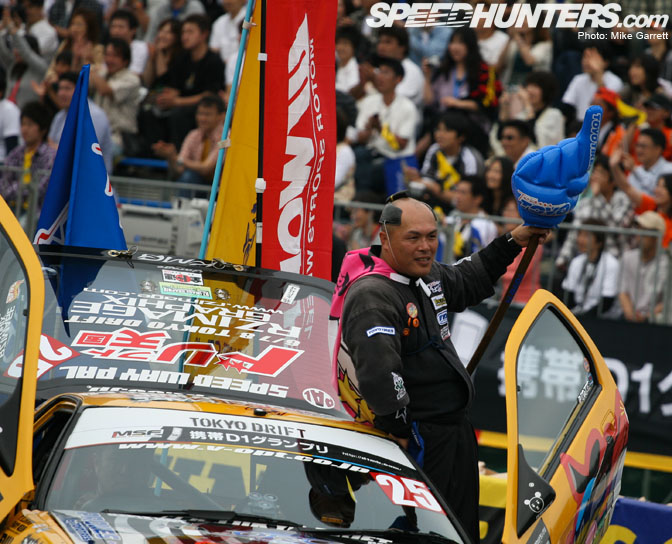 Drift Samurai prepares for battle during the best 16 driver intros.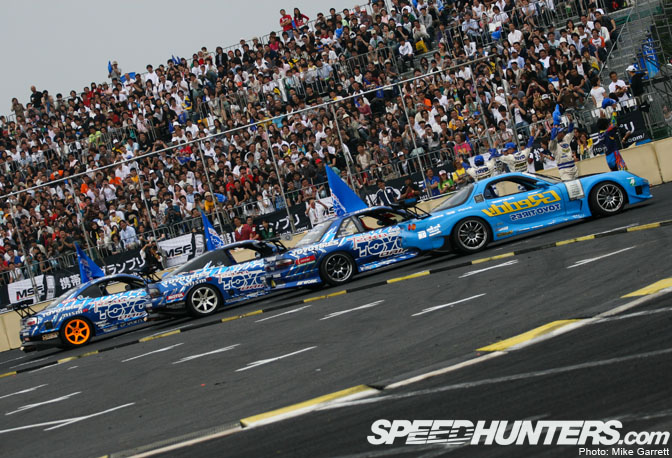 Team Toyo had a great day on Sunday. All of its cars made into the best 16, but the only problem was they would all be battling each other!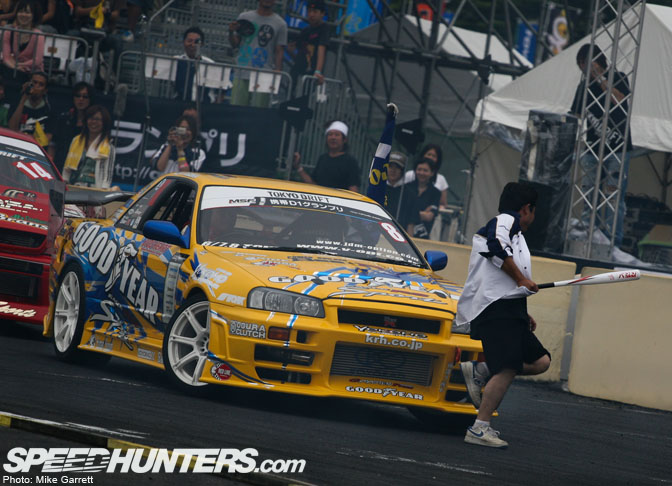 Tezuka Tsuyoshi is trying to run over his teammate Tokita after he busted out his baseball bat on Tezuka's Skyline.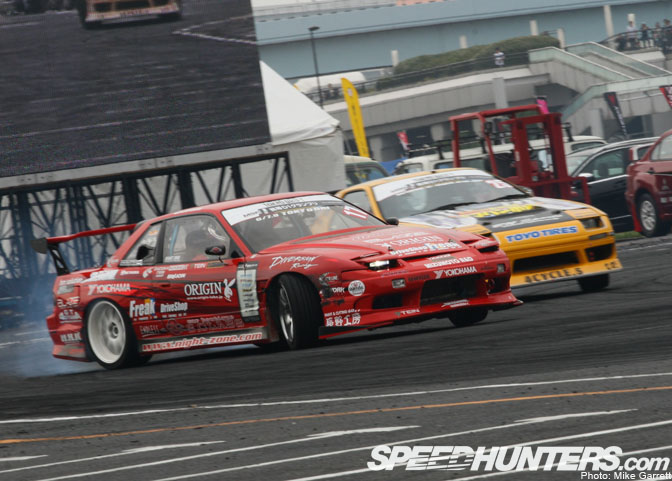 Here Akinori Utsumi battles Drift Samurai during the best 16. Drift Samurai was on point and defeated Utsumi to advance to the best 8!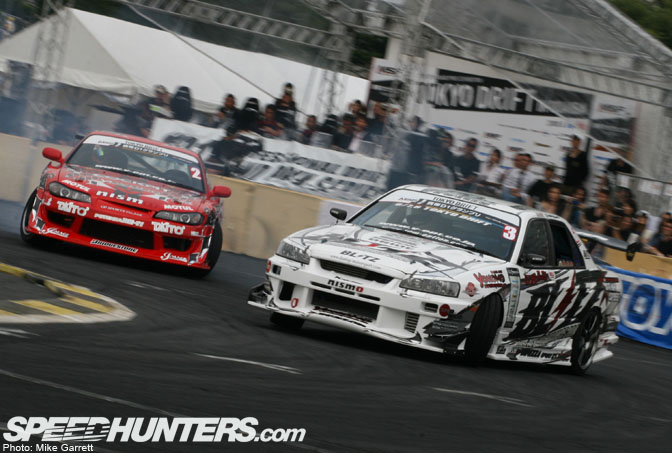 Sometimes the top drivers are matched up early in the competition. Here we see Nomuken going against Imamura's S15. Imamura was the one who advanced from this match up.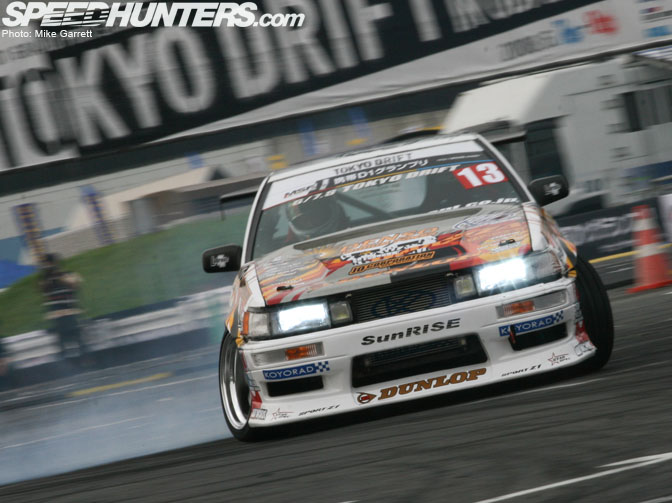 Another driver who had his stuff down on Sunday was Tetsuya Hibino in his SR20-powered Levin. He was pulling more angle than anyone else.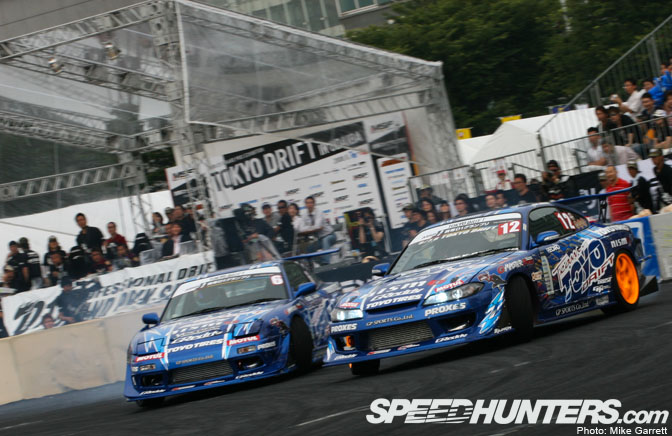 In this battle of teammates, Masato Kawabata in his 180SX defeated Tatsuya Sakuma who is now driving Kawabata's previous '07 championship car.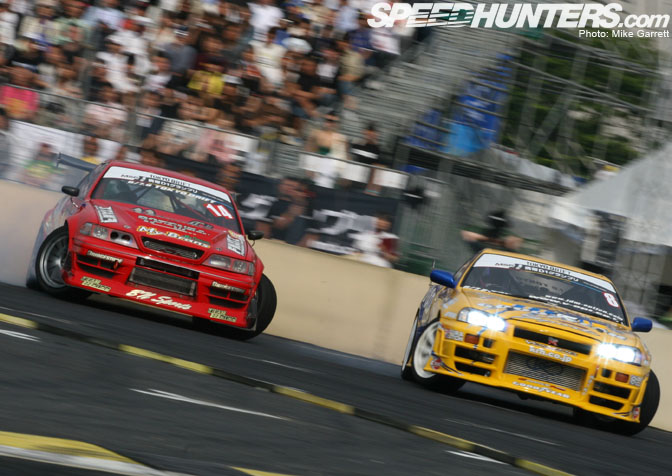 Here Saito's Mark II is matched up with Tezuka's R32. Saito tried hard but couldn't get past Tezuka who has really been killing it since his recent Suzuka victory.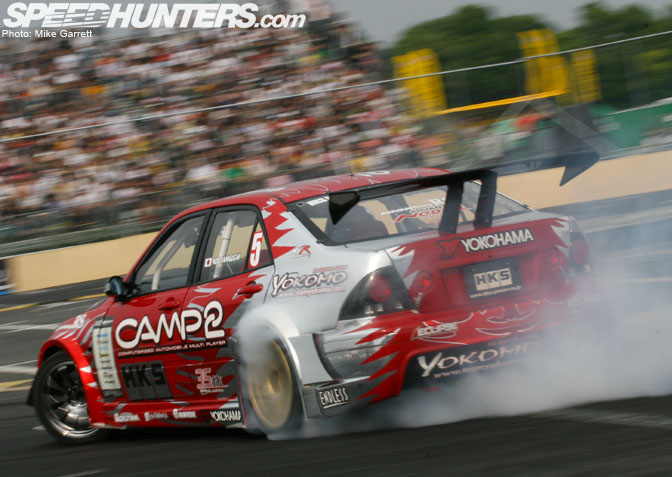 Taniguchi had good stuff all weekend and would be matched up against Hideo Hiraoka in Sunday's best 16.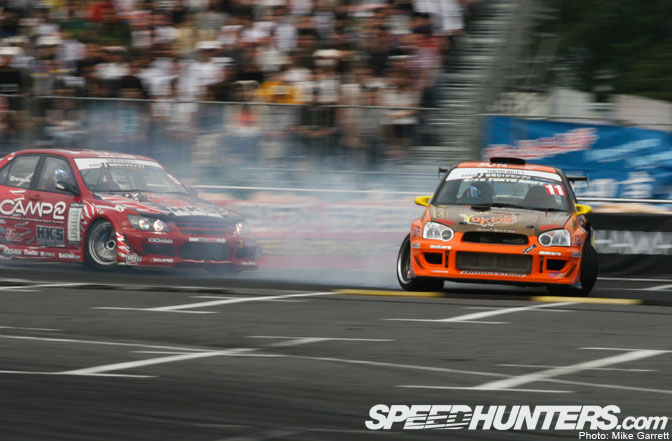 As Hiraoka lead into the first corner, he had a little too much angle was not quite in the right spot. What happened next would be very scary…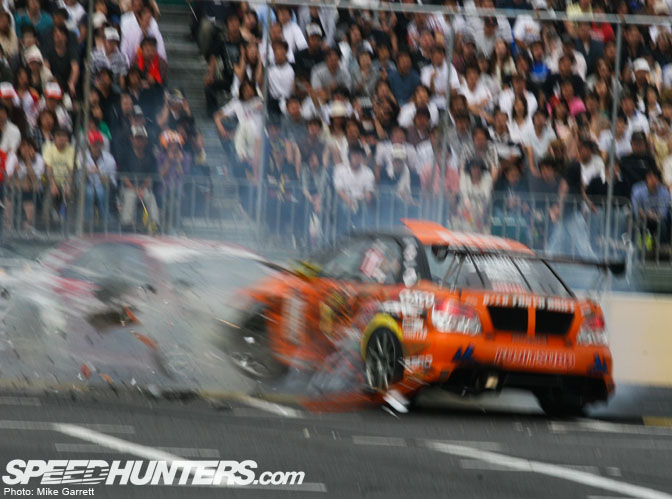 The front end of Hiraoka's Impreza violently slammed into the same light pole area that Kawabata hit on Saturday. I apologize for the blurriness of this photo, but that's what happens when you are panning with a car and it unexpectedly slams into something before you can react!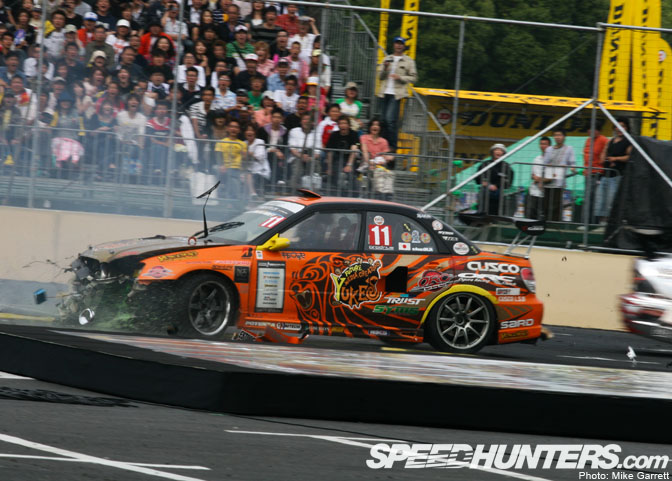 The guts of Hiraoka's machine flew all over the place.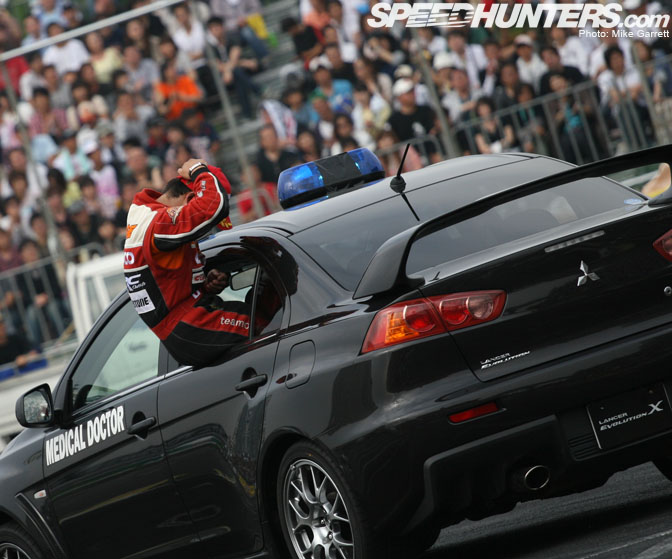 Luckily Hiraoka was not hurt. After a quick check by the doctor, he returned to help the crews clean up the mess.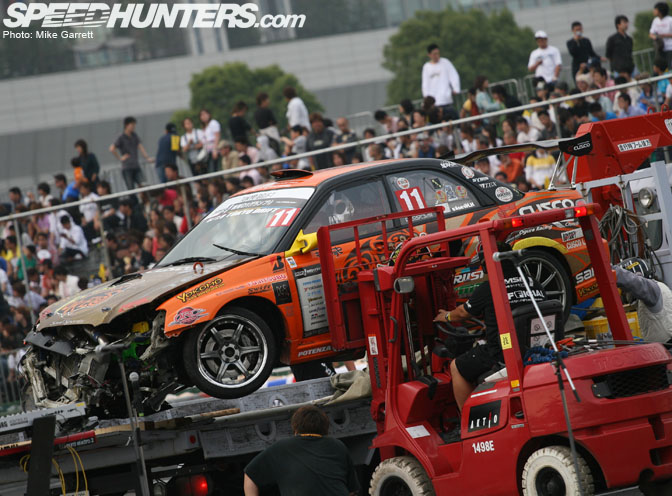 Unfortunately for his car, it looks like it will take a massive amount of work before it will be able to drive again (if ever). I guess we know what Kumakubo's prize money from Saturday will be used for! If they do this event next year, I think they will need to redo the course to avoid repeating Kawabata and Hiraoka's accidents.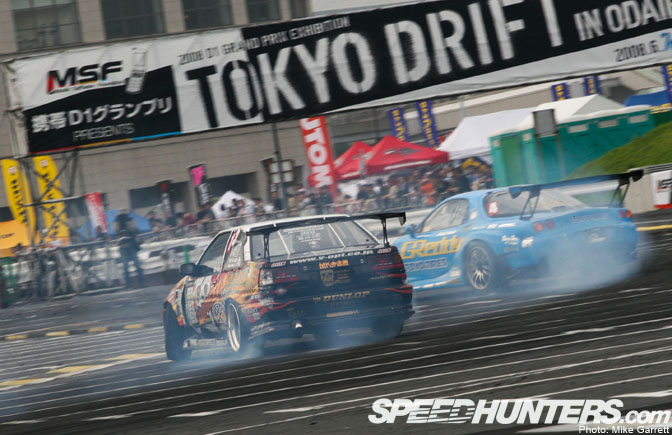 After a short break to clean up the accident, it was back to action. Here we see Hibino battling Masao Suenaga during the best 8. Unfortunatley for Hibino, Suenaga put an end to his run right here.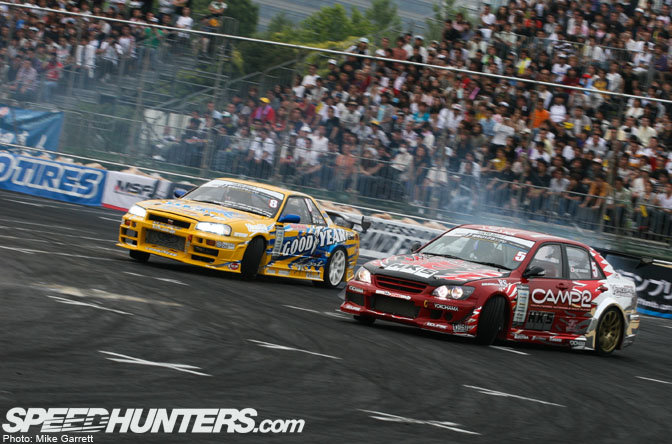 During the best 8 Tezuka managed to defeat Taniguchi by the narrowest of margins.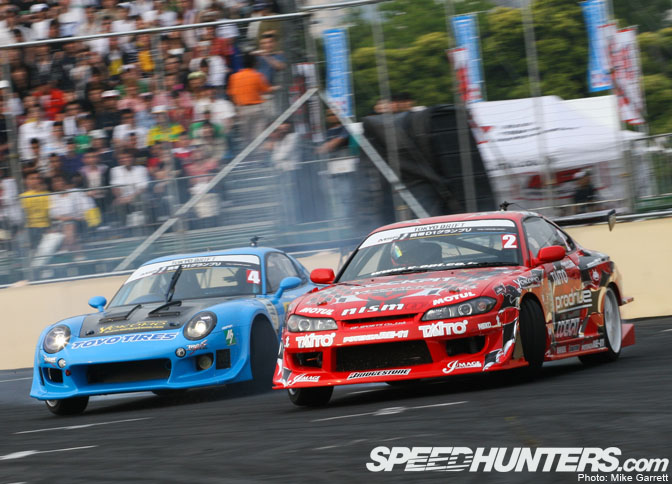 In the semi-final Youichi Imamura was pitted against Suenaga's FD. After a drawn out battle, Imamura was declared the winner and advanced to the final.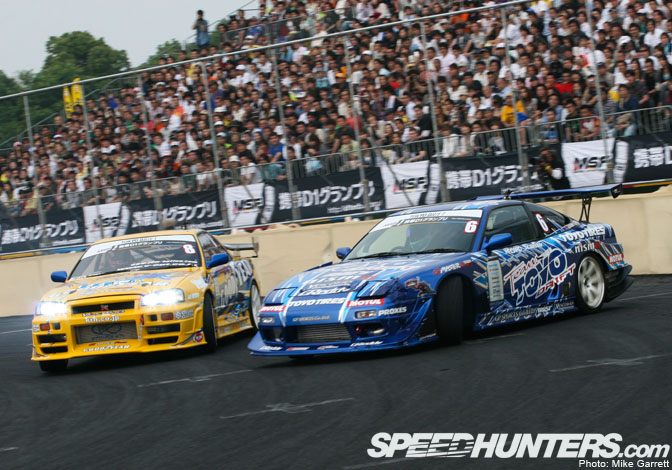 In the other semi-final match, Kawabata put an end to Tezuka's day and advanced to face Imamura.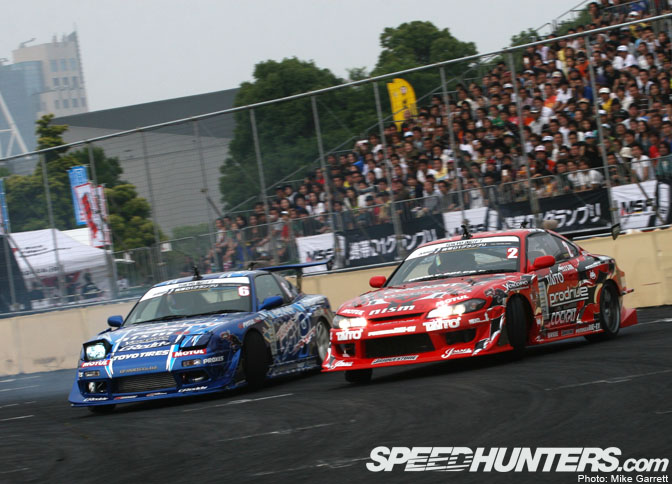 Surprisingly, it only took one round to determine a winner. This time Imamura simply out drove Kawabata, earning him his first D1 victory in a while.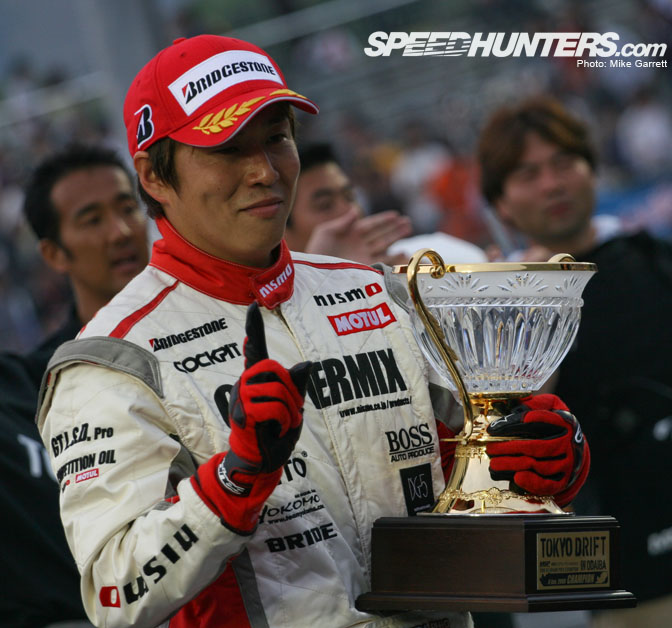 Here Youichi poses with his trophy. I'm sure he was more excited about the huge check he got though!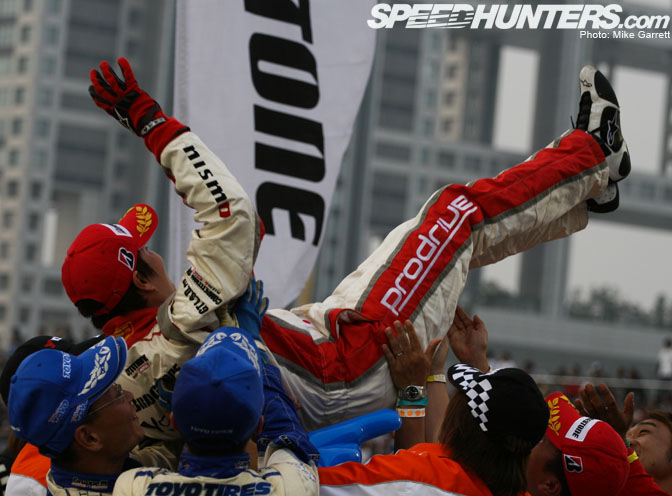 In true D1 fashion, all the drivers join together to give Imamura his victory toss.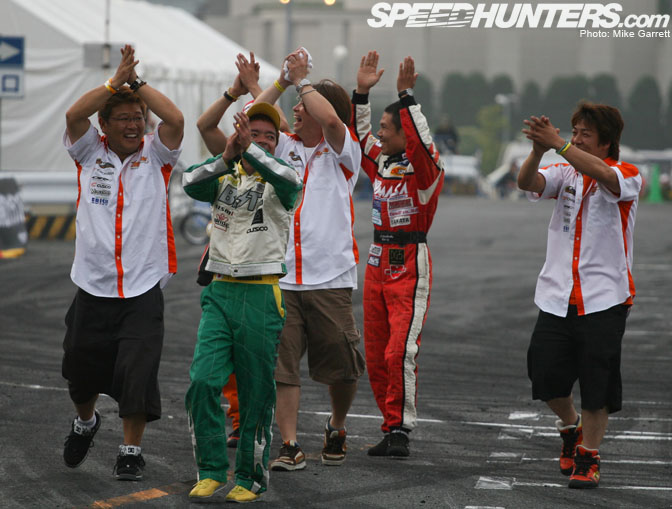 At this point the crowd was going nuts. Everyone in the entire place was clapping in unison and there was some '80s power ballad playing on the event speakers. I have never seen anything like this at a drift event before. It felt like the end of a movie or something.
It was a fantastic way to close out a weekend of action that only D1 in Tokyo can deliver. Hopefully it will be less than another three years before D1's next trip to Odaiba.
Day Two Results-
1. Youichi Imamura – S15
2. Masato Kawabata – RPS13
3. Masao Suenaga – FD3S
4. Tsuyoshi Tezuka – BNR32
5. Tetsuya Hibino – AE86
6. Nobuteru Taniguchi – SXE10
7. Drift Samurai – FC3S
8. Yoshinori Koguchi – RPS13
9. Ken Nomura – ER34
10. Tatsuya Sakuma – S15
-Mike Garrett