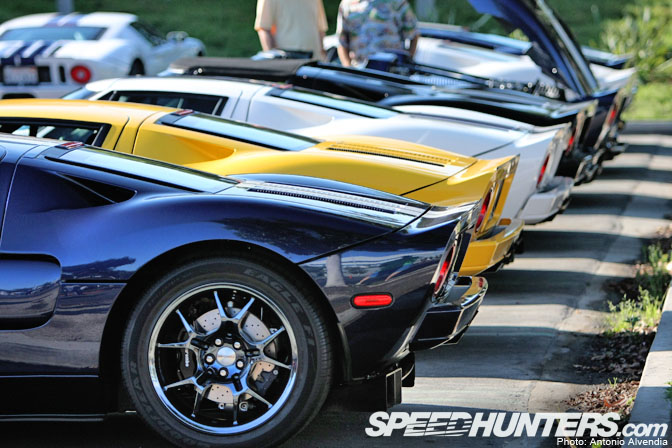 Damn!!! Look at this impressive display of tail! There were a ton of Ford GTs in attendance at this past weekend's Cars & Coffee meet in Irvine. I rolled out there with my friends Jover, Mickey, and Scott, who all work in the automotive industry. Jover, Mickey, and Scott had never been to Cars & Coffee… Jover is one of my AE86 friends from Toronto (Canada), Mickey had always been previously out of town every weekend for Falken Tire Motorsports events, and Scott had always been out visiting his Kumho Tire clients or spending time with his newborn baby, Mikala.
Good thing my friends made it out, because their interest in the event motivated me to go too! And it's a good thing we went! I was on the hunt for some cool American musclecars to shoot for Speedhunters, and we definitely saw a ton of them at this weekend's event!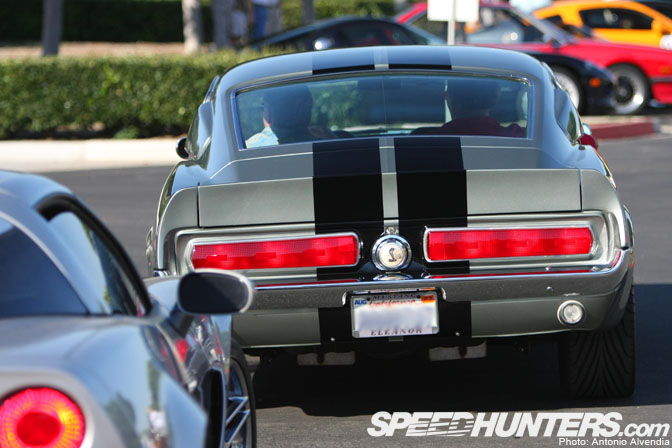 Right as we got there, this GT500 replica of "Eleanor" from the movie Gone in 60 Seconds was leaving the parking lot. Damn, I wonder why these guys were leaving so early?! I tried to stop the owner to talk to him about his car briefly, and he told me that his car would be in the new Fast & Furious 4 movie. Then just as I tried to get more info from him, he had to leave because there were a bunch of old muscle car guys honking at us because they wanted to leave, and we were holding up traffic. Damn, it was only like 7:45 or 8:00am, why are you guys trying to leave before the meet is over? Sheesh.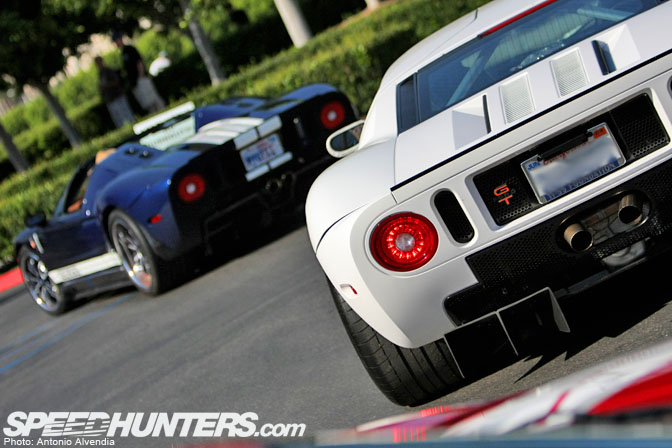 Just
look at all these Ford GTs! They definitely made a statement when they
all cruised out together… just imagine how bad ass it would look if
you saw like 15 of them cruising the freeway together, at speed! Hell
yeah!!!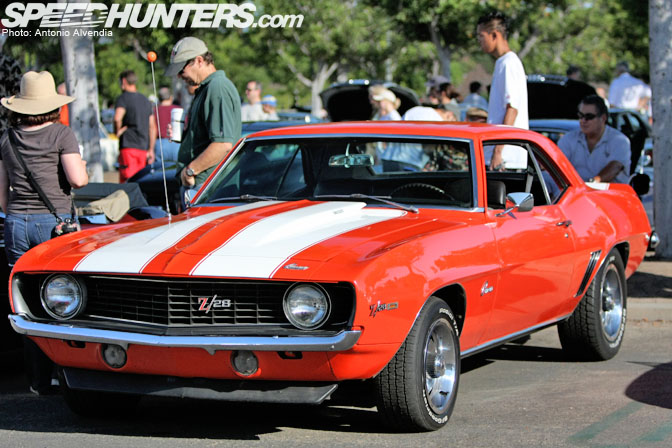 Orange clean! This Z/28 Camaro looks awesome, don't you agree? I always gravitate towards these cars… I guess I've discovered I'm a Camaro fan.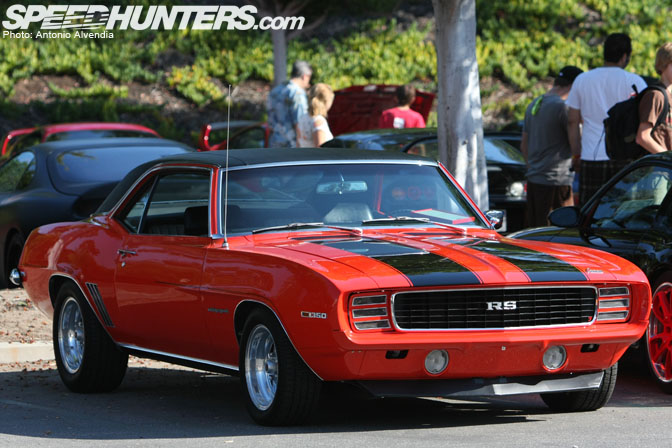 This Camaro RS was super clean also! These types of cars remind me of a bulkier, more powerful version of my orange 1973 TE27 Corolla SR-5. I liked this Camaro, but I prefer the one in the photo above, because I like the other style of grill better.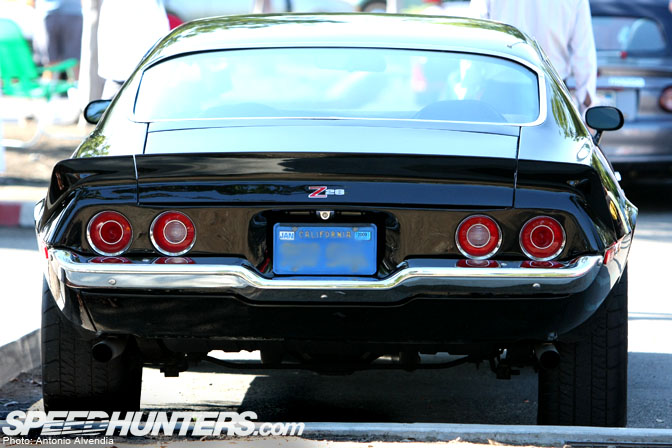 Check out this black Camaro Z/28. Im not sure what year it is… maybe 1972? Looks pretty dope! I'd love to see it again, lower, and with wider wheels!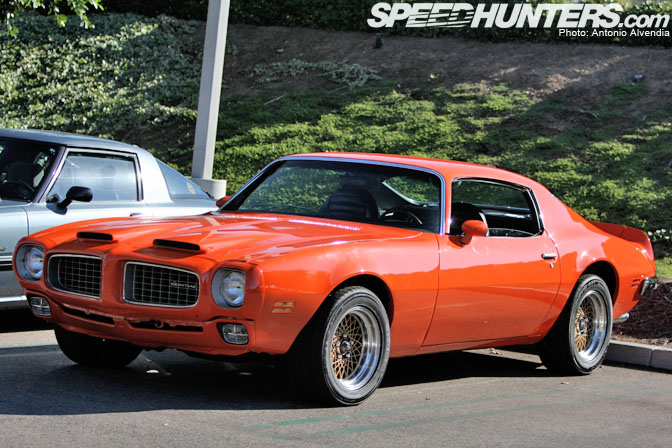 I liked this Firebird as I spotted it from afar – I wanted to walk up close to check out the wheels! However, as I walked closer, I began thinking, it would look even cooler if it were lowered about 4 inches, with wider wheels all around, and lots of camber up front. Damn, I suppose I wish all old school cars had the same stance as my AE86. I'm guessing this car is probably a work in progress, cause it looks like the front end is a bit unfinished and unaligned.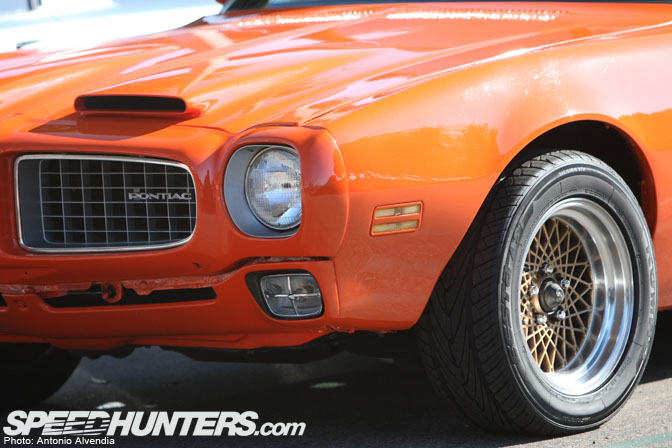 Can anybody guess what kind of wheels these are? Some of my friends had these type wheels on their MA60 (1982) Supras and AE86 Corollas in the past – the 4-lug version of course. We used to find wheels like these, and mesh Enkei 92s on wrecked Mustangs in the junkyard, so my friends would buy them up cheap and use them on their old Toyotas.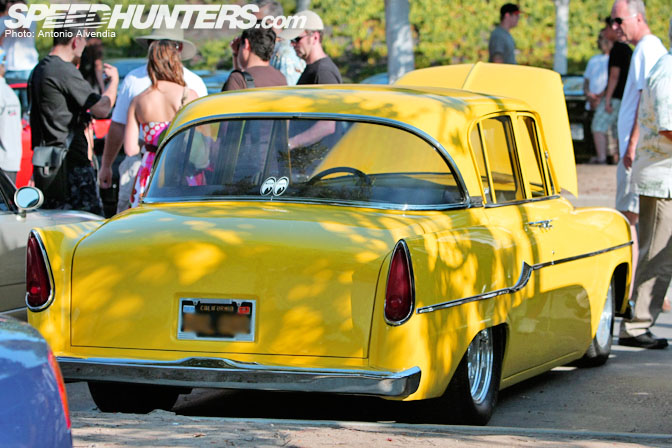 Aha! So can anybody gues what kind of car this is? I'll give you a hint… it's NOT a Chevrolet!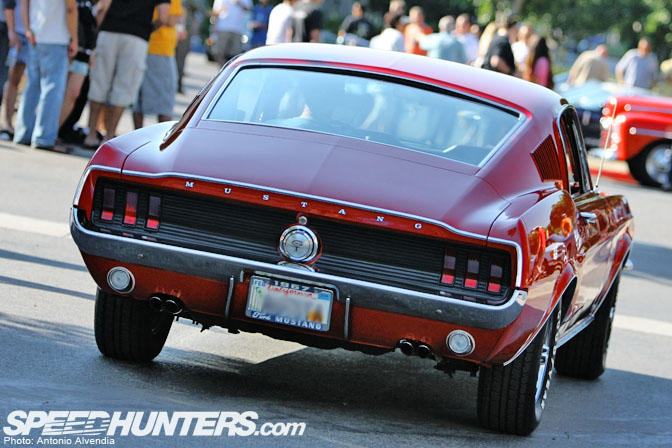 Look at how clean this 1967 Mustang fastback is!!! Damnnnnnnnnn!!!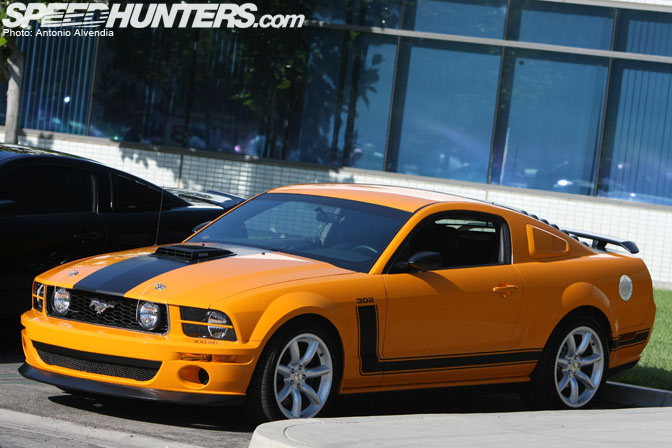 There were newer musclecars in attendance that also sported a classic look! I love the styling of this Mustang – simple and clean, with sporty black stripes on the sides and hood, with a front chin spoiler and foglights in the grill, which reminds you of the old 60s Mustangs… and wheels styled like Minilites to complete the vintage Trans Am racer look. Super cool. I'm not a fan of the rear spoiler though.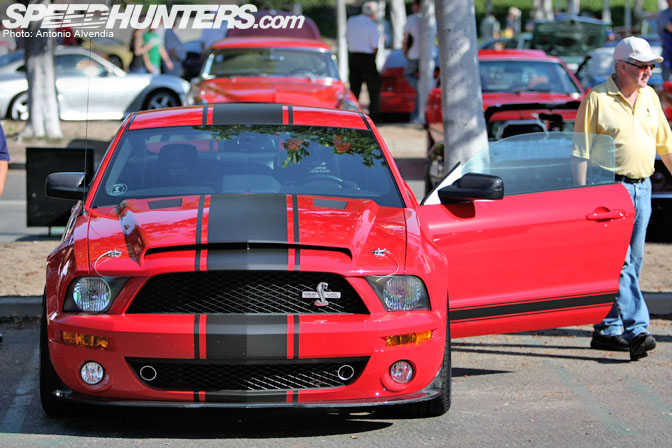 This new Shelby Super Snake GT500 Mustang looked super aggressive, even just sitting there. Even though it's styled with a "newer look" than what I normally like, I think it looks super cool.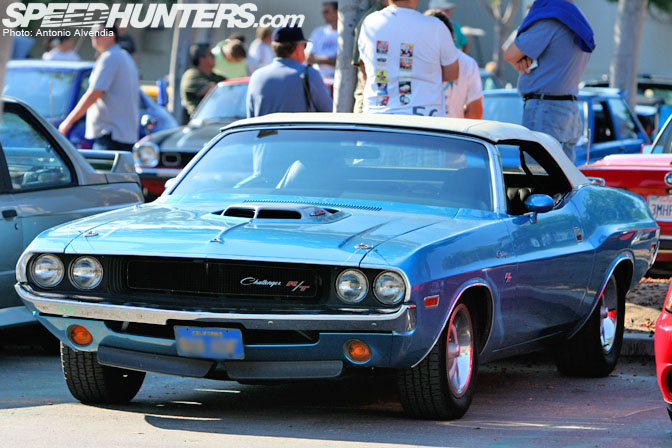 Any Mopar fans in attendance? Check out this clean Challenger R/T, which appears to have original paint and finish. The owner was nowhere to be found, so I couldn't ask for sure. Just look at those humongous, muscular fenders! This car must have looked pretty mean cruising the streets back in the day when it was new!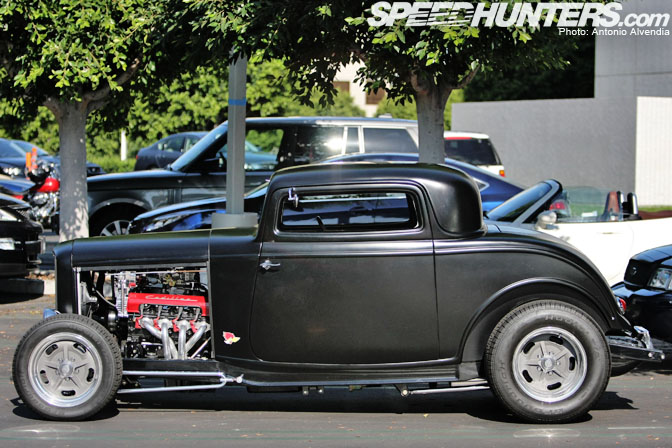 This old hot rod had a very clean satin black paint job! What probably stands out to most people is the impeccably shiny, detailed Cadillac engine sitting up front, but I mainly really liked the wheels. Very nice car!
-Antonio Alvendia