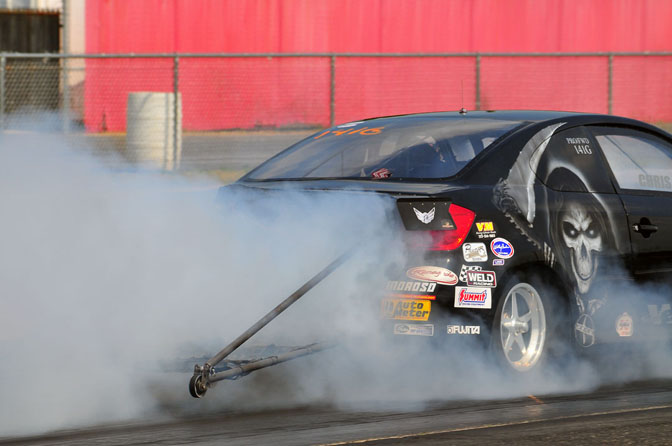 A few weeks back, myself and the rest of the WORLD Racing team headed to Atco, New Jersey for the Battle of the Imports. This was our first Battle of the Imports event in almost three years. The team and I had high hopes for this event at our home track. We were going out with a new clutch in the PRO FWD NOS Energy Drink WORLD Racing Scion tC for the first time this year. We had been running a pro-stock style clutch for the last season and a half. As the engine program progressed and got more powerful, we started to realize that the original components that were designed to handle as much as 1,600 horsepower just weren't enough, and we were going to find out some more of those issues in the weekend to come.
We received our new clutch the Monday before the race from a top secret manufacture. It's a triple-disc unit designed for a pro-mod car, which is up to 3,000 horsepower. So we said to ourselves, "we've got to have enough clutch here." So in reconfiguring the clutch setup inside the bell housing, there were some clearance issues as well as some throw-out bearing issues. Because it's a different size clutch, it's a completely different configuration. So mechanically we had to adjust some things within the bell housing and drive train to accommodate.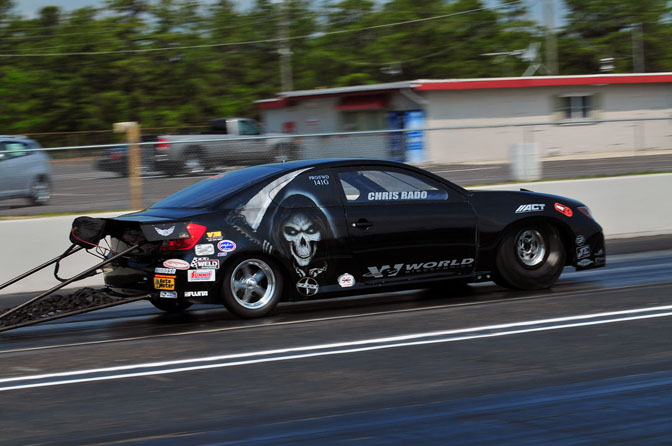 We got all that junk taken care of and were at the track testing on Thursday, when we broke the transmission on the very first run. We noticed some other clearance issues that we had to address before we could have a successful pass down the track.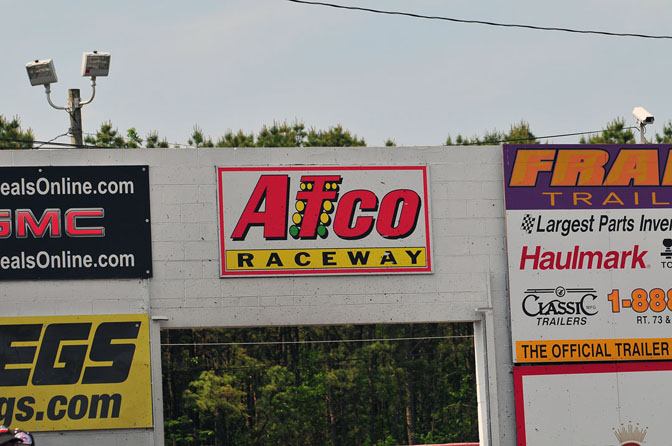 Let me just say that the people at Atco are great. One of the women who work there, her father has a machine shop right down the street. He was eager to take our business and was able to machine a collar and bearing surface on our clutch so that it would work properly. Well, we got all that dialed in Friday night and we were ready to rock for the next morning.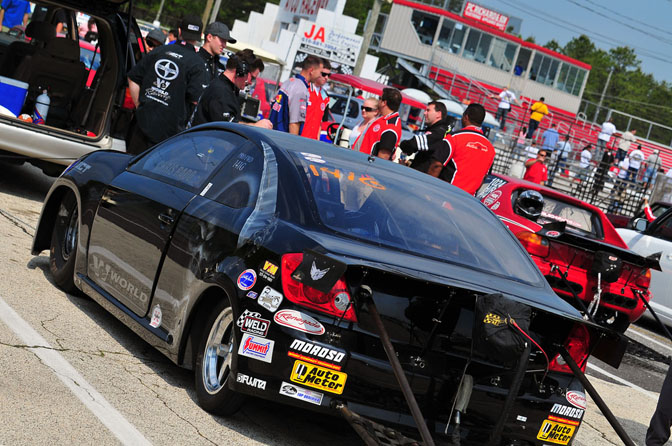 Saturday came and just as we were getting everything unloaded and ready for qualifying, the rain came… and came… and came. So all we could do was pack everything up and get prepared for battle on Sunday.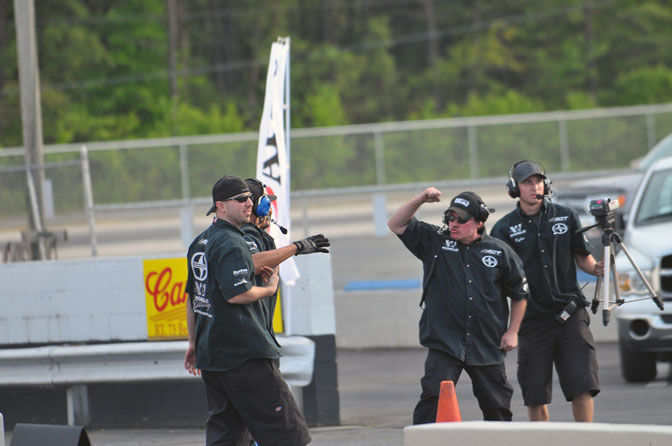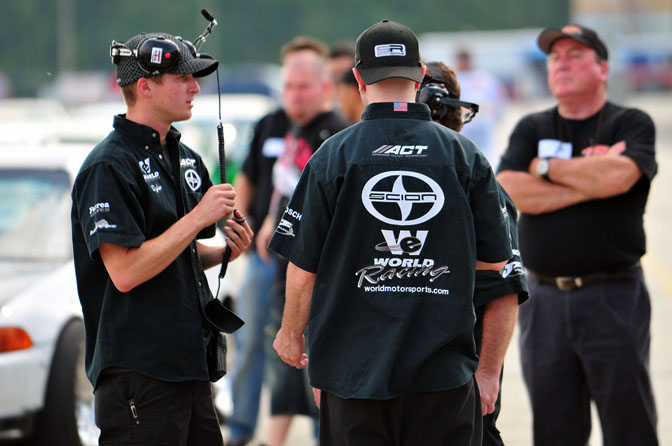 On Sunday morning we were ready to qualify and then go straight into eliminations. Our first qualifying run would also be the first run down the track with the brand new clutch. A clutch like this one has adjustable stands, adjustable fingers, and adjustable counter-weight on the fingers. So there is literally anywhere between 30 and 40 adjustments that one must make to the clutch before even making a run. All of these settings are crucial to the car being able to work and go down the track correctly. If the clutch is too loose, it just slips and none of the horsepower actually gets to the tires. If the clutch is too tight, it locks up right away; the car shakes the tires and shakes itself to pieces. So it's a fine balance that usually takes teams sometimes weeks, even months, of racing depending on the configuration. So even though we have run the car before, Dave Zientara, our crew chief, and Frank Piccone have so much experience with slider clutches and the stock clutch that we use, that we were able to come up with a setup that seemed to work decently right out of the box.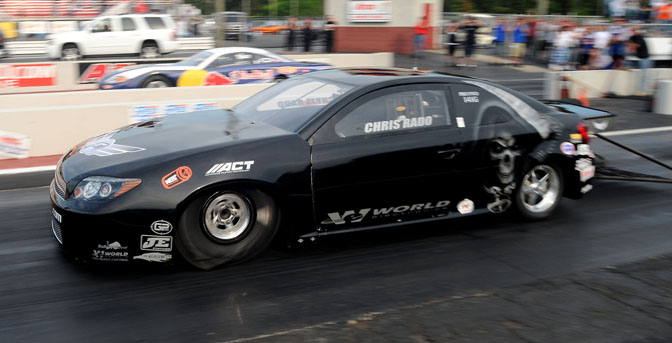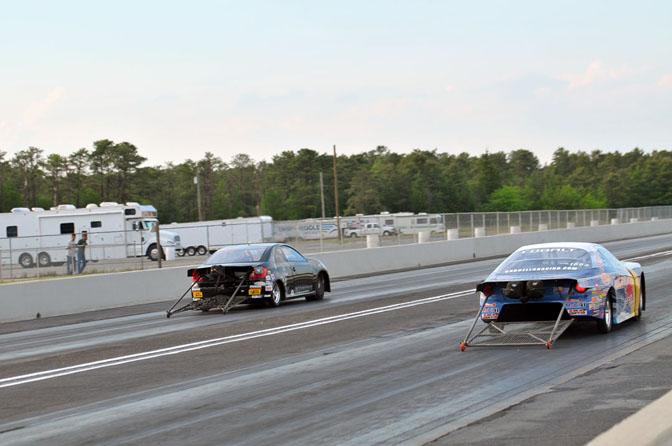 So we pulled our car up to the line next to Gary Gardella for our first qualifying pass. The lights came down and the NOS Energy Drink World Racing Scion tC ripped right out of the starting line. The clutch started slipping in second gear pretty bad. I was pretty sure we only ran like a 7.80 or something like that because the amount of clutch-slip that was going on was so horrendous from the driver's seat. It felt like I was driving an automatic car where there's like no acceleration at all. But it turns out we ran a 7.56 at 191 mph. We were more than 10 pounds down on turbo boost and we think part of that was due to the clutch slipping.
We basically just underestimated our amazing power plant yet once again. You know, it's been happening over and over again since we've started with this engine; people keep underestimated what it can do. The engine just laughed at the clutch when it started to slip. This gave us an indication of where we needed to go in the next round of qualifying. But we were the number one qualifier!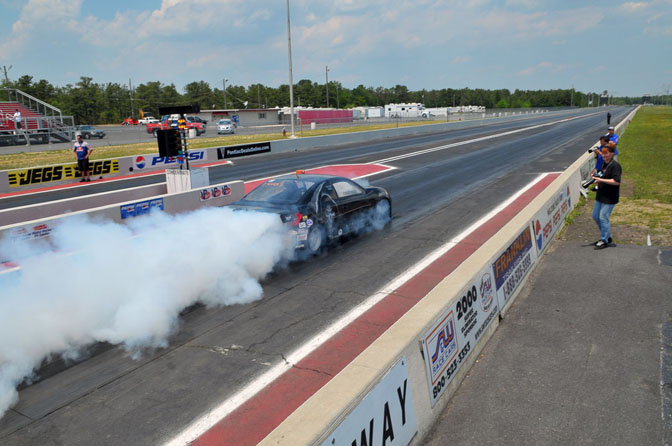 Going into round two of qualifying, we put more weight on the clutch to try to lock it down. Pulled the car up to the starting line, did my burnout, and at the end of the burnout I heard a small crunching noise which was the transmission breaking. The car would not go in reverse; the car would not move anywhere. We got the car to roll down the track and we towed it back to the pit with the clutch in.
We found that we actually shattered some of the transmission components and it wouldn't go through gears. So luckily, Gary Kubo – the man, the myth, the legend, the mad scientist of building engines and transmissions – ripped the transmission out of the car, and along with Tyler Cooley and Eric Plebani, they took it apart, put in a brand new gear set, went through all the syncros, went though everything, built a new transmission, and put it in the car all in less than one hour and 15 minutes from start to finish.  We had the car ready to run for the first round of eliminations. Yes – my team is the sh*t.
We had actually overly exceeded the pro-stock style Liberty transmission, which again, was only designed for up to 1,600 horsepower. It seemed that the transmission was not enjoying the new clutch too much because we broke two of them (transmissions) this weekend, which was a good and a bad thing. It's a good thing in the sense that we know we are making a lot more power than anybody and more power than even we expected – which is great. The only bad thing is that we have to get another transmission. But another good thing is that Liberty makes what's called an Extreme Gear Set which goes directly into the case that we have with no modifications that is designed for pro-mod just like our new clutch, which is rated for 3,000 horsepower. So unless we start pouring some nitro methane in our little four banger and bump it from two to three-thousand, I don't think we are going to have any problems with the new gear set.
We had a by in the first elimination round against Ed Bergenholtz. In the second elimination round, I was set to go up against Gary Gardella. We beat Gary a year and a half ago at the season opener at Moroso and have not lit the win-light against him since. The NOS Energy Drink WORLD Racing Scion tC was on a rampage this weekend and even though the track conditions weren't there, we were laying down the ET better than anybody. And even though we were slipping through the clutch, the amount that we were getting to the ground was more than anybody else.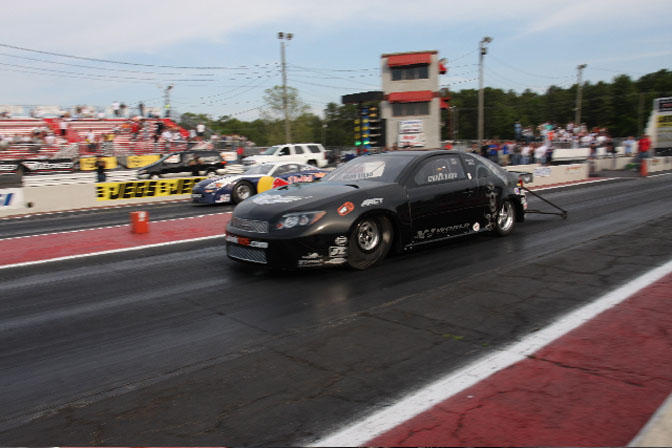 So we went into the elimination round against Gary Gardella with fire in out eyes. We did our burnouts, the lights came down, and PEACE! The Grim Reaper Scion tC was out! We cut a 0.045 reaction time against the competition's 0.162 – a margin in drag racing that's huge. We had proceeded to knock him down through every timed increment down the line, from 60-foot, 330-foot, eighth-mile, and quarter-mile. We had out ETed him everywhere! Now granted Gary ran a 7.56 at 200 mph, and we went 7.50 at 194, we had the ET, and it's ET's that win races.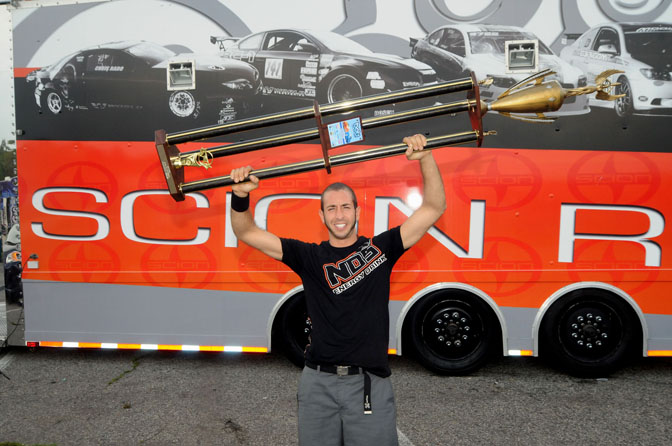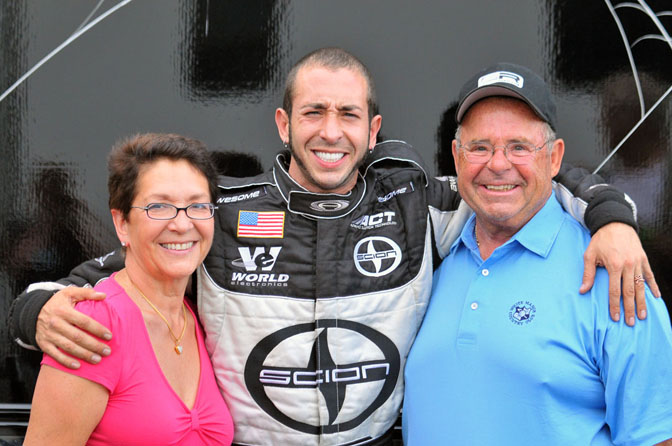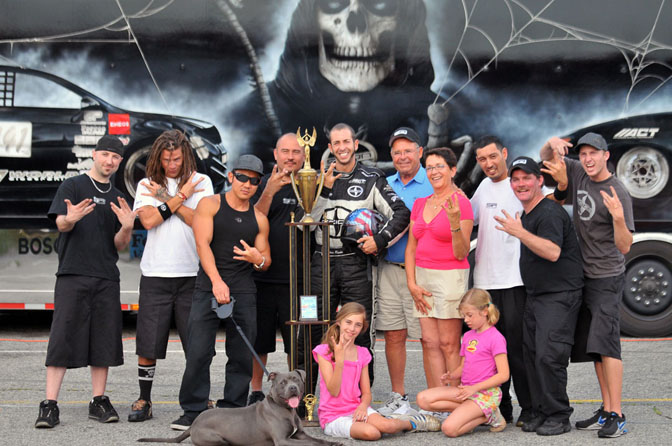 During the run the clutch was still slipping horrendously through second, third, and fourth gear, which was just giving away ET and miles per hour. But the tC had proved it was confident, and with the new clutch and the engine package that Gary Kubo put together, we are going to be unstoppable in the future. In the battle of the energy drinks, the NOS Energy Drink WORLD Racing Scion tC proved victorious over Gary Gardella in the Redbull Cobalt and we brought home our first, but not last, drag racing win of the 2008 season. What a great weekend at my home track. I can't wait till our next race! These guys better watch out because our car, team, and driver are on fire!
- Chris Rado