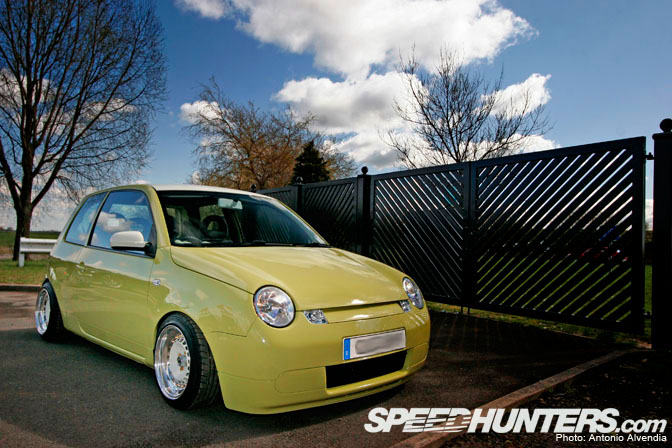 A few months ago, I visited Castle Donington to attend the UK's annual International Styling and Tuning Show. While I was scooting around with my golf cart, I couldn't help but notice this mean green Volkswagen Lupo sitting at the Max Power booth!
After my unsuccessful attempts to get the phone number of the Max Power models, I decided I better get back to business and find the owner of this Vee-Dub! One of the girls introduced me to Mark Riccioni from Max Power, who was cool enough to link me up with Paul Bindley, the owner of this super aggressive looking, daily driven Volkswagen Lupo Sport you see here.
As we attempted to do the photo shoot, we ran into a bit of potential trouble with some Bri-ish roughnecks who at first, weren't being very compliant with our very polite and reasonable requests that they not change their wheels in the background of our photo shoot. One of them even got a bit aggressive and started to confront me… but come on now. I'm from Los Angeles. Don't make me show you how LA cats get down. You don't even wanna start yourself down that road, kid.
After we finally reached an agreement, and they went on their way, we were able to shoot. As I walked around it, I thought to myself, I really appreciate the understated subtlety of Paul's exterior modifications – like the imported Lupo 3L front bumper conversion, front and rear debadging, rolled and smoothed fender arches, and the standard roof ariel was also removed. The roof, wheel centers, and side mirrors were also color coded in the same cream hue as the interior bits and bobs.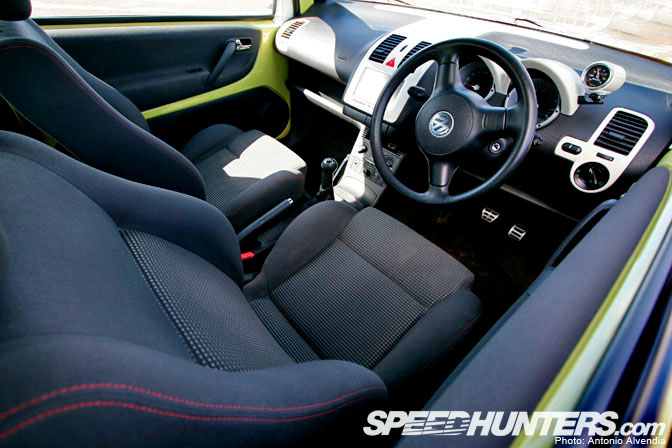 Paul's Lupo Sport interior is pretty much standard, but with cream color coded dash surrounds and other miscellaneous interior trim. Not only did he paint the interior, he iced it out a bit as well, with a Carputer 7 inch touch screen with 1GB processor, 256GB RAM, 60GB hard drive, and DVD-RW drive. Sound system is comprised of 6.5″ JBL components up front and a 12inch JBL subwoofer mounted in a 10″ box in the boot. (This means trunk for all of us North Americans)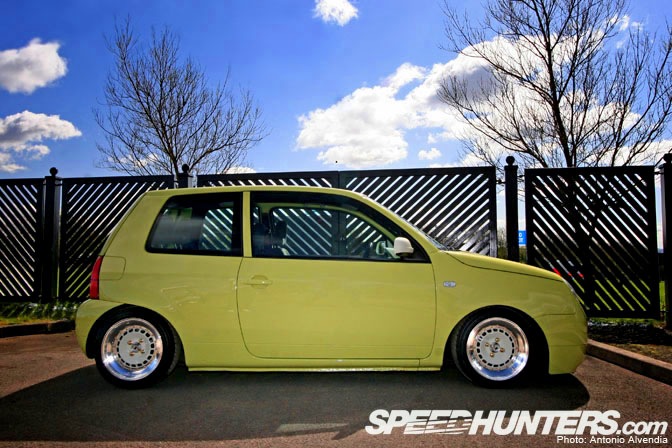 Since Paul is an automotive painted by trade, he decided to fully respray the car. He and his girlfriend chose a shade of green which they had never seen before on the road, called Jaune Anis, which originally came as standard on some vintage Renaults. He did everything himself, working hard every day on his car after work… and two months later, this is how the car came out! Very nice!
I bet you're all wondering what kind of wheels these are! Here's what you've been waiting for! Paul's Lupo sits on Schmidt TH-line wheels, 14x8J (+18 offset) up front with 195/45/14 tires stretched onto them, and 14x9J (+18 off) rear wheels with 215/40/14 stretched.
I absolutely love the wheels! They are what really attracted me to Paul's Lupo in the first place. The full-disc face is very cool and Euro-looking, and the nicely polished lips stick out from under the fenders just enough to make you stop dead in your tracks.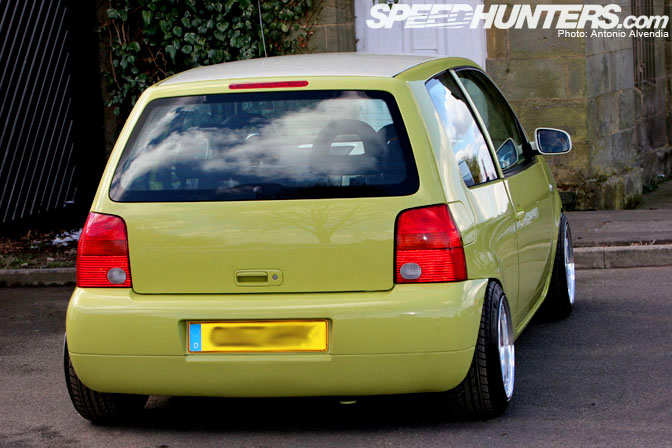 I love how you can see the metallic shine of the lips protruding from the tires when you're following the car from the rear – they give Paul's Lupo a supremely aggressive stance, which obviously lowers the morale of other Lupo owners in the vicinity of the car, if their cars don't stand up to Paul's.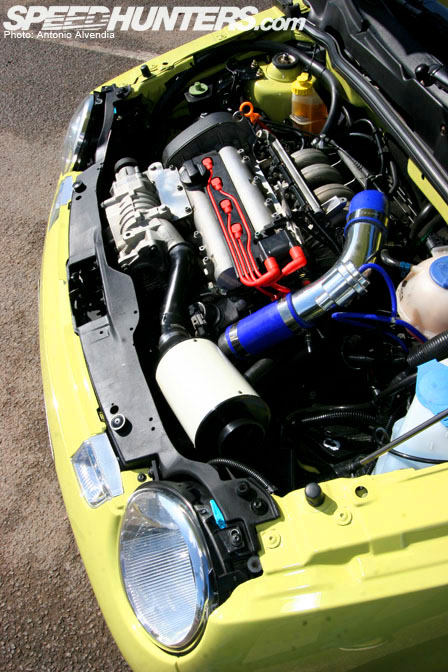 Paul's Lupo isn't just for looks! This isn't just the standard 1.4 liter, 16 valve engine that the Lupo normally comes with. He personally installed an Eaton M45 5th generation supercharger from a BMW Mini Cooper S, and customized the piping, stainless steel brackets and intercooler to fit his car. He also added 1.6 gti injectors, a 2mm aluminium decompression
plate, forge divertor valve, Samco hoses, BMC filter, uprated Polo G40
clutch, and a full 2.5″ custom stainless steel hidden exhaust.
With help from a company called Storm Developments, an Emerald
ECU with custom maps was also added, which took it to 171 bhp, which is 71 bhp from the standard factory output.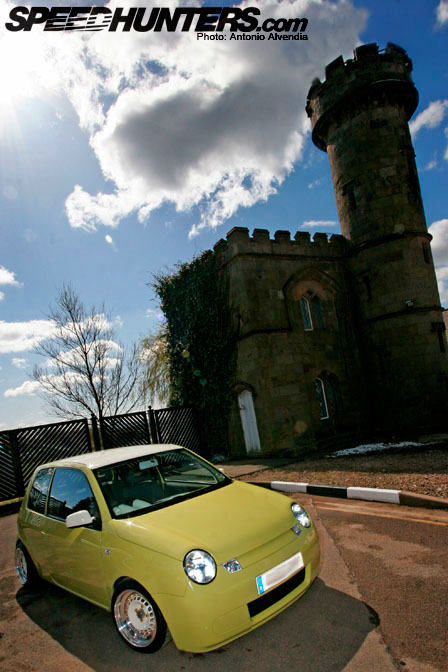 Since the car has the aforementioned engine mods, the brakes have also obviously been upgraded,
so that the car can stop quickly to avoid an accident, or something in
the road.
Paul lowered the car as much as possible with his FK Highsport
coilovers, and he admits, "the roads in England car be quite hard on
the car as our government
loves putting speed humps everywhere. I do scrape quite often, but as
they say in the VW scene "if your not scrubbing your not dubbing."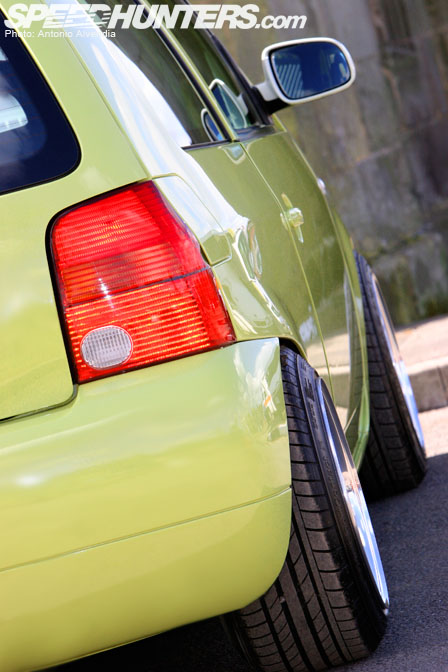 Oh yeah, and a wise man once said, "Offset is Everything." No matter where you are in the world, it's true. And we've taken it upon ourselves to spread the gospel.
-Antonio Alvendia