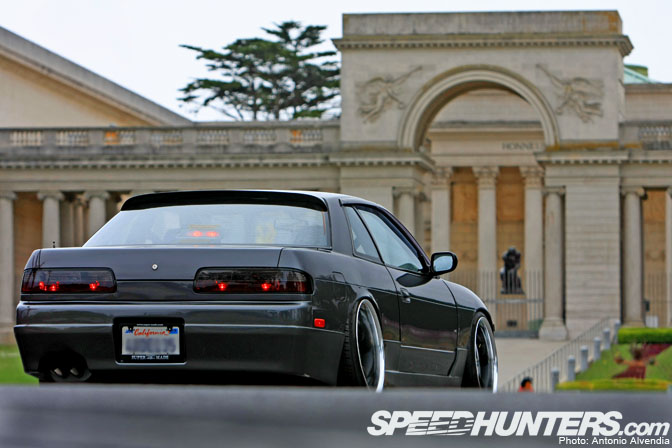 Go ahead, say it. (All together now) Daaaaaamnnnnn!
I like how the background has the statue of The Thinker, which symbolizes how hard people need to think and plan in order to have a car with such brilliant offset as this S13 Silvia. I started using the term "brilliant offset" when referring to cars because I realized how brilliant and ingenius one must be in order to achieve perfect wheel fitment like this. Many people try but don't come close because they can't figure it out. Worse yet, some people don't try hard enough. So for this S13 to have such perfect wheel fitment, I really must say the only word I could use to desribe it is brilliant. Henry Chan's S13 is all that and then some.
Just look at how the car sits. Even without saying a single word, the wheels and the fitment shocks and amazes you like someone punching you in the face.
Big ups to my boy Van from One Ton Garage for getting me in touch with Henry. In fact, it was Van who first showed me photos of this car well over a year ago! Thanks again, Van.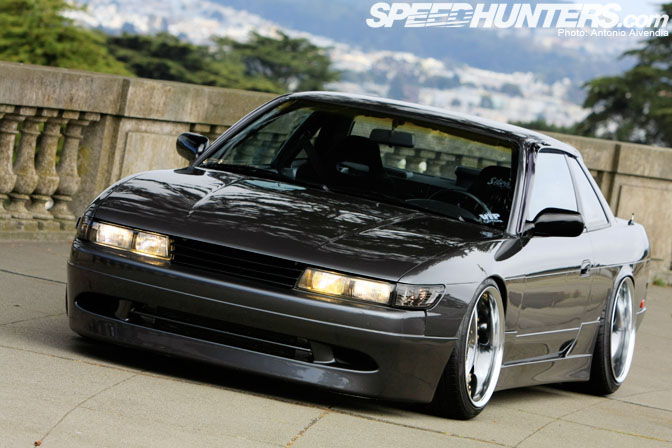 Understated and elegant, I wish more S13 owners across the United States would take some notes from this car, and realize that it is possible to build a clean S13 with brilliant offset and drive it on the street. I'm sick and tired of hearing excuses from S13 owners around the country who don't have the guts to go big and commit to their cars. With some planning, determination, and focus, it is possible to achieve!
Since everyone is waiting for the magic numbers, here they are:
FRONT: 18x9J (+2 offset) Work Euroline DH wheels with 215/40/R18 Pirelli P-Zero Nero tires (-5.5 degrees camber)
REAR: 18x10J (-7 offset) Work Euroline DH wheels with 225/40/R18 Kumho Ecsta 711 tires (-7 degrees camber)
PS: Henry, if you would have asked beforehand, I'm sure I could have gotten a tire company to kick you down tires so they'd match! Oh well, too late I suppose! LOL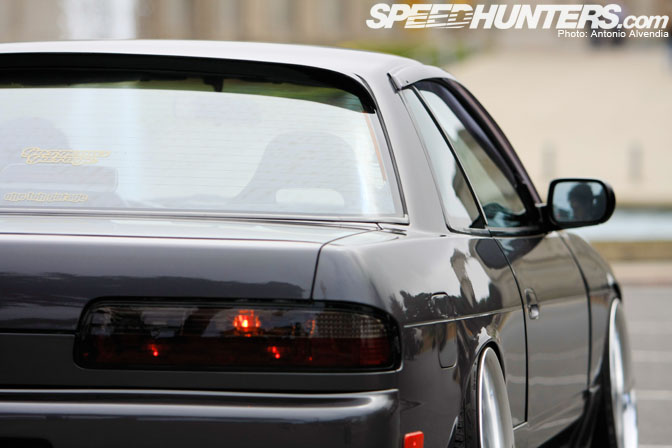 Tsuraichi. Literally, it means "to become one." In this case, Henry's Euroline DH wheels are about to become one with his rear fender. It's so awe inspiring. I'm getting a little misty.
One of my favorite points about Henry's S13 is the fact that it's super slammed, with brilliant offset, and he drives it on the street at this same height, and he's rocking coilovers!!! Super sick.
Just so you don't think this car is all just about the wheels and tires, let's run down some of the suspension specs. Without the right suspension settings, you can't run aggressive offset wheels like this S13. Henry chose Stance GR+ coilovers with custom slotted front brackets for additional camber, Battleversion tension rods, Powertrix rear upper control arms, Megan Racing rear toe links, and Motoria front and rear strut bars.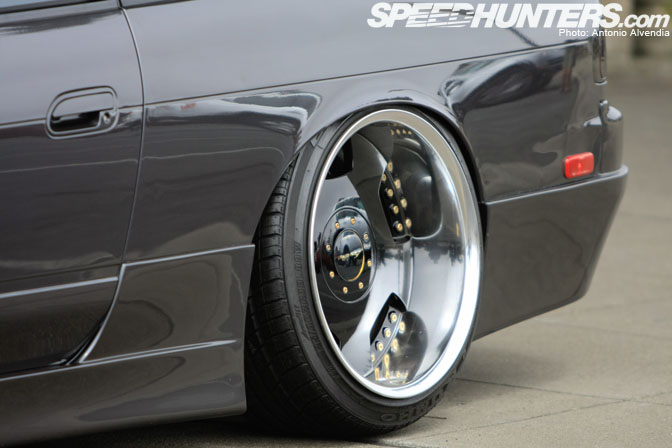 Work Euroline DH wheels with Kumho tires stretched over them. Do it. Do it. Of course, in order to make wheels of this size fit, you need to contact Van from One Ton Garage to get your fenders custom pulled cleanly. Don't wrinkle your fenders by trying to do it the cheap way, do it professionally so your car doesn't look ghetto!
Even though you can't see them, this Henry's Silvia sports Brembo cross drilled rotors with Endless VN pads up front, and KVR carbon kevlar pads in the rear. Man. If you would have asked, I'm sure my boys at Endless could have helped you out on pricing just so you could rock Endless pads all around, Henry.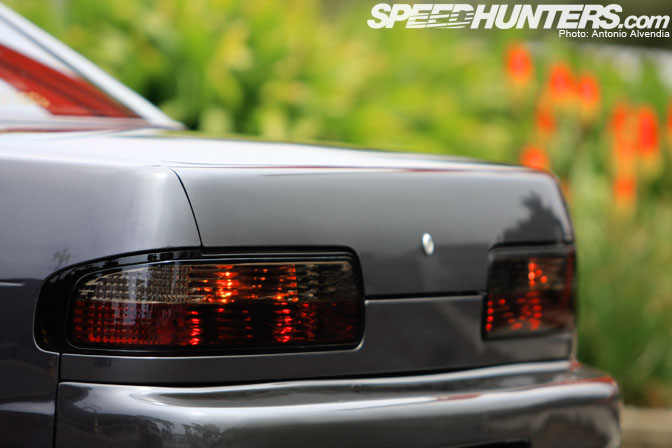 What? The Speedhunters crew does not approve of smoking crystals, but these D-Max smoked crystal tail lamps look awesome. They continue Henry's theme of understatement on his S13, but in a classy way. (Kids, please don't spray paint your taillamps in an attempt to replicate this look. Go buy the whole aftermarket light assemblies if you like this look.)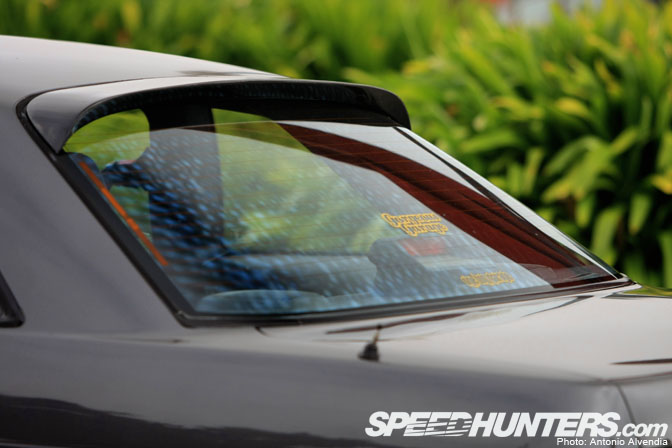 I like how the Origin roof wing in the rear matches Henry's window visors. Very clean and cohesive, that's what we like.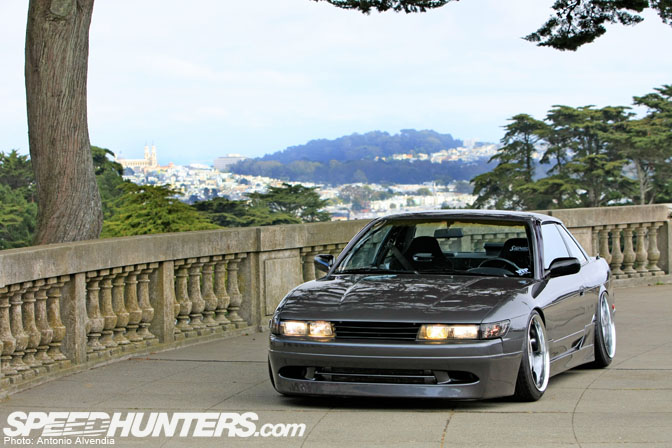 Representing the beautiful San Francisco Bay Area.
How to achieve this look: Contact Van from One Ton Garage, and ask him to equip your car with an S13 Silvia front end conversion, Super Made Instant Gentleman Silvia complete aero kit, JDM S13 Silvia window visors, and Origin roof wing. I also appreciate how Henry added JDM aftermarket smoked crystal front corner lights, to match his D-Max taillamps. Nice job, Henry!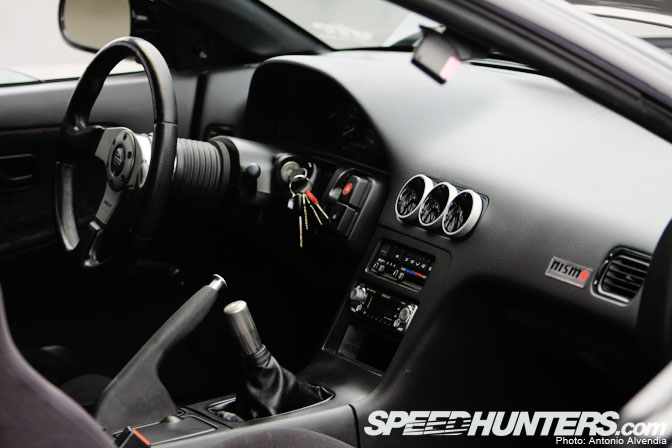 Yawn. This is where I'm gonna speak what's really on my mind real quick. I wish this car had a different steering wheel.
I mean don't get me wrong, I love the Defi boost, water temp, and oil pressure gauges, with the Defi Link Control Unit II, (nice and clean installation by the way) that's props. Nagisa Auto super lowdown seat brackets? Even more props. Love it. But the Momo Champion steering wheel… *sigh* I was hoping this car would have something rarer than that, since the exterior is so incredibly off the hook. Sorry Henry, just being real with ya, homie.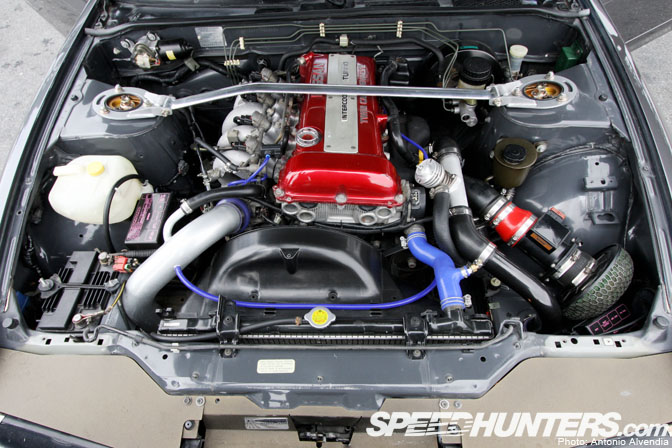 Clean and simple SR20DET redtop engine swap, let me just list out the specs for you.
Garrett GT28R turbo
HKS actuator
HKS intercooler
HKS intake filter
Z32 MAF
ARC blow off valve
NGK Iridium spark plugs
S15 Silvia 480cc injectors
Walbro 255lph fuel pump
Z32 fuel filter
Enthalpy ECU tune
Blitz SR20DET upper radiator hose
Password:JDM alum. cooling panel
Nismo motor and tranny mounts
Megan Racing 3″ turbo outlet
Megan Racing 3″ flex downpipe
Magnaflow 3″ high flow cat
Circuit Sports 3" exhaust
Drivetrain modifications include an Exedy Stage 1 clutch, Nismo GT 2-way LSD, and a C's replica short shifter.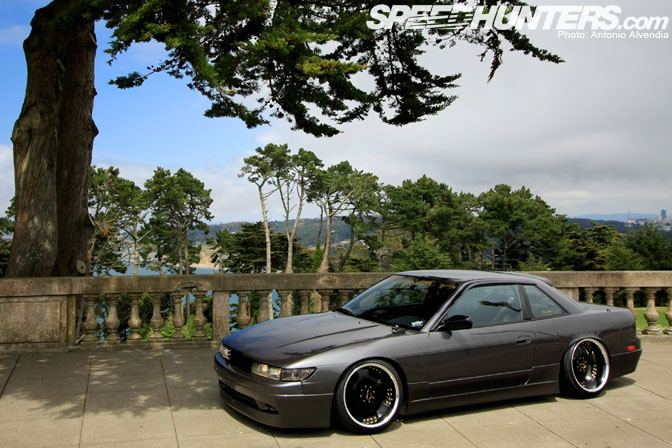 Awesome stance and style, street driven on coilovers. What! Schooling kids then afterschooling them like detention.
-Antonio Alvendia